Two types of Azumi Distillery's bourbon-barrel originals aged for five years, the so-called Double cask. bottled at cask strength. 2017's original bottle is from the Azumi Distillery's First year of business The original sake was brewed in the
This bottle allows you to fully enjoy the strengths of both the double cask and the 5-year aging process.
This whiskey was bottled and sold by lottery for the Chichibu Whiskey Festival 2022.
1. Maker
Sasanogawa Brewery Co.
| | |
| --- | --- |
| Establishment | 1765 |
| Head office location | 1-178 Sasakawa, Koriyama-shi, Fukushima 963-0108 |
| Owned Distilleries | Asaka Distillery |
2. Distillery
Asaka Distillery
| | |
| --- | --- |
| Location | 1-178 Sasagawa, Koriyama City, Fukushima Prefecture |
| Start of operation | 1946 (old facility), distillation resumed in April 2016 (new facility) |
Began operation in 1765.
1920 Yamaguchi Sake Brewery Co.
1932 Yamazakura Sake Brewery Limited Partnership established
1946 Manufacture whiskey.
1966 Sasanogawa Brewing Company established.
1983 Completed construction of whisky malt storage facility.
1998 Yamazakura Brewery and Sasanokawa Brewery merge, with Sasanokawa Brewery Co.
2004 Receives stored whiskey from Toa Shuzo.
2005 Ichiro's Malt, planned by Venture Whisky, is released. (The manufacturer column on the label on the back of the bottle is Sasanokawa Shuzo.)
2016  Asaka Distillery started full-scale operations.

Yamazakura Brewery, founded in 1710 south of Lake Inawashiro, moved to Koriyama in 1765.
This Yamazakura Brewery was the first to obtain a license to brew whiskey in 1946, when the demand for whiskey increased as a national policy during the postwar American military occupation.
The shortage of rice during and after the war made it extremely difficult to brew sake, and the influx of Western culture after the war was also a factor in the company's commitment to whiskey production.
In the 1950s and 1960s, during the period of high economic growth, Sasanokawa Brewery's " Cherry Whisky " gained popularity along with Toa Brewery and Hombo Brewery, being called "Cherry of the North, Toa of the East, Mars of the West".
However, with the low growth and changing tastes, Toa was forced to withdraw from the business in 2003, and Sasanokawa took care of the barrels of the original whiskey at the distillery in Hanyu.
This was a big help for the release of Ichiro's Malt, which later became popular worldwide.
Since the postwar period, the distillery has continued to produce whiskey in small quantities, and currently uses two types: a Scotch type and a malt type imported from Kentucky.
The Asaka distillery is located in the Sasanokawa Sake Brewery, a sake brewery that has been in operation since the Edo period.
The pot stills look good against the old-fashioned white plaster walls.
Image Exhibit: Asaka Distillery Official Facebook
For more information about Azumi Distillery, please visit here.
3. Product name and photo
Asaka 2017 5 Year Old Double Barrel Chichibu Whiskey Festival Bottling 2022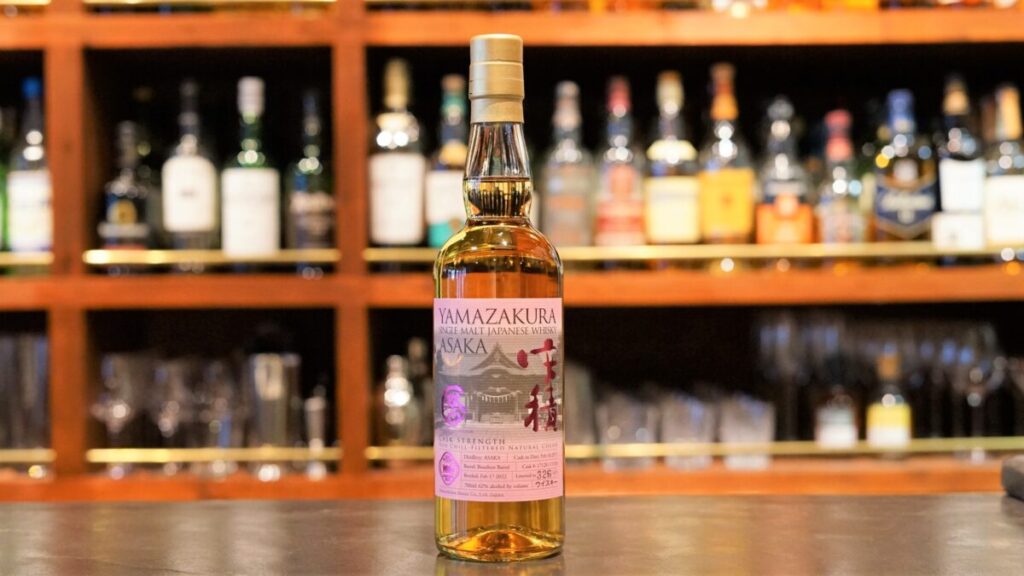 4. Features
Asaka Distillery Bourbon Barrel Double Cask
Single malt Japanese whiskey made from two first-fill bourbon barrels from Asaka Distillery, aged for five years. It is bottled as-is to preserve the original aroma and flavor of the barrels, so-called "original cask strength. It is non-chill filtered (non-cooled filtered) and naturally colored (no coloring), so in rare cases sediment or turbidity may appear due to changes in storage temperature, but this is of product origin and does not affect the quality or other aspects of the product.

Quote: From the back of the label
4-1. Tasting Notes
| | |
| --- | --- |
| Aroma | Pungent odor of alcohol, rich sweet aroma derived from oak, pepper and other spicy notes. |
| Taste | Creamy, rich sweetness like vanilla and honey, then fruitiness. Then spiciness becomes noticeable, with a bitter note reminiscent of bitter chocolate at the end. |
| Aftertaste | Oak-derived sweetness and spiciness continue pleasantly, leaving a bitterness at the end. |
4-2. Product Specifications
| | |
| --- | --- |
| Alcohol content | 62% |
| By Liquor | Single Malt Japanese Whiskey |
| Cask type | Bourbon cask |
| Content volume | 700ml |
| Number of bottles sold | Limited to 475 bottles |
| Suggested Retail Price | 14,850 yen (tax included) |
| Release Date | March 18, 2022 Lottery starts |
5. Awards
No awards have been received at this time.
6. Price
6-1. Manufacturer's Suggested Retail Price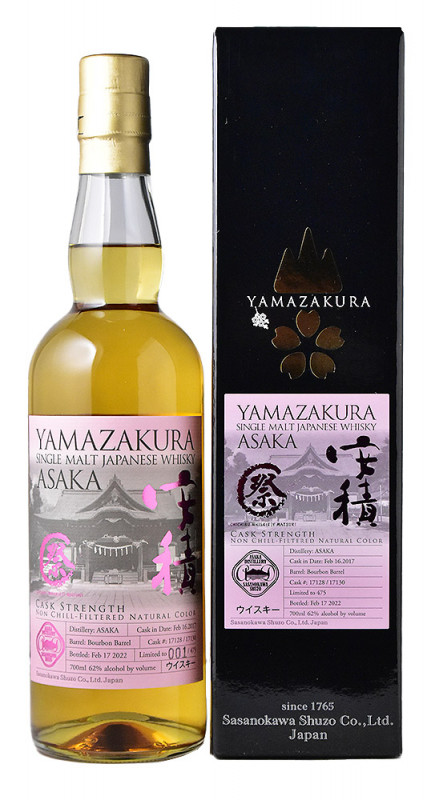 | | |
| --- | --- |
| Product name | Asaka 2017 5 Year Old Double Barrel Chichibu Whiskey Festival Bottling 2022 |
| Capacity | 700ml |
| Suggested Retail Price | Tax included: 14,850 yen |
6-2. Resale price on Mercari
The resale price on Mercari is Around 23,500 yen to 55,000 yen The number of the company's shares is as follows. (*As of April 11, 2022)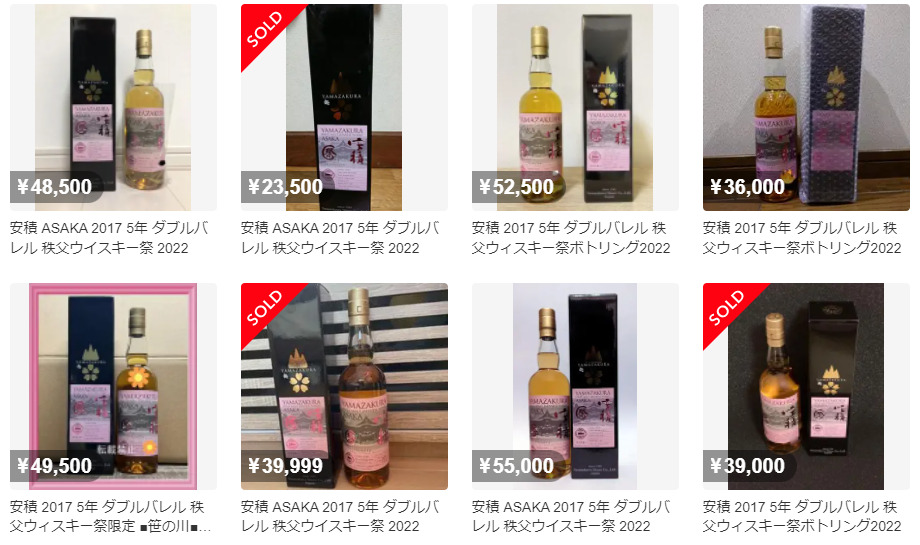 6-3. Yahoo Auction Sold Price
Sold prices on Yahoo! Auctions are Lowest 39,501 yen, highest 50,300 yen, average 45,575 yen. (*As of April 11, 2022)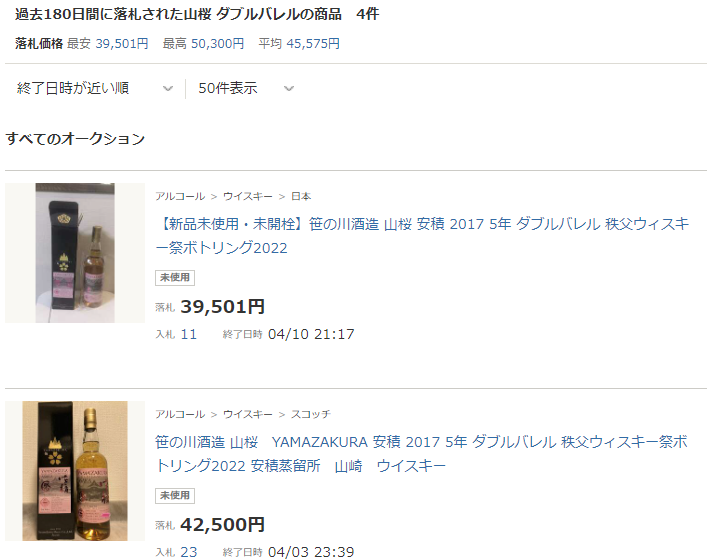 6-4. Rakuten, Yahoo Shopping, Amazon
The mail-order site does not carry the product. (*As of  April 11, 2022)
6-5. Price offered at BAR Shinkai
At BAR Shinkai, which is operated by this website, we have 1 glass, 45ml: 4,620 yen 30ml: 3,080 yen, 15ml: 1,540 yen We also offer small quantities such as
7. Summary
The stinging aroma of alcohol derived from cask strength is the first impression, but the swirling process gradually opens up the sweet aroma. The aroma is slightly spicy and sweet with a hint of spicy aroma and the pungent odor of alcohol. As soon as you take a sip, the mouth is immediately filled with an intense sweetness that reminds you of bourbon barrels. Although the sweetness tends to overpower the spicy flavor, you can also taste the spicy flavor and creamy body. The strong sweetness is followed by a bitter taste reminiscent of bitter chocolate. When water is added, the alcohol angle fades away and a strong sweetness reminiscent of bourbon barrels emerges.
Enjoy it straight when you want to feel the stimulation of alcohol and the dry bitter change from sweetness, or twist it up when you want to enjoy the sweetness to the fullest.
Limited to 475 bottles, this is a very rare bottle with limited availability, but it is available at BAR Shinkai. We hope you will enjoy the taste.
It is a bottle that makes us think that we cannot take our eyes off the ever-evolving whisky of Azumi Distillery in the future.
Please check out our other articles on Yamazakura.