Single Cask Komagatake" is sold in very limited quantities. The "Single Cask Komagatake 2013 No.1663 AGED 7 YEARS" introduced in this article is a single cask whiskey made from a heavy peated original distilled in 2013 at the Mars Shinshu Distillery and aged in a bourbon barrel for more than 7 years. Limited edition of 199 bottles.
1. Manufacturer.
Honbo Shuzo Co.
| | |
| --- | --- |
| Establishment | 1872 |
| Head office location | 3-27, Minamisakae, Kagoshima City, Kagoshima Prefecture, 891-0122, Japan |
| Owned distilleries | Mars Shinshu distillery, Mars Tsunuki distillery |

2. distillery
Mars Shinshu distillery
| | |
| --- | --- |
| Location | 4752-31, Miyata-mura, Kamiina-gun, Nagano 399-4301, Japan |
| Start of operation | in 1985 |
It was in 1949 that Honbo Shuzo, which had been striving to make shochu, a Japanese distilled liquor, in Kagoshima, obtained a license to produce whiskey. Since then, the company has been holding onto the dream of one day producing a genuine whiskey that takes advantage of the Japanese climate.
In 1960, after several years of whisky production in Kagoshima, he established the Mars Yamanashi Winery
in Yamanashi, a factory for wine and whisky production. Then, in order to engage in whisky production in earnest, they searched for an even more ideal location.
The natural conditions for whisky production are very severe, including a cold climate with clean air, as well as moderate humidity and good quality water.
After searching for a site that met these conditions, we opened the Mars Shinshu Distillery in 1985 at an altitude of 798 meters at the foot of Mount Komagatake in the Central Alps of Nagano Prefecture, in search of the best environment for whisky production.
In 1992, the distillery stopped distilling due to sluggish demand for whiskey. Later, as Japanese whisky began to be appreciated worldwide, the demand for whisky began to recover in 2009 .
In September 2020, the distillery will be completely renovated for the first time in 35 years. The investment will be approximately 1.2 billion yen.
From May 2019, the whisky distillation building (including barrel storage) will be newly constructed for the purpose of renovating aging facilities, building barrel storage facilities with an eye to increasing whisky production, and observing whisky production, and the visitor building will be newly constructed for the purpose of selling original whisky and goods, and existing facilities and equipment will be renovated.
The new whisky distillery building has a total floor area of 1,996 square meters (including a barrel storage room that will hold approximately 2,500 barrels), and the visitor building has a floor area of 746 square meters.
Reference: Honbo Shuzo official website
Production capacity: 1.1 tons of raw malt/day
Production capacity: 1.1 tons of raw malt/day ■Brewing capacity: approx. 700 liters/day, approx. 185 kl/year (planned for FY2020)
Major equipment: 1 malt grinding machine, 1 mash tun reuter (saccharification tank) 6KL x 1, stainless steel fermentation tanks 6KL x 3, Douglas fir wooden fermentation tanks (relocated) 6KL x 3, first distillation kettle (relocated)
For more information about Mars Shinshu Distillery, please see here↓

3. Product name and photo
Single Cask Komagatake 2013 No.1663 AGED 7 YEARS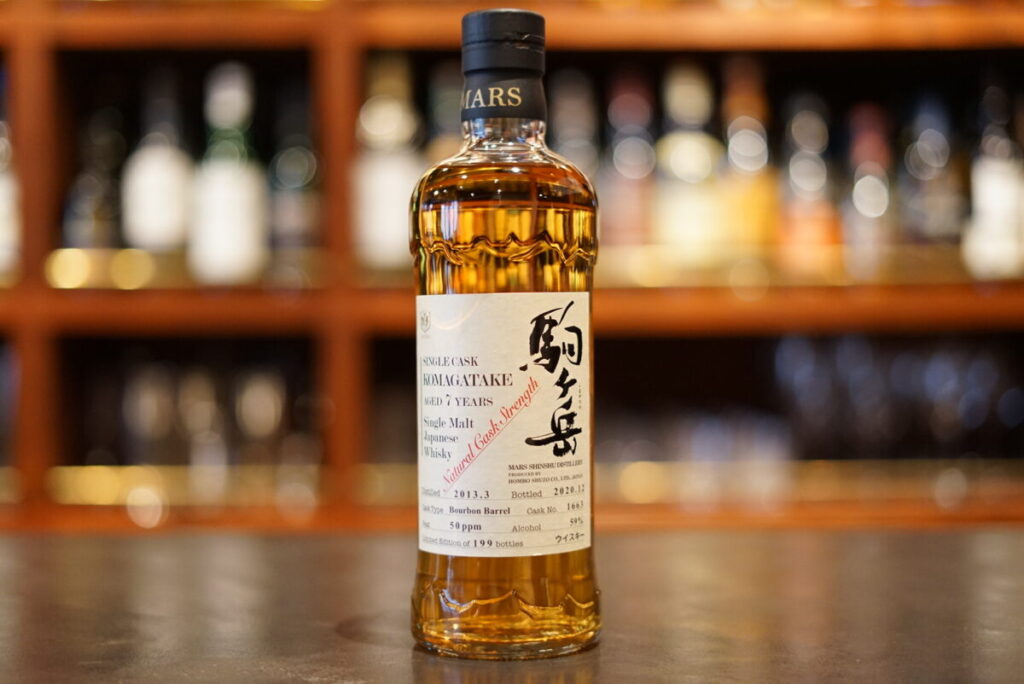 4. characteristics
Miyata Village, Kamiina-gun, Nagano Prefecture, is located at the foot of Mount Komagatake in the Japanese Alps. Surrounded by good quality water and rich nature, Mars Shinshu distillery stands in a quiet forest at 798m above sea level.
The "Single Cask Komagatake 2013 No.1663 AGED 7 YEARS" is a rare single cask whiskey that is carefully selected from among the malt whiskeys matured in the cool environment of Shinshu, and bottled from one barrel of heavy peated (50ppm) malt whiskey that has been matured in a bourbon barrel for more than 7 years. It is a rare single cask whiskey.
Reference: Japanese Whiskey|Single Cask Komagatake 2013 No.1663 AGED 7 YEARS
4-1. Tasting Notes
| | |
| --- | --- |
| Nose | Strong peat and malt aroma. |
| Taste | Vanilla and smoky flavors, firm and mature. |
| Aftertaste | Smoky flavors linger on the nose. |
4-2. Product Specifications
| | |
| --- | --- |
| Alcohol content | 59% alcohol by volume |
| alcohol category | Single malt whisky |
| Barrel type | Bourbon barrels |
| Contents | 700ml |
| Number of bottles sold | Limited to 199 bottles |
| Suggested retail price | 14,080 yen (tax included) |
| Release date | 2021 |
5. Awards
No awards have been received at this time.
6. Price
6-1. Manufacturer's suggested retail price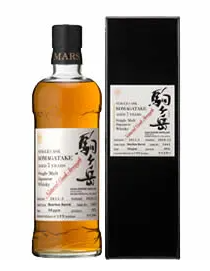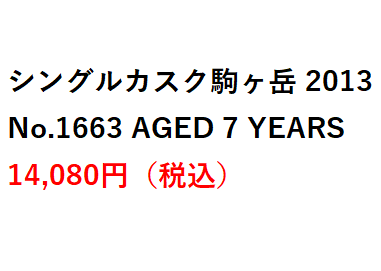 | | |
| --- | --- |
| Product name | Single Cask Komagatake 2013 No.1663 AGED 7 YEARS |
| Volume | 700ml |
| Suggested retail price | 14,080 yen (tax included) |
6-2. Resale price on Mercari
There seems to be no sales on Mercari at present (*as of 2/3/2022)
6-3. Yahoo Auction Sold Price
There seems to be no sales on Yahoo Auction at present (*as of 2/3/2022)
6-4. Rakuten, Yahoo Shopping, Amazon
There seems to be no sales on mail-order sites at present (as of 2/3/2022)
6-5. Price offered at BAR SHINKAI
At BAR SHINKAI, which is operated by this website, onecup is offered at 45ml: 4,620 yen, 30ml: 3,080 yen, 15ml: 1,540 yen
7. Summary
This whiskey is quite peaty, and you can enjoy its full presence from the aroma to the aftertaste. There is also a hint of sweetness reminiscent of vanilla and syrup, which enhances the smokiness. Straight up, it is lighter and easier to drink than I expected, and it slides easily into the mouth.
When water is added, the sweetness is pushed to the forefront, and the taste becomes sweet > smoky. The lingering sweetness lasts for a long time, and the soft smokiness continues.
The "Single Cask Komagatake" is currently being sold on a regular basis. However, since it is limited to a very small number of bottles, it seems to be quite difficult to obtain. If you have a chance to drink it, I would like to compare them.
At BAR Shinkai, we also have the "Single Cask Komagatake 2014 No.1834 AGED 6 YEARS". Please take a look at this review as well.
Please also check out the other articles about "Honbo Shuzo, Single Malt Komagatake".
Single Malt Komagatake IPA Cask Finish Bottled in 2021 700ml
¥21,000
(as of 06/04 23:49)
Amazon product information
本坊酒造
¥14,800
(2023/06/05 11:29:14時点 Amazon調べ-
詳細)
Lastly: Recommended Books on Japanese Whisky
If you want to learn more about Japanese whisky, which is a global trend, we highly recommend these books.
In the December 2021 issue of Whisky Galore, published by the Whisky Culture Research Institute, we report on 11 Japanese craft distilleries, including some that are open to the public for the first time, under the title of "Japanese Whisky Craft Frontline," the first of three consecutive issues. Why did the popularity of Japanese whiskey and the craft boom occur? We will examine with interviews. Chichibu Distillery / Chichibu No.2 Distillery / Mars Shinshu Distillery / Mars Tsunuki Distillery / Kanosuke Distillery / Hioki Distillery / Ontake Distillery / Osuzuyama Distillery / Kaikyo Distillery / Hanyu Distillery / Konosu Distillery
This is a book written by Mamoru Tsuchiya, a world-famous whisky critic and representative of the Whisky Culture Research Institute, titled "Japanese Whisky as a Culture that Works for Business" .
The book covers the basics of whisky, the introduction of whisky to Japan, the birth of Japanese whisky, advertising strategies and the rise of Japanese whisky, and the current rise of craft distilleries. This is a book that summarizes Japanese whisky in a very easy to understand way.
Masataka Taketsuru, the founder of Nikka Whisky, devoted his life to brewing whisky in Japan. This is a revised and reprinted version of the autobiography of a man who simply loved whiskey and talked about himself. The book vividly depicts the days when he went to Scotland alone to study as a young man and overcame many hardships to complete Japanese whisky, as well as his companion, Rita.
Launching in 2019. With the world experiencing an unprecedented whisky boom, what were the managers of craft distilleries thinking and what were their thoughts as they took on the challenge of making whiskey? This book tells the stories of 13 craft distillery owners, including Ichiro Hido of Venture Whisky, famous for his Ichirose Malt, who inspired the birth of craft distilleries in Japan.
This is the Japanese version of Whisky Risng, published in the US in 2016, with much updated content. Not only does it describe the history of Japanese whiskey in detail, but it also includes data on all the distilleries in Japan, including the craft distilleries that have been founded in recent years. The book also includes descriptions of the legendary bottles that have been released, as well as information on bars where Japanese whisky can be found.