A single malt whiskey made from malt distilled at Mars Shinshu Distillery, matured in bourbon barrels for more than 3 years, and then aged for more than 1 year in empty red wine casks brewed at Voyager Estate, a winery in Western Australia. Limited edition of 950 bottles.
1. Manufacturer
Hombo Shuzo Co.
| | |
| --- | --- |
| Establishment | 1872 |
| Head office location | 3-27, Minamisakae, Kagoshima City, Kagoshima Prefecture, 891-0122, Japan |
| Owned distilleries | Mars Shinshu distillery, Mars Tsunuki distillery |
2. Distillery
Mars Shinshu distillery
| | |
| --- | --- |
| Location | 4752-31, Miyata-mura, Kamiina-gun, Nagano 399-4301, Japan |
| Start of operation | in 1985 |
It was in 1949 that Hombo Shuzo, which had been striving to make shochu, a Japanese distilled liquor, in Kagoshima, obtained a license to produce whiskey. Since then, the company has been holding onto the dream of one day producing a genuine whiskey that takes advantage of the Japanese climate.
In 1960, after several years of whisky production in Kagoshima, he established the Mars Yamanashi Winery
in Yamanashi, a factory for wine and whisky production. Then, in order to engage in whisky production in earnest, they searched for an even more ideal location.
The natural conditions for whisky production are very severe, including a cold climate with clean air, as well as moderate humidity and good quality water.
After searching for a site that met these conditions, we opened the Mars Shinshu Distillery in 1985 at an altitude of 798 meters at the foot of Mount Komagatake in the Central Alps of Nagano Prefecture, in search of the best environment for whisky production.
In 1992, the distillery stopped distilling due to sluggish demand for whiskey. Later, as Japanese whisky began to be appreciated worldwide, the demand for whisky began to recover in 2009.
In September 2020, the distillery will be completely renovated for the first time in 35 years. The investment will be approximately 1.2 billion yen.
From May 2019, the whisky distillation building (including barrel storage) will be newly constructed for the purpose of renovating aging facilities, building barrel storage facilities with an eye to increasing whisky production, and observing whisky production, and the visitor building will be newly constructed for the purpose of selling original whisky and goods, and existing facilities and equipment will be renovated.
The new whisky distillery building has a total floor area of 1,996 square meters (including a barrel storage room that will hold approximately 2,500 barrels), and the visitor building has a floor area of 746 square meters.
Reference: Hombo Shuzo official website
■Production capacity: 1.1 tons of raw malt/day
■Brewing capacity: approx. 700 liters/day, approx. 185 kl/year (planned for FY2020)
■Major equipment: 1 malt grinding machine, 1 mash tun reuter (saccharification tank) 6KL x 1, stainless steel fermentation tanks 6KL x 3, Douglas fir wooden fermentation tanks (relocated) 6KL x 3, first distillation kettle (relocated)
For more information about Mars Shinshu Distillery, please see here↓

Voyager Estate
| | |
| --- | --- |
| Location | Stevens Road, Margaret River, Western Australia 6285 |
| Start of operations | 1978 |
Voyager Estate is a family owned and operated winery with vineyards in the Stephen Valley, Margaret River, Western Australia. It was established by farmer and regional pioneer Michael Wright, who saw the potential of the Stevens Valley to produce world class wines due to the influence of the ocean and the climate. The current business owner is Michael's daughter, Alexandra Bird. The entire process from growing to bottling is done at the winery.
In addition to winery tours, Voyager Estate offers expert-led tastings, a store, and a restaurant.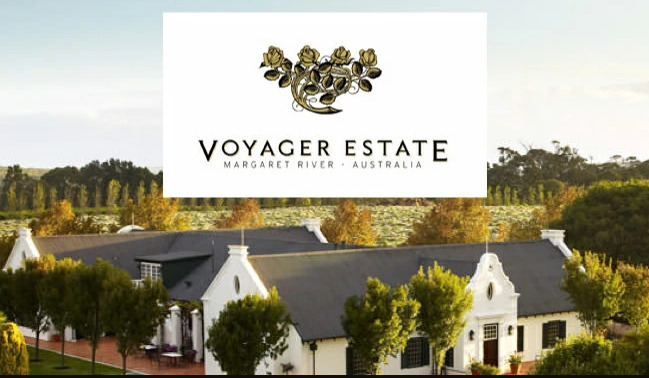 3. Product name and photo
Single Malt Komagatake VOYAGER ESTATE wine cask finish bottled in 2021
4. Features
A special single malt whisky made from malt distilled at the Mars Shinshu distillery and matured in bourbon barrels for at least three years, and then matured (finished) for at least one additional year in empty red wine barrels from Voyager Estate, a winery that produces high quality wines in the Margaret River region of Western Australia. This is a special single malt whiskey. It has an attractive pale rose color, a harmonious blend of fruity aromas of grapes and pomegranates, a smooth mouthfeel, and a fruity taste that balances flavor and sweetness with a pleasant lingering finish.
Reference: Japanese Whiskey|Single Malt Komagatake Voyager Estate Wine Cask Finish Bottled in 2021
4-1. Tasting Notes
| | |
| --- | --- |
| Nose | Fruity with grapes and pomegranate |
| Taste | Smooth mouthfeel with a hint of fruitiness |
| Aftertaste | Balance of deliciousness and sweetness |
4-2. Product Specifications
| | |
| --- | --- |
| Alcohol content | 48% alcohol by volume |
| alcohol category | Single malt whisky |
| Barrel type | Bourbon barrels, Voyager Estate red wine barrels |
| Contents | 700ml |
| Number of bottles sold | Limited to 950 bottles |
| Suggested retail price | 11,220 yen (tax included) |
| Release date | December 2021 |
5. Awards
No awards have been received at this time.
6. Price
6-1. Manufacturer's suggested retail price

| | |
| --- | --- |
| Product name | Single Malt Komagatake Voyager Estate Wine Cask Finish Bottled in 2021 |
| Volume | 700ml |
| Suggested retail price | 11,220 yen (tax included) |
6-2. Resale price on Mercari
There is currently no listing on Mercari. (*As of January 7, 2022)
6-3. Sold price on Yahoo Auction
The lowestbid price on Yahoo Auction was 34,000 yen, the highest was 47,000 yen, and the average was 40,500 yen
(*Statistics for the past 180 days from January 7, 2022)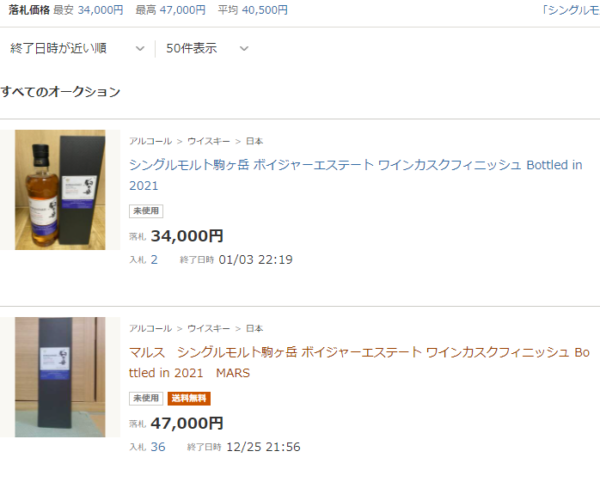 6-4. Rakuten, Yahoo Shopping, Amazon
There are currently no listings on mail order sites. (*As of January 7, 2022)
6-5. Price offered at BAR SHINKAI
At BAR SHINKAI, which is operated by this website, a singleglass is offered for 45ml: 3,300 yen, 30ml: 2,200 yen, 15ml: 1,100 yen
7. Summary
The aroma of various fruits and malt create a characteristic sweet scent.
It is quite dark and has the flavor of Voyager Estate red wine barrels. The sweetness of the malt and the sweetness of the bourbon barrels also combine to create a fruity and full-bodied sweetness.
When a small amount of water is added, the wine aroma opens up and shows a different face.
There are only a few bottles of this whiskey available, and since it is mainly exported overseas, it is quite difficult to purchase, but it is a whiskey with a very interesting flavor, so if you have a chance to try it, please do.
■Please also check out other articles about "Honbo Shuzo Single Malt Komagatake".