The raw malt distilled at the Nagahama Distillery and the raw malt distilled at the Eigashima Distillery are exchanged with each other. Both blenders met at the Eigashima distillery and completed the blend recipe after tasting multiple samples of the raw malt, including malt from overseas. This whisky is the counterpart to INAZUMA Extra Selected Edition No.2 released from Nagahama Distillery.
1. Maker
Eigashima Sake Brewery
| | |
| --- | --- |
| Established | May, 1888 |
| Head office location | 919 Nishijima, Okubo-cho, Akashi, Hyogo 674-0065, Japan |
| Owned distillery | Eigashima distillery (former White Oak distillery) |
2. Distillery
Eigashima Distillery
| | |
| --- | --- |
| Address | 919 Nishijima, Okubo-cho, Akashi, Hyogo 674-0065, Japan |
| Start of operation | 1919 |
1891 Completed the shochu storehouse "Niban-gura" (second storehouse) *It later became a whisky storehouse.
1919 Obtained a whisky license and established a distillery.
 In the same year, the local whisky "White Oak" was released.
1984 Completion of the new distillery.
2007 First single malt whisky " Akashi " 8 years old released.
2019 Name change from White Oak Distillery to Eigashima Distillery.
    Newly installed two pot stills made by Miyake Manufacturing Co.
2020 Release of the high-priced Eigashima brand.
Akashi is made at the White Oak Distillery in Eigashima, Akashi City, Hyogo Prefecture.
The name is now changed to Eigashima Distillery to make it easier to understand for foreign tourists.
Eigashima, a small fishing village, has a pleasant climate throughout the year and benefits from a warm oceanic climate right next to the Akashi Strait, an inland sea.
The license to produce whisky and wine was obtained in 1919.
The first distillation of whisky in Japan took place at the Yamazaki Distillery in 1923, but it was the Eigashima Distillery (formerly the White Oak Distillery) that received the first patent for whisky distillation in Japan in 1919.
In 1919, Masataka Taketsuru, the father of Japanese whisky, went to Scotland to learn about whisky distilling.
It is amazing that the White Oak Distillery existed at such an early stage.
However, although the patent was obtained, the correct method of making whisky was not handed down, so it is said that what was being made at that time was imitation whisky.
Reference: Eigashima Distillery official website.
For more information on the Eigashima Distillery, please see also.
https://jpwhisky.net/manufacturer/eigashima/
3. Product name and photo
Akashi Double Blenders Malt Harmony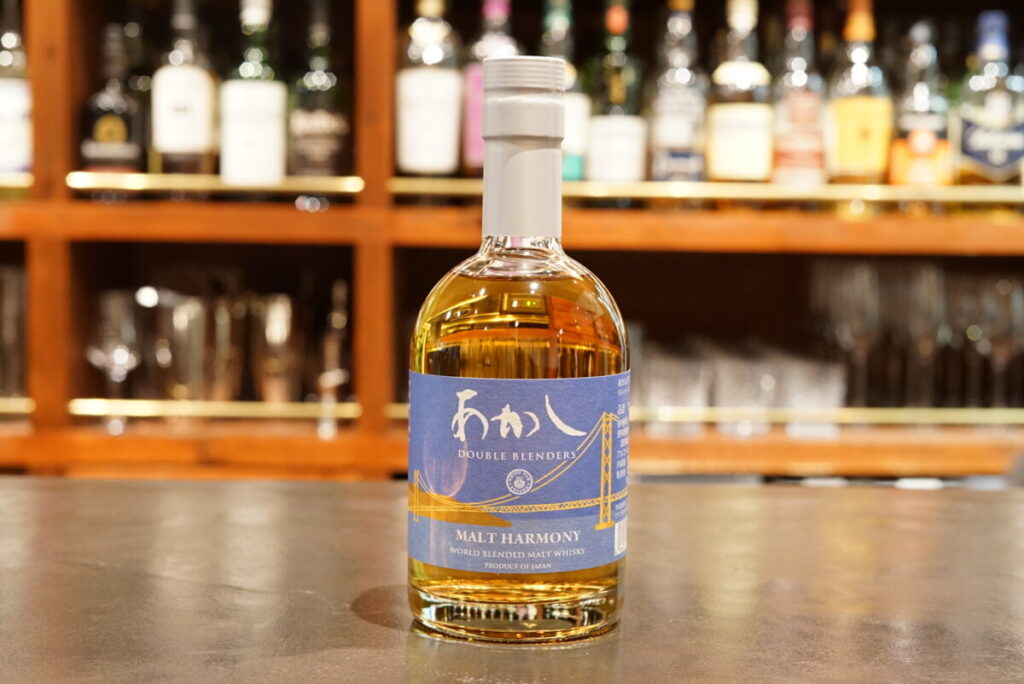 4. Characteristics.
Aged for 4 years in bourbon barrels and Pedro Ximenez barrels respectively.

Non-peated malt raw material distilled at the Nagahama distillery and light peated malt raw material distilled at the Eigashima distillery, stored for 4 years in bourbon barrels and 4 years in Pedro Ximenez barrels, plus a blend of 4-year and 5-year stored malt raw materials from overseas.
The label features the world's longest suspension bridge (Akashi Kaikyo Bridge), which symbolizes Akashi.
4-1. Tasting Notes
| | |
| --- | --- |
| Aroma | Sourness like yogurt and gentle sweetness like milk |
| Taste | Sweetness of melon, honey plum, sweetness, soft sourness and richness are well balanced. |
| Aftertaste | Changes from sweetness and sourness to woody barrel aroma. |
4-2. Product Specifications
| | |
| --- | --- |
| Alcohol content | 47%  |
| alcohol category | World blended malt |
| Barrel type | Bourbon barrels, sherry barrels (Pedro Ximenez), etc. |
| Contents | 500ml |
| Number of bottles sold | 3,000 bottles |
| Suggested retail price | 4,950 yen (tax included) |
| Release date | November, 2021 |
Awards received
No awards have been received at this time.
6. Price
6-1. Manufacturer's suggested retail price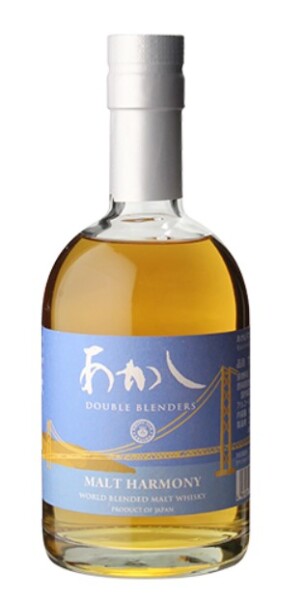 | | |
| --- | --- |
| Product name | Akashi Double Blenders Malt Harmony |
| Volume | 500ml |
| Suggested retail price | Tax included: 4,950 yen |
6-2. Resale price on Mercari
The resale price on Mercari is Around 11,000-16,000 yen The resale price on Mercari is as follows. (*As of 12/22/2021)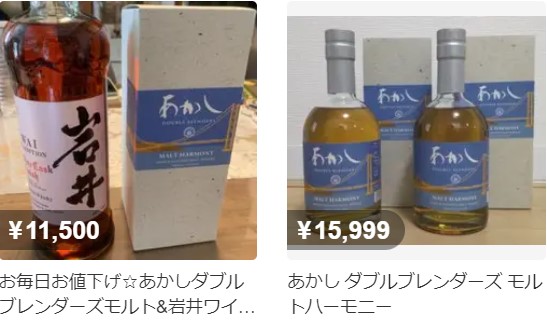 6-3. Yahoo auction bidding price
The winning bid price on Yahoo Auction is Lowest price: 3,300 yen, Highest price: 3,800 yen, Average price: 3,550 yen. (*as of 12/22/2021)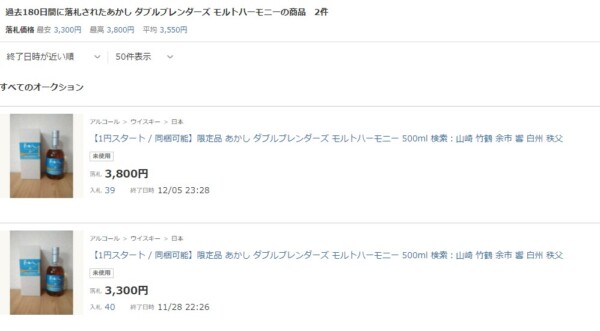 6-4. Rakuten, Yahoo Shopping, Amazon
You can also find it on mail order sites at Around 4,950 yen (*as of 12/22/2021) The winning bid price on Yahoo! (*As of 12/22/2021)
6-5. Price offered at BAR Shinkai
At "BAR SHINKAI" , which is operated by this website, we offer 1 glass, 45ml: 1,980 yen, 30ml: 1,320 yen, 15ml: 660 yen We also offer it in small quantities such as.
https://en.jpwhisky.net/about-2/barshinkai-4/
7. Summary
In Scotland, the exchange of undiluted sake has been a common practice for a long time. The number of distilleries in Japan is gradually increasing as well. The purpose of this exchange is to maintain the unique flavors of each distillery and to improve the skills of the distillers, which will lead to improvements in quality and technology, the creation of a wide variety of whiskies, and the further evolution of Japanese whisky.
In April 2021, the Chichibu Distillery and the Mars Shinshu Distillery will be exchanging barrels of whisky, which has been in the news for six years.
I believe that drinking whisky while thinking about the thoughts and stories of its creators will make it even more delicious.

Please check out the other articles about "Akashi" .
https://jpwhisky.net/2021/04/26/singlemaltakashi3yearssakecask/
https://jpwhisky.net/2021/04/26/singlemaltakashi3yeartequilacask/
Lastly: Recommended Books on Japanese Whisky
If you want to learn more about Japanese whisky, which is a global trend, we highly recommend these books.
In the December 2021 issue of Whisky Galore, published by the Whisky Culture Research Institute, we report on 11 Japanese craft distilleries, including some that are open to the public for the first time, under the title of "Japanese Whisky Craft Frontline," the first of three consecutive issues. Why did the popularity of Japanese whisky and the craft boom occur? We will examine with interviews. Chichibu Distillery / Chichibu No.2 Distillery / Mars Shinshu Distillery / Mars Tsunuki Distillery / Kanosuke Distillery / Hioki Distillery / Ontake Distillery / Osuzuyama Distillery / Kaikyo Distillery / Hanyu Distillery / Konosu Distillery
This is a book written by Mamoru Tsuchiya, a world-famous whisky critic and representative of the Whisky Culture Research Institute, titled "Japanese Whisky as a Culture that Works for Business" .
The book covers the basics of whisky, the introduction of whisky to Japan, the birth of Japanese whisky, advertising strategies and the rise of Japanese whisky, and the current rise of craft distilleries. This is a book that summarizes Japanese whisky in a very easy to understand way.
Masataka Taketsuru, the founder of Nikka Whisky, devoted his life to brewing whisky in Japan. This is a revised and reprinted version of the autobiography of a man who simply loved whisky and talked about himself. The book vividly depicts the days when he went to Scotland alone to study as a young man and overcame many hardships to complete Japanese whisky, as well as his companion, Rita.
Launching in 2019. With the world experiencing an unprecedented whisky boom, what were the managers of craft distilleries thinking and what were their thoughts as they took on the challenge of making whisky? This book tells the stories of 13 craft distillery owners, including Ichiro Hido of Venture Whisky, famous for his Ichirose Malt, who inspired the birth of craft distilleries in Japan.
This is the Japanese version of Whisky Risng, published in the US in 2016, with much updated content. Not only does it describe the history of Japanese whisky in detail, but it also includes data on all the distilleries in Japan, including the craft distilleries that have been founded in recent years. The book also includes descriptions of the legendary bottles that have been released, as well as information on bars where Japanese whisky can be found.