Komasa Brewing Company has released information on the release of their second single malt Japanese whisky, Single Malt Kanosuke 2021 SECOND EDITION.
The release date is November 12, 2021. and the number of bottles sold will be half of the FIRST EDITION (the specific number of bottles sold is not specified).
Since the first single malt was just released on June 16, 2021, the release was quite speedy.
When the "FIRST EDITION" was released, it was sold by lottery at the Kanosuke Distillery web store, but this time there seems to be no lottery. This time around, there will be no lottery sales, and it will be sold at stores nationwide and at the Kanosuke Distillery Shop
Difference between the Single Malt Kanosuke 2021 FIRST EDITION and SECOND EDITION
Both have the same concept, the same age and the same non-peated malt, but the main difference seems to be the key ingredient.
The key difference seems to be the key sake. "The FIRST EDITION" uses barrels that were used to age Komasa Jozo's signature rice shochu, Mellowed Kozuru. The taste starts with fresh and slightly sour fruit, and later on you can feel the fullness and a good sweetness. The aftertaste is also long, complex and deep, and the whisky has been highly evaluated by whisky lovers since its release.
On the other hand, the "SECOND EDITION" is described as a vatting of multiple casks, with the key being the raw spirit matured in bourbon barrels.
Isn't it just a common type of raw spirit? But I can't say for sure until I try it. I can't say for sure until I try it, but I'm excited to see if it's even better than the last one.
In order to embody the Kanosuke Distillery's concept of "MELLOW LAND, MELLOW WHISKY," the original three pot stills (copper distillers) were used to make the original spirit, which was then aged in various oak barrels for three years before being mulled.
"The Single Malt Kanosuke 2021 SECOND EDITION" is a single malt Japanese whiskey produced at the Kanosuke distillery in 2018. It is made with non-peated malt and matured in bourbon barrels, with multiple barrels vatted and bottled at cask strength.
The sea breeze that blows through the Kanosuke distillery gets colder every day, and the whiskey spends its time maturing gently.
Please enjoy the elegant sweetness and bitterness of the beer matured in the gentle sea breeze.
Reference: PRODUCTS-Kanosuke-Distillery
 
Single Malt Kanosuke 2021 FIRST EDITION
Single Malt Kanoosuke-2021 SECOND EDITION
Aged for
Aged for 3 years
Aged for 3 years
Malt
Non-peated malt
Non-peated malt
Key Malt
The same American white oak richer cask used for the barrel-aged rice shochu "Mellowed Kozuru".
Barrel-aged in bourbon barrels
Bottling
Cask Strength
Cask strength
Official Tasting Notes
Color: Amber and sunset
Nose: Lime, prune, raisin butter
Mouth: Mellow, woody, vanilla and nibbly.
Aftertaste: Bittersweetness of orangette, soft sea breeze
Color: yellow amber
Nose: Citrus, green apple, vanilla, lemon tea
Taste: honey, nikki, grapefruit
Aftertaste: Elegant sweetness and soft bitterness
In addition, this product is described as a "single malt Japanese whiskey" in the product description. This has an important meaning: the voluntary standards for Japanese whiskey established by the Japan Sake Brewers Association recently came into effect on April 1, and the fact that the product complies with them is clearly indicated.
| | |
| --- | --- |
| Product Name | Single Malt Kanosuke 2021 SECOND EDITION |
| Sake category | Single malt Japanese whisky |
| Ingredients | Malt |
| Barrel type | Bourbon barrels, etc. |
| Number of bottles | Limited quantity |
| Alcohol content | 57 |
| Price | Suggested retail price: 13,750 yen (tax included) |
| Place of manufacture | Distillation: Kanosuke Distillery |
| Manufacturer | Kosho Brewing Co. |
About Kosho Brewery – Kanosuke Distillery
The Kanosuke Distillery started operations in 2017.
It stands on a spacious site of about 9,000 square meters along Fukiage beach on the west coast of Kagoshima Prefecture, dotted with various facilities. The two-story U-shaped main building houses the distillation facilities, as well as a bar with a great view and a store selling original goods, making the distillery a place where visitors can experience whisky making at close hand.
The main feature of the Kanosuke distillery is that it is The distillery is equipped with three pot stills (distillers). The distillery has three distilleries. The distillery has three distillation units, each with a capacity of 6,000 liters, 3,000 liters, and 1,600 liters, respectively, and two units are common among craft distilleries (small-scale distilleries) in the world. Whiskey is usually distilled twice, and at the Kasanoske distillery, the second distillation (re-distillation) uses pot stills with different neck shapes and upper line arm angles to create different aromas and flavors of the original whiskey.
2021.01.01
The latest list of whisky distilleries in Japan updated in January 202...
The Kanosuke lineup
Single malt Kanosuke 2021 FIRST EDITION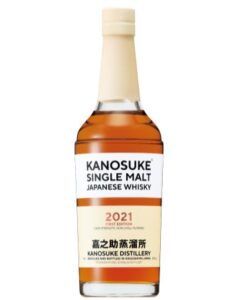 "Single Malt Kanosuke 2021 FIRST EDITION" is a single malt Japanese whisky produced at the Kanosuke distillery in 2017-18.
This whisky is made with non-peated malt, and is bottled at cask strength using the same American white oak richer casks used for the barrel-aged rice shochu "Mellowed Kozuru".

¥38,500
(2021/11/30 16:55:16時点 楽天市場調べ-
詳細)
Kanosuke Newborn 2020 Peated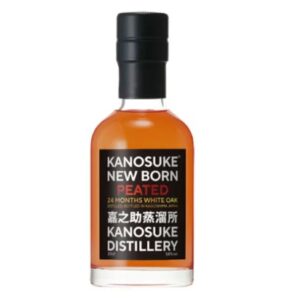 Single malt Newborn, casked from whiskey stock distilled in August 2018.
British peated malt is used, and the wash fermented with distillery yeast is distilled in a first distillation kettle. The resulting low wine is then distilled in one of the two redistillation kettles owned by the Kanosuke distillery, which produces a bodied liquor.
The raw wine is then casked in white oak barrels and stored for 24 months in the Kanosuke distillery's sea breezy cellar before being bottled at cask strength.

¥9,800
(2021/11/30 16:55:16時点 楽天市場調べ-
詳細)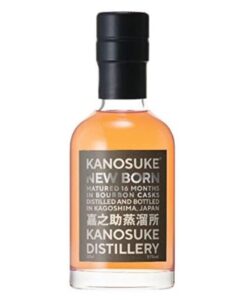 The raw material used is non-peated malt from England. After fermentation with distillery yeast, the malt is distilled in the first distillation kettle, and then in one of the two distillation kettles owned by the Kennosuke distillery.
The distillate is then casked in bourbon barrels and stored for 16 months in the Kanosuke distillery's sea breeze-scented cellar before being bottled at cask strength.
Kanosuke Newborn 2018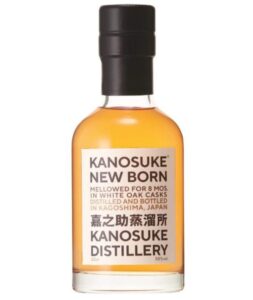 A single malt newbone made by barrel-stuffed whisky raw liquor distilled in February 2018.
The raw material is British non-peat malt. After fermentation with Distillery yeast, distilled in the first distiller, and then distilled in a re-distillation pot with a structure that can make a body-like liquor quality among two re-storage pots with different structures owned by Kanosuke Distillery. The unshued sake is packed in barrels made of American white oak barrels where the barrel-aged rice shochu "Mellowed kozuru" was stored, and after storage for 8 months in the storage of Kanosuke Distillery where the sea breeze smells, it is bottled with Caskstrengths, and it is sweet and gorgeous newbone.
Lastly: Recommended Books on Japanese Whisky
If you want to learn more about Japanese whisky, which is a global trend, we highly recommend these books.
This is a book written by Mamoru Tsuchiya, a world-famous whisky critic and representative of the Whisky Culture Research Institute, titled " Japanese Whisky as a Culture that Works for Business. "
The book covers the basics of whisky, the introduction of whisky to Japan, the birth of Japanese whisky, advertising strategies and the rise of Japanese whisky, and the current rise of craft distilleries. This is a book that summarizes Japanese whisky in a very easy to understand way.
祥伝社
¥1,760
(2021/11/30 13:56:04時点 Amazon調べ-
詳細)
Masataka Taketsuru, the founder of Nikka Whisky, devoted his life to brewing whisky in Japan. This is a revised and reprinted version of the autobiography of a man who simply loved whiskey and talked about himself. The book vividly depicts the days when he went to Scotland alone to study as a young man and overcame many hardships to complete Japanese whiskey, as well as his companion, Rita.
Launching in 2019. With the world experiencing an unprecedented whiskey boom, what were the managers of craft distilleries thinking and what were their thoughts as they took on the challenge of making whiskey? This book tells the stories of 13 craft distillery owners, including Ichiro Hido of Venture Whiskey, famous for his Ichirose Malt, who inspired the birth of craft distilleries in Japan.
This is the Japanese version of Whisky Risng, published in the US in 2016, with much updated content. Not only does it describe the history of Japanese whiskey in detail, but it also includes data on all the distilleries in Japan, including the craft distilleries that have been founded in recent years. The book also includes descriptions of the legendary bottles that have been released, as well as information on bars where Japanese whiskey can be found.