The Sasanogawa Brewery, famous for its Cherry Whisky, was part of the local whisky boom that was known as "Cherry in the North, Toa in the East, and Mars in the West" from 1975 to 1960.
In 2004, Mr. Ichiro Hido, who was the president of Toa Shuzo at the time, asked Sasanogawa Shuzo to take care of the whisky stored at the Hanyu distillery due to Toa Shuzo's poor management. The whisky was stored at the Hanyu distillery for the poor management of Toa Shuzo, and was entrusted to Sasanogawa Shuzo, which later released it as Ichirose Malt.
The Yamazakura series includes Yamazakura Blended Whisky Black Label and Yamazakura Pure Malt.
A limited release of Sanzakura 18 Year Old was released in 2018 at 25,000 yen.
1. Manufacturer.
Sasanogawa Still Co.
| | |
| --- | --- |
| Established | 1765 (Meiwa 2) |
| Head office location | 1-178 Sasanogawa, Koriyama-city, Fukushima 963-0108, Japan |
| Owned distillery | Azumi distillery |
2. distillery
Azumi Distillery
| | |
| --- | --- |
| Location | 1-178 Sasagawa, Koriyama City, Fukushima Prefecture |
| Start of operation | 1946 (old facilities), distilling resumed in April 2016 (new facilities) |
Started operation in 1765 (Meiwa 2)
1920 (Taisho 9) Yamaguchi Sake Brewery Co.
1932 Yamazakura Shuzo Limited Partnership established
1946 Licensed to produce whisky 
1966: Sasanogawa Shuzo Co.
1983 Whisky malt storage warehouse completed
1998 Yamazakura Shuzo and Sasanogawa Shuzo merged, with Sasanogawa Shuzo becoming the surviving company
2004 The whisky stored at Toa Shuzo was entrusted to us.
2005 (Heisei 17) "Ichirose Malt", planned by Venture whisky, was released. (The manufacturer's name on the back label of the bottle is Sasanogawa Shuzo)
2016 (Heisei 26) The Azumi Distillery started full-scale operations.

Yamazakura Shuzo, founded south of Lake Inawashiro in 1710, moved to Koriyama in 1765.
This Yamazakura Shuzo was the first to obtain a license to brew whisky in 1946, which was in increasing demand as a national policy during the American occupation after the war.
Brewing sake was extremely difficult due to the rice shortage during and after the war, and the influx of Western culture after the war was also a factor in the company's commitment to whisky production.
1975-1988, during the period of rapid economic growth, Sasanogawa Brewery's Cherry whisky, along with Toa Shuzo and Honbo Shuzo, was called "Cherry in the North, Toa in the East, and Mars in the West.
However, after a period of low growth and changing tastes, Toa was forced to withdraw from the business in 2003, and the barrels of undiluted whisky from the distillery in Hanyu were taken care of by Sasanogawa.
In 2003, Toa was forced to withdraw from the business, and Sasanogawa took custody of the barrels of undiluted sake from the distillery in Hanyu. This was a big help in the release of "Ichirose Malt," which later became popular worldwide.
Since the end of the war, the distillery has continued to produce whisky in small quantities, and currently uses two types: Scotch and malt imported from Kentucky.
The Azumi distillery is located in Sasanogawa Shuzo, a sake brewery that has been in operation since the Edo period.
The pot still looks great against the traditional white plaster walls.
Image credit: Azumi Distillery Official Facebook
For more information about Azumi Distillery, please visit.
https://en.jpwhisky.net/2021/01/01/japanesedistillery-2/#2-3_Asaka_Distillery_Sasanokawa_Sake_Brewery"]
3. Product name and photo
Pure malt whisky Yamazakura 18 years old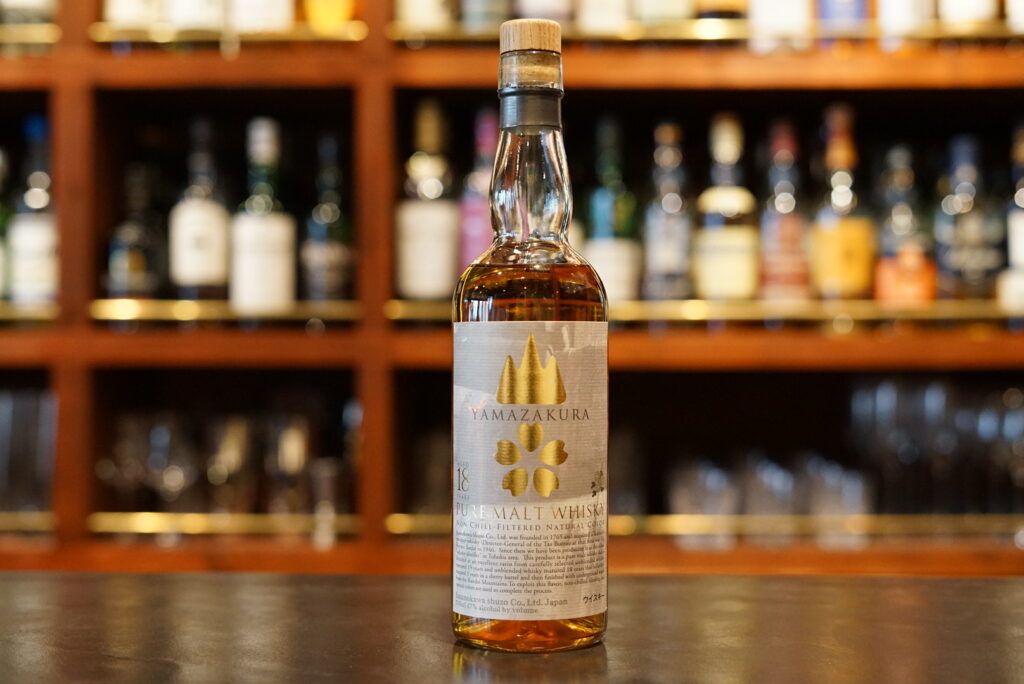 4. Characteristics
A blend of 19 year old barleywine and 18 year old barleywine aged for 3 years in sherry casks.
This is a pure malt whisky made by blending carefully selected 19 year old barleywine with 18 year old barleywine matured in sherry casks for 3 years in a perfect ratio, and finishing with underground water from the Bandai mountain range. It is non-chill filtered and has no natural color.
It has a gorgeous and rich aroma. As you would expect from a whisky that has been aged for more than 18 years, the mouthfeel is mellow and the elegant sweetness fills the mouth. It is characterized by a gorgeous and sweet barrel aroma that allows you to feel the ripeness of the sherry barrels.
4-1. Tasting Notes
| | |
| --- | --- |
| Aroma | Strawberry jam, apricot, apricot, custard |
| Taste | Ripe sweetness of fruit and mellow sweetness from the sherry cask. |
| Aftertaste | Mild sweet oak aroma lingers for a long time. |
4-2. Product Specifications
| | |
| --- | --- |
| Alcohol content | 47% alcohol by volume |
| alcohol category | Pure malt whisky |
| Cask type | Sherry casks, etc. |
| Contents | 700ml |
| Number of bottles sold | Limited quantity |
| Suggested retail price | 27,500 yen (tax included) |
| Release date | 2018  |
5. Award history
No awards have been received at this time.
6. Price
6-1. Manufacturer's suggested retail price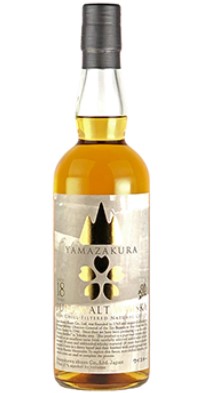 | | |
| --- | --- |
| Product name | Pure Malt Whisky Yamazakura 18years |
| Volume | 700ml |
| Suggested retail price | Tax included: 27,500 yen |
6-2. Resale price on Mercari
The resale price on Mercari is Around 21,000 yen to 35,800 yen The resale price on Mercari has become (*as of 9/8/2021)


6-3. Yahoo auction bidding price
The price on Yahoo Auction is Lowest price: 14,611 yen, highest price: 31,200 yen, average price: 25,270 yen (*Statistics for the past 180 days as of 9/8/2021)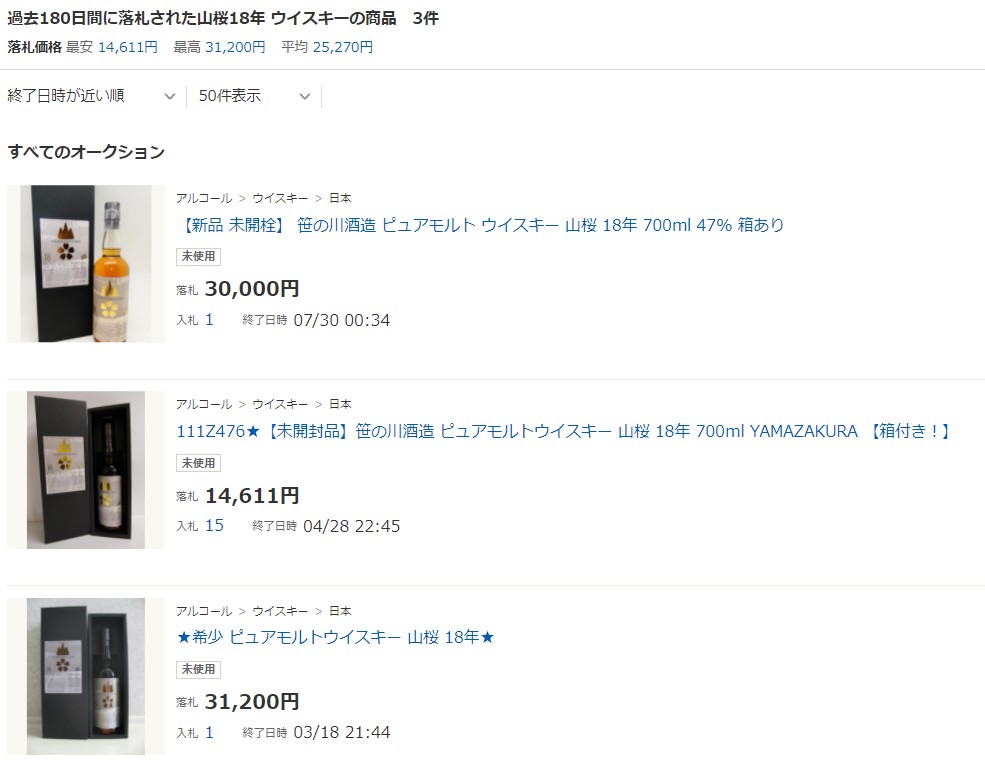 6-4. Rakuten, Yahoo Shopping, Amazon
There are no mail order sites that carry this product. (*As of 9/8/2021)
6-5. Price offered at BAR SHINKAI
At "Bar Shinkai," which is operated by this site, we offer even small quantities of 1 glass, 45ml: 9,570 yen, 30ml: 6,380 yen, 15ml: 3,190 yen We also offer small quantities such as
https://en.jpwhisky.net/about-2/barshinkai-4/
7. Summary
The moment you open the bottle, you will be greeted with a rich and gorgeous aroma. The mouthfeel is mellow, and the aroma and taste are both fruity and elegantly sweet. This is a whisky that should be drunk straight to enjoy its aroma.
If you add a small amount of water, the aroma will become even more pronounced, but the sweetness will fade away and the taste will become more refreshing.
When served on the rocks, the bitterness of the sherry comes out slightly, but the sweetness soon overtakes it, leaving a sweet aftertaste.
This is a well-balanced bottle with a complex flavor that is indeed 18 years old.
This bottle was released in limited quantities in 2018. It is currently a very rare bottle that is almost impossible to find even on major mail order sites.
If you like sweet whisky, or if you see it in a bar, this is a whisky you should definitely try.
Please take a look at other articles about "yamazakura"
https://en.jpwhisky.net/2021/06/02/yamazakuraportwinecaskfinish-2/
Lastly: Recommended Books on Japanese Whisky
If you want to learn more about Japanese whisky, which is a global trend, we highly recommend these books.
In the December 2021 issue of Whisky Galore, published by the Whisky Culture Research Institute, we report on 11 Japanese craft distilleries, including some that are open to the public for the first time, under the title of "Japanese Whisky Craft Frontline," the first of three consecutive issues. Why did the popularity of Japanese whisky and the craft boom occur? We will examine with interviews. Chichibu Distillery / Chichibu No.2 Distillery / Mars Shinshu Distillery / Mars Tsunuki Distillery / Kanosuke Distillery / Hioki Distillery / Ontake Distillery / Osuzuyama Distillery / Kaikyo Distillery / Hanyu Distillery / Konosu Distillery
This is a book written by Mamoru Tsuchiya, a world-famous whisky critic and representative of the Whisky Culture Research Institute, titled "Japanese Whisky as a Culture that Works for Business" .
The book covers the basics of whisky, the introduction of whisky to Japan, the birth of Japanese whisky, advertising strategies and the rise of Japanese whisky, and the current rise of craft distilleries. This is a book that summarizes Japanese whisky in a very easy to understand way.
Masataka Taketsuru, the founder of Nikka Whisky, devoted his life to brewing whisky in Japan. This is a revised and reprinted version of the autobiography of a man who simply loved whisky and talked about himself. The book vividly depicts the days when he went to Scotland alone to study as a young man and overcame many hardships to complete Japanese whisky, as well as his companion, Rita.
Launching in 2019. With the world experiencing an unprecedented whisky boom, what were the managers of craft distilleries thinking and what were their thoughts as they took on the challenge of making whisky? This book tells the stories of 13 craft distillery owners, including Ichiro Hido of Venture Whisky, famous for his Ichirose Malt, who inspired the birth of craft distilleries in Japan.
This is the Japanese version of Whisky Risng, published in the US in 2016, with much updated content. Not only does it describe the history of Japanese whisky in detail, but it also includes data on all the distilleries in Japan, including the craft distilleries that have been founded in recent years. The book also includes descriptions of the legendary bottles that have been released, as well as information on bars where Japanese whisky can be found.
]