Single Malt Whisky SAKURAO
SAKURAO DISTILLERY was established in Hatsukaichi City, Hiroshima Prefecture, known as the town of Itsukushima Shrine, a World Heritage Site, and started operations in January 2018.
Ltd. (formerly known as Chugoku Jozo Co., Ltd.), famous for its SAKURAO GIN, began the project in 2015 as part of its 100th anniversary.
To date, the only whisky sold has been under the name "Togouchi", and this is the first release of a whisky with the name "Sakurao".
Most of the whiskys are shipped to restaurants, hotels, bars, and other business establishments, and the number distributed to retailers for general consumers is quite small.
In addition, this product is labeled " JAPANESE WHISKY " in the product name. This has an important meaning: the voluntary standards for Japanese whisky established recently by the Japan Sake Brewers Association came into effect on April 1, and the label indicates that the product complies with them.
1. Manufacturer
Sakurao Brewery and Distillery Co.
| | |
| --- | --- |
| Established | 1918 |
| Head Office Address | 1-12-1, Sakurao, Hatsukaichi City, Hiroshima Prefecture, 738-8602, Japan |
| Owned distillery | Sakurao Distillery |
2. Distillery
SAKURAO DISTILLERY
| | |
| --- | --- |
| Address | 1-12-1, Sakurao, Hatsukaichi City, Hiroshima Prefecture, 738-8602, Japan |
| Start of operation | January 2018 |
Sakurao Brewery and Distillery Co., Ltd. in Hiroshima Prefecture is a long-established brewery founded in 1918.
In fact, the company has a deep history in whisky making, and was engaged in the production and sale of malt whisky from 1938 to 1989. At that time, the distilled whisky was stored in a storage facility in Togouchi, which was built in a trial tunnel for the JR West railroad.
In 2008, we started selling " Togouchi whisky " which is made by blending the raw liquor stored in the Togouchi storage facility with imported raw liquor. (90% of the whisky is exported to Europe.)
In December 2017, as a project to celebrate the 100th anniversary of the company's operation, new equipment was installed to produce high-quality single malt whisky, and a craft distillery from Hiroshima called SAKURAO DISTILLERY was built.
| | |
| --- | --- |
| December 2017 | SAKURAO DISTILLERY completed. |
| October 2018 | SAKURAO DISTILLERY VISITOR CENTER opened |
| 2019 | SAKURAO DISTILLERY 2nd phase construction (installation of grain whisky distillation equipment and new whisky storage) |
| March 2021 | Company name changed to SAKURAO BREWERY AND DISTILLERY Co. |
3. Product name and photo
 SINGLE MALT WHISKY "SAKURAO"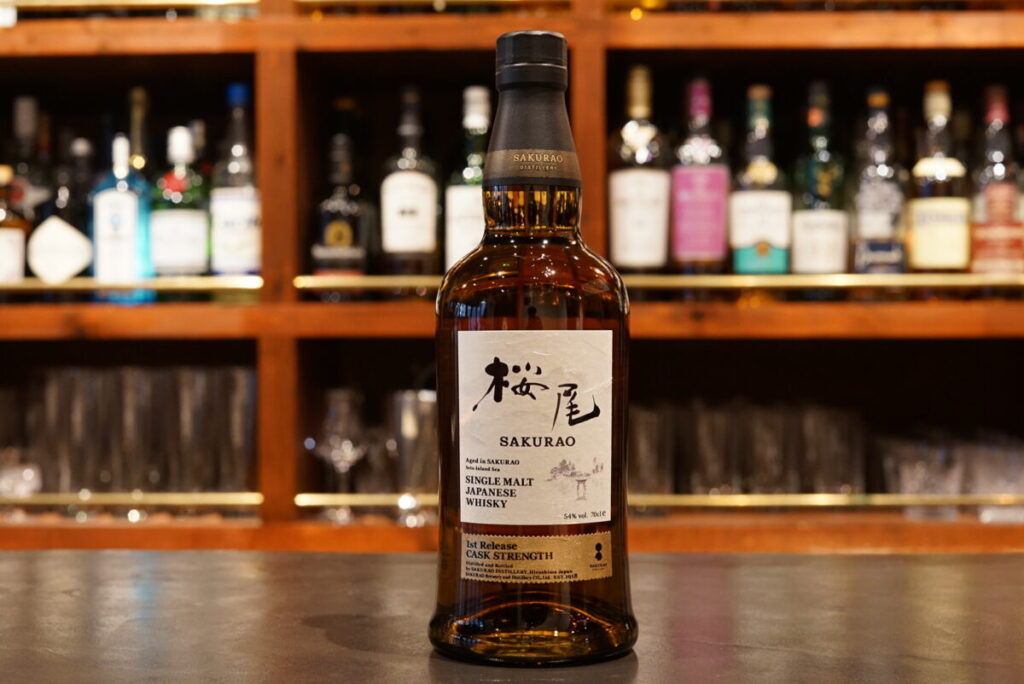 4. Characteristics
Characterized by a woody and smoky flavor with a gentle scent of the Seto Inland Sea.
Bottled at cask strength after 3 years maturation in the maturation cellar on the premises of Sakurao Distillery.
The maturation cellar is located on the sea side, and the matured barrels have a faint aroma of the gentle tide of the Seto Inland Sea. It has a long-lasting woody aroma and a strong peaty flavor. It has a deep flavor with a rich sweetness.
A taste refined by the Seto Inland Sea and wind
The Sakurao Distillery is located in Hatsukaichi City, with the Seto Inland Sea to the south and the Chugoku Mountains to the north. The distillery's Sakurao cellar receives warm breezes from the sea and cool breezes from the mountains, creating a large temperature difference throughout the year. This temperature difference speeds up the maturation of the whisky. Also, because the cellar is located on the ocean side, the mild scent of the Seto Inland Sea lingers in the aging barrels. The sweet and smoky aroma of ripe grapes, oranges, bitter chocolate, and vanilla is appealing. It is also harmonious with subtle spiciness and moderate astringency. You will enjoy the long-lasting woody and smoky aroma and the rich sweetness.
Matured in a storage facility in Sakurao, the place where the company was founded.
The barrels in which the malt liquor is stored have a subtle hint of the tide coming from the Seto Inland Sea, which is located not far from the cellar.

Quote: From Hiroshima to the World with Tradition and Innovation: Simultaneous Release of Sea and Mountain Single Malt Whisky "Sakura-o" and "Togouchi"|prtimes.jp
4-1. Tasting Notes

| | |
| --- | --- |
| Aroma | Ripe grapes, orange aroma, bitter chocolate |
| Taste | Vanilla sweetness, smoky aroma, spicy taste with a hint of spice, moderate astringency. |
| Aftertaste | Woody, smoky aroma and rich sweetness with a long lingering aftertaste |

4-2. Product Specifications
| | |
| --- | --- |
| Alcohol content | 54% alcohol by volume |
| alcohol category | Single malt Japanese whisky |
| Barrel type | Bourbon barrels, etc. |
| Contents | 700ml |
| Number of bottles sold | Limited quantity |
| Suggested retail price | 9,350 yen (tax included) |
| Release date | July 1, 2021 |
5. Awards
No awards have been received at this time.
6. Price
6-1. Manufacturer's suggested retail price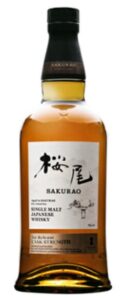 | | |
| --- | --- |
| Product name | Single Malt Whisky Sakura-o |
| Capacity | 700ml |
| Suggested retail price | 9,350 yen (tax included) |
6-2. Resale price on Mercari
The resale price on Mercari is around 40,000 yen to 46,000 yen for the set with Single Malt Togouchi, which was released at the same time. (*As of July 2, 2021)


6-3. Sold price on Yahoo Auction
The lowest bid price on Yahoo Auction was 40,000 yen, the highest was 40,000 yen, and the average was 40,000 yen for the set with the single malt Togouchi released at the same time.(Statistics for the past 120 days from July 2, 2021)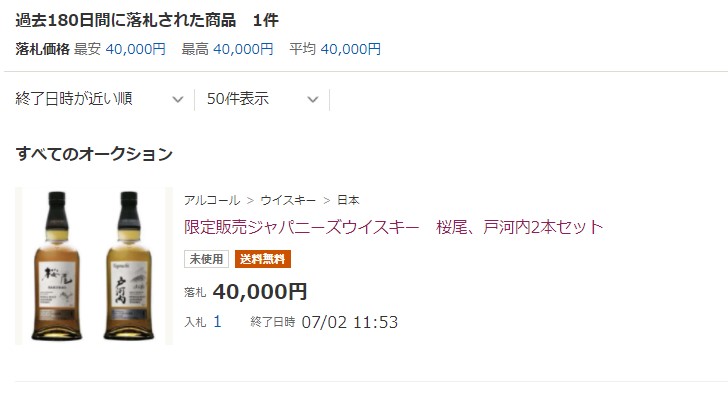 6-4. Rakuten, Yahoo Shopping, Amazon
Currently, the product does not seem to be sold on any mail order sites. (*As of July 2, 2021)
6-5. Price offered at BAR SHINKAI
At "BAR Shinkai", which is operated by this website, we offer it in small quantities such as 1 cup, 45ml: 3,630 yen, 30ml: 2,420 yen, 15ml: 1,210 yen.
https://en.jpwhisky.net/about-2/barshinkai-4/
7. Summary
Sakurao's maturing cellar is located by the sea. The salty taste reminiscent of the sea is impressive. It also has a rich chocolate-like sweetness, which combined with the spicy taste makes it a complex flavor.
It will be interesting to see how this first release as a Japanese whisky will be received in the future.
■Please check out the other articles on the Sakurao Distillery.
https://jpwhisky.net/2021/07/02/singlemalt_togouchi/
Lastly: Recommended Books on Japanese Whisky
If you would like to learn more about Japanese whisky, which is a global trend, we highly recommend these books.
This is a book written by Mamoru Tsuchiya, a world-famous whisky critic and representative of the Whisky Culture Research Institute, titled " Japanese Whisky as a Culture that Works for Business.
The book covers the basics of whisky, the introduction of whisky to Japan, the birth of Japanese whisky, advertising strategies and the rise of Japanese whisky, and the current rise of craft distilleries. This is a book that summarizes Japanese whisky in a very easy to understand way.
The April 2021 issue of Whisky Galore, published by the Whisky Culture Research Institute.
This issue of Whisky Galore, published by the Whisky Culture Research Institute, features the definition of Japanese whisky and a list of 24 distilleries as the latest in Japanese whisky. It also includes an interview with Suntory Chief Blender Shinji Fukuyo, making it a must-have for Japanese whisky fans.
This is the Japanese version of Whisky Risng, published in the US in 2016, with much updated content. Not only does it describe the history of Japanese whisky in detail, but it also includes data on all the distilleries in Japan, including the craft distilleries that have been founded in recent years. The book also includes descriptions of the legendary bottles that have been released, as well as information on bars where Japanese whisky can be found.