This is a blended malt whisky made by exchanging raw materials from Shinshu Mars Distillery and Chichibu Distillery. This is the first initiative of its kind in the Japanese whisky industry.
Honbo Shuzo has announced information on the release of the new product at the end of April 2021.
Japanese whisky lovers will be wowed by this product, which is a joint project with Ichirose Malt. The whisky was made possible through an exchange of malt liquor between Mars Whisky and Ichirose Malt. The malt liquor was distilled in April 2015, exchanged, matured at each distillery, and then vatted for commercialization.
The Chichibu distillery, which started operations in 2008, and the Honbo Shuzo Mars Shinshu distillery, which restarted distilling in 2011.
The distillery was started in the hope that the exchange of raw spirits, which is a common practice in Scotland, could be realized in Japan.
The project, launched by two highly motivated distilleries in pursuit of new possibilities for Japanese whisky, began six years ago in April 2015 with the exchange of new pots of raw whisky from both distilleries.
The Chichibu distillery is rich in nature, with the benefit of the Arakawa River and the temperature difference unique to the basin, while the Mars Shinshu distillery is surrounded by a beautiful forest at the foot of Mount Komagatake in the Central Alps.
The raw materials matured in these two different environments are blended in each place and expressed as a new character.
The soft and transparent fruity taste, and the layers of aroma carefully layered little by little, create a depth that can be felt slowly over time.
It is bottled with high alcohol content, non-chill filtered, and natural color to take advantage of its characteristics.
This is a bottle full of the charm and potential of Japanese whisky, which has many possibilities.
In April, the "Standards for the Labeling of Japanese Whisky" established by the Japan Western Liquor Brewers Association came into effect. From this point forward, more than ever, we must create something that is unashamedly Japanese whisky for the world. We will unite in our direction of production and our way of thinking, and enliven Japanese whisky with like-minded people. I believe that friendly rivalry between us will lead to growth for the Japanese whisky industry. We hope that this joint project will be an opportunity for distilleries to think about how to express Japanese whisky to each other as craft distilleries increase in Japan. (Kazuto Honbo, President and Representative Director of Honbo Shuzo Co.)
1.Manufacturer
Honbo Sake Brewery Co.
Establishment
1872
Head office location

Kagoshima, Japan 891-0122
3-27, Nan Sakae, Kagoshima City, Kagoshima Prefecture

Distilleries owned
Mars Shinshu distillery, Mars Tsunuki distillery
2.Distillery
Mars Shinshu Distillery
| | |
| --- | --- |
| Location | 4752-31 Miyata-mura, Kamiina-gun, Nagano 399-4301 Japan |
| Started | operation in 1985 |
It was in 1949 that Honbo Shuzo, which had been striving to make shochu, a Japanese distilled liquor, in Kagoshima, obtained a license to manufacture whisky. Since then, he had been holding on to his dream of "one day making real whisky that takes advantage of the Japanese climate.
In 1960, after several years of whisky production in Kagoshima, he established the Mars Yamanashi Winery in Yamanashi, a factory for wine and whisky production. Then, in order to engage in whisky production in earnest, they searched for an even more ideal location.
The natural conditions for whisky production are very severe, including a cold climate with clean air, moderate humidity, and good water.
We searched for a place that met these conditions and opened the Mars Shinshu Distillery in 1985 at an altitude of 798 meters at the foot of Mount Komagatake in the Central Alps of Nagano Prefecture, seeking the best environment for whisky production.
In 1992, distilling was suspended due to sluggish demand for whisky. Later, as Japanese whisky began to be appreciated worldwide, the demand for whisky began to recover, and in 2009, the company decided to resume distilling.The distillery was restarted in February 2011. In September 2020, the distillery will be completely renovated for the first time in 35 years. The investment will be approximately 1.2 billion yen.
Starting in May 2019, the whisky distillation building (including barrel storage) will be newly constructed for the purpose of renovating aging facilities, improving barrel storage facilities in anticipation of increased whisky production, and observing whisky production, and the visitor building will be newly constructed for the purpose of selling original whisky and goods, and existing facilities and equipment will be renovated.
The visitor building will be newly constructed for the purpose of selling original whisky and goods, and existing facilities and equipment will be renovated.
The new whisky distillery building has a total floor area of 1,996 square meters (including a barrel storage room that will hold approximately 2,500 barrels), and the visitor building has a floor area of 746 square meters.
Reference: Honbo Shuzo official website
■Production capacity: 1.1 tons of raw malt/day
■Production volume of undiluted liquor: approx. 700L/day, approx. 185KL/year (planned for FY2020)
■Brewing capacity: approx. 700 liters/day, approx. 185 kl/year (planned for FY2020)
Major equipment: 1 malt grinding machine, 1 mash tun reuter (saccharification tank) 6KL x 1, stainless steel fermentation tanks 6KL x 3, Douglas fir wooden fermentation tanks (relocated) 6KL x 3, first distillation kettle (relocated)
Click here for information on Mars Shinshu Distillery Please also see.
Venture whisky Chichibu Distillery
| | |
| --- | --- |
| Location | 49 Midorigaoka, Chichibu City, Saitama Prefecture, 368-0067 Japan |
| Start of operations | 2007 |
Founded in September 2004.
Chichibu distillery was completed in 2007.
In February 2008, a license to make whisky was issued and we began making whisky at the Chichibu distillery.
The single malt whisky production is rooted in the climate of Chichibu.
Mr. Ichiro Hido, the founder of the distillery, takes pride in making Japanese whisky, and produces malt whisky by hand using a small mill, a mash tun, a fermentation tank made of Quercus serrata, and a pot still made by Forsythe in Scotland.
The area around the Chichibu distillery is rich in nature, with clean air, good quality water, high temperatures and humidity in the summer, and cold temperatures that reach below freezing in the morning and evening. The difference in temperature caused by the harsh climate has a great impact on the maturation of the whisky, resulting in a fruity and well-balanced whisky despite the short maturation period.
Image credit: Chichibu Distillery official FaceBook page
For more information about Chichibu Distillery, please click here.
3. product name and photo
MARS WHISKY Malt Duo KOMAGATAKE × CHICHIBU 2021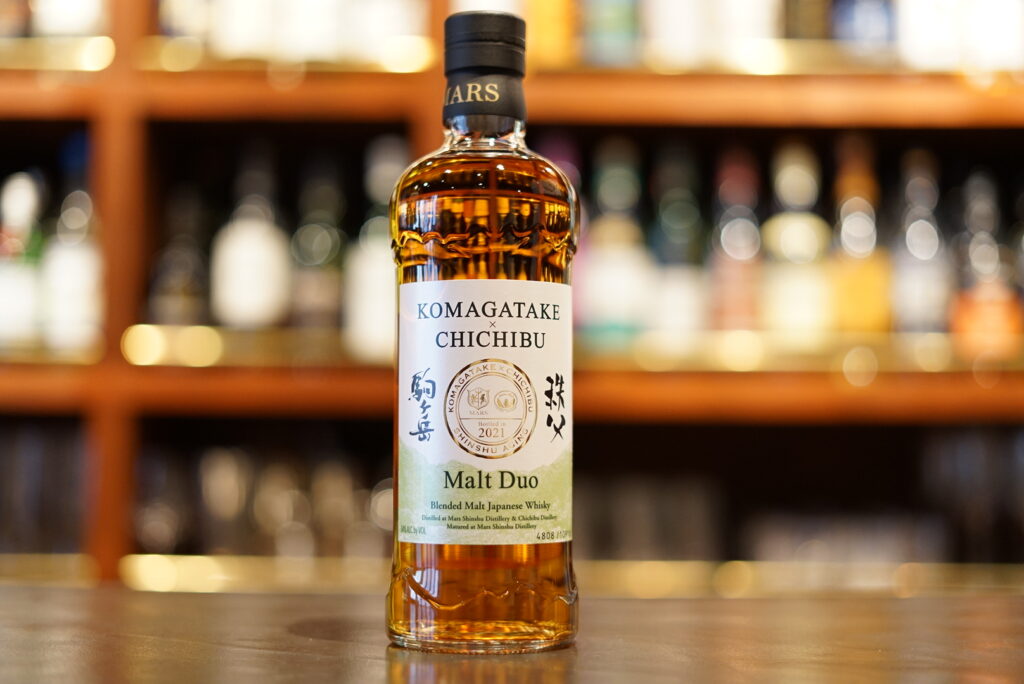 ¥39,800
(2023/06/04 22:32:51時点 楽天市場調べ-
詳細)
4.Features
We want to explore the further possibilities of Japanese whisky and create delicious whisky that transcends the boundaries of distilleries.
With this in mind, in 2015, Mars Shinshu Distillery and Venture whisky Chichibu Distillery began exchanging malt whiskys from each other and maturing them in their respective locations.
This bottle is a blended malt Japanese whisky made by vatting the malt of two distilleries, "Komagatake" and "Chichibu", matured at Mars Shinshu Distillery. We hope you will enjoy this special bottle, which was created by refining the individuality of both Komagatake and Chichibu.
This product conforms to the "Standards for Labeling Japanese whisky" of the Japan Western Liquor Brewers Association.
(Article citation: Japanese whisky / MARS WHISKY Malt Duo KOMAGATAKE×CHICHIBU|Hombo Shuzo Co.
4-1. Tasting Notes
| | |
| --- | --- |
| Aroma | Chocolate, honey, sweetness becomes more pronounced with time |
| Taste | Vanilla, salty, peaty |
| Aftertaste | Not peaty, clean and short. |
4-2. Product Specifications
| | |
| --- | --- |
| Alcohol content | 54% |
| by alcohol | Blended malt |
| Barrel type | Bourbon barrel, American white oak, mainly sherry |
| Contents | 700ml |
| Number of bottles sold | 10,918 bottles |
| Suggested retail price | 16,500 yen (tax included) |
| Release date | April, 2021 |
5.Awards
There are no awards at this time.
6.Price
6-1. Manufacturer's suggested retail price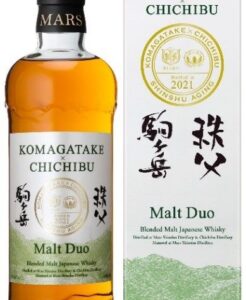 | | |
| --- | --- |
| Product Name | Malus Whisky Malt Duo Komagatake x Chichibu 2021 |
| Capacity | 700ml |
| Suggested retail price | Tax included: 16,500 yen |
6-2. Resale price
The resale price on Mercari is around 44,000 yen to 85,000 yen. (*As of 5/24/2021)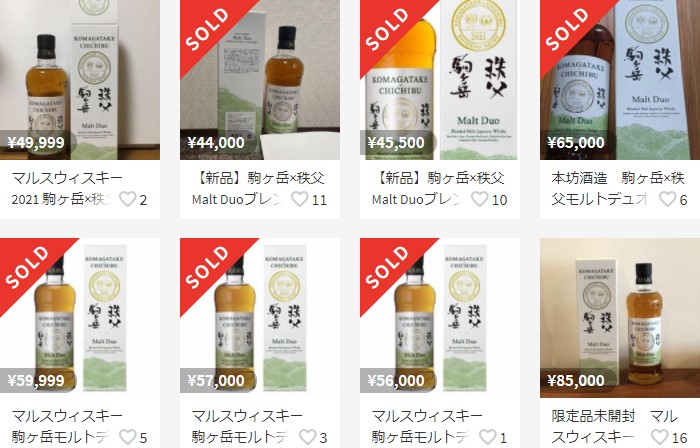 6-3. Yahoo auction bidding price
The lowest bid price on Yahoo Auction was 42,500 yen, the highest was 57,500 yen, and the average was 48,750 yen (*Statistics for the past 120 days since 5/24/2021)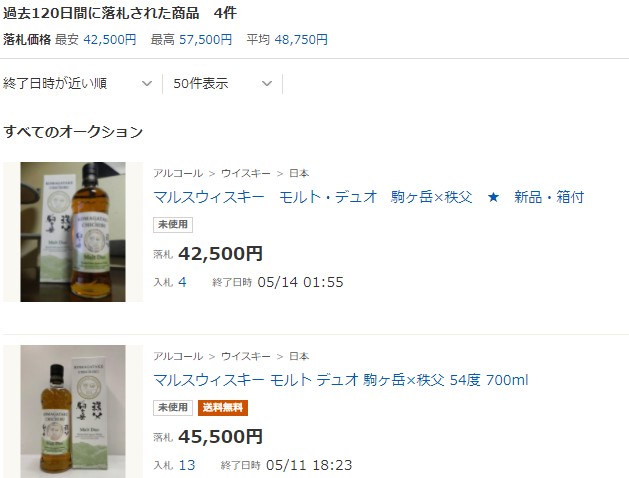 6-4. Rakuten, Yahoo Shopping, Amazon
As of 5/24/2021, there doesn't seem to be any "Mars Whisky Malt Duo Komagatake x Chichibu 2021" on each mail order site.

¥39,800
(2023/06/04 22:32:51時点 楽天市場調べ-
詳細)
6-5. Price offered at BAR Shinkai
At "Bar Shinkai", which is operated by this website, a single glass is available for 45ml: 4,950 yen, 30ml: 3,300 yen, 15ml: 1,650 yen.
7.summary
The release of a new product from the Saburoumaru Distillery x Nagahama Distillery on March 30, 2012, through an exchange of raw spirits, was also just a hot topic within the Japanese whisky industry.
This time, the Komagatake x Chichibu blended malt was a joint project that had been underway since 2015, six years ago, and it seems to have been a new attempt after many years. While the exchange of malt has been a common practice in Scotland, it is an initiative that defies common sense, something that had never been considered in Japanese whisky before. A new history has been written in the history of Japanese whisky. I am sure that the Japanese whisky industry will become more and more exciting as more and more initiatives like this are made in the future.
At the moment, there are only a limited number of distilleries in Japan that are capable of producing grain-based whisky, but I have high hopes that the day when blended whisky can be produced by exchanging malt and grain-based whisky may not be far off.
Please check out the other.
埼玉県出身。
本業は俳優、グラフィックデザイナー。
お酒を嗜むのが好きで新海BARに入社。
「Japanese Whisky Dictionary」では、記事の英語などへの翻訳を担当している。