This single malt whisky is only available at the Yoichi distillery. It is a series that accentuates the character of the official Yoichi bottles by using different types of barrels and malt strains, such as "Woody & Vanilla" , "Petey & Salty" , and "Sherry & Sweet" . The 12-year-old version of the series was previously released, but due to a shortage of raw alcohol from the recent Japanese whiskey boom, it was discontinued and is now being released again as a non-aged version.
Originally, Yoichi series had a rich lineup of 10 years, 12 years, 15 years, and 20 years, but those so-called vintage products were all discontinued in August 2015, and now only non-vintage products are sold.
1. Manufacturer
Nikka Whisky Co.
| | |
| --- | --- |
| Establishment | 1934 |
| Head office | 4-31, Minami-Aoyama 5-chome, Minato-ku, Tokyo 107-8616, Japan |
| Owned distilleries | Yoichi Distillery, Miyagikyo Distillery, Ben Nevis Distillery |
2. Distilleries
Yoichi Distillery
| | |
| --- | --- |
| Location | 7-6 Kurokawa-cho, Yoichi-cho, Yoichi-gun, Hokkaido 046-0003, Japan |
| Start of operation | 1936 |
The Yoichi Distillery in Hokkaido is known as the Scotland of Japan. It was established in 1934 by Masataka Taketsuru, also known as Massan, whose predecessor was Dainippon Fruit Juice Co. Masataka Taketsuru believed that a place similar to Scotland Cool and humid climate, rich water source and clear air Masataka Taketsuru chose Yoichi, located at the base of the Shakotan Peninsula, west of Otaru, from among various candidate sites. Masataka Taketsuru's goal for his first distillery was to create a heavy and powerful malt whisky. He was determined to replicate the whisky-making methods he had learned at the distilleries of Scotland, without compromise. The symbol of this dedication is the "Straight head type pot still" .The symbol of this dedication is the use of "coal" and "direct coal fire distillation" . The result is a heavy, fragrant, heavily peaty raw material that produces a unique single malt with a peaty aroma and a touch of saltiness. This distillation method is based on the method used at Longmorn Distillery, where Taketsuru himself studied. If it is necessary to make real whisky, we will protect it even if it is inefficient. The passion that can be said to be the origin of Nikka Whisky and Masataka Taketsuru's dream are still inherited today.
Click here for the official website of Yoichi Distillery.
For more information on the Yoichi Distillery, please also see this article.
3. Product name and photo
Single Malt Yoichi Petey & Salty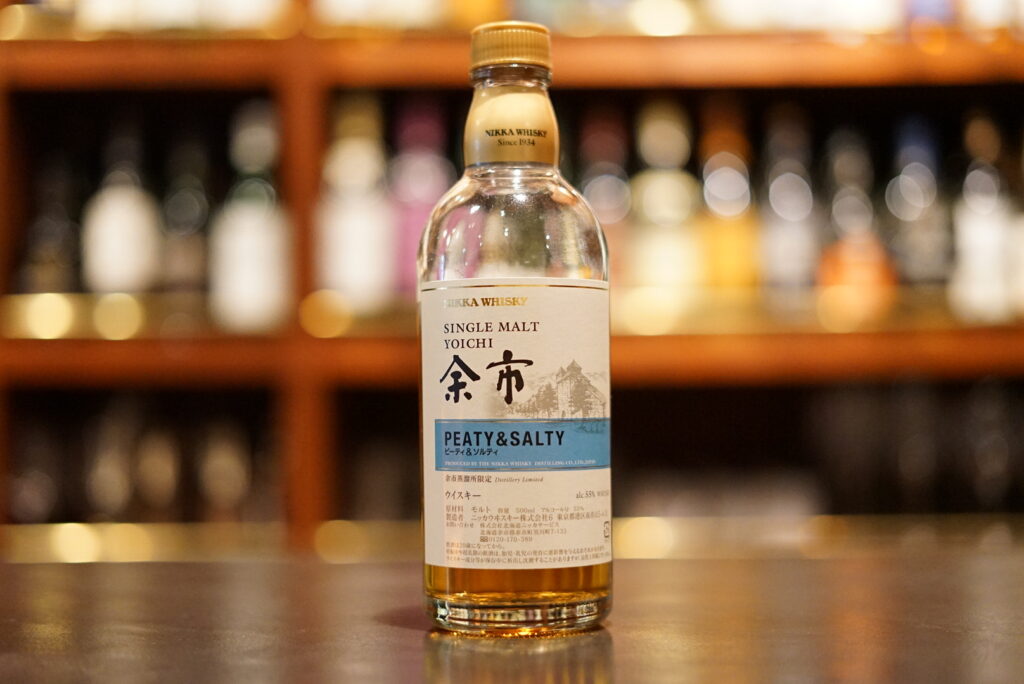 4. Characteristics
The smell of the approaching tide and the strong aroma of peat.
When drunk straight, the peat salt spreads fluently, just like the name suggests! It is well balanced and quite tasty. If you drink it on the rocks, the peaty aroma like iodine or seirogan hits you hard as if it is penetrating your nose. The strength is even stronger than Laphroaig 10.
The taste is mainly pungent and salty due to the stimulation of alcohol, with almost no sweetness. The intense aroma and taste do not diminish even when watered down, but the stimulation of the alcohol is suppressed and the citrus-like acidity follows.
4-1. Tasting Notes
| | |
| --- | --- |
| Aroma | Black pepper, salted caramel, salted daifuku, sweet and peaty, with a hint of rice malt toward the latter half. |
| Taste | Richness of caramel, juiciness of orange, spiciness of black pepper. |
| Aftertaste | A sweet smoke screen stays in the mouth for a long time, accentuated by the tide taste. |
4-2. Product Specifications
| | |
| --- | --- |
| Alcohol content | 55% |
| By liquor | Single malt whisky |
| Barrel type | oak |
| Contents | 500ml |
| Number of bottles sold | Number of bottles sold |
| Suggested retail price | 6,800 yen (tax included) |
| Release date | Release date |
5. Awards
No awards have been received at this time.
6. Price
6-1. Manufacturer's suggested retail price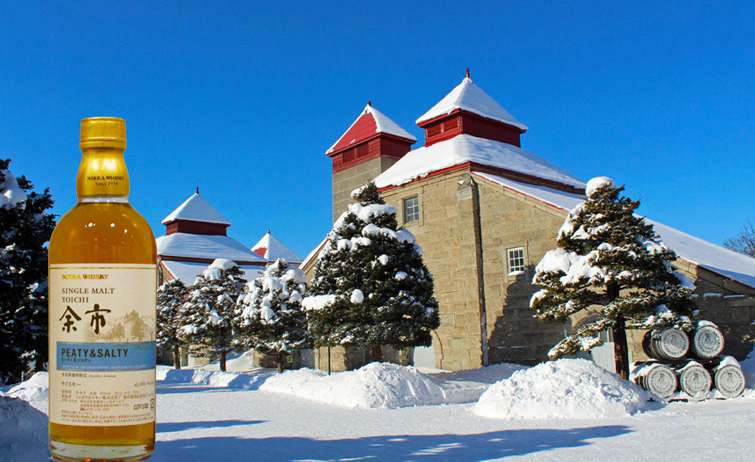 | | |
| --- | --- |
| Product name | Single Malt Yoichi Peaty & Salty |
| Volume | 500ml |
| Suggested Retail Price | Tax included: 6,800 yen |
6-2. Resale price on Mercari
The resale price on Mercari is Around 9,000 yen to 12,000 yen The resale price on Mercari is as follows.  (*As of April 12, 2021)

6-3. Yahoo auction bidding price
The winning bid price on Yahoo Auction is Lowest bidder: 6,000 yen, highest bidder: 16,000 yen, average bidder: 8,011 yen (*Statistics for the past 120 days from April 12, 2021)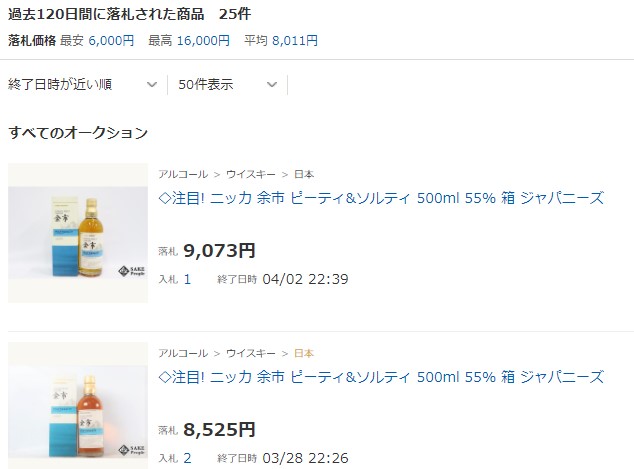 6-4. Rakuten, Yahoo Shopping, Amazon
It is also sold on mail order sites at Around 16,000 yen to 18,000 yen It is also sold at (*As of April 12, 2021)
Basically, this is a product that can only be purchased at distilleries, so the selling price on the Internet is set at a very high price.
6-5. Price offered at BAR Shinkai
At "Bar Shinkai" which is operated by this website, it is 1 glass, 45ml: 4,620 yen, 30ml: 3,080 yen, 15ml: 1,540 yen We offer it at
7. Summary
Delicious without complaint! But the tide taste is strong. Straight or on the rocks is recommended.
At the beginning, it is sweet like vanilla ice cream, but it changes to a peaty flavor in an instant. At the end, the tide taste is a little strong.
The quality of this non-aged beer is excellent.
The price is rising because of the difficulty of obtaining it.
Please take this opportunity to taste it at Shiba-Daimon Bar Shinkai.

This whiskey is only available at the Yoichi distillery, so you can't buy it at ordinary liquor stores or mass merchandisers, but you can almost always find it at the Yoichi distillery, so if you visit the distillery, be sure to check it out.
It is a whisky that you can almost always find at the Yoichi distillery, so if you visit the distillery, be sure to check it out.