Masataka Taketsuru has always been concerned with blended whisky. The Nikka 12 is a premium blended whisky made by carefully selecting and blending raw materials that are more than 12 years old.

An unknown sophistication born from the freedom of blended whisky!
The meeting of Nikka's proud malt raw spirits and café grains!
The beautiful balance is achieved by the outstanding technology inherited from Masataka Taketsuru.
1. Manufacturers
Nikka Whisky Co., Ltd.
| | |
| --- | --- |
| Established | 1934 |
| Headquarters address | 5-4-31 Minami-Aoyama, Minato-ku, Tokyo 〒107-8616 |
| Owned Distillery | Yoichi Distillery, Miyagikyo Distillery, Ben Nevis Distillery |

2. Distillery
Yoichi Distillery
| | |
| --- | --- |
| Location | 7-6 Kurokawacho, Yoichi-cho, Yoichi-gun, Hokkaido 〒046-0003 |
| Start of operation |  1936 |
Yoichi Distillery in Hokkaido is known as Scotland in Japan. Dai Nippon Fruit Juice Co., Ltd. was established in 1934 by Masataka Taketsuru, called Massan.
Masataka Taketsuru believed that a cool and humid climate similar to Scotland, rich water sources and dignified and clear air were indispensable for the creation of ideal whisky, so he chose Yoichi, which is located west of Otaru and at the base of the Shakotan Peninsula, from various candidate sites. His goal at his first distillery was to make a heavy and powerful malt whisky. He focused on reproducing the whisky-making methods that he learned at  Scottish distillery without any compromise. The symbol of this commitment is "coal open flame distillation". This distillation method was adopted according to the method of the Long morn distillery that he learned. "If it is necessary to make real whisky, even if it is inefficient, I will protect it." The passion that can be said to be the origin of Nikka Whisky and the dream of Masataka Taketsuru are still inherited.
Citation: Yoichi Distillery | NIKKA WHISKY
For more information about Yoichi Distillery, please see this article.
Miyagikyo Distillery
| | |
| --- | --- |
| Location | 1 Nikka, Aoba-ku, Sendai City, Miyagi 〒989-3433 |
| Start of operation | 1969 |
It has been about 30 years since Masataka Taketsuru started his first distillery in Yoichi, Hokkaido. A second distillery was absolutely necessary for him, who believes that blending multiple raw liquor from different distilleries makes whisky more tasteful and rich. He chose Miyagikyo in Sendai, which has lush gorge blessed with two clear streams, the Hirose River and the Shin River. When he visited this place for the first time, he drank the black Nikka with water of the Shin River and checked the taste. It is said that he decided to build a distillery on the spot. Miyagikyo Distillery is proud of " café-style continuous distillation machine". It is a distillation machine that was already old-fashioned at the time of introduction. Because it is old-fashioned, it is easy to leave ingredients that become miscellaneous taste, but because technology can turn it into the original aroma and sweetness of the raw material, he dared to choose this old distillation machine. At Miyagikyo Distillery, people who still inherit the passion of Taketsuru are still trying various things to find the deliciousness of whisky.
Image exhibition: NIKKA WHISKY | Miyagikyo Distillery
Read more about Miyagikyo Distillery in this article.
The characteristics of Nikka's blended products consist of the raw liquor produced by three distillers (machines).
One is the straight pot still at the Yoichi distillery. The straight pot still, which is currently the only one in the world that uses direct coal-fired distillation, produces a heavy and powerful malt. It is a full-bodied malt with plenty of peat and smoke.
The other is the bulge-type pot still at the Miyagikyo distillery. The gorgeous and fragrant malt produced by steam indirect distillation is a completely different type of malt from Yoichi. Comparing Yoichi to the Highlands and Miyagikyo to the Lowlands, each distillery produces whisky with its own unique characteristics.
The founder of the company, Masataka Taketsuru, said, "If we don't start using grain whisky, Japanese whisky won't be able to be called a full-fledged whisky. It is indispensable in balancing the unique malts of Yoichi and Miyagikyo. This is brought together by blending techniques that have been handed down from Mr. Taketsuru.
The best work in the history of Nikka is "The Nikka," which bears the company name.
3. Product name and photo
THE NIKKA 12


ニッカ
¥18,780
(2023/03/21 09:49:53時点 Amazon調べ-
詳細)
4. Features
A balance beyond expectations that challenges the infinite possibilities of blended
A premium blended whisky made by carefully selecting and blending raw materials that are more than 12 years old.
The Nikka 12 Year Old is a concentrated blend of the finest blending techniques.
The sweet and mellow café grain softly envelops the heavy and powerful Yoichi malt with its unique peaty aroma and the gorgeous, fruity and light Miyagikyo malt.
The taste is sweet like savory cookies, cereal, melon, and peach syrup.
The solid malt-based maturity melds with a mellow, mellow richness, leading to a pleasant finish with faint hints of cocoa and cinnamon.
It is a beautiful harmony of whisky-like flavors and aromas, with all the elements in perfect balance.
It is the result of meticulously calculated blending. It is a whisky like a reliable gentleman, with Nikka's unique personality pushed out to the fullest.
The bottle design has a bold cut that resembles the collar of an overlapping kimono. The bottle design, which expresses "overlapping" and "Japanese spirit," seems to embody the pride of Japanese blended whisky. The wooden cap also gives it a sense of dignity.
The tasting notes on the manufacturer's website are as follows

4-1. Tasting Notes
| | |
| --- | --- |
| Scent | A rich malt aroma with gorgeous fruit and bouquet notes. A sweet barrel-aged aroma with hints of vanilla and caramel. |
| Taste | Mild and smooth on the palate. The richness of the malt is harmonized with the soft sweetness of the café grain, resulting in a light and smooth taste. |
| Aftertaste | Sweet and rich aromas of cocoa and cookies, with a slight spice and bitterness that linger pleasantly. Type: Blended |
4-2. Product Specifications
| | |
| --- | --- |
| Alcohol level | 43% |
| Type | Blended  |
| Barrel type | ー |
| Contents | 700ml |
| Number of sales | 60,000 bottles |
| Suggested retail price | 6,600yen(including tax) |
| Release date | 30th September 2014 |
5. Awards
2017  ISC Gold prize
2015  Good Design prize
6. Price
6-1. Manufacturer's suggested retail price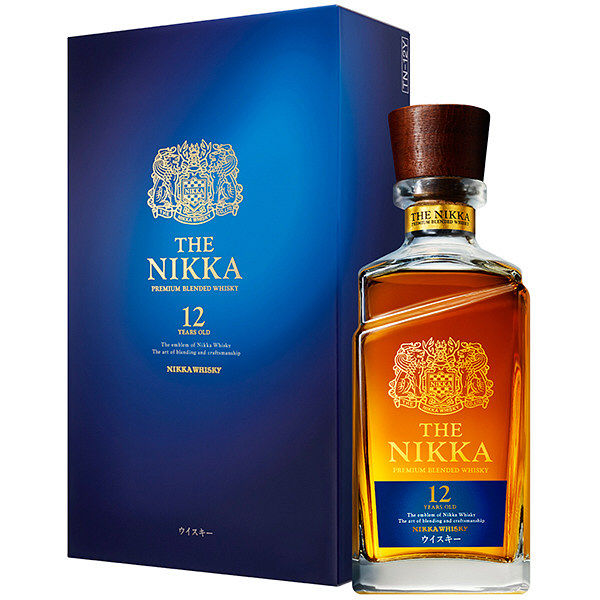 | | |
| --- | --- |
| Product name | THE NIKKA 12 |
| Capacity | 700ml |
| Suggested retail price | 6,600 yen ( including tax) |
6-2. Resale prices at Mercari
Resale prices at Mercari are around 9,000 yen to 13,000 yen. (*As of March 25, 2021)


6-3. Yahoo Auction Winning Bid Price
The winning bid price at Yahoo Auction is 7,700 yen, up to 10,253 yen, average 28,000 yen (*Statistical information for the past 120 days from March 25, 2021)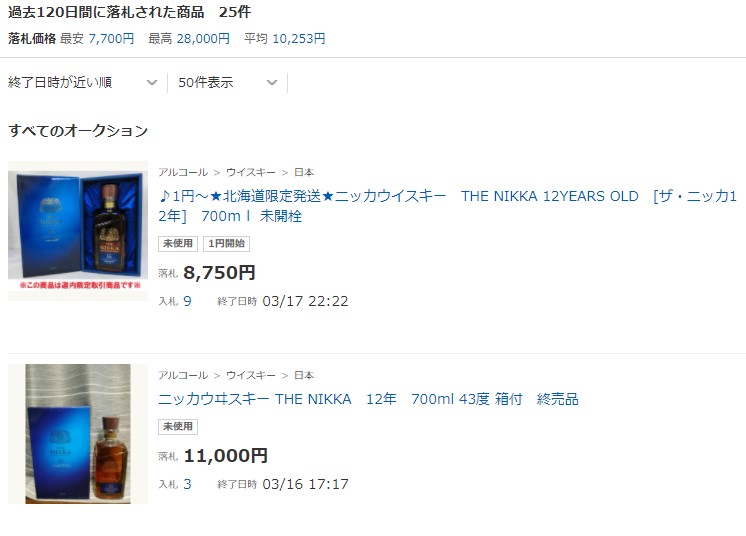 6-4. Rakuten, Yahoo Shopping, Amazon
It is also sold on mail order sites for around 12,000 yen to 16,000 yen. (*As of March 25, 2021)
ニッカ
¥18,780
(2023/03/21 09:49:53時点 Amazon調べ-
詳細)
6-5. Offered prices at BAR Shinkai
"BAR Shinkai" operated by this site offers one cup, 45 ml: 1,760 yen.
7. Summary
THE NIKKA 12 is a delicious whisky that is quite mild and easy to drink. It has a mild mouthfeel with a hint of vanilla sweetness, and after a while of drinking, you start to feel the spiciness on your tongue. The alcohol smell in the aroma is not even perceptible at all. It is characterized by a slightly tart aftertaste that is common in Japanese whiskies, which spreads without being unpleasant.
It is also recommended for whisky beginners, as it tastes much milder and more delicious when mixed with water at a ratio of 1:1.
Unfortunately, it has been announced that The Nikka 12 will be sold out by the end of March 2019, as soon as the stock is gone.
As a successor product, "The Nikka (Non-Age)" will be released on April 9, 2019.
Although it will be changed from 12 years old to non-age, the price structure will be the same as before, with a suggested retail price of 6,000 yen (main price), which is actually a price increase.
If you haven't tried it yet, or if you are a whisky beginner, please try it at Bar Shinkai.

If you have never tried whisky before, please try it at Bar Shinkai. Other articles about Nikka Whisky are also available.
Japanese Whisky Dictionary
Japanese Whisky Dictionary