A new product will be released by Honbo Shuzo on March 4, 2021.
Currently, in
formation on products and lottery sales applications are accepted (until March 2) on the official website.
The Lucy Cat Choco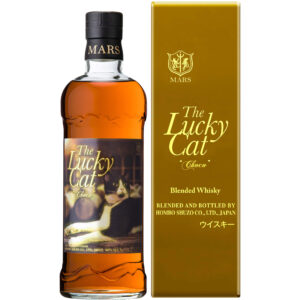 Limited to 6,700 bottles of Mars Blended whisky
"The Lu
cky Cat" is a series of blended whiskys made with the motif of unique cats and making full use of Mars whisky blending technology. The 6th "The Lucky Cat Chocolate" is a blended whisky that has been additionally aged (finished) with a port pipe with the motif of a female cat chocolate with a curious and tomboy character. The aroma harmonizes sweetness and aroma, and it has a taste that has a lingering aftertaste reminiscent of cacao.
k.Hombo "Sister Hana & Choco will become
a member of our family and will enter their fourth year in April 2021. The chocolate of the younger sister is a curious tomboy girl with the character opposite to the old sister who was so old. I love playing in my parents' garden next door, and the souvenirs I take home with feline instincts and high athleticism are grasshoppers, cic, lizard etc.etc… Be careful when you hear your wife's screams (laughs). This time, the theme of this chocolate is blended whisky with a port pipe finish that has a fragrance that harmonizes sweetness and aroma, and has a lingering aftertaste reminiscent of tann
ins and cacao that are good enough to tighten the whole. 」
Quote: Blended whisky/The LuckyCat Choco (The Lucky Cat Chocolate) | Honbo Shuzo Co., Ltd.
| | |
| --- | --- |
| Name of product | The Lucky Cat Choco |
| Sake By | Blended whisky |
| Raw materials | Malt, Grain |
| Barrel type | Port pipe finish |
| Number of fillings | 6,700 bottles |
| Degrees | 40% |
| a manufacturing plant | Mars-Shin-State Distillery |
| Manufacturer | Honbo Shuzo Co., Ltd. +M |
"Lucky Cat series" that Honbo Shuzo, which has been attracting more and more attention recently for "Single Malt Komagatake", "Iwai Tradition", and "Tsunuki Peated" in the most recent release, has been selling
for 4 years.
This series started after the cat-lover President of Honbo Shuzo.
"The Lucky Cat Choco" is additionally aged in "port pipe barrels", and features a fragrance that harmonizes sweetness and aroma, and a lingering finish reminiscent
of cacao.
"Port pipe" refers to an empty barrel after it has been used to make "port wine", and the size of the barrel is "pipe" = 410 to 650 liters. Port wine barrels are said to give whisky a strong ripening feel, reminiscent of blackcurrant aromas and sweetness, and viscous.
Inferring from the sales price, it seems to be a blend of domestic distilled and stored original sake and raw sake imported from overseas, but since it is a fairly small amount with a limited quantity of 6,700 bottles, I think that the probability of winning lottery sales will be quite severe. I want to taste such a rare limited whisky by all means.

Past Lucky Cat Series
This Lucky Cat Chocolate is the sixth, and the Lucky Cat series, which has been released five times in the past, has already become a phantom whisky that is sold at a high price of 4 to 8 times in Rakuten's online shop etc.

¥19,800
(2023/03/20 20:47:41時点 楽天市場調べ-
詳細)
More about Honbo Shuzo Mars-Shin-State Distillery
"The Lucky Cat Chocolate" is produced at Honbo Shuzo's Marus Shin state distillery in Nagano Prefecture. It started operations in 1985, and in 2020 it was renewed with the aim of renovating aging facilities and improving barrel storage facilities with an eye to increasing whisky production.
In this renewal, a whisky distillery building where you can see whisky making, a spacious bar, and a visitor building where you can purchase original whisky and goods have been newly established. If you're a Mars whisky fan, you'll want to go on a distillery tour at one time.