This single-caffeinated grain whiskey is available only at the Miyagi Gorge Distillery. This is a grain whiskey distilled in an old-style café still, one of the synonyms of Nikka Whisky.
The 12 year old version of this series was previously released, but due to a shortage of raw alcohol from the recent Japanese whiskey boom, it was discontinued and released again as a non-aged version.
Compared to typical grain whiskeys from Suntory, Kirin, and Scotland, Nikka's Cafe Grain is a heavier type of grain whiskey with a strong sweetness
and grain-derived flavor.
1. Manufacturer
Nikka whiskey corporation
| | |
| --- | --- |
| Establishment | 1934 |
| Head office | 4-31, Minami-Aoyama 5-chome, Minato-ku, Tokyo 107-8616, Japan |
| Owned distilleries | Yoichi distillery, Miyagikyo distillery, Ben Nevis distillery |
2. Distillery
Miyagikyo Distillery
| | |
| --- | --- |
| Address | 1, Nikka, Aoba-ku, Sendai City, Miyagi Prefecture 989-3433, Japan |
| Start of operation | 1969 |
It has been about 30 years since he started his first distillery in Yoichi, Hokkaido. Masataka Taketsuru believes that whiskey becomes richer and more flavorful when it is blended from different distilleries, and a second distillery was absolutely necessary.
Taketsuru chose Miyagikyo in Sendai, Miyagi Prefecture. It is a lush green gorge blessed with two clear streams, the Hirose River and the Shin River. When Taketsuru first visited the area, he drank his Black Nikka in the clear waters of the Shin River and confirmed the taste. It is said that he decided to build the distillery on the spot.
The pride of the Miyagi distillery is its "café-style continuous distillation machine. When the machine was introduced, it was already considered obsolete. Because it is an old-fashioned distillery, it tends to retain miscellaneous flavors, but Taketsuru chose to use this old-fashioned distillery because the technology can transform these flavors into the natural aroma and sweetness of the ingredients. At the Miyagikyo Distillery, people who have inherited Taketsuru's passion are still continuing to make various attempts to make whiskey taste better.


3. Product name and photo
Nikka Single Coffey Grain Woody & Mellow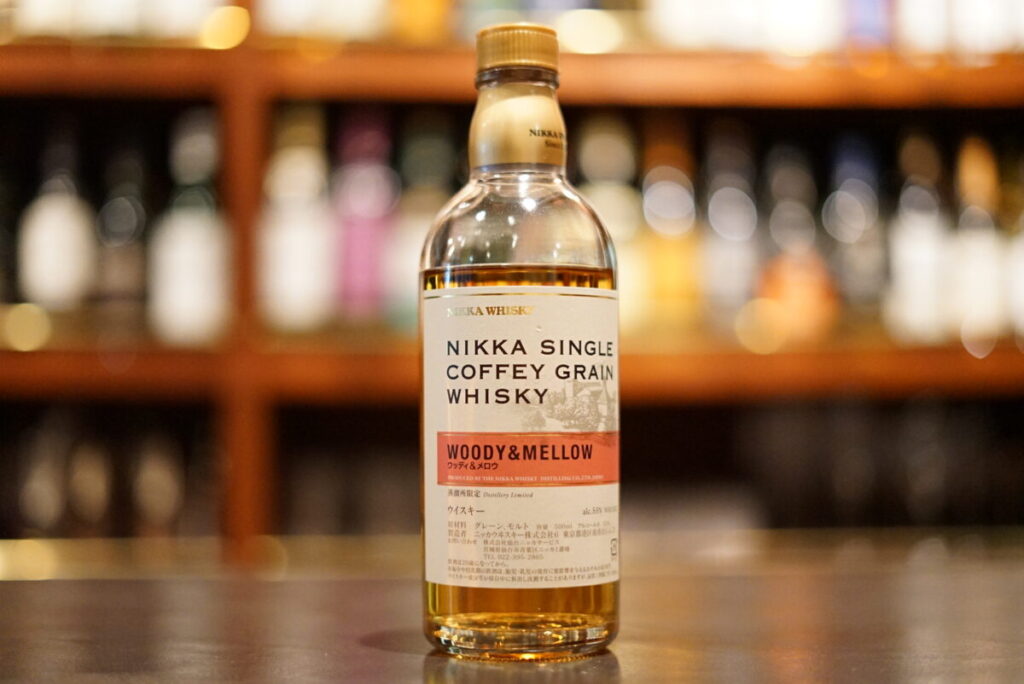 4. Characteristics
Strong, sweet aroma with a grainy feel characteristic of cafe grains
It is characterized by the woody aroma of oak mixed with a slightly sweet vanilla aroma. The mouthfeel is smooth and irresistible, with a rich honey-like sweetness and bitter oakiness, like vanilla wafers. Later, the oakiness gradually increases and tingles along with the sweetness.
4-1. Tasting notes
| | |
| --- | --- |
| Aroma | Mainly maple aroma. Malt can be detected later. |
| Taste | The sweetness is best enjoyed straight. The sweetness is more pronounced with water. |
| Aftertaste | Mellow and spicy. |
4-2. Product Specifications
| | |
| --- | --- |
| Alcohol content | 55% |
| By liquor | Single grain whisky |
| Barrel type | – |
| Contents | 500ml |
| Number of bottles sold | – |
| Suggested retail price | 6,800 yen (tax included) |
| Release date | – |
5. Award history
No awards have been received at this time.
6. Price
6-1. Manufacturer's suggested retail price
| | |
| --- | --- |
| Product name | Nikka Single Cafe Grain Woody & Mellow |
| Capacity | 500ml |
| Suggested retail price | 6,800 yen (tax included) |
6-2. Resale price on Mercari
The resale price on Mercari is around 6,000 yen to 12,000 yen. (*As of March 11, 2021)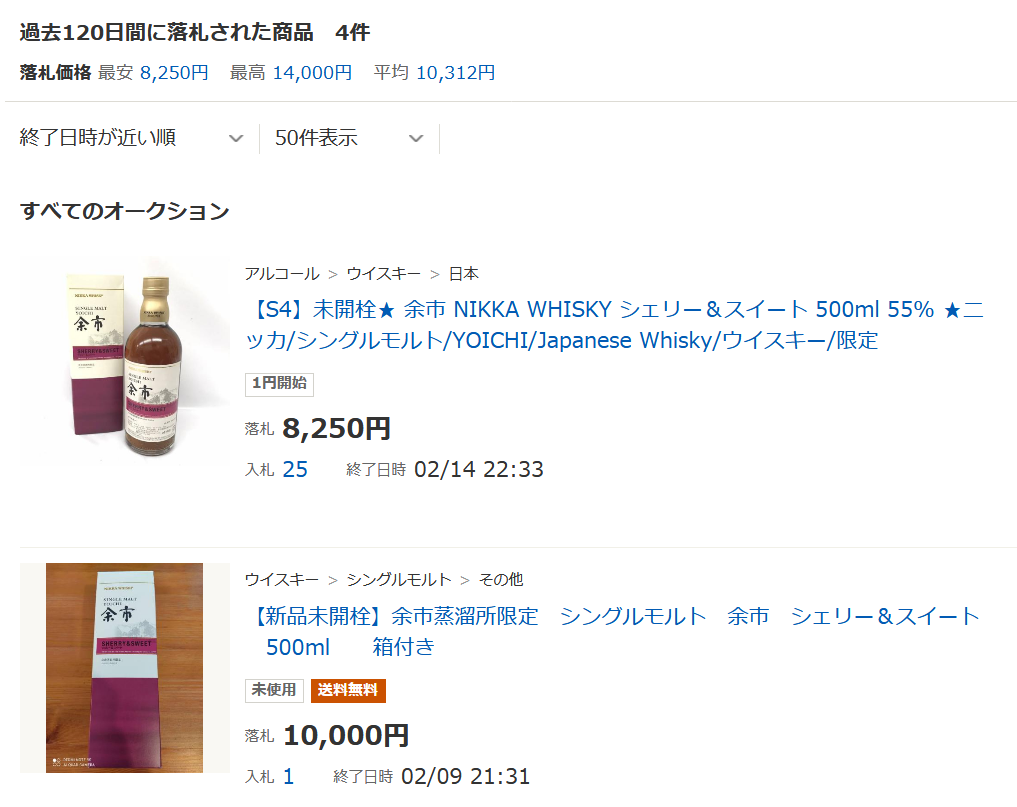 6-5. Price offered at BAR Shinkai
At BAR SHINKAI, which is operated by our website, we offer one drink at 45ml: 4,620yen 30ml: 3,080yen 15ml: 1,540yen.
7. Summary
Although the sweetness reminiscent of vanilla and grains is lighter than the previous 12 years or the regular Cafe Grain 45%, the balance seems to have improved. From the light sweetness to the middle and beyond, there is a woodiness derived from the barrel, which gives width and tightness to the somewhat monotonous grain flavor. The price of the Nikka Distillery Limited Series has been rising due to the difficulty of obtaining them.
■ Please check out the other articles about "Miyagikyo Distillery and Cafe Grain" .