This single-caffeinated grain whisky is available only at the Miyagi Gorge Distillery. This is a grain whisky distilled in an old-style café still, one of the synonyms of Nikka Whisky.
The 12 year old version of this series was previously released, but due to a shortage of raw alcohol from the recent Japanese whisky boom, it was discontinued and released again as a non-aged version.
Compared to typical grain whiskys from Suntory, Kirin, and Scotland, Nikka's Cafe Grain is a heavier type of grain whisky with a strong sweetness
and grain-derived flavor.
1. Manufacturer
Nikka whisky corporation
| | |
| --- | --- |
| Establishment | 1934 |
| Head office | 4-31, Minami-Aoyama 5-chome, Minato-ku, Tokyo 107-8616, Japan |
| Owned distilleries | Yoichi distillery, Miyagikyo distillery, Ben Nevis distillery |
2. Distillery
Miyagikyo Distillery
| | |
| --- | --- |
| Address | 1, Nikka, Aoba-ku, Sendai City, Miyagi Prefecture 989-3433, Japan |
| Start of operation | 1969 |
It has been about 30 years since he started his first distillery in Yoichi, Hokkaido. Masataka Taketsuru believes that whisky becomes richer and more flavorful when it is blended from different distilleries, and a second distillery was absolutely necessary.
Taketsuru chose Miyagikyo in Sendai, Miyagi Prefecture. It is a lush green gorge blessed with two clear streams, the Hirose River and the Shin River. When Taketsuru first visited the area, he drank his Black Nikka in the clear waters of the Shin River and confirmed the taste. It is said that he decided to build the distillery on the spot.
The pride of the Miyagi distillery is its "café-style continuous distillation machine. When the machine was introduced, it was already considered obsolete. Because it is an old-fashioned distillery, it tends to retain miscellaneous flavors, but Taketsuru chose to use this old-fashioned distillery because the technology can transform these flavors into the natural aroma and sweetness of the ingredients. At the Miyagikyo Distillery, people who have inherited Taketsuru's passion are still continuing to make various attempts to make whisky taste better.
3. Product name and photo
Nikka Single Coffey Grain Woody & Mellow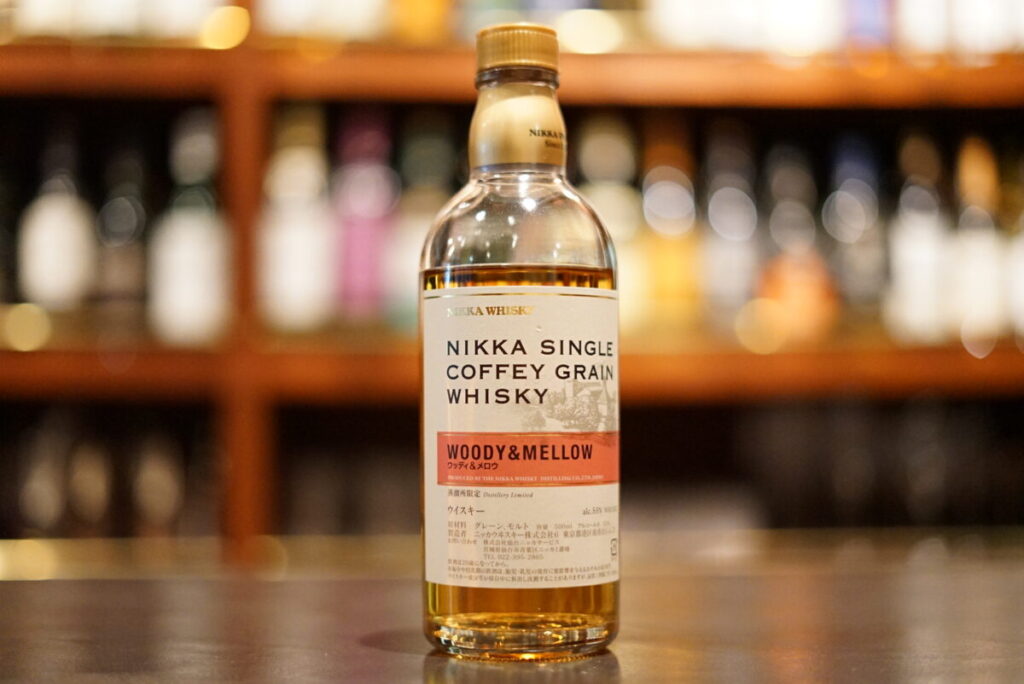 Strong, sweet aroma with a grainy feel characteristic of cafe grains
It is characterized by the woody aroma of oak mixed with a slightly sweet vanilla aroma. The mouthfeel is smooth and irresistible, with a rich honey-like sweetness and bitter oakiness, like vanilla wafers. Later, the oakiness gradually increases and tingles along with the sweetness.
4-1. Tasting notes
| | |
| --- | --- |
| Aroma | Mainly maple aroma. Malt can be detected later. |
| Taste | The sweetness is best enjoyed straight. The sweetness is more pronounced with water. |
| Aftertaste | Mellow and spicy. |
4-2. Product Specifications
| | |
| --- | --- |
| Alcohol content | 55% |
| By liquor | Single grain whisky |
| Barrel type | – |
| Contents | 500ml |
| Number of bottles sold | – |
| Suggested retail price | 6,800 yen (tax included) |
| Release date | – |
5. Award history
No awards have been received at this time.
6. Price
6-1. Manufacturer's suggested retail price
| | |
| --- | --- |
| Product name | Nikka Single Cafe Grain Woody & Mellow |
| Capacity | 500ml |
| Suggested retail price | 6,800 yen (tax included) |
6-2. Resale price on Mercari
The resale price on Mercari is around 6,000 yen to 12,000 yen. (*As of March 11, 2021)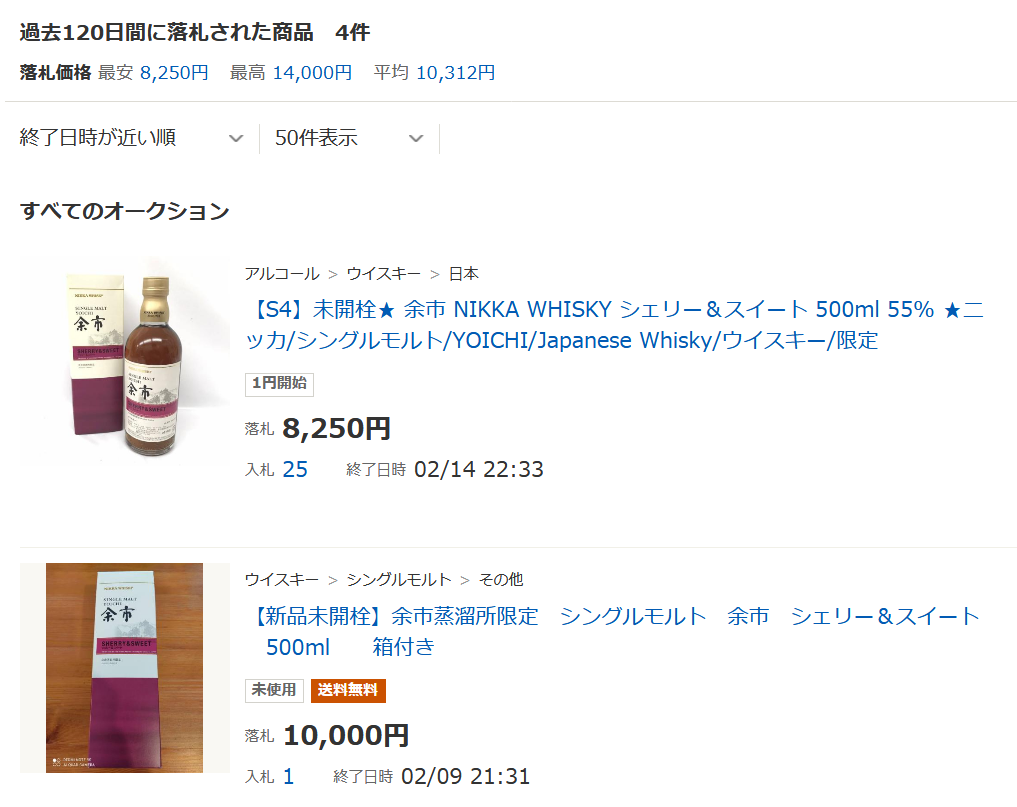 6-5. Price offered at BAR Shinkai
At BAR SHINKAI, which is operated by our website, we offer one drink at 45ml: 4,620yen 30ml: 3,080yen 15ml: 1,540yen.
https://en.jpwhisky.net/about-2/barshinkai-4/
7. Summary
Although the sweetness reminiscent of vanilla and grains is lighter than the previous 12 years or the regular Cafe Grain 45%, the balance seems to have improved. From the light sweetness to the middle and beyond, there is a woodiness derived from the barrel, which gives width and tightness to the somewhat monotonous grain flavor. The price of the Nikka Distillery Limited Series has been rising due to the difficulty of obtaining them.
■ Please check out the other articles about "Miyagikyo Distillery and Cafe Grain" .
https://jpwhisky.net/2021/03/30/nikka-coffey-grain/
https://jpwhisky.net/2021/04/06/single-malt-miyagikyo/
Lastly: Recommended Books on Japanese Whisky
If you want to learn more about Japanese whisky, which is a global trend, we highly recommend these books.
In the December 2021 issue of Whisky Galore, published by the Whisky Culture Research Institute, we report on 11 Japanese craft distilleries, including some that are open to the public for the first time, under the title of "Japanese Whisky Craft Frontline," the first of three consecutive issues. Why did the popularity of Japanese whisky and the craft boom occur? We will examine with interviews. Chichibu Distillery / Chichibu No.2 Distillery / Mars Shinshu Distillery / Mars Tsunuki Distillery / Kanosuke Distillery / Hioki Distillery / Ontake Distillery / Osuzuyama Distillery / Kaikyo Distillery / Hanyu Distillery / Konosu Distillery
This is a book written by Mamoru Tsuchiya, a world-famous whisky critic and representative of the Whisky Culture Research Institute, titled "Japanese Whisky as a Culture that Works for Business" .
The book covers the basics of whisky, the introduction of whisky to Japan, the birth of Japanese whisky, advertising strategies and the rise of Japanese whisky, and the current rise of craft distilleries. This is a book that summarizes Japanese whisky in a very easy to understand way.
Masataka Taketsuru, the founder of Nikka Whisky, devoted his life to brewing whisky in Japan. This is a revised and reprinted version of the autobiography of a man who simply loved whisky and talked about himself. The book vividly depicts the days when he went to Scotland alone to study as a young man and overcame many hardships to complete Japanese whisky, as well as his companion, Rita.
Launching in 2019. With the world experiencing an unprecedented whisky boom, what were the managers of craft distilleries thinking and what were their thoughts as they took on the challenge of making whisky? This book tells the stories of 13 craft distillery owners, including Ichiro Hido of Venture Whisky, famous for his Ichirose Malt, who inspired the birth of craft distilleries in Japan.
This is the Japanese version of Whisky Risng, published in the US in 2016, with much updated content. Not only does it describe the history of Japanese whisky in detail, but it also includes data on all the distilleries in Japan, including the craft distilleries that have been founded in recent years. The book also includes descriptions of the legendary bottles that have been released, as well as information on bars where Japanese whisky can be found.