This single malt whisky is only available at the Yoichi Distillery. It is a series that highlights the character of Yoichi's official bottles by the barrels and malt strains used: "Petey & Salty" , "Woody & Vanilla" , and "Sherry & Sweet" . The 12 year old version of this series was previously released, but due to a shortage of raw alcohol from the recent Japanese whiskey boom, it was discontinued and is now being released again as a non-aged version.
1. Manufacturer
Nikka Whisky Co.
| | |
| --- | --- |
| Establishment | 1934 |
| Head office | 4-31, Minami-Aoyama 5-chome, Minato-ku, Tokyo 107-8616, Japan |
| Owned distilleries | Yoichi Distillery, Miyagikyo Distillery, Ben Nevis Distillery |
2. Distilleries
Yoichi Distillery
| | |
| --- | --- |
| Location | 7-6 Kurokawa-cho, Yoichi-cho, Yoichi-gun, Hokkaido 046-0003, Japan |
| Start of operation | 1936 |
Yoichi distillery in Hokkaido is known as the Scotland of Japan. It was established in 1934 by Masataka Taketsuru, aka Masan, whose predecessor, Dainippon Fruit Juice Co. Masataka Taketsuru believed that the ideal location for a distillery Cool and humid climate, rich water source and clear air Masataka Taketsuru believed that a place with all the characteristics of Scotland was essential for making the ideal whiskey, and he chose Yoichi, located at the base of the Shakotan Peninsula, west of Otaru, from among various candidate sites. Masataka Taketsuru's goal for his first distillery was to create a heavy and powerful malt whiskey. Masataka Taketsuru's goal for his first distillery was to make a heavy and powerful malt whiskey, and he insisted on reproducing the whiskey-making methods he had learned at distilleries in Scotland without compromise. The symbol of this commitment is "direct coal distillation" . The distillation method is based on that of the Longmorn distillery, where he learned it himself. If it is necessary to make genuine whiskey, we will protect it even if it is inefficient. Such passion, which can be said to be the origin of Nikka Whisky, and Masataka Taketsuru's dream have been handed down to this day.
3. Product name and photo
Single Malt Yoichi SHERRY & SWEET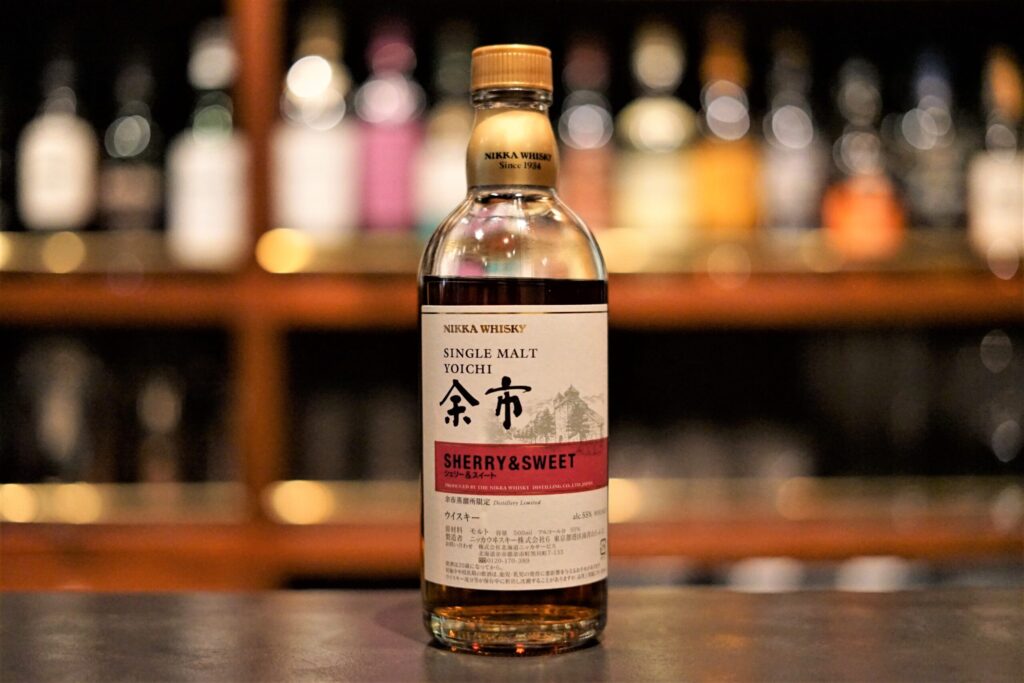 ¥14,500
(2022/09/30 20:53:05時点 楽天市場調べ-
詳細)
4. Characteristics
Rich fruit sweetness and a bittersweetness and fullness from the oak.
This is a sweet sherry with a red label, which makes it sound sweet and winey. However, there is a noticeable amount of rubber and sulfur, as you would expect from a Nikka sherry. After that, a sweet brandy-like aroma. Sweetness of cooked apple and blueberry jam. Slightly salty flavors as well. In the middle, an astringent woodiness appears.
4-1. Tasting Notes
| | |
| --- | --- |
| Nose | Sherry-derived dried raisins, cocoa and spicy aromas. |
| Taste | Not as astringent as the aroma, with a youthful spiciness straight away, but becomes firm and sweet with additional water. |
| Aftertaste | A rubbery sweetness and spiciness lingers on the palate. |
4-2. Product Specifications
| | |
| --- | --- |
| Alcohol content | 55% |
| alcohol category | Single malt whisky |
| Cask Type | Sherry casks |
| Contents | 500ml |
| Number of bottles sold | – |
| Suggested retail price | 6,800 yen (tax included) |
| Release date | – |
5. Awards
No awards have been received at this time.
6. Price
6-1. Manufacturer's suggested retail price
| | |
| --- | --- |
| Product name | Single Malt Yoichi Sherry & Sweet |
| Volume | 500ml |
| Suggested retail price | Tax included: 6,800 yen |
6-2. Resale price on Mercari
The resale price on Mercari is Around 10,000 yen to 12,000 yen The resale price on Mercari is as follows. (*As of March 10 , 2021)

6-3. Yahoo auction bidding price
The winning bid price on Yahoo Auction is Lowest bidder: 8,250 yen, highest bidder: 14,000 yen, average bidder: 10,312 yen (*Statistics for the past 120 days as of March 10 , 2021)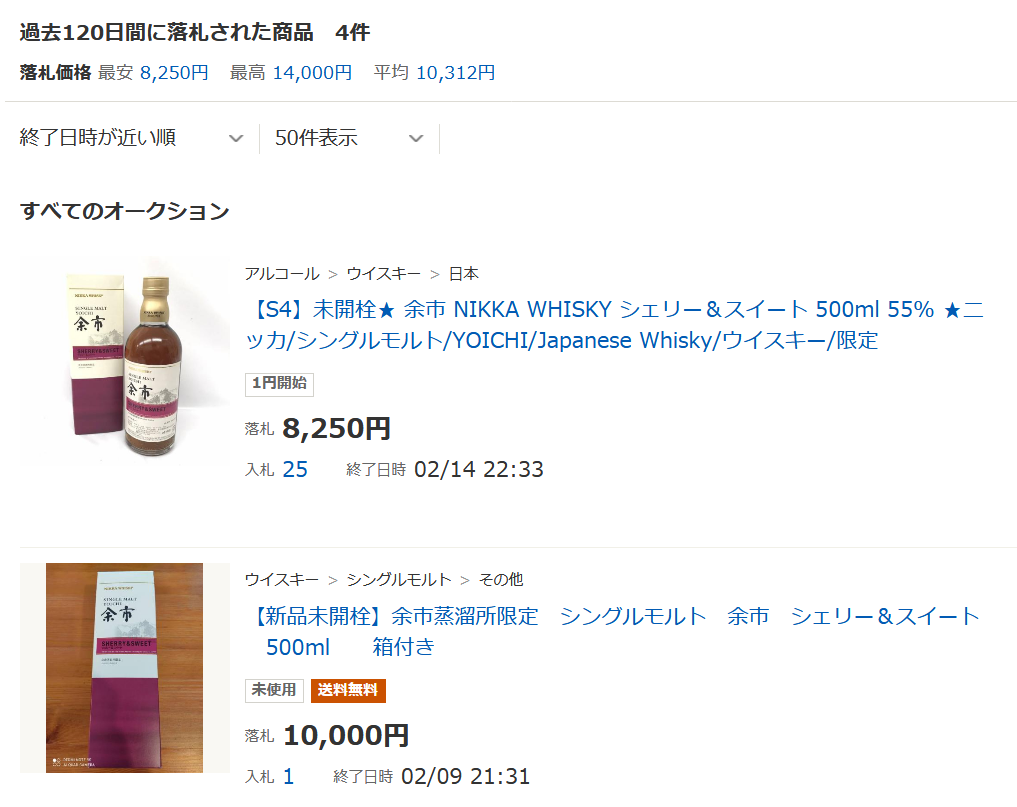 6-4. Rakuten, Yahoo Shopping, Amazon
It is also sold on mail order sites at Around 15,000 yen to 17,000 yen (*As of March 10 , 2021) .
Basically, this is a product that can only be purchased at distilleries, so the selling price on the Internet is set at a very high price.

¥14,500
(2022/09/30 20:53:05時点 楽天市場調べ-
詳細)
6-5. Price offered at BAR Shinkai
At "Bar Shinkai" which is operated by this website, it is offered at 1 glass, 45ml: 4,620 yen, 30ml: 3,080 yen, 15ml: 1,540 yen It is available at.
7. Summary
The strength of this single malt makes it highly satisfying. Of course, straight or on the rocks is recommended. This is the perfect whiskey for people who can't get enough of Yoichi and want to feel the breadth of Yoichi. It is also recommended for Macallan lovers.
It's a great whiskey for those who can't get enough of Yoichi and want to experience its breadth.
Lastly: Recommended Books on Japanese Whisky
If you want to learn more about Japanese whisky, which is a global trend, we highly recommend these books.
In the December 2021 issue of Whisky Galore, published by the Whisky Culture Research Institute, we report on 11 Japanese craft distilleries, including some that are open to the public for the first time, under the title of "Japanese Whisky Craft Frontline," the first of three consecutive issues. Why did the popularity of Japanese whiskey and the craft boom occur? We will examine with interviews. Chichibu Distillery / Chichibu No.2 Distillery / Mars Shinshu Distillery / Mars Tsunuki Distillery / Kanosuke Distillery / Hioki Distillery / Ontake Distillery / Osuzuyama Distillery / Kaikyo Distillery / Hanyu Distillery / Konosu Distillery
¥1,320
(2022/09/30 15:57:23時点 Amazon調べ-
詳細)
This is a book written by Mamoru Tsuchiya, a world-famous whisky critic and representative of the Whisky Culture Research Institute, titled "Japanese Whisky as a Culture that Works for Business" .
The book covers the basics of whisky, the introduction of whisky to Japan, the birth of Japanese whisky, advertising strategies and the rise of Japanese whisky, and the current rise of craft distilleries. This is a book that summarizes Japanese whisky in a very easy to understand way.
Masataka Taketsuru, the founder of Nikka Whisky, devoted his life to brewing whisky in Japan. This is a revised and reprinted version of the autobiography of a man who simply loved whiskey and talked about himself. The book vividly depicts the days when he went to Scotland alone to study as a young man and overcame many hardships to complete Japanese whisky, as well as his companion, Rita.
Launching in 2019. With the world experiencing an unprecedented whisky boom, what were the managers of craft distilleries thinking and what were their thoughts as they took on the challenge of making whiskey? This book tells the stories of 13 craft distillery owners, including Ichiro Hido of Venture Whisky, famous for his Ichirose Malt, who inspired the birth of craft distilleries in Japan.
This is the Japanese version of Whisky Risng, published in the US in 2016, with much updated content. Not only does it describe the history of Japanese whiskey in detail, but it also includes data on all the distilleries in Japan, including the craft distilleries that have been founded in recent years. The book also includes descriptions of the legendary bottles that have been released, as well as information on bars where Japanese whisky can be found.