This is the fifth release from Akkeshi Distillery. We've released four new make-ups that have been aged in barrels for up to 30 months, and we've finally reached three years of maturation that allows us to call ourselves a whisky in Scotland. Three years after its establishment in the fall of 2016, the distillery's first single malt whisky, " Sarorun Kamui," was finally released on February 27, 2020 (using only raw materials distilled between November and December 2016 and aged for over three years). The name "Sarorun Kamui" means "red-crowned crane" in the Ainu language, meaning "god in the swamp," and it seems to refer to the environment suitable for whiskey making in the Akkeshi region. The bottle is also colored white and red to match this image. In addition, the company considers Akkeshi to be the "Islay of Japan", and has been working on the development of a new whisky production system.
Clear and limpid water through the peat layer

Cool and humid climate (preserved by the Ramsar Convention, scheduled to become a national monument in November 2020)

Can produce oysters.
and other similarities.
Akkeshi NEW BORN FOUNDATIONS 1 Bourbon barrel non-peated (released on 2/27/2018)
Akkeshi NEW BORN FOUNDATIONS 2 Bourbon Barrel Peated (2018/8/28 on sale)
Akkeshi NEW BORN FOUNDATIONS 3 Quercus serrata (Released on 3/5/2019)
Akkeshi NEW BORN FOUNDATIONS 4 Blended (Released on 8/29/2019)
Akkeshi Whiskey Sarorun Kamui(2020/2/27)
1. Manufacturer
Kenten Jitsugyo Co.
| | |
| --- | --- |
| Establishment | Established in 1982 |
| Headquarters location | Imperial Hotel Tokyo, 1-1-1 Uchisaiwai-cho, Chiyoda-ku, Tokyo 100-0011, Japan |
| Owned distillery | Akkeshi distillery |

2. Distillery
Akkeshi Distillery
| | |
| --- | --- |
| Address | 109-2, Miyazono 4-chome, Akkeshi-cho, Akkeshi-gun, Hokkaido 088-1124, Japan |
| Start of operation | October 2016 |
"The Akkeshi Distillery opened in October 2016 with the strong desire to "make whisky like Islay malt using traditional Scottish methods. A variety of equipment is required for whisky production, including pot stills (single-stage distillers) used for making malt whisky and mash tuns (saccharification tanks) for saccharifying malted barley.
The Akkeshi Distillery installed equipment made by Forsythe in Scotland in order to achieve its goal of "producing whisky like Islay malt using the traditional Scottish method. Forsythe's craftsmen came to Japan to install the equipment.
Just like the whisky making process on the island of Islay, water that passes through a layer of peat is used for brewing water, and the whisky is matured day by day in Akkeshi, a place that is cool, moist, and exposed to the sea breeze.
The Akkeshi Distillery is the first whiskey distillery in Hokkaido in 80 years, following the Nikka Whisky Yoichi Distillery (Yoichi-cho, Goshi District).
The area around the distillery is located in the wilderness where Ezo deer can be seen, and the water of the Homakai River is filtered through a peat layer and has a brownish color like the water on the island of Islay.
The land also seems to be capable of producing homemade peat using peat containing seaweed and peat containing plants.
In addition, the land is suitable for the maturation of whisky, with temperature differences between summer and winter exceeding 20 degrees Celsius and falling below -20 degrees Celsius.
Kushiro Marsh is protected by the Ramsar Convention, but if you build a distillery in the marsh, it will sink, so the foundation of the building must be 20 meters high.
4-109-2 Miyazono, Akkeshi-cho, Akkeshi-gun, Hokkaido 088-1124, Japan Kanten Jitsugyo Co.
The distillery tour is organized by " Taste Terminal Conchiglie".
3. Product name
Akkeshi Single Malt Whisky Sarorunkamuy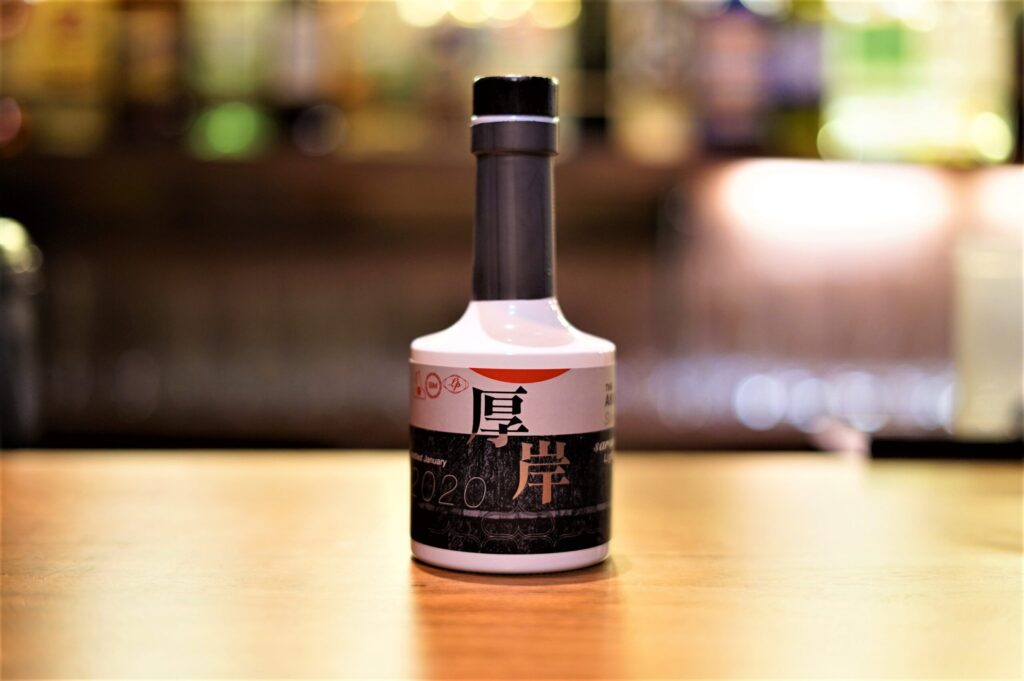 4. Characteristics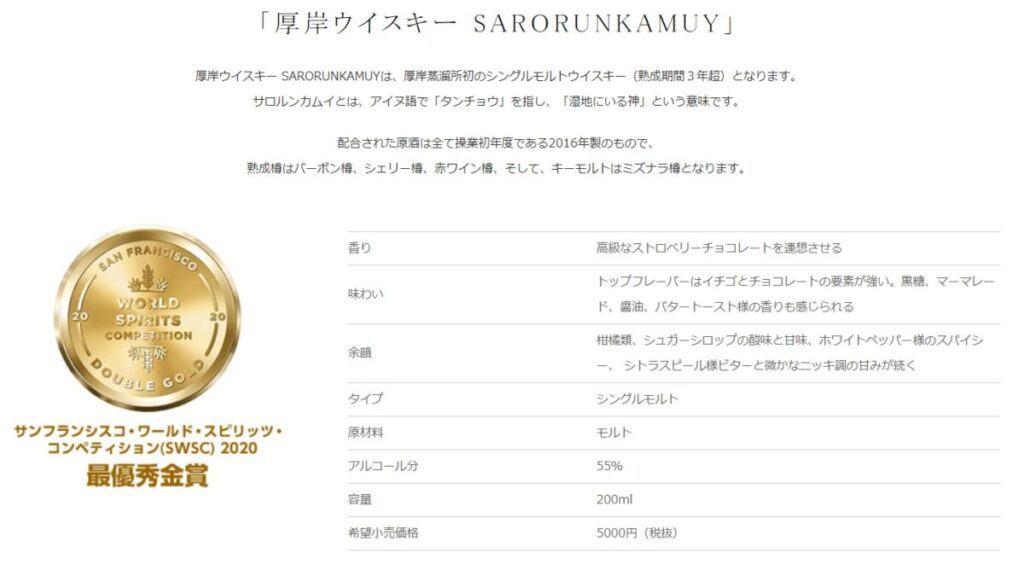 The culmination of three years of Newborn releases so far.
It is a blend of unpeated bourbon barrels, sherry barrels, red wine barrels and peated Quercus barrels. It has strawberry and chocolate flavors, peaty smoke, a hint of sweetness, and the distinctive Nikki-like crispness of Mizunara oak. It goes well with a wide range of foods, including seafood, meat, and chocolate, and can be enjoyed straight or with water or carbonation.

4-1. Tasting Notes
| | |
| --- | --- |
| Nose | Reminiscent of fine strawberry chocolate |
| Taste. | Top flavors are strong with strawberry and chocolate elements. Hints of brown sugar, marmalade, soy sauce and buttered toast. |
| Aftertaste | Citrus, sugar syrup tartness and sweetness, white peppery spiciness, citrus peel-like bitterness, and a hint of nicotine sweetness. |
4-2. Product Specifications
| | |
| --- | --- |
| Alcohol content | 55% alcohol by volume |
| alcohol category | Single Malt Whisky |
| Barrel type | Non-peated bourbon and sherry barrels, red wine barrels and peated Quercus barrels |
| Contents | 200ml |
| Number of bottles sold | Limited quantity |
| Suggested retail price | 5,500 yen (tax included) |
| Release date | February 27, 2020 |
5. Awards
2020 SWSC Best Gold Award
Won the Gold Medal in the Other Single Malt Whisky category at the San Francisco World Spirits Competition (SWSC), the world's leading liquor competition in the United States.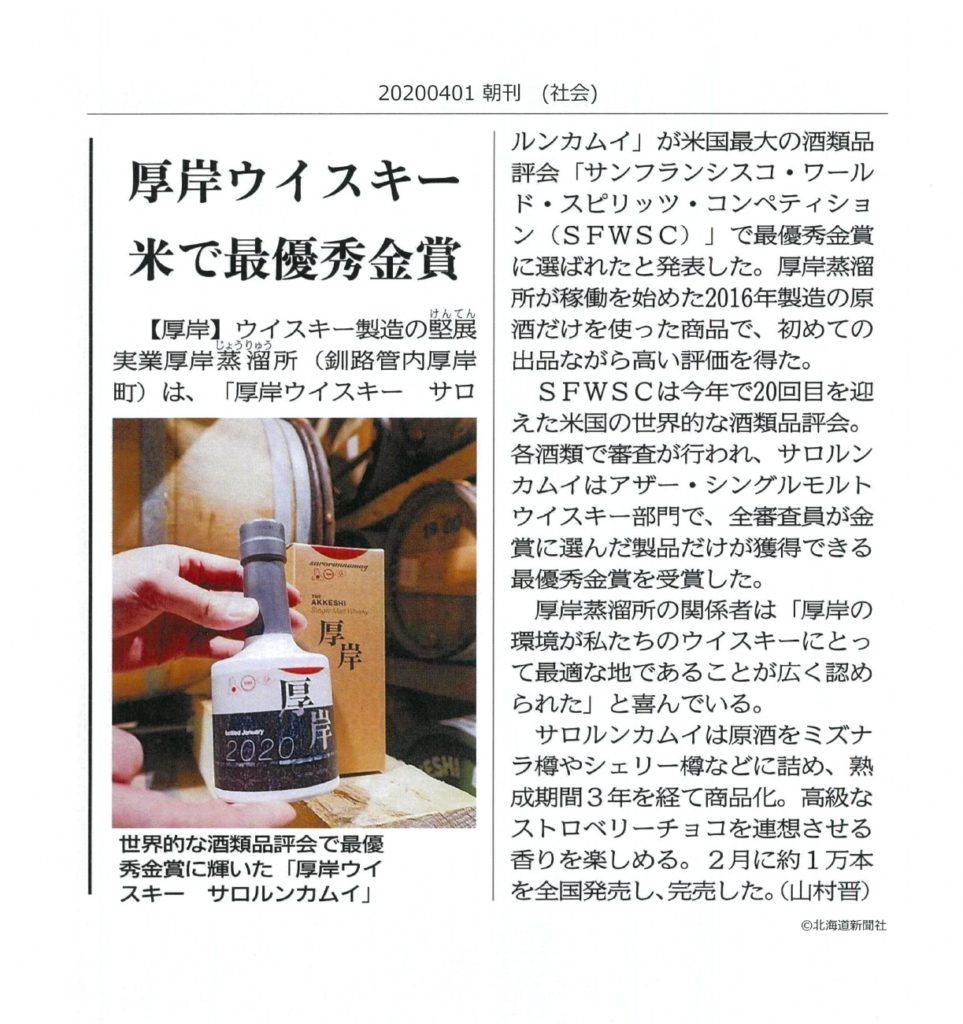 Price
6-1. Manufacturer's suggested retail price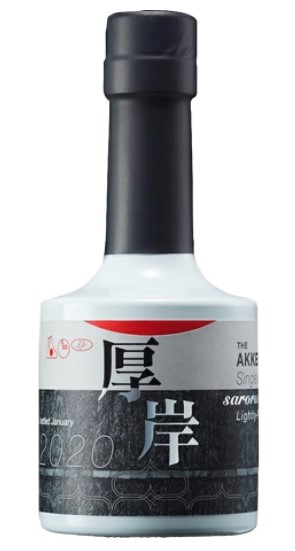 | | |
| --- | --- |
| Product name | Akkeshi Single Malt Whisky Sarorun Kamui |
| Volume | 200ml |
| Suggested retail price | Tax included: 5,500 yen |
6-2. Resale price on Mercari
The resale price on Mercari is around 10,000 yen to 14,000 yen. (*As of 4/7/2021)


6-3. Sold price on Yahoo Auction
Current prices on Yahoo Auctions: Lowest 8,500 yen, Highest 20,000 yen, Average 12,389 yen (*as of 4/7/2021)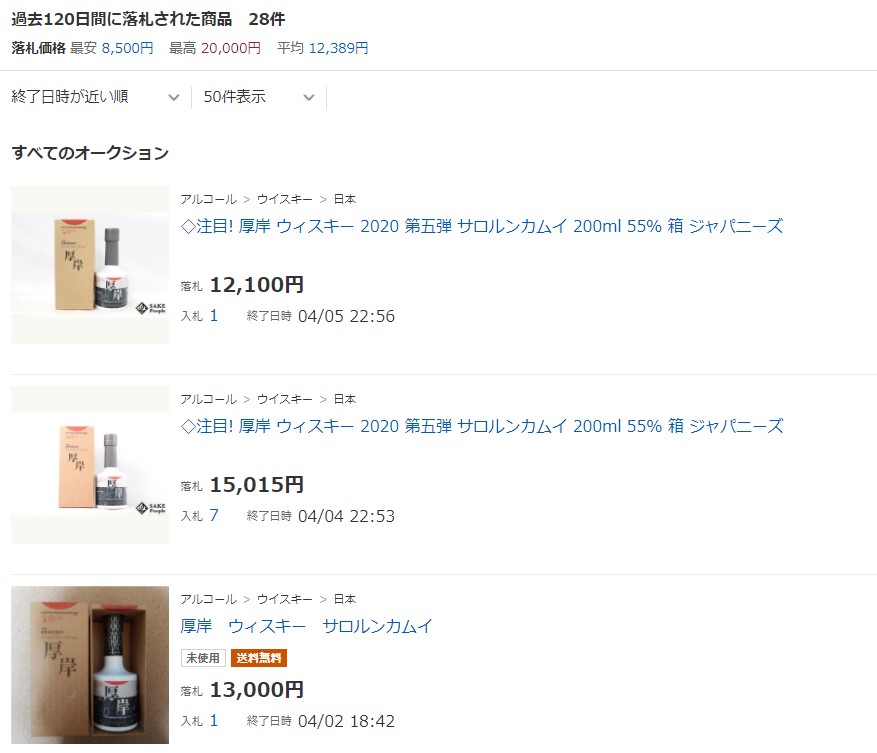 6-4. Rakuten, Yahoo Shopping, Amazon
It is also sold at mail order sites for around 38,000 yen to 55,000 yen. (*As of 4/7/2021)
6-5. Price offered at BAR SHINKAI
At "BAR Shinkai", which is operated by this website, one glass is offered at the following prices: 45ml: 8,250 yen, 30ml: 5,500 yen, 15ml: 2,750 yen.
7. Summary
The contents of this single malt are aged for three years, so there is some youth in it. You can drink it straight, or add a little water, twist it up, or drink it on the rocks, as you like. If you take your time and drink it slowly, the aroma will blossom and you will enjoy it even more. It also goes well with oysters, a specialty of the town of Akkeshi, and if you add a few drops to raw oysters on the half shell, the flavors of both oysters and oysters will harmonize and you will enjoy the aroma of the sea. This way of enjoying oysters is also a familiar custom in Islay. Why don't you try this luxury just like in the holy land of scotch?
Previously, the Akkeshi Newborn Series was shipped in smaller quantities, making it even more rare and valuable. If you are a whisky enthusiast, this is a gem that you must check out. A fourth maturation cellar is also under construction, and the distillery is aiming to become an all-star distillery with barley, peat, and Quercus oak barrels in the future, so it seems that there are still many interesting things to come.
Please check out the other articles about the Akkeshi Distillery.
Lastly: Recommended Books on Japanese Whisky
If you want to learn more about Japanese whisky, which is a global trend, we highly recommend these books.
In the December 2021 issue of Whisky Galore, published by the Whisky Culture Research Institute, we report on 11 Japanese craft distilleries, including some that are open to the public for the first time, under the title of "Japanese Whisky Craft Frontline," the first of three consecutive issues. Why did the popularity of Japanese whiskey and the craft boom occur? We will examine with interviews. Chichibu Distillery / Chichibu No.2 Distillery / Mars Shinshu Distillery / Mars Tsunuki Distillery / Kanosuke Distillery / Hioki Distillery / Ontake Distillery / Osuzuyama Distillery / Kaikyo Distillery / Hanyu Distillery / Konosu Distillery
¥1,320
(2023/03/23 03:10:42時点 Amazon調べ-
詳細)
This is a book written by Mamoru Tsuchiya, a world-famous whisky critic and representative of the Whisky Culture Research Institute, titled "Japanese Whisky as a Culture that Works for Business" .
The book covers the basics of whisky, the introduction of whisky to Japan, the birth of Japanese whisky, advertising strategies and the rise of Japanese whisky, and the current rise of craft distilleries. This is a book that summarizes Japanese whisky in a very easy to understand way.
Masataka Taketsuru, the founder of Nikka Whisky, devoted his life to brewing whisky in Japan. This is a revised and reprinted version of the autobiography of a man who simply loved whiskey and talked about himself. The book vividly depicts the days when he went to Scotland alone to study as a young man and overcame many hardships to complete Japanese whisky, as well as his companion, Rita.
Launching in 2019. With the world experiencing an unprecedented whisky boom, what were the managers of craft distilleries thinking and what were their thoughts as they took on the challenge of making whiskey? This book tells the stories of 13 craft distillery owners, including Ichiro Hido of Venture Whisky, famous for his Ichirose Malt, who inspired the birth of craft distilleries in Japan.
This is the Japanese version of Whisky Risng, published in the US in 2016, with much updated content. Not only does it describe the history of Japanese whiskey in detail, but it also includes data on all the distilleries in Japan, including the craft distilleries that have been founded in recent years. The book also includes descriptions of the legendary bottles that have been released, as well as information on bars where Japanese whisky can be found.