"Nikka Whisky Yoichi Distillery", the second whisky distillery established in Japan
After establishing the "Yamazaki Distillery" with Shinjiro Torii, Masataka Taketsuru sought a climate and natural environment similar to that of Scotland in order to reproduce the whisky making process he had learned in Scotland without any compromise, and they ended up in the northern land of "Yoichi".
The distillation process that continues to this day, using direct coal-fired heating, is rare even in Scotland today.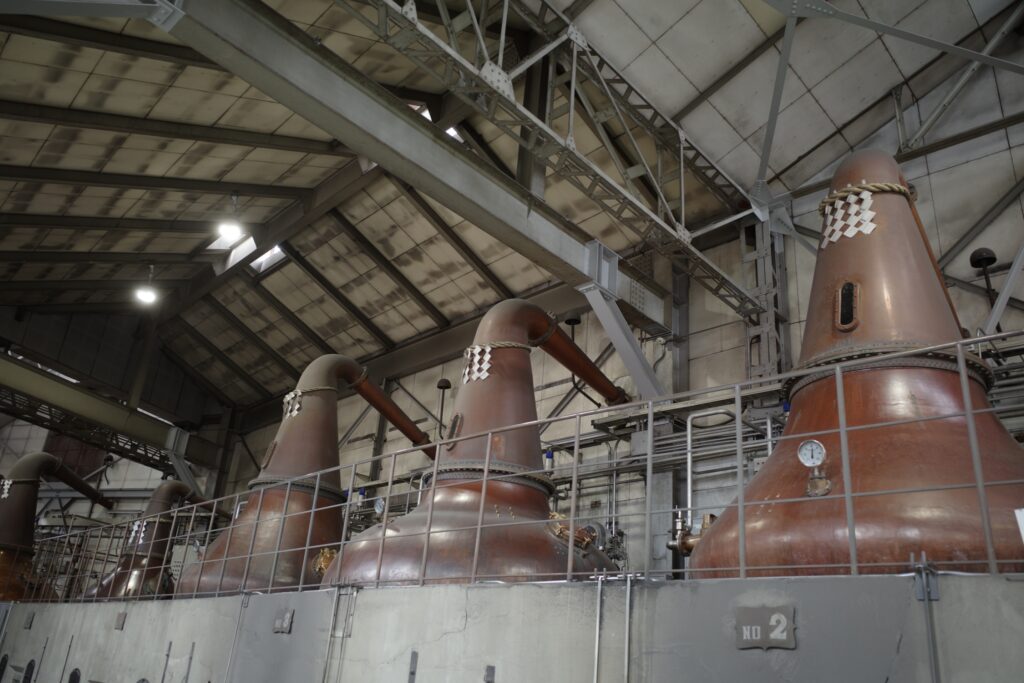 1. Basic Information
1-1. Location
Address: 046-0003
7-6 Kurokawa-cho, Yoichi-cho, Yoichi-gun, Hokkaido
1-2. Owner
Asahi Group Holdings (Nikka Whisky Company, Ltd.)
Access
By train

From JR New Chitose Airport Station to JR Yoichi Station: a little over 1.5 hours
From JR Sapporo Station to JR Yoichi Station: a little over 1 hour
From JR Otaru Station to JR Yoichi Station: about 30 minutes
*From JR Yoichi Station to the guided tour reception: 2 to 3 minutes on foot

Bus

From Otaru Station Bus Terminal to Yoichi Station: 40-50 minutes
Bus terminal is right outside the ticket gates of Otaru Station, 1-2 minutes on foot
To Kutchan/Iwanai/Bikuni/Yobetsu/Yoichi Umekawa garage
*Get off at Yoichi Ekimae or Yoichi Ekimae Jujigai, from where it is a 2 to 3 minute walk to the guided tour reception desk.

By Car

New Chitose Airport (about 120 km): about 2 hours and 30 minutes
Sapporo City Highway (about 55 km): about 1 hour
Otaru City (about 20 km): about 30 minutes
Iwanai direction: about 1 hour to 1 hour and 30 minutes
Shakotan direction: about 40 minutes to 1 hour
1-4. Start of operation
1936
1-5. Official website
2.History of the distillery
1934 (Showa 9)

Masataka Taketsuru, who left Kotobukiya, established Yoichi Distillery and Dainippon Kaju Company in Yoichi, Hokkaido, which has a climate similar to that of Scotland.
*The abbreviation "Nikka" became the current company name.

1935 (Showa 10)
Production and sale of "Nikka Apple Juice" made from pressed apples.
1936 (Showa 11)
Obtained a brewing license and started distilling whisky.
1940 (Showa 15)
Expanded the number of pot stills to two.
1941 (Showa 16)
A warehouse is built in a place called "Nikka Swamp".
1952 (Showa 27)
Company name changed to Nikka Whisky. Tokyo factory (now Roppongi Hills, Mouri Garden) established as a bottling plant.
1954 (Showa 29)
Asahi Beer (now Asahi Breweries, Ltd.) becomes a shareholder and forms a business alliance with Nikka.
1980 (Showa 55)
The former office was designated as a cultural asset by Yoichi Town.
1987 (Showa 62)
Started "My Whisky Making" at Yoichi Distillery.
1998 (Heisei 10)
Whisky Museum opened at the Hokkaido factory.
2001 (Heisei 13)
The name of Nikka Whisky Hokkaido factory changed to Yoichi Distillery.
2002 (Heisei 14)
Tenen Roman Club Yoichi" started in Yoichi.
2003 (Heisei 15)
Installed treatment facilities to prevent air pollution from emissions from open-flame distillation.
2004 (Heisei 16)
Yoichi Distillery was registered as a Hokkaido Heritage Site.
2005 (Heisei 17)
Nine buildings including the office building and distillery building were designated as registered tangible cultural properties.
2007 (Heisei 19)
The number of workers at the distillery was changed from three shifts to one shift to reduce production.
2014 (Heisei 26)
NHK television series "Massan" aired.
2015 (Heisei 27)
The number of visitors to the Yoichi and Miyagikyo distilleries exceeded 1 million per year.
2020 (Reiwa 2)
Construction of biogas power generation facility.
Shift to a two-shift day/night system to increase production.
2021 (Reiwa 3)
Ten buildings were designated as national important cultural properties.
2022 (Reiwa 4)
The high-rise rack storage facility (with a capacity of 7,000 barrels) begins operations.
The registered head office is moved for the first time in 70 years. The location is moved to Yoichi-cho in the Goshi region, the place where the company was founded.
3. Specifications of manufacturing facilities, etc.
3-1. Raw materials
Yoichi River subsoil water (soft water)
3-2. Manufacturing equipment
Malt mill
Roller mill (made by Buehler, Switzerland) x 1 units
Mash tin
Stainless steel semi-reuter tin (manufactured by Miyake Seisakusho Co., Ltd.)
Washback
Stainless steel (manufactured by Daiwa Stainless Industry) x 10 units
Pot still

First distillation (downward) Straight type (Miyake Mfg.) x 4 units Coal direct flame
Redistill (downward) Straight type (manufactured by Miyake Seisakusho) x 2 units Steam coil

Cooling system
Worm Tub
Bottling facilities
None (Kashiwa Plant)
Cask fill rate
63-65%
3-3. Matured warehouse
Dunnage type (partly rack type)
Currently 27 buildings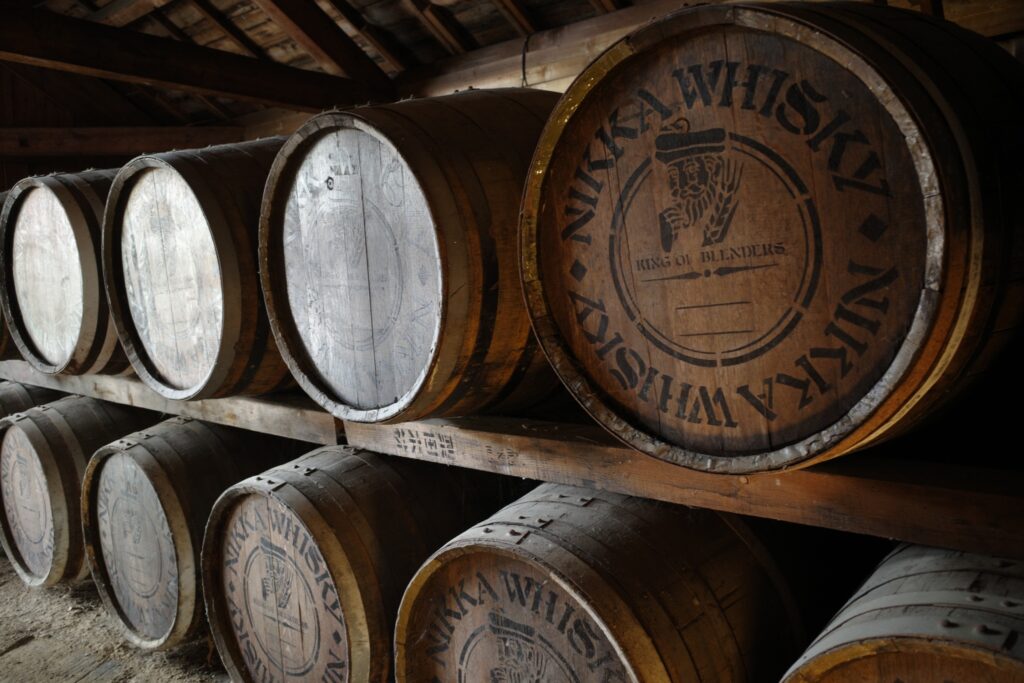 4. Products manufactured
4-1. Standard products
4-2. Distillery Limited Edition
5. Distillery Tour
5-1. Free Guided Tour & Free Tasting
9:00 / 9:30 / 10:00 / 11:00 / 11:30 / 12:00 / 13:00 / 14:00 / 14:30 / *15:00
*Only the 15:00 tour is shortened after the tour due to the closing time of the museum.
Admission Fee
Free of charge
Tour Duration
About 70 minutes
Itinerary
Tour of production process
↓
Free tasting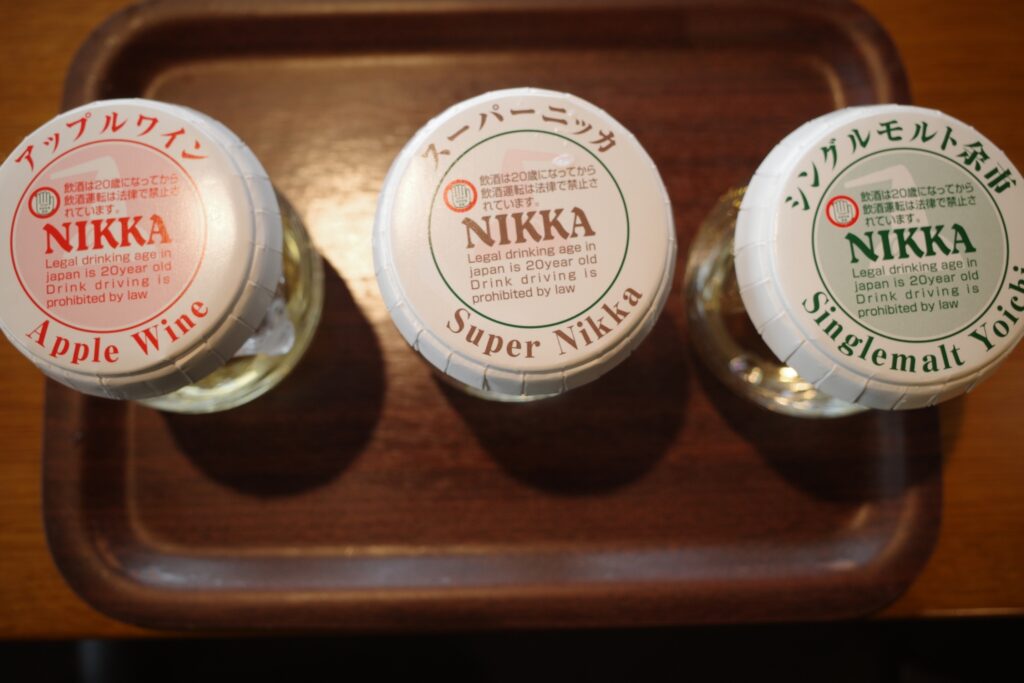 5-2. Single Malt Yoichi Key Malt Tasting Seminar
After observing the whisky production process at Yoichi Distillery in a guided tour, you can enjoy Yoichi's whisky in the newly built seminar room.
In addition to the whisky production tour, you can experience tasting methods and different types of whiskies with the seminar, and enjoy the charm of Yoichi.
Fee
1500 yen
Time required
About 80 minutes
Itinerary
Tour of production process
↓
Seminar room in Nikka Museum
(Tasting seminar of single malt Yoichi and 3 key malts)
5-3. Platinum VIP Tour
The tour event that was held in 2020 is back.
In addition to the regular tour course, you will be able to visit the VIP room and the interior of the former Taketsuru Residence, which are not usually open to the public.
After the tour, you can enjoy a special room where you can have snacks prepared by the restaurant and drink Single Malt Yoichi, Yoichi Distillery's limited edition whisky, and more.
Fee

4,000 yen

Time required
120 minutes
Itinerary

Tour of the Guest House
↓
Tour of production process
↓
Tour of the former Taketsuru Residence
↓
Special tasting with an instructor
(4 kinds of whisky and 5 original snacks of the restaurant)
Click here to register
https://distillery.nikka.com/yoichi/reservation"]
5-3. Other highlights
Coal direct distillation, so you may be able to see a professional craftsman feeding coal.
Ten buildings of the distillery are designated as national important cultural properties in 2022.
The Whisky Museum, located next to the distillery, displays the history and achievements of Nikka Whisky and Masataka Taketsuru.
At the charged tasting counter, visitors can sample many of Nikka Whisky's valuable whiskies.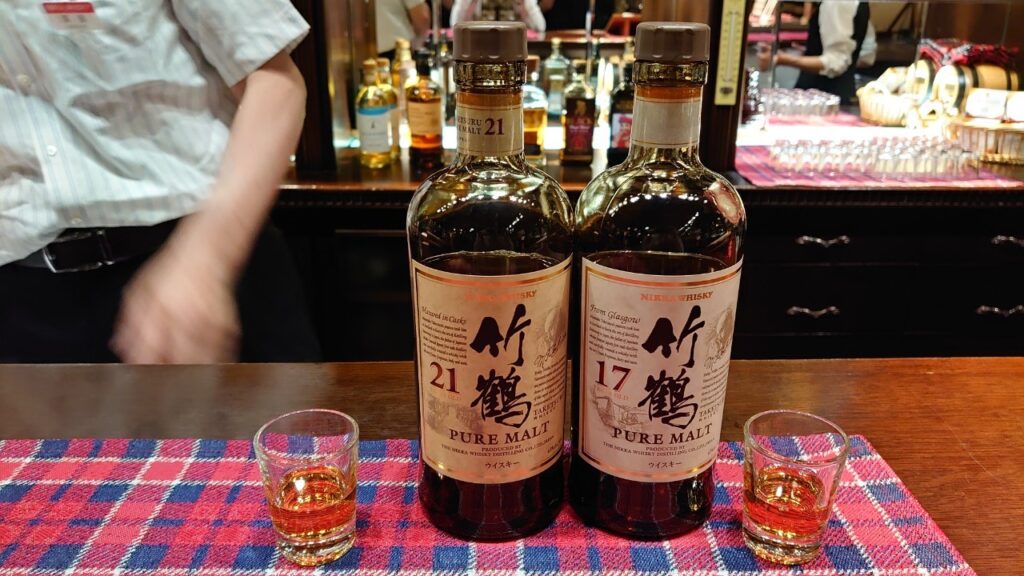 6. Nearby Information
6-1. Gourmet
Kakizaki Shoten
Located near Yoichi Station, this eatery is operated by a store selling marine products, with a sales floor on the first floor and a restaurant on the second floor.
The menu offers a wide variety of dishes such as sea urchin bowls, salmon roe bowls, grilled fish, sashimi, and set menus, all at reasonable prices.
Although you must wait in line on weekends, the turnover time is relatively fast because of the large number of seats and quick service, so it is recommended to wait in line without giving up.
For more information, click here.
https://tabelog.com/hokkaido/A0106/A010602/1000224/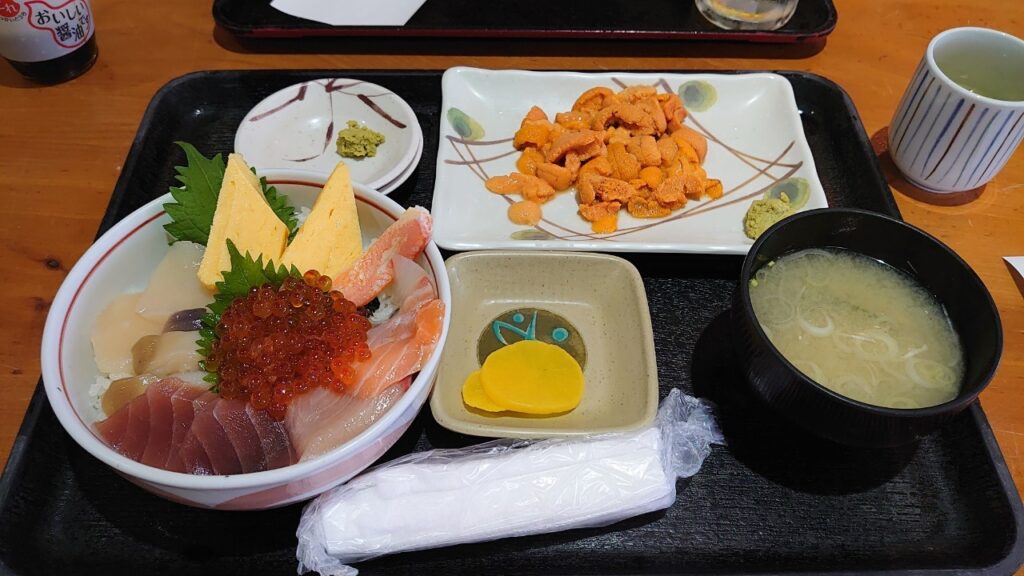 Yoichi SAGRA
This Italian restaurant is about 10 minutes away by car, but it also has lodging facilities and sells Yoichi's famous wine, "Domaine Takahiko".
They serve a full-course meal using seasonal ingredients with an awareness of the terroir.
The owner is very particular about his food, so be careful not to use strong perfume or take pictures of anything other than the food.
It is convenient to stay over directly after dinner.
Click here for the official website
https://tabelog.com/hokkaido/A0106/A010602/1057186/
6-2. Sightseeing
By Yoichi Tourist Association
"The Main Road Course to Enjoy Whisky and Local Foods"
"Family course to enjoy Yoichi's food and history"
"Enjoy the Nature and Wine in Yoichi for Couples", etc.
How about taking a look at these easy-to-understand information?
Yoichi Tourist Association Official Website
https://yoichi-kankoukyoukai.com/
6-3. Others
Here are some liquor stores that you may be interested in.
Mainly wine, sake and ice cream, but you might want to ask the owner about local hole-in-the-wall liquor stores.
https://tabelog.com/hokkaido/A0106/A010602/1045858/
This place also has a good reputation for its wine, but it also has a lot of local sake, and most importantly, the owner's personality.
It's worth it just to show up.
https://nippon.wine/store/11011020031/
This liqueur specialty store sells one-of-a-kind liqueurs made from seasonal fruits.
The low alcohol content makes it a great gift for those who don't like alcohol.
https://www.yoichi-lf.com/