A new single malt whisky will be released by Kirin Brewery Company, Limited.
"Fuji," which has been focused on grain whisky, will finally be available as a single malt, with the release of "Kirin Single Malt Japanese Whisky Fuji" on May 16 and "Kirin Single Malt Japanese Whisky Fuji 50th Anniversary Edition" on May 23 to celebrate the 50th anniversary of the Fuji Gotemba Distillery. th Anniversary Edition" will be released in a limited edition of 3,000 bottles.
The 50th anniversary limited edition product seems to be a blend of malt whiskies from the time of the distillery's operation in 1973, as well as from each of the 1970s to 2010s.
Both products will be available at the Fuji Gotemba Distillery store and at the Kirin online store DRINX. Click here for the SHOP page
1. Kirin Single Malt Japanese Whisky Fuji
This single malt whisky features a rich, mellow, fruity flavor created from a variety of malt base whiskies, and the beauty of Fuji can be felt every time it is tasted. "Fuji" in a snowy landscape, the label expresses the beauty of nature's mysteries and the dignified attention to detail of Japanese craftsmanship. The bottle with the shape of Mt. Fuji at the bottom of the bottle is a symbol of the brand.

Reference: "Kirin Single Malt Japanese Whisky Fuji" and "Kirin Single Malt Japanese Whisky Fuji 50th Anniversary Edition" released|PM TIMES
| | |
| --- | --- |
| Product Name | Kirin Single Malt Japanese Whisky Fuji |
| Sake category | Single Malt Japanese Whisky |
| Ingredients | Malt |
| Cask Type | ー |
| Number of bottles | ー |
| Alcohol Content | 46% |
| Price | Suggested retail price: 6,600 yen (tax included) |
| Manufactory | Kirin Distillery Fuji Gotemba Distillery |
| Manufacturer | Kirin Brewery Company, Limited |
2. Kirin Single Malt Japanese Whisky Fuji 50th Anniversary Edition
The distillery uses a selection of the finest bottles distilled in the 1970s, 1980s, 1990s, 2000s, and 2010s, including the original spirit distilled in 1973, the year the distillery began operations. This single malt whisky is a perfect blend of the deep, matured aroma and delicate malt flavor that can only come from precious, long-matured original spirits, and the new fruity malt flavor that we have been refining.

Reference: "Kirin Single Malt Japanese Whisky Fuji" and "Kirin Single Malt Japanese Whisky Fuji 50th Anniversary Edition" released|PM TIMES
| | |
| --- | --- |
| Product Name | Kirin Single Malt Japanese Whisky Fuji 50th Anniversary Edition |
| Sake category | Single Malt Japanese Whisky |
| Ingredients | Malt |
| Cask Type | ー |
| Number of bottles | ー |
| Alcohol Content | 52% |
| Price | Suggested retail price: 21,780 yen (tax included) |
| Manufactory | Kirin Distillery Fuji Gotemba Distillery |
| Manufacturer | Kirin Brewery Company, Limited |
3. About Kirin Distillery Fuji Gotemba Distillery
Kirin Distillery Fuji Gotemba Distillery
| | |
| --- | --- |
| Location | 970 Shibanta, Gotemba City, Shizuoka Prefecture, 412-0003, Japan |
| Start of operation | November 1973 |
August 1972  Kirin-Seagram Company established as a joint venture between Kirin Brewery Company (Japan), JE Seagram Company (U.S., at the time), and Sievers Brothers (U.K.).
November 1973  Fuji Gotemba Distillery completed and production begins.
February 1974  Japanese Whisky "Robert Brown" is released.
July 2002  Company name changed to "Kirin Distillery Company, Limited" (became a wholly owned subsidiary of Kirin Brewery Company, Limited)
September 2005  Japanese Whisky "Kirin Whisky Fuji-Sanroku Barrel Aged 50°" and "Kirin Whisky Fuji-Sanroku Single Malt 18 Years" are released.
March 2016  "Kirin Whisky Fuji-Sanroku Blended 18 Years Old" released; "Kirin Whisky Fuji-Sanroku Barrel-Aged Original Sake 50° released.
August 2018  "Fuji-Sanroku Signature Blend" is released.
April 2020  "Kirin Single Grain Whisky Fuji" is released.
Fuji, "Kirin Distillery Company Limited's Fuji Gotemba Distillery" is one of the few whisky distilleries in the world to handle the entire process from preparation to bottling of malt and grain whiskies.
The distillery produces a wide variety of Kirin Group products, including whisky, mineral water, and canned chuhai, in a natural environment blessed with abundant subterranean water from Fuji, a cool climate, and frequent fog throughout the year.
In February 2019, the company invested approximately 8 billion yen to expand its production facilities in preparation for further increases in whisky sales volume in the future.
In order to produce a wide variety of malt whisky base whisky, four new small fermentation tanks and two lines of four distillers were installed to approximately double the base whisky production capacity, and the barrel storage capacity was increased by approximately 20% through renewal and enlargement of the barrel aging warehouse. The new facility will start operation in June 2021.
Reference: Kirin Distillery Company Limited official website
For more information about Fuji Gotemba Distillery, please see also here↓.
https://en.jpwhisky.net/2021/01/01/japanesedistillery-2/#4-5_Fuji_Gotemba_Distillery_Kirin_Distillery"]
4. "Fuji" series lineup
4-1 Single Grain Whisky Fuji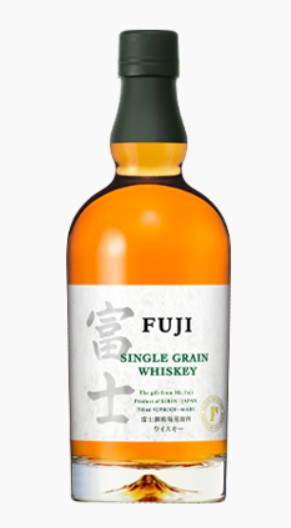 Only the world-renowned Fuji Gotemba distillery's grain whisky base whisky is used, and three different types of grain base whisky with different aroma types are combined to create a flavor that brings out the aroma characteristics of each. This whisky is characterized by its fruity, fruity, orange and grape aroma. This single grain whisky is the result of the combination of Kirin's accumulated technology and know-how and the natural beauty of Fuji, blessed with rich forests and water.
https://en.jpwhisky.net/2021/03/04/kirin-single-grain-whisky-fuji-2/
4-2 Single Blended Japanese Whisky Fuji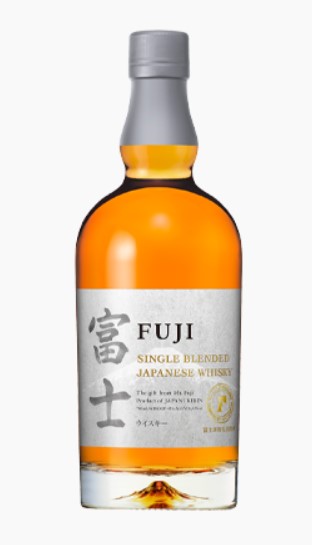 Fuji Gotemba Distillery is a rare product in the world, blending only a variety of malt and grain whiskies unique to Fuji Gotemba Distillery. In creating this single blended product, we placed great importance on the concept of "terroir of time" in whisky. Terroir in whisky refers to the location at the foot of Mt. Fuji where the whisky is produced and nurtured, as well as the time spent by the original whisky in that location.
https://en.jpwhisky.net/2022/07/26/kirin-single-blended-whisky-fuji-2/
Lastly: Recommended Books on Japanese Whisky
If you want to learn more about Japanese whisky, which is a global trend, we highly recommend these books.
In the December 2021 issue of Whisky Galore, published by the Whisky Culture Research Institute, we report on 11 Japanese craft distilleries, including some that are open to the public for the first time, under the title of "Japanese Whisky Craft Frontline," the first of three consecutive issues. Why did the popularity of Japanese whisky and the craft boom occur? We will examine with interviews. Chichibu Distillery / Chichibu No.2 Distillery / Mars Shinshu Distillery / Mars Tsunuki Distillery / Kanosuke Distillery / Hioki Distillery / Ontake Distillery / Osuzuyama Distillery / Kaikyo Distillery / Hanyu Distillery / Konosu Distillery
This is a book written by Mamoru Tsuchiya, a world-famous whisky critic and representative of the Whisky Culture Research Institute, titled "Japanese Whisky as a Culture that Works for Business" .
The book covers the basics of whisky, the introduction of whisky to Japan, the birth of Japanese whisky, advertising strategies and the rise of Japanese whisky, and the current rise of craft distilleries. This is a book that summarizes Japanese whisky in a very easy to understand way.
Masataka Taketsuru, the founder of Nikka Whisky, devoted his life to brewing whisky in Japan. This is a revised and reprinted version of the autobiography of a man who simply loved whisky and talked about himself. The book vividly depicts the days when he went to Scotland alone to study as a young man and overcame many hardships to complete Japanese whisky, as well as his companion, Rita.
Launching in 2019. With the world experiencing an unprecedented whisky boom, what were the managers of craft distilleries thinking and what were their thoughts as they took on the challenge of making whisky? This book tells the stories of 13 craft distillery owners, including Ichiro Hido of Venture Whisky, famous for his Ichirose Malt, who inspired the birth of craft distilleries in Japan.
This is the Japanese version of Whisky Risng, published in the US in 2016, with much updated content. Not only does it describe the history of Japanese whisky in detail, but it also includes data on all the distilleries in Japan, including the craft distilleries that have been founded in recent years. The book also includes descriptions of the legendary bottles that have been released, as well as information on bars where Japanese whisky can be found.