T&T TOYAMA's new brand "T&T TOYAMA COLLECTION" is an original brand of distilled and aged sake from distilleries around Japan, carefully selected by Mr. Inagaki and Mr. Shimono of T&T TOYAMA for their high quality and individuality.
This single malt Saburomaru 2019 3 years old appears to be a single cask, cask strength release.
The label design was created by Cora, a grafficker and illustrator who posts background art on Twitter and is also a whisky enthusiast.
1. Manufacturer
Wakatsuru Shuzo Co.
| | |
| --- | --- |
| Established | 1862 |
| Head office location | 208 Saburomaru, Tonami, Toyama 939-1308 |
| Owned distillery | Saburomaru Distillery |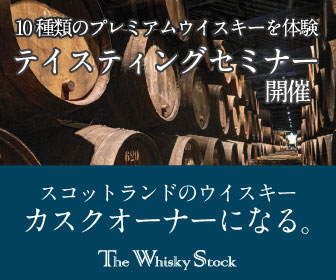 2. Distillery
Saburomaru Distillery
| | |
| --- | --- |
| Address | 208, Saburomaru, Tonami city, Toyama 939-1308 |
| Start of operation | 1953 (renovated in 2016) |
The only distillery in Hokuriku, established in 1952.
Amidst the postwar rice shortage, the distillery obtained a license to produce whisky in 1952. Since then, they have been brewing sake in winter and distilling whisky during the rest of the year. They make 200 bottles of whisky a year. Plans are underway to make 300 bottles in the future.
Since the beginning, they have been focusing on smoky whisky, using Islay peated malt and recently peated malt from Toyama Prefecture. To preserve the natural flavor, no cooling filtration or coloring is used.
In 2018, we installed a state-of-the-art mash tun from Miyake Seisakusho.
In 2019, we collaborated with a local company, Oigo Seisakusho, to develop a cast pod still, "ZEMON".
In 2020, one wooden vat fermenter was installed.
The main difference from other distilleries is the use of "ZEMON", the world's first cast pod still.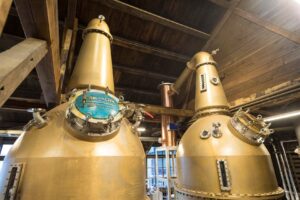 There are three major features.
(1) The casting method enables molding with a mold for quick delivery. Also, it is possible to add sufficient wall thickness at a low cost, which increases the service life of the bottle.
(2) Free molding by the casting method allows for various types of sake quality. Also, by unitizing the parts, it is possible to replace only worn parts or expand the functions.
(3) Made of a copper-tin alloy containing about 90% copper and 8% tin. Tin is a high-grade metal that is traded at about three times the price of copper.

Tin has been used since ancient times to mellow the taste of sake and has been used in sake vessels and shochu coolers. ZEMON contributes to the production of high quality spirits through the dual effects of copper and tin.
Reference: Wakatsuru Shuzo official website
See also ↓ for information on the Sabromaru distillery.
3. Product name and photo
Single Malt Saburomaru 2019 3 Years T&T TOYAMA COLLECTION
Single Malt Saburomaru 2019 3year T&T TOYAMA COLLECTION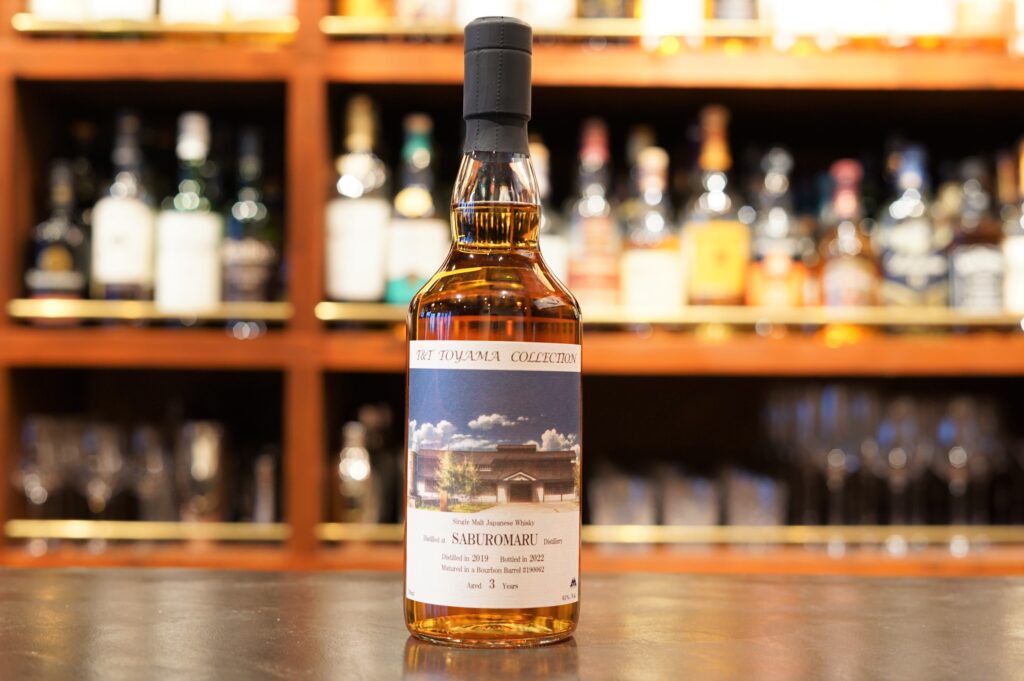 ノーブランド品
¥110,910
(2023/03/21 07:49:46時点 Amazon調べ-
詳細)
4. Characteristics
3 years old ZEMON distilled spirit

Distilled in a cast pod still "ZEMON" at Sabromaru Distillery, aged for 3 years in bourbon barrels, single cask, bottled at cask strength. It is a very rare bottle with a bottling quantity of 208 bottles.
It has a smoky flavor of about 50ppm, a burnt oak taste, and a solid body, making it a very drinkable whisky.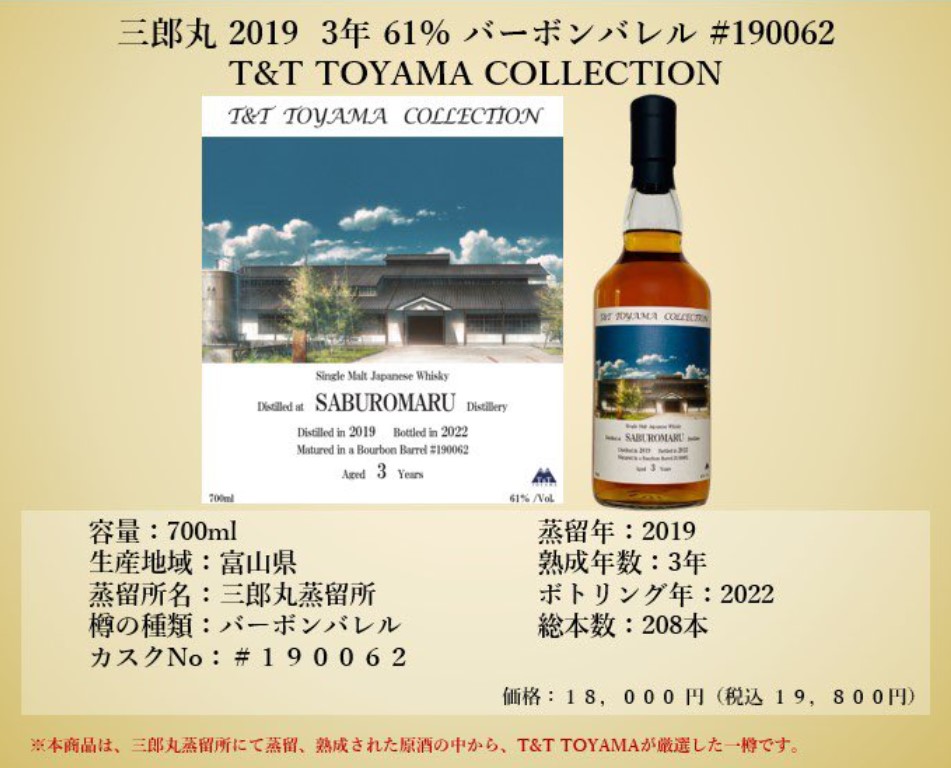 4-1. Tasting Notes

| | |
| --- | --- |
| Aroma | Smoky, roasted coffee beans, herbaceous freshness |
| Taste | Roasted, high cocoa, heavy body |
| Aftertaste | Burnt oak aroma, gradually giving way to a refreshing eucalyptus-like aftertaste. |

4-2. Product Specifications
| | |
| --- | --- |
| Alcohol content | 61% |
| Distillate | Single malt Japanese whisky |
| Barrel type | Bourbon Barrel |
| Content volume | 700ml |
| Number of bottles sold | Limited to 208 bottles |
| Suggested retail price | 19,800 yen (tax included) |
| Release date | February 14, 2023 |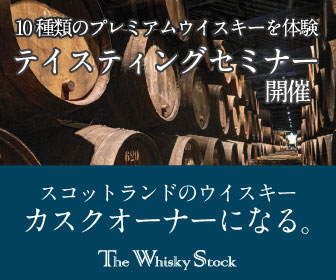 5. Awards
No awards received at this time.
6. Price
6-1. Manufacturer's Suggested Retail Price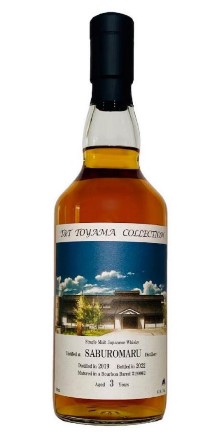 | | |
| --- | --- |
| Product Name | Single Malt Saburomaru 2019 3 Years T&T TOYAMA COLLECTION |
| Capacity | 700ml |
| Suggested Retail Price | 19,800 yen (including tax) |
6-2. Resale price on Mercari
We could not confirm the resale price on Mercari. (*As of 2/22/2023)
6-3. Sold price on Yahoo! Auction
Currently, there appears to be no successful bids on Yahoo! Auctions. (*As of 2/22/2023)
6-4. Rakuten, Yahoo Shopping, Amazon
On mail order sites around 110,000 yen. (*As of 2/22/2023)
ノーブランド品
¥110,910
(2023/03/20 22:45:27時点 Amazon調べ-
詳細)
6-5. Price offered at BAR Shinkai
At "BAR Shinkai" operated by this site, we offer small quantities such as 1 glass, 45ml: 5,610 yen, 30ml: 3,740 yen, 15ml: 1,870 yen, etc.
7. Summary
Distilled in "ZEMON", the world's first cast pot still, created in 2019. As it is a single cask, cask strength, the flavor profile is clear and the peat, which was somewhat under the breath in Saburomaru II, could be felt firmly in this one.
This is a perfect match between the "overwhelming smoky flavor" of Saburomaru and the round, smooth texture and added sweetness of ZEMON.
Saburomaru Distillery is upgrading every year with the introduction of a new mash tun in 2018, a new pot still "ZEMON" in 2019, and a wooden fermentation tank in 2020.
We are very much looking forward to the single malt to be released this fall, which will be made from wood-batten fermentation.
Please check out our other articles about Saburomaru Distillery.
ノーブランド品
¥3,124
(2023/03/20 22:44:58時点 Amazon調べ-
詳細)

¥25,000
(2023/03/21 07:49:47時点 楽天市場調べ-
詳細)
Lastly: Recommended Books on Japanese Whisky
If you want to learn more about Japanese whisky, which is a global trend, we highly recommend these books.
In the December 2021 issue of Whisky Galore, published by the Whisky Culture Research Institute, we report on 11 Japanese craft distilleries, including some that are open to the public for the first time, under the title of "Japanese Whisky Craft Frontline," the first of three consecutive issues. Why did the popularity of Japanese whiskey and the craft boom occur? We will examine with interviews. Chichibu Distillery / Chichibu No.2 Distillery / Mars Shinshu Distillery / Mars Tsunuki Distillery / Kanosuke Distillery / Hioki Distillery / Ontake Distillery / Osuzuyama Distillery / Kaikyo Distillery / Hanyu Distillery / Konosu Distillery
This is a book written by Mamoru Tsuchiya, a world-famous whisky critic and representative of the Whisky Culture Research Institute, titled "Japanese Whisky as a Culture that Works for Business" .
The book covers the basics of whisky, the introduction of whisky to Japan, the birth of Japanese whisky, advertising strategies and the rise of Japanese whisky, and the current rise of craft distilleries. This is a book that summarizes Japanese whisky in a very easy to understand way.
Masataka Taketsuru, the founder of Nikka Whisky, devoted his life to brewing whisky in Japan. This is a revised and reprinted version of the autobiography of a man who simply loved whiskey and talked about himself. The book vividly depicts the days when he went to Scotland alone to study as a young man and overcame many hardships to complete Japanese whisky, as well as his companion, Rita.
Launching in 2019. With the world experiencing an unprecedented whisky boom, what were the managers of craft distilleries thinking and what were their thoughts as they took on the challenge of making whiskey? This book tells the stories of 13 craft distillery owners, including Ichiro Hido of Venture Whisky, famous for his Ichirose Malt, who inspired the birth of craft distilleries in Japan.
This is the Japanese version of Whisky Risng, published in the US in 2016, with much updated content. Not only does it describe the history of Japanese whiskey in detail, but it also includes data on all the distilleries in Japan, including the craft distilleries that have been founded in recent years. The book also includes descriptions of the legendary bottles that have been released, as well as information on bars where Japanese whisky can be found.