The two new products, "Single Malt Yoichi Aromatic Yeast" and "Single Malt Miyagikyo Aromatic Yeast," will be released in 2024. 90th Anniversary of NIKKA's Founding The new products will be launched in 2021, and will focus on the depth of Nikka Whisky's diverse range of whiskies and the history of the different types of whiskies created by raw materials, fermentation, and other production processes. Second product in the "NIKKA DISCOVERY Series"The new project will be launched in 2021. Developed as a series to "discover" the diversity, depth and unexpectedness of whisky.
This new product focuses on the "distinctive aroma created by the different yeasts used in the fermentation process." This is a limited edition product that brings out the hidden and unexpected character of "Single Malt Yoichi" and "Single Malt Miyagikyo" by adding a new aroma created by the yeast, while maintaining the unique charm of the single malt.
The product will be marketed mainly for commercial use. Overseas sales are also planned, mainly in Europe.
The label uses colors that reflect the aroma of each flavor, with a gradual color gradation to express the aromatic image of the product.

The product will go on sale on September 27, 2022, for 22,000 yen including tax. Sales volume is 10,000 units in Japan and 10,000 units overseas, respectively.
1. Manufacturer
Nikka Whisky Company, Ltd.
| | |
| --- | --- |
| Establishment | 1934 (Showa 9) |
| Head office | 4-31, Minami-Aoyama 5-chome, Minato-ku, Tokyo 107-8616, Japan |
| Distilleries owned | Yoichi distillery, Miyagikyo distillery, Ben Nevis distillery |

2. Distilleries
Yoichi distillery
| | |
| --- | --- |
| Address | 7-6 Kurokawa-cho, Yoichi-cho, Yoichi-gun, Hokkaido 046-0003, Japan |
| Start of operation | 1936 |
Hokkaido's "Yoichi Distillery" is known as the Scotland of Japan. The distillery was established in 1934 by Masataka Taketsuru, a.k.a. Massan, as the predecessor of Dainippon Fruit Juice Co. Masataka Taketsuru believed that a place similar to Scotland Cool and humid climate, abundant water source and clean and dignified air He chose Yoichi, located at the base of the Shakotan Peninsula, west of Otaru, from a variety of possible sites. Masataka Taketsuru's goal for his first distillery was to create a heavy and powerful malt whisky. He was determined to reproduce the whisky-making methods he had learned at distilleries in Scotland without making any compromises. The symbols of this commitment are the "Straight head type pot still" and "direct coal-fired distillation." This process produces a heavy, aromatic, heavy peat base whisky, and produces a unique single malt with a peaty, salty aroma. This distillation method is based on the Longmorn distillery, where Taketsuru himself studied. If it is necessary to make authentic whisky, we will follow it, even if it is inefficient. Such passion, which can be called the origin of Nikka Whisky, and Masataka Taketsuru's passion for his dreams are still being passed down today.
Yoichi Distillery's official website is here.
For more information about Yoichi Distillery, please also see this article.
3. Product name and photo
Single Malt Yoichi Aromatic Yeast
Single Malt Yoichi Aromatic Yeast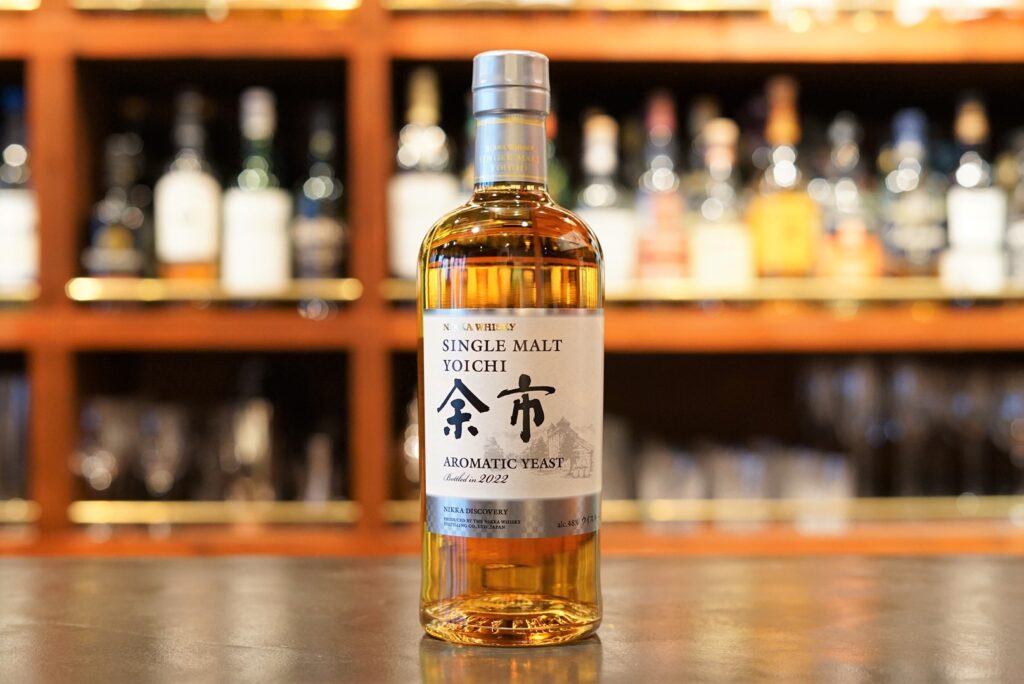 ¥26,180
(2023/03/21 07:57:31時点 楽天市場調べ-
詳細)
4. Characteristics
Fruity aroma from the peat and yeast characteristic of Yoichi
This single malt whisky has a strong, thick flavor from direct coal-fired distillation, a characteristic of Yoichi malt, and a fruity aroma of apples and bananas, with a hint of pear, reminiscent of ginjo. The fresh fruitiness and malt sweetness are firmly rooted in the richness of the peat, and the pleasantly sweet aroma and marmalade-like bitter-sweet aftertaste are pleasantly persistent.

The wide variety of aromas produced by the yeast during the fermentation process become the character of the many different types of sake.
Among them, the original sake with a floral aroma reminiscent of ginjo aroma stimulated the blender's creativity. Furthermore, they also focused on sake made with a yeast that produces an overflowing fruity aroma, and searched for a point of fusion with the peaty aroma typical of Yoichi.
After a process of trial and error, a rare original whisky that has been aged for more than 30 years in active casks was added to unite the fresh aroma and the heavy aroma, and a harmony as a whisky was reached.
The result is a fusion of Yoichi's original robust character and a floral, fruity flavor reminiscent of ginjo aroma. The answer to this challenging task has finally been found.


Quote: "Single Malt Yoichi/Single Malt Miyagikyo Aromatic Yeast" to be released in limited quantities on September 27
Prior to the Discovery Series, the limited editions have changed their character by "different cask types used in the wood finish," such as the 2017 Moscato Wood Finish, the 2018 Manzanilla Wood Finish, and the 2020 Apple Brandy Wood Finish.
The Discovery Series does not do finishes, and in this second release, the whisky brings out the hidden and unexpected character of single malt Miyagikyo while taking advantage of its appeal by "different yeast".

4-1. Tasting Notes
| | |
| --- | --- |
| Aroma | Fresh fruits like banana and orange, smoky |
| Taste | Bitter chocolate, brown sugar, smoked bacon |
| Aftertaste | Malt richness and sweet bittersweet aftertaste |
4-2. Product Specifications
| | |
| --- | --- |
| Alcohol content | 48% (with a slight alcohol content) |
| Alcohol category | Single malt Japanese whisky |
| Cask type | ー |
| Volume | 700ml |
| Number of bottles sold | Domestic: 10,000 bottles Overseas: 10,000 bottles |
| Suggested retail price | 22,000 yen including tax |
| Release date | September 27, 2022 |
5. Awards
No awards received at this time.
6. Price
6-1. Manufacturer's Suggested Retail Price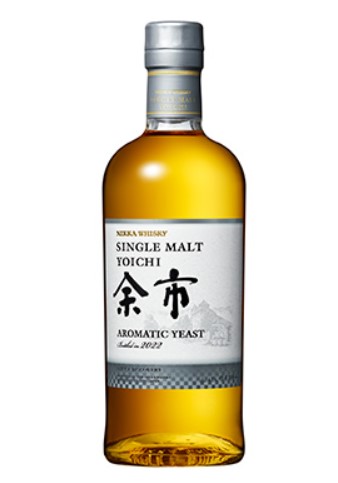 | | |
| --- | --- |
| Product name | Single Malt Yoichi Aromatic Yeast |
| Capacity | 700ml |
| Suggested Retail Price | Including tax: 22,000 yen |
6-2. Resale price on Mercari
The resale price on Mercari is for a set of two bottles of "Single Malt Yoichi Aromatic Yeast" and "Single Malt Miyagikyo Aromatic Yeast". 48,000 yen to around 60,000 yen The resale price is (*as of 10/3/2022)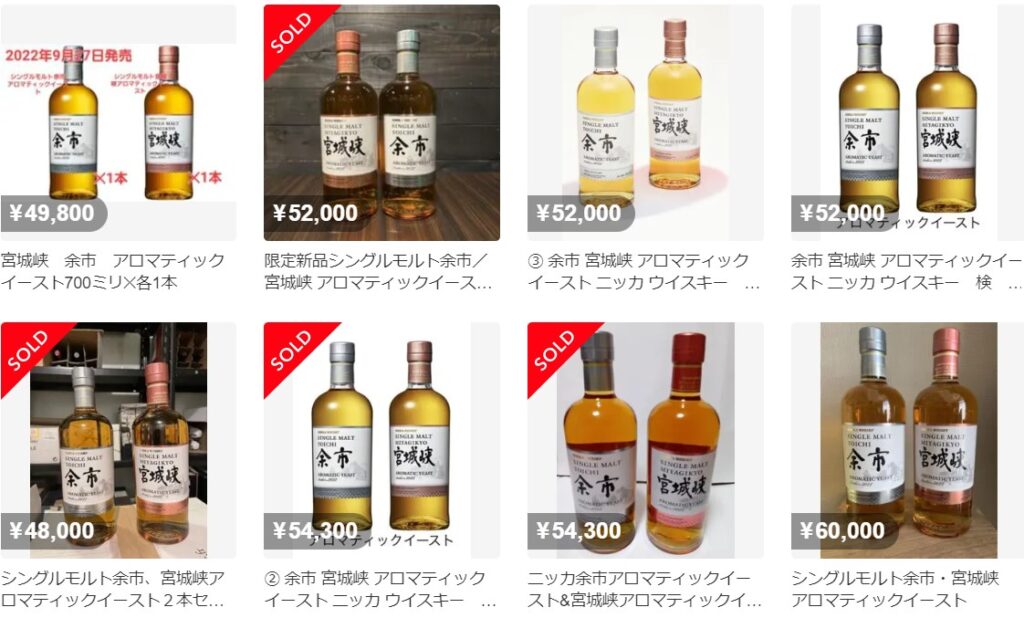 6-3. Sold price on Yahoo! Auction
Sold at Yahoo Auction for a set of two bottles of "Single Malt Yoichi Aromatic Yeast" and "Single Malt Miyagikyo Aromatic Yeast Lowest 48,500 yen, highest 65,000 yen, average 53,027 yen (*Statistics for the past 180 days as of 10/3/2022)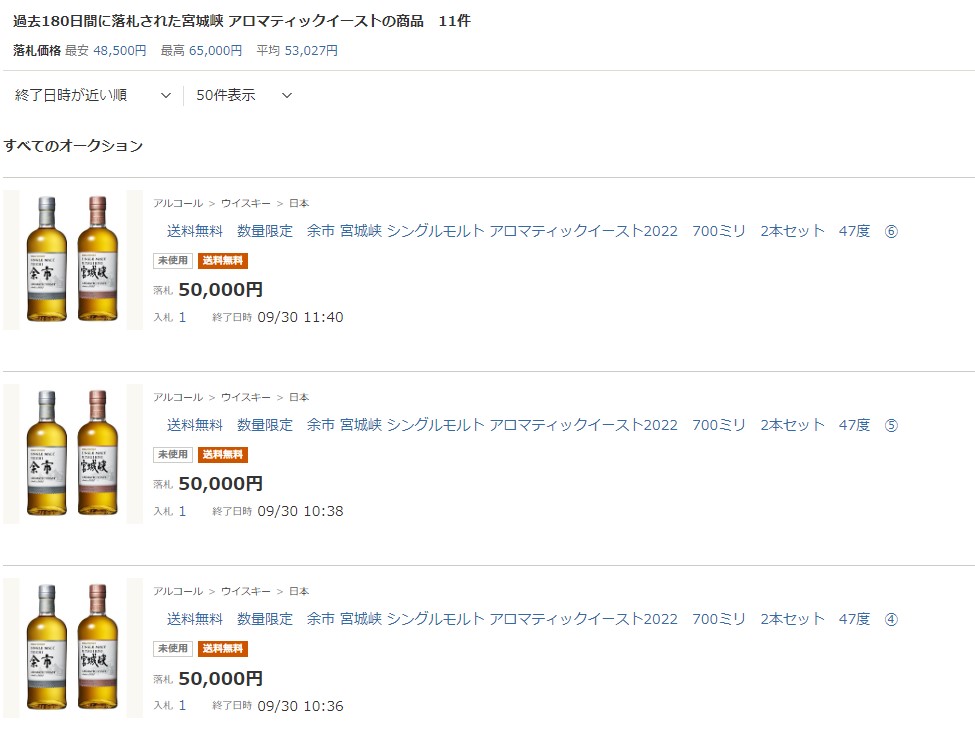 6-4. Rakuten, Yahoo Shopping, Amazon
Also available on the mail order website at Around 30,000 yen to 55,000 yen The set is also available at (*as of 10/3/2022)

¥26,180
(2023/03/21 07:57:31時点 楽天市場調べ-
詳細)
6-5. Prices offered at BAR Shinkai
At "BAR Shinkai" operated by this site 1 cup, 1 glass 45ml: 6,930 yen 30ml: 4,620 yen 15ml: 2,310 yen We offer this service at
7. Summary
One of the attractions of Yoichi Aromatic Yeast is that some of the component sake is aged for more than 30 years.
The aroma is sweetness first, as if it is aromatic yeast, followed by peat aroma slowly. The mellow aroma of Yoichi's peat and yeast combined with a mellow aroma gives a gentle and stylish impression that is a complete change from the strong impression of Yoichi until now.
We invite you to compare it with Yoichi Non-Vintage and taste the difference.
Nikka Whisky is planning to celebrate its 90th anniversary in 2024, and the third Discovery Series is scheduled to be released in 2023. We are looking forward to seeing what kind of DISCOVERY they will show us next time.
■Please check out our other articles on Single Malt Yoichi.
Lastly: Recommended Books on Japanese Whisky
If you want to learn more about Japanese whisky, which is a global trend, we highly recommend these books.
In the December 2021 issue of Whisky Galore, published by the Whisky Culture Research Institute, we report on 11 Japanese craft distilleries, including some that are open to the public for the first time, under the title of "Japanese Whisky Craft Frontline," the first of three consecutive issues. Why did the popularity of Japanese whiskey and the craft boom occur? We will examine with interviews. Chichibu Distillery / Chichibu No.2 Distillery / Mars Shinshu Distillery / Mars Tsunuki Distillery / Kanosuke Distillery / Hioki Distillery / Ontake Distillery / Osuzuyama Distillery / Kaikyo Distillery / Hanyu Distillery / Konosu Distillery
¥1,320
(2023/03/21 01:01:51時点 Amazon調べ-
詳細)
This is a book written by Mamoru Tsuchiya, a world-famous whisky critic and representative of the Whisky Culture Research Institute, titled "Japanese Whisky as a Culture that Works for Business" .
The book covers the basics of whisky, the introduction of whisky to Japan, the birth of Japanese whisky, advertising strategies and the rise of Japanese whisky, and the current rise of craft distilleries. This is a book that summarizes Japanese whisky in a very easy to understand way.
Masataka Taketsuru, the founder of Nikka Whisky, devoted his life to brewing whisky in Japan. This is a revised and reprinted version of the autobiography of a man who simply loved whiskey and talked about himself. The book vividly depicts the days when he went to Scotland alone to study as a young man and overcame many hardships to complete Japanese whisky, as well as his companion, Rita.
Launching in 2019. With the world experiencing an unprecedented whisky boom, what were the managers of craft distilleries thinking and what were their thoughts as they took on the challenge of making whiskey? This book tells the stories of 13 craft distillery owners, including Ichiro Hido of Venture Whisky, famous for his Ichirose Malt, who inspired the birth of craft distilleries in Japan.
This is the Japanese version of Whisky Risng, published in the US in 2016, with much updated content. Not only does it describe the history of Japanese whiskey in detail, but it also includes data on all the distilleries in Japan, including the craft distilleries that have been founded in recent years. The book also includes descriptions of the legendary bottles that have been released, as well as information on bars where Japanese whisky can be found.