The two new products, "Single Malt Yoichi Aromatic Yeast" and "Single Malt Miyagikyo Aromatic Yeast," will be released in 2024. 90th Anniversary of NIKKA's Founding The new products will be launched in 2021, and will focus on the depth of Nikka Whisky's diverse range of whiskies and the history of the different types of whiskies created by raw materials, fermentation, and other production processes. Second product in the "NIKKA DISCOVERY Series" The new project will be launched in 2021. Developed as a series to "discover" the diversity, depth and unexpectedness of whisky.
This new product focuses on the "distinctive aroma produced by the different yeasts used in the fermentation process." This is a limited edition product that brings out the hidden and unexpected character of "Single Malt Yoichi" and "Single Malt Miyagikyo" by adding a new aroma created by the yeast, while maintaining the unique charm of the single malt.
The product will be marketed mainly for commercial use. Overseas sales are also planned, mainly in Europe.
The label uses colors that reflect the aroma of each flavor, with a gradual color gradation to express the aromatic image of the product.

The product will go on sale on September 27, 2022, for 22,000 yen including tax. Sales volume is 10,000 units in Japan and 10,000 units overseas, respectively.
1. Manufacturer
Nikka Whisky Company, Ltd.
| | |
| --- | --- |
| Establishment | 1934 (Showa 9) |
| Head office | 4-31, Minami-Aoyama 5-chome, Minato-ku, Tokyo 107-8616, Japan |
| Distilleries owned | Yoichi distillery, Miyagikyo distillery, Ben Nevis distillery |

2. Distilleries
Miyagikyo distillery
| | |
| --- | --- |
| Address | 1 Nikka, Aoba-ku, Sendai-shi, Miyagi 989-3433 |
| Start of operation | 1969 |
It has been almost 30 years since the first distillery was started in Yoichi, Hokkaido. Masataka Taketsuru, who believed that "whisky becomes richer and richer by blending multiple whiskies from different distilleries," desperately needed a second distillery. Taketsuru chose Miyagikyo in Sendai. Miyagikyo Gorge in Sendai, a lush green gorge blessed with two clear streams, the Hirose River and the nikkawa River. When Taketsuru first visited this area, he drank a bottle of Black Nikka he had in the clear water of the Shinkawa River and confirmed the taste. It is said that he decided to build the distillery on the spot. The Miyagikyo Distillery is proud of its "café-type continuous distillation machine." At the time of its introduction, this distillation machine was already considered old-fashioned. Because it is an old type, it tends to leave a lingering taste, but Taketsuru chose this old type distillation machine because it is possible to transform it into the original aroma and sweetness of the raw materials through technology. At Miyagikyo Distillery, the people who inherited Taketsuru's passion for whisky continue to make various attempts in pursuit of the best possible whisky.
Image Exhibit: Miyagikyo Distillery

For more information about Miyagikyo Distillery, please see this article.
3. Product name and photo
Single Malt Miyagikyo Aromatic Yeast
Single Malt Miyagikyo Aromatic Yeast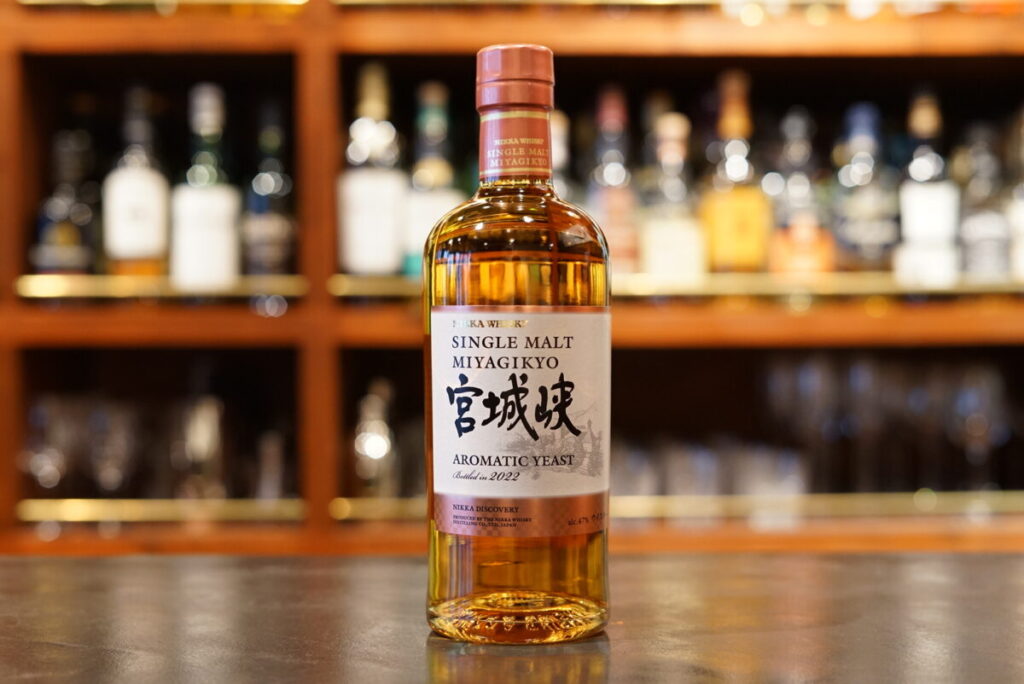 4. Characteristics
A fusion of the elegant flamboyance of Miyagikyo malt and the new aroma created by the yeast.
This single malt whisky has a subtle overlay of ripe apricot-like aroma, while utilizing the elegant opulence that is characteristic of Miyagikyo malt. The rich fruity sweetness harmonizes with the richness of the malt, and the soft malt and moderate peat provide a pleasantly balanced cask aroma that lasts.

This yeast produces a sweet and seductive aroma, like that of apricots. The original wine that makes the most of its power will show its true value after a few decades of aging.
However, this character is very sensitive, and if it exceeds a certain point, it becomes difficult to balance it with the original gorgeousness of Miyagikyo.
On the other hand, if it falls below that point, the aroma itself will disappear without a trace.
Therefore, the blender uses used barrels that have been aged for a number of years and have acquired a mild oaky character to achieve harmony.
A small amount of heavy peat was added to the blend to give a subtle peatiness to the wine.
The sweet fruity aroma rises with the gorgeousness at the top, and after the richness of the thick malt, the fruity flavor comes back again.
The strong character created by the ingenuity of the fermentation process is delicately balanced with Miyagikyo's character and asserts itself.


Quote: "Single Malt Yoichi / Single Malt Miyagikyo Aromatic Yeast" to be released in limited quantities on September 27
Prior to the Discovery Series, the limited editions have changed their character with "different cask types used in the wood finish," such as the 2017 Moscato Wood Finish, the 2018 Manzanilla Wood Finish, and the 2020 Apple Brandy Wood Finish.
The Discovery Series does not do finishes, and in this second release, the whisky brings out the hidden and unexpected character of single malt Miyagikyo while taking advantage of its appeal by "different yeast".

4-1. Tasting Notes
| | |
| --- | --- |
| Aroma | Sweet aroma of muscat and banana with a slight woody note |
| Taste | Fruity and juicy, full of milk |
| Aftertaste | Continuing malt sweetness and woody aroma |
4-2. Product Specifications
| | |
| --- | --- |
| Alcohol content | 47% alcohol by volume |
| Alcohol category | Single malt Japanese whisky |
| Cask type | ー |
| Volume | 700ml |
| Number of bottles sold | Domestic: 10,000 bottles Overseas: 10,000 bottles |
| Suggested retail price | 22,000 yen including tax |
| Release date | September 27, 2022 |
5. Awards
No awards received at this time.
6. Price
6-1. Manufacturer's Suggested Retail Price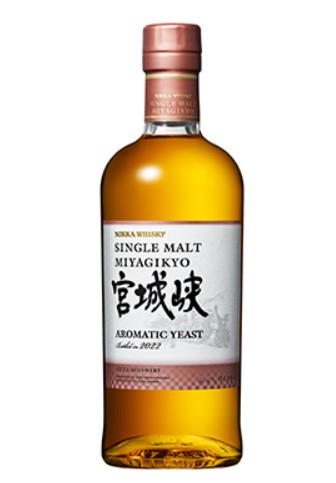 | | |
| --- | --- |
| Product name | Single Malt Miyagikyo Aromatic Yeast |
| Capacity | 700ml |
| Suggested Retail Price | 22,000 yen including tax |
6-2. Resale price on Mercari
The resale price on Mercari is for a set of two bottles of "Single Malt Yoichi Aromatic Yeast" and "Single Malt Miyagikyo Aromatic Yeast 48,000 yen to around 60,000 yen The resale price on Mercari is (*As of 10/3/2022)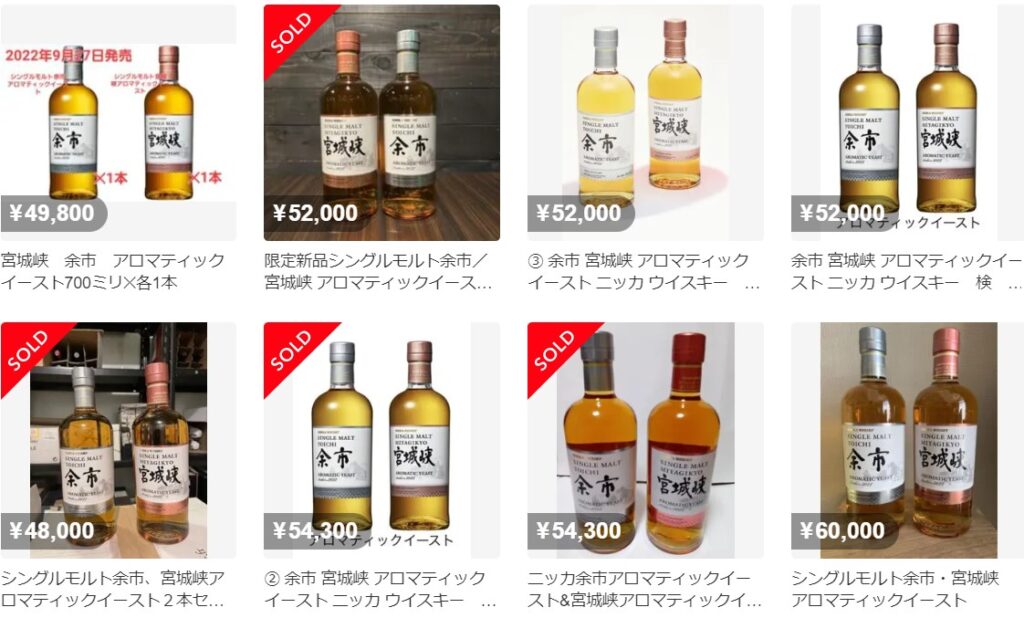 6-3. Sold price on Yahoo! Auction
Sold at Yahoo Auction for a set of two bottles of "Single Malt Yoichi Aromatic Yeast" and "Single Malt Miyagikyo Aromatic Yeast Lowest 48,500 yen, highest 65,000 yen, average 53,027 yen (*Statistics for the past 180 days as of 10/3/2022)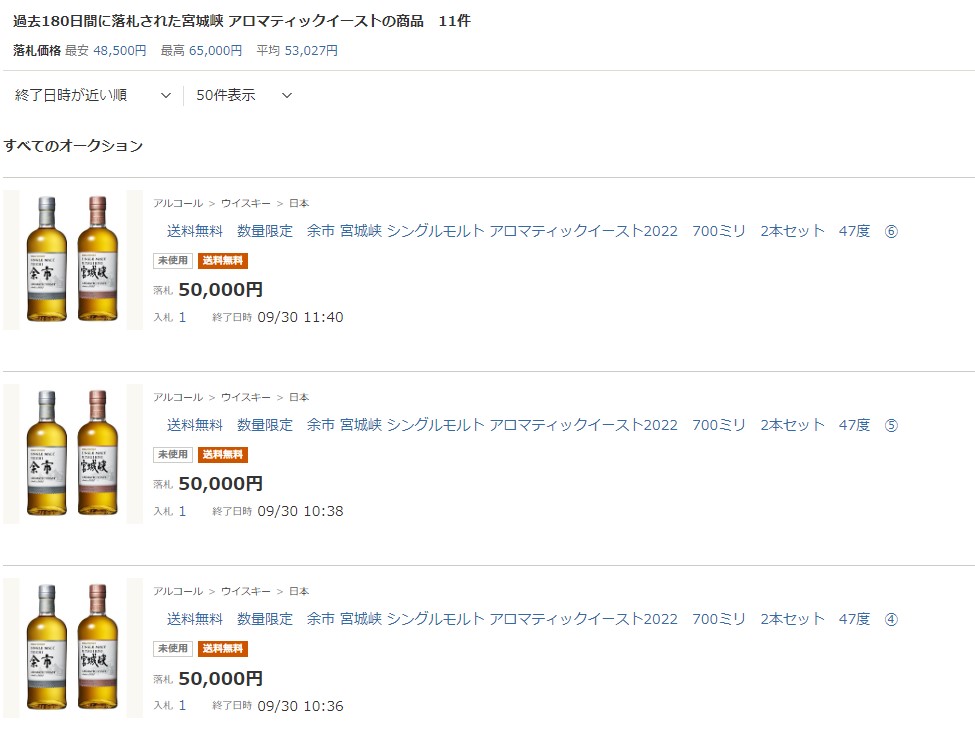 6-4. Rakuten, Yahoo Shopping, Amazon
Also available on the mail order website at Around 30,000 yen to 50,000 yen The set is also available at (*as of 10/3/2022)
6-5. Prices offered at BAR Shinkai
At "BAR Shinkai" operated by this site 1 cup, 1 glass 45ml: 6,930 yen 30ml: 4,620 yen 15ml: 2,310 yen We offer this service at
7. Summary
Miyagikyo itself has fruity and elegant characteristics, but both the aroma and taste are more juicy and fruity than non-vintage.
Compared to the non-vintage, the woodiness does not come out so much, but it only comes out a little after a while after pouring into a glass, but it is just right as it lasts long and jiggly.
The character of Miyagikyo and the aromatic yeast are well blended.
Please compare it with Miyagikyo Non-Vintage and taste the difference.

Nikka Whisky is planning to celebrate its 90th anniversary in 2024, and the third Discovery Series is scheduled to be released in 2023. We look forward to seeing what kind of DISCOVERY they will show us next time.
■Please check out our other articles on "Single Malt Miyagikyo."
宮城峡
¥24,000
(2023/03/20 22:45:30時点 Amazon調べ-
詳細)
宮城峡
¥38,000
(2023/03/21 08:20:17時点 Amazon調べ-
詳細)
Lastly: Recommended Books on Japanese Whisky
If you want to learn more about Japanese whisky, which is a global trend, we highly recommend these books.
In the December 2021 issue of Whisky Galore, published by the Whisky Culture Research Institute, we report on 11 Japanese craft distilleries, including some that are open to the public for the first time, under the title of "Japanese Whisky Craft Frontline," the first of three consecutive issues. Why did the popularity of Japanese whiskey and the craft boom occur? We will examine with interviews. Chichibu Distillery / Chichibu No.2 Distillery / Mars Shinshu Distillery / Mars Tsunuki Distillery / Kanosuke Distillery / Hioki Distillery / Ontake Distillery / Osuzuyama Distillery / Kaikyo Distillery / Hanyu Distillery / Konosu Distillery
¥1,320
(2023/03/21 01:01:51時点 Amazon調べ-
詳細)
This is a book written by Mamoru Tsuchiya, a world-famous whisky critic and representative of the Whisky Culture Research Institute, titled "Japanese Whisky as a Culture that Works for Business" .
The book covers the basics of whisky, the introduction of whisky to Japan, the birth of Japanese whisky, advertising strategies and the rise of Japanese whisky, and the current rise of craft distilleries. This is a book that summarizes Japanese whisky in a very easy to understand way.
Masataka Taketsuru, the founder of Nikka Whisky, devoted his life to brewing whisky in Japan. This is a revised and reprinted version of the autobiography of a man who simply loved whiskey and talked about himself. The book vividly depicts the days when he went to Scotland alone to study as a young man and overcame many hardships to complete Japanese whisky, as well as his companion, Rita.
Launching in 2019. With the world experiencing an unprecedented whisky boom, what were the managers of craft distilleries thinking and what were their thoughts as they took on the challenge of making whiskey? This book tells the stories of 13 craft distillery owners, including Ichiro Hido of Venture Whisky, famous for his Ichirose Malt, who inspired the birth of craft distilleries in Japan.
This is the Japanese version of Whisky Risng, published in the US in 2016, with much updated content. Not only does it describe the history of Japanese whiskey in detail, but it also includes data on all the distilleries in Japan, including the craft distilleries that have been founded in recent years. The book also includes descriptions of the legendary bottles that have been released, as well as information on bars where Japanese whisky can be found.