A new world of blended whiskey from the Saburomaru Distillery.
A peaty, aromatic collaboration between the Saburomaru malt base whiskey distilled in 2018, which is the majority of the product, and the grain base whiskey that has been aged in-house for more than 12 years.
Distilled in 2018 means that it is not yet distilled in the cast pod still "ZEMON".
The grain original is aged for up to 16 years. It plays a nice balancing role. Rather than that, we take our hats off to the blending ability, which is "as good as it gets".
1. Maker
Wakatsuru Brewery Co.
| | |
| --- | --- |
| Establishment | 1862 |
| Head office location | 208 Saburomaru, Tonami, Toyama 939-1308 |
| Owned distillery | Saburomaru distillery |
2.distillery
Saburomaru distillery
| | |
| --- | --- |
| Address | 208, Saburomaru, Tonami city, Toyama 939-1308 |
| Start of operation | 1953 (renovated in 2016) |
Founded in 1952, this is the only distillery in Hokuriku.
It obtained a license to produce whiskey in 1952 amidst the postwar rice shortage. Since then, sake has been brewed in winter Whiskey distilled only during summer The distillery brews 200 bottles of sake per year. They brew 200 bottles a year. Plans are underway to make 300 bottles in the future.
Since the beginning, they have been committed to producing smoky whiskey, using Islay peated malt and more recently Peated malt from Toyama Prefecture The whiskey is brewed with Islay peated malt and more recently with In order to preserve the natural flavor, no cooling filtration or coloring is used.
In 2018, we installed a state-of-the-art mash tun from Miyake Manufacturing.
In 2019, we collaborated with a local company, Oigo Seisakusho, to develop a cast pod still ZEMON. to develop a cast pod still.
In 2020, one wooden vat fermenter will be installed.
The main difference from other distilleries is the world's first cast pod still ZEMON The distillery uses the world's first cast pod still, "ZEMON".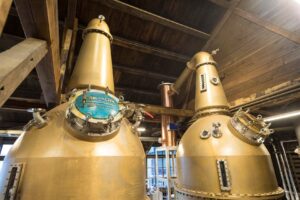 There are three main features.
(1) The casting method enables mold forming and quick delivery. Also, it is possible to add sufficient wall thickness at a low cost, which increases the service life of the main body.
(2) Free molding by the casting method allows for various types of sake quality. Also, by unitizing the parts, it is possible to replace only worn parts or expand the functions.
(3) Made of a copper-tin alloy containing approximately 90% copper and 8% tin. Tin is a high-grade metal that is traded at about three times the price of copper.
Tin has been used since ancient times mellow the taste of alcohol. It is said to be the most expensive metal in the world, and has been used for sake vessels and shochu coolers. ZEMON contributes to the production of high quality spirits through the dual effects of copper and tin. to the production of high quality spirits. It is also used as a cooler for sake and shochu.
Reference: Wakatsuru Sake Brewery official website
See also ↓ for information on the Sabromaru distillery.
https://jpwhisky.net/manufacturer/saburomaru/
3. product name and photo
THE SUN 2022
The Sun 2022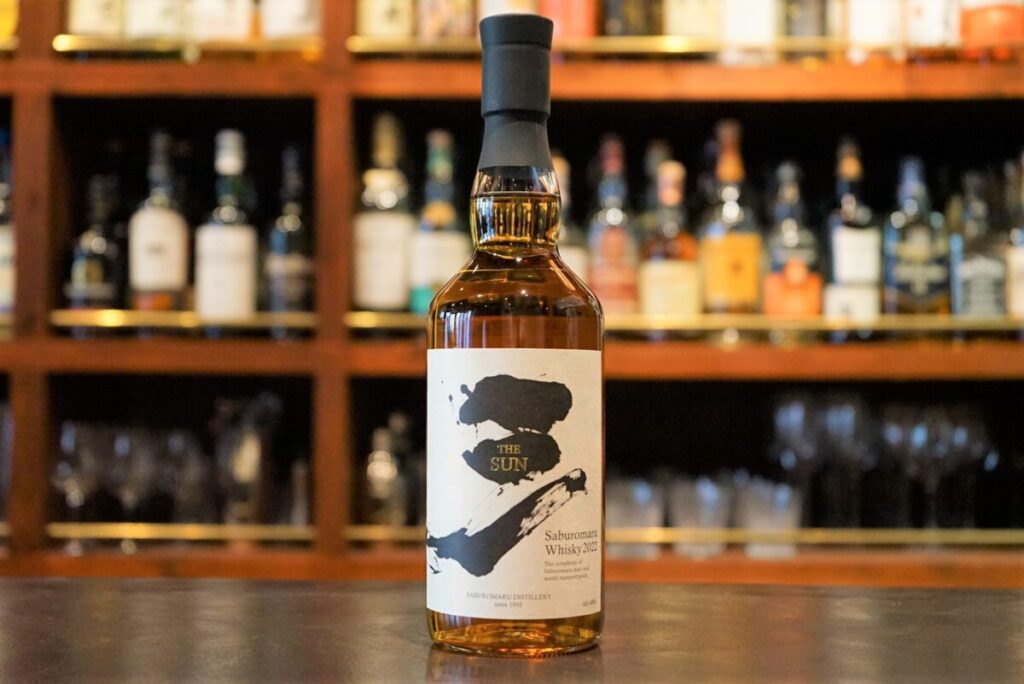 4. characteristics
2018 distilled Saburomaru malt and home-aged 12+ year old grain

The majority of the Saburomaru malt, distilled in 2018, is made mainly from Mizunara and sherry casks from Toga, Toyama Prefecture, bringing out a variety of aromas, peppiness, and an oakiness derived from Mizunara.
The blended grain of more than 12 years old is aged in roasted casks from Iba and wine casks from Nagano, and the multi-layered flavors combine to support each other as a whole.
We hope you will enjoy this new frontier of Saburomaru blended whiskey.

Reference: Limited Whiskey "THE SUN 2022" on sale|How to apply for lottery purchase
4-1. Tasting Notes

| | |
| --- | --- |
| Aroma | Smoky, sandalwood, milk chocolate |
| Taste | Smoke, citrus, marron, bitterness of oak, sweetness of grain appears later. |
| Aftertaste | Burnt aroma and bitterness gradually give way to sweetness. |

4-2. Product Specifications
| | |
| --- | --- |
| Alcohol content | 48% (alcohol by volume) |
| alcohol category | Blended Whiskey |
| Cask type | Quercus, sherry, roasting casks, wine casks, etc. |
| Volume | 700ml |
| Number of bottles sold | Limited to 5,320 bottles |
| Suggested retail price | 10,780 yen (tax included) |
| Release date | July 11, 2022 |
5. Awards
No awards received at this time.
6. Price
6-1. Suggested Retail Price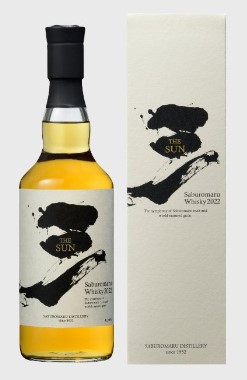 | | |
| --- | --- |
| Product name | THE SUN 2022 |
| Capacity | 700ml |
| Suggested retail price | 10,780 yen (including tax) |
6-2. Resale price on Mercari
The resale price on Mercari is Around 12,222 yen to 19,800 yen and the resale price on Mercari has been (*As of 7/29/2022)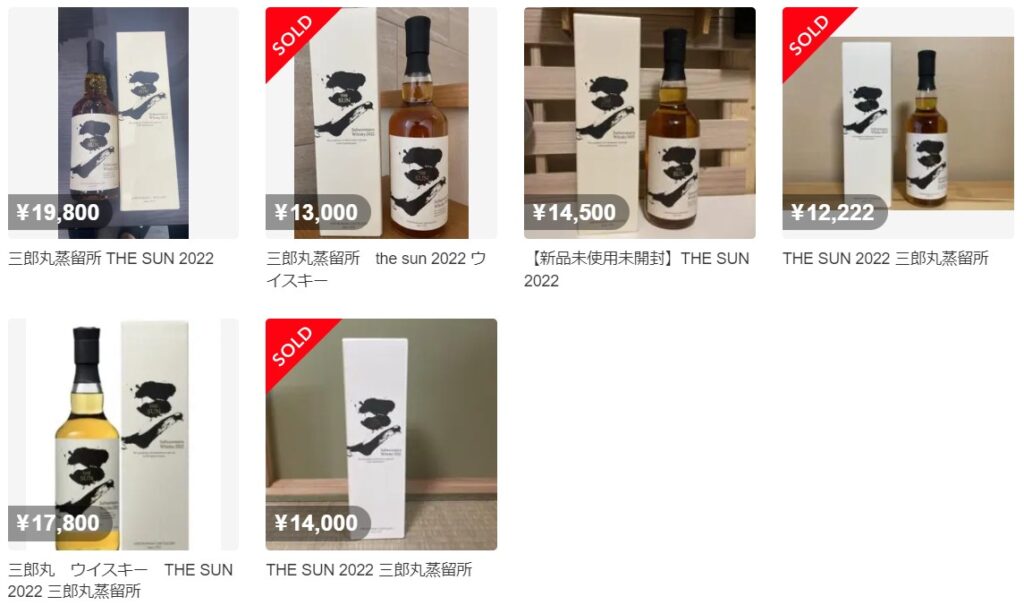 6-3. Sold price on Yahoo! Auction
Sold price on Yahoo! Auction was Lowest 10,230 yen, highest 13,050 yen, average 11,796 yen (*Statistics for the past 180 days from 7/29/2022)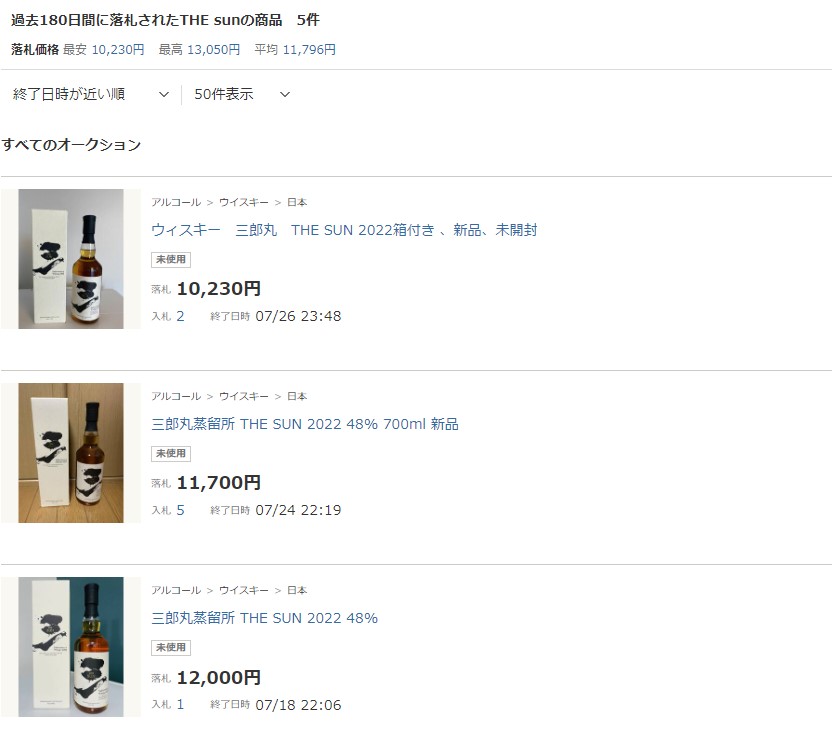 6-4. Rakuten, Yahoo Shopping, Amazon
Currently, there seems to be no sales on mail-order sites. (*As of 7/29/2022)
6-5. Price offered at BAR Shinkai
At "BAR Shinkai" operated by this site, we 1 glass, 45 ml: 3,300 yen 30 ml: 2,200 yen, 15 ml: 1,100 yen We also offer small quantities such as.
https://jpwhisky.net/about/barshinkai/
7. Summary
Last year, there was a blended whiskey release called "Tamausagi".
Tama-Usagi was also a gem that showed the power of blending, but this release is even better than that.
It has a distinctive smoky, rich, and slightly citrusy taste, with a Japanese taste peculiar to Mizunara oak barrels and a burnt bittersweet taste from roasted bourbon barrels coming in later. The sweetness of the grain brings them all together nicely. It can be enjoyed straight or with soda.
The single malt Saburomaru that will be released this year should finally be distilled in the cast pod still "ZEMON". We can't wait to see how it will taste.
Please check out our other articles about Saburomaru Distillery.
https://jpwhisky.net/2021/12/24/saburomaru_first_caskstrength/
https://jpwhisky.net/2021/12/01/saburomaru_first/
Lastly: Recommended Books on Japanese Whisky
If you want to learn more about Japanese whisky, which is a global trend, we highly recommend these books.
In the December 2021 issue of Whisky Galore, published by the Whisky Culture Research Institute, we report on 11 Japanese craft distilleries, including some that are open to the public for the first time, under the title of "Japanese Whisky Craft Frontline," the first of three consecutive issues. Why did the popularity of Japanese whisky and the craft boom occur? We will examine with interviews. Chichibu Distillery / Chichibu No.2 Distillery / Mars Shinshu Distillery / Mars Tsunuki Distillery / Kanosuke Distillery / Hioki Distillery / Ontake Distillery / Osuzuyama Distillery / Kaikyo Distillery / Hanyu Distillery / Konosu Distillery
This is a book written by Mamoru Tsuchiya, a world-famous whisky critic and representative of the Whisky Culture Research Institute, titled "Japanese Whisky as a Culture that Works for Business" .
The book covers the basics of whisky, the introduction of whisky to Japan, the birth of Japanese whisky, advertising strategies and the rise of Japanese whisky, and the current rise of craft distilleries. This is a book that summarizes Japanese whisky in a very easy to understand way.
Masataka Taketsuru, the founder of Nikka Whisky, devoted his life to brewing whisky in Japan. This is a revised and reprinted version of the autobiography of a man who simply loved whisky and talked about himself. The book vividly depicts the days when he went to Scotland alone to study as a young man and overcame many hardships to complete Japanese whisky, as well as his companion, Rita.
Launching in 2019. With the world experiencing an unprecedented whisky boom, what were the managers of craft distilleries thinking and what were their thoughts as they took on the challenge of making whisky? This book tells the stories of 13 craft distillery owners, including Ichiro Hido of Venture Whisky, famous for his Ichirose Malt, who inspired the birth of craft distilleries in Japan.
This is the Japanese version of Whisky Risng, published in the US in 2016, with much updated content. Not only does it describe the history of Japanese whisky in detail, but it also includes data on all the distilleries in Japan, including the craft distilleries that have been founded in recent years. The book also includes descriptions of the legendary bottles that have been released, as well as information on bars where Japanese whisky can be found.