(SAKURAO B&D) (formerly known as Chugoku Brewery Co., Ltd.), famous for its SAKURAO GIN, launched a project in 2015 to build a new distillery as part of its 100th anniversary project.
SAKURAO DISTILLERY was born in Hatsukaichi City, Hiroshima Prefecture, known as the town of Itsukushima Shrine, a World Heritage Site, and started operation in January 2018.

In July 2021, 1st Release Cask Strength of Single Malt Japanese Whisky SAKURAO and Single Malt Japanese Whisky TOGOUCHI are launched.
About a year later, the "SAKURAO SHERRY CASK STILLMAN'S SELECTION," made with the best sherry casks selected by Stillman, and the "SAKURAO SHERRY CASK STILLMAN'S SELECTION," a watered-down version of the "SAKURAO SHERRY CASK STILLMAN'S SELECTION" were released. "Single Malt Japanese Whisky Sakurao" and "Single Malt Japanese Whisky Togouchi" will be released. All were released in limited quantities.
1. Maker
Sakurao Brewery and Distillery Co.
| | |
| --- | --- |
| Founded | 1918 |
| Head Office Location | 1-12-1 Sakurao, Hatsukaichi, Hiroshima 738-8602, Japan |
| Owned Distillery | Sakurao Distillery |
2. Distillery
SAKURAO DISTILLERY
| | |
| --- | --- |
| Address | 1-12-1, Sakurao 1-chome, Hatsukaichi City, Hiroshima Prefecture, 738-8602 |
| Start of Operation | January 2018 |
Sakurao Brewery and Distillery Co. in Hiroshima Prefecture is a long-established brewery established in 1918.
In fact, it has a deep history of whisky making, and was engaged in the production and sale of malt whisky from 1938 to 1989. At that time, the distilled spirit was stored in a warehouse in Togouchi that utilized a JR West Japan railroad exploratory tunnel.
In 2008, the company began selling Togouchi Whisky,
a blend of the original whisky stored in the Togouchi storage facility and imported original whisky. (90% of the product is exported to Europe.)
In December 2017, as a 100th anniversary project, new equipment was installed to produce high quality single malt whisky and a craft distillery "SAKURAO DISTILLERY" from Hiroshima was built. distillation started in January 2018.
| | |
| --- | --- |
| December 2017 | SAKURAO DISTILLERY is completed. |
| October 2018 | SAKURAO DISTILLERY VISITOR CENTER opens |
| 2019 | SAKURAO DISTILLERY second phase construction (introduction of grain whisky distillation equipment and new whisky storage facility) |
| March 2021 | Company name changed to Sakurao Brewery and Distillery Co. |
3. Product name and photo
Single Malt Japanese Whisky Sakurao SHERRY CASK STILLMAN'S SELECTION
Single Malt Japanese Whisky Sakurao Sherry Cask Stillman's Selection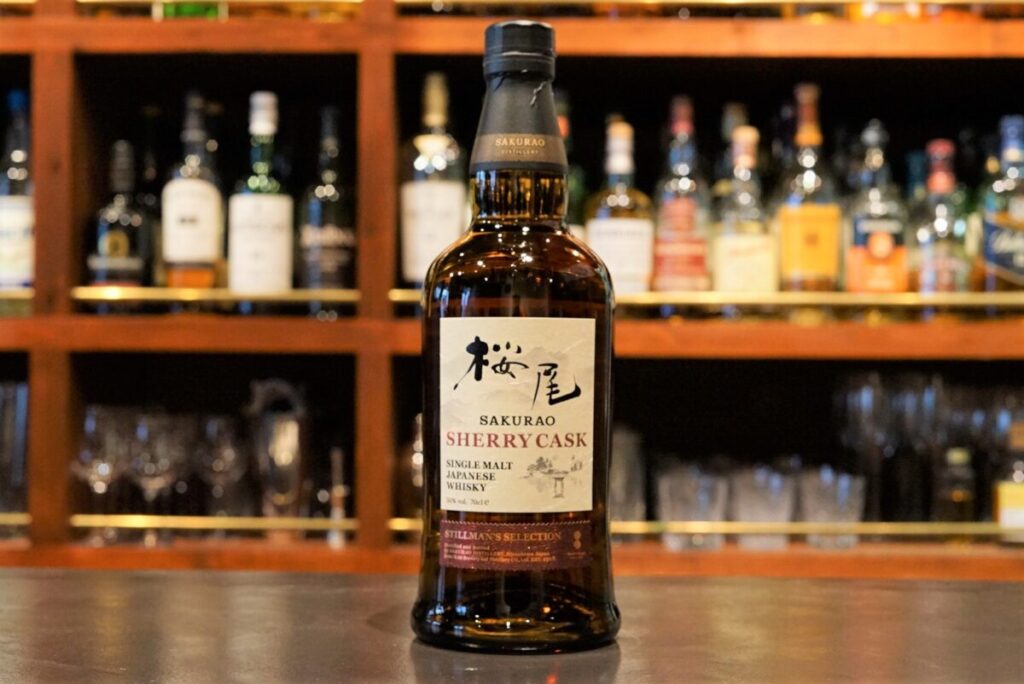 4. Characteristics
Stillman's carefully selected sherry casks blended
Stillman, who has tasted many original wines, selected the best SHERRY CASK and blended it.
The aroma with acidity of fresh fruits changes to a bitter aroma reminiscent of high cocoa chocolate, and then to a creamy richness and a dark fruity taste like Pione and American cherries. The subtle peat aroma is also combined with a deep and long finish that gives a sense of depth.
4-1. Tasting Notes

| | |
| --- | --- |
| Aroma | Fresh fruits, gentle sweetness of milk, bitter chocolate |
| Taste | Bitter sweetness of bitter chocolate, American cherry, creamy richness, some peat |
| Aftertaste | Dark bitter sweetness and richness, peat combined with a deep and long finish. |

4-2. Product Specifications
| | |
| --- | --- |
| Alcohol Content | 50% alcohol by volume |
| Distillate | Single Malt Japanese Whisky |
| Cask type | Two types of cream sherry casks |
| Content volume | 700ml |
| Number of bottles sold | Limited quantity |
| Suggested retail price | 13,530 yen (tax included) |
| Release date | June 6, 2022 |
5. Awards received
No awards received at this time.
6. Price
6-1. Manufacturer's Suggested Retail Price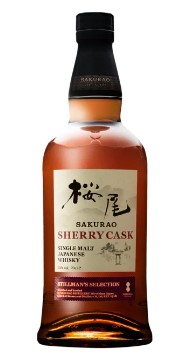 | | |
| --- | --- |
| Product name | Single Malt Japanese Whisky Sakurao SHERRY CASK STILLMAN'S SELECTION |
| Volume | 700ml |
| Suggested retail price | 13,530 yen (tax included) |
6-2. Resale price on Mercari
Resale prices on Mercari range from 38,000 yen to 48,800 yen. (*As of 6/14/2022)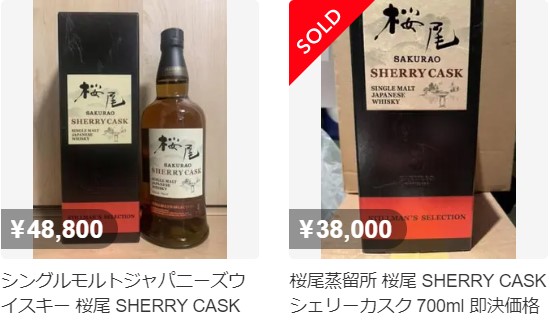 6-3. Sold price on Yahoo! Auctions
The lowestbid price on Yahoo Auction was 35,000 yen, the highest was 37,030 yen, and the average was 36,015 yen for the set with the single malt Togouchi released at the same time (*Statistics for the past 180 days as of 2022/6/14).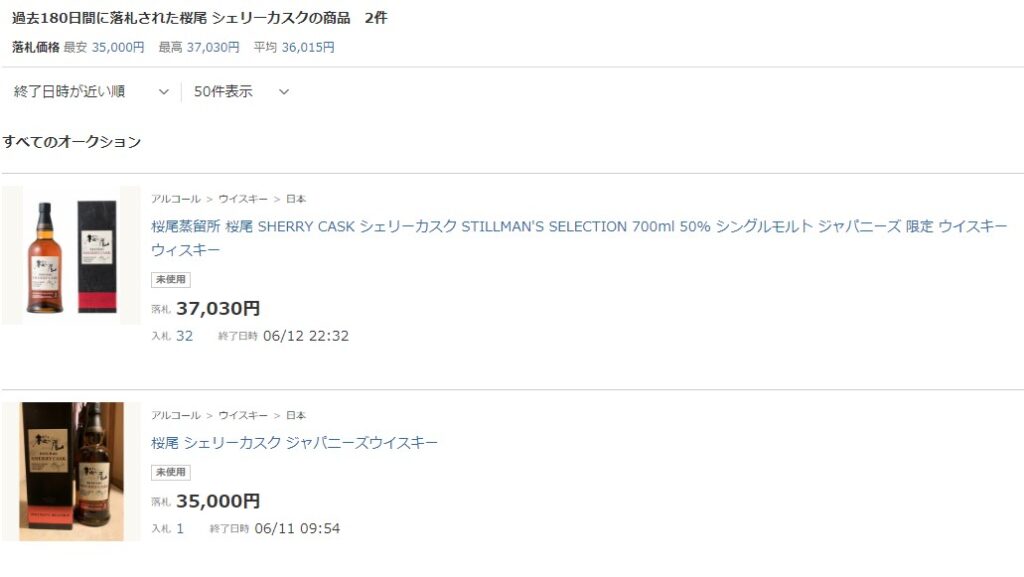 6-4. Rakuten, Yahoo Shopping, Amazon
The product does not appear to be currently available on any of these retail sites. (*As of 6/14/2022)
6-5. Price offered at BAR Shinkai
At BAR Shinkai, which is operated by this site, one glass, 45ml: 4,290 yen 30ml: 2,860 yen, 15ml: 1,430 yen, etc. are offered in small quantities.
https://en.jpwhisky.net/about-2/barshinkai-4/
7. Summary
Sakurao's aging warehouse is located by the sea, where there is a large difference in temperature throughout the year. They are making a wide variety of sake while increasing production every year.
This SHERRY CASK is said to be released in limited quantities, but it will be produced again every few months, so the next release is undecided, but those who were unable to obtain it this time still have a chance to purchase it in the future.
SAKURAO DISTILLERY also seems to be steadily producing grain whisky, so we will keep an eye on their future developments.


Please check out other articles about SAKURAO DISTILLERY.
https://en.jpwhisky.net/2021/07/02/singlemalt_sakurao-2/
https://en.jpwhisky.net/2021/07/02/singlemalt_togouchi-2/
Lastly: Recommended Books on Japanese Whisky
If you want to learn more about Japanese whisky, which is a global trend, we highly recommend these books.
In the December 2021 issue of Whisky Galore, published by the Whisky Culture Research Institute, we report on 11 Japanese craft distilleries, including some that are open to the public for the first time, under the title of "Japanese Whisky Craft Frontline," the first of three consecutive issues. Why did the popularity of Japanese whisky and the craft boom occur? We will examine with interviews. Chichibu Distillery / Chichibu No.2 Distillery / Mars Shinshu Distillery / Mars Tsunuki Distillery / Kanosuke Distillery / Hioki Distillery / Ontake Distillery / Osuzuyama Distillery / Kaikyo Distillery / Hanyu Distillery / Konosu Distillery
This is a book written by Mamoru Tsuchiya, a world-famous whisky critic and representative of the Whisky Culture Research Institute, titled "Japanese Whisky as a Culture that Works for Business" .
The book covers the basics of whisky, the introduction of whisky to Japan, the birth of Japanese whisky, advertising strategies and the rise of Japanese whisky, and the current rise of craft distilleries. This is a book that summarizes Japanese whisky in a very easy to understand way.
Masataka Taketsuru, the founder of Nikka Whisky, devoted his life to brewing whisky in Japan. This is a revised and reprinted version of the autobiography of a man who simply loved whisky and talked about himself. The book vividly depicts the days when he went to Scotland alone to study as a young man and overcame many hardships to complete Japanese whisky, as well as his companion, Rita.
Launching in 2019. With the world experiencing an unprecedented whisky boom, what were the managers of craft distilleries thinking and what were their thoughts as they took on the challenge of making whisky? This book tells the stories of 13 craft distillery owners, including Ichiro Hido of Venture Whisky, famous for his Ichirose Malt, who inspired the birth of craft distilleries in Japan.
This is the Japanese version of Whisky Risng, published in the US in 2016, with much updated content. Not only does it describe the history of Japanese whisky in detail, but it also includes data on all the distilleries in Japan, including the craft distilleries that have been founded in recent years. The book also includes descriptions of the legendary bottles that have been released, as well as information on bars where Japanese whisky can be found.