"Hibiki" is the pinnacle of Japan's world-class blended whisky.
"Hibiki" is said to be a blend of carefully selected, long-matured whiskies from over 800,000 unique whiskies produced and stored at Suntory's three distilleries in Japan: the Yamazaki, Hakushu, and Chita Distilleries.
"Hibiki" is a top-rated premium blended whisky released in 1989to commemorate the 90th anniversary of the company's founding.
"BLOSSOM HARMONY" is a blend of grain whisky aged for more than 10 years in white oak barrels and further aged for several years in cherry casks.
The octagonal plate, which is said to bring good luck, is decorated with "Matsukawabishi," meaning longevity, and auspicious flowers such as cherry blossoms and irises, creating a neat and gorgeous design that is perfect for celebratory occasions and as a gift.
1. Manufacturer
Suntory Spirits Co.
Established

1899

Head office location
2-3-3 Daiba, Minato-ku, Tokyo 135-8631, Japan
Owned distilleries
●Japan
Yamazaki distillery, Hakushu distillery, Chita distillery
●Scotland
Ardmore distillery, Glen Garioch distillery, Auchentoshan distillery, Bowmore distillery, Laphroaig distillery
●Ireland
Cooley distillery, Kilbeggan distillery
●America
Jim Beam distillery, Maker's Mark distillery
●Canada
Hiram Walker distillery, Alberta distillery
2. Distilleries
Suntory Yamazaki Distillery
| | |
| --- | --- |
| Location | 5-2-1, Yamazaki, Shimamoto-cho, Mishima-gun, Osaka 618-0001, Japan |
| Start of operation | 1923 |
Yamazaki Distillery was established in 1923 as the first malt whisky distillery in Japan. It was a time when whisky was still a rare drink for the general public. The distillery was established in 1923, at a time when whisky was still a rarity among the general public . With this passion in mind, Shinjiro Torii set out to make whisky.
Shinjiro insisted on the Japanese climate. Of particular importance were "water" and "environment. Yamazaki is a village of famous water called Minaseno, which was written in Manyo poetry.
The water in this area, loved by the tea master Sen no Rikyu, was ideal for whisky production. The natural environment was also perfect.
Yamazaki, located southwest of Kyoto and surrounded by thick bamboo forests at the foot of Mt. Located at the confluence of the Katsura, Uji, and Kizu Rivers, and surrounded by mountains, the area is prone to thick fog and has a mild and humid climate, which are ideal conditions for the maturation of whisky.
Shinjiro decided that Yamazaki, with its water and climate, was the only place to make good whisky, and he chose this place as the hometown of his whisky.
Reference: YAMAZAKI MOMENTS
Suntory Yamazaki Distillery
1923 Yamazaki Distillery was built. First domestic whisky distillery.
1929: The first domestic whisky "Shirofuda" released
1937 "Kakubin" (square bottle) is released
1984 Single malt whisky "Yamazaki" is released
1992 Single Malt Whisky "Yamazaki 18years " was put on sale.
1998 Single Malt Whisky "Yamazaki 25years" is released.
Image Exhibit: Yamazaki Club
For more information about Yamazaki Distillery, please see this article.
https://en.jpwhisky.net/2021/01/01/japanesedistillery-2/#5-1_Yamazaki_Distillery_Suntory_Spirits"]
Suntory Hakushu Distillery
| | |
| --- | --- |
| Location | 2913-1 Toribara, Hakushu-cho, Hokuto City, Yamanashi 408-0316 |
| Start of operation | 1973 |
In 1973, exactly 50 years after the first whisky production in Japan, the Hakushu Distillery was completed in a lush forest of approximately 820,000 square meters at the foot of Kai Komagatake in the Southern Alps, blessed with abundant nature.
The brewing water is surrounded by the moist atmosphere of the forest, and the Hakushu malt is made from the pure and soft natural water of the Southern Alps, polished by granite. The long maturation process in the changing seasons unique to Japan is the source of the aromatic and refreshing "Hakushu" flavor.
In 2014, four pot stills were added at a cost of 1 billion yen, bringing the total to 16. A wide variety of pot stills of different sizes and shapes are used to make different types of sake. The cellar is a high-ceilinged rack type. Temperature and humidity are not controlled by human hands, but left to nature.
1973  Hakushu Distillery was built.
1994  Hakushu 12 years old was released
2006  Hakushu 18 years old was released
2008  Hakushu  25 years old was released
Image Exhibit: Suntory Official Forest Distillery
For more information about Hakushu Distillery, please refer to this article.
https://en.jpwhisky.net/2021/01/01/japanesedistillery-2/#4-2_Hakushu_Distillery_Suntory_Spirits"]
Suntory Chita Distillery
| | |
| --- | --- |
| Location | 16 Kitahama-cho, Chita-shi, Aichi 478-0046, Japan |
| Start of operation | 1973 |
Chita Distillery, located on the Chita Peninsula overlooking Ise Bay, is a grain whisky distillery established by the Suntory Group in cooperation with the Zen-Noh Group and is one of the three domestic whisky distilleries of the Suntory Group, along with the Yamazaki and Hakushu malt whisky distilleries. Here, they have supported grain whisky made from corn. The Chita distillery uses a continuous distillation process to produce three types of grain whisky: clean, medium, and heavy, which is unique in the world.
For more information about Chita Distillery, please refer to this article.
https://en.jpwhisky.net/2021/01/01/japanesedistillery-2/#4-8_Chita_Distillery_Suntory"]
3. Product name and photo
HIBIKI BLOSSOM HARMONY 2022
Hibiki Blossom Harmony 2022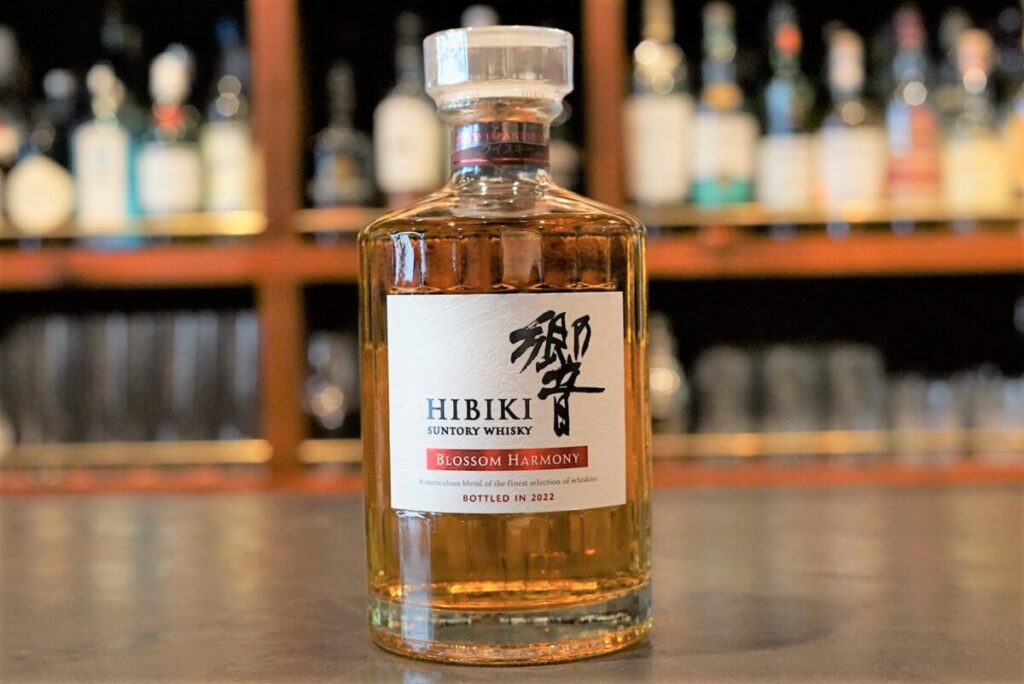 4. Characteristics
A wide variety of sake matured over the course of four seasons.
This special "Hibiki" is a blend of a variety of sake that has been aged well over the course of four seasons and rare sake that has been aged in cherry barrels.

The aroma is fragrant and flowery, the taste is round and harmonious, and the body is smooth, sweet, and rich.
The harmony of its floral aroma, round and harmonious flavor, and rich, sweet aftertaste is a delight to savor.

Reference: Suntory's official website
4-1. Tasting notes
Aroma
Aromatic floral aroma, cherry blossoms, golden bellflower
Taste
Rounded mouthfeel, spontaneous on the palate, Acacia honey, La France, elegant cherry blossoms like rice cakes.
La France, elegant sweetness like cherry blossom cake
Aftertaste
Long, rich and floral aftertaste
4-2. Product Specifications
| | |
| --- | --- |
| Alcohol content | 43% alcohol by volume |
| By Sake | Blended Whisky |
| Cask type | Cherry casks, etc. |
| Volume | 700ml |
| Number of bottles sold | Limited quantity |
| Suggested Retail Price | 11,000 yen (tax included) |
| Release date | May 24, 2022 |
No awards received at this time.
6. Price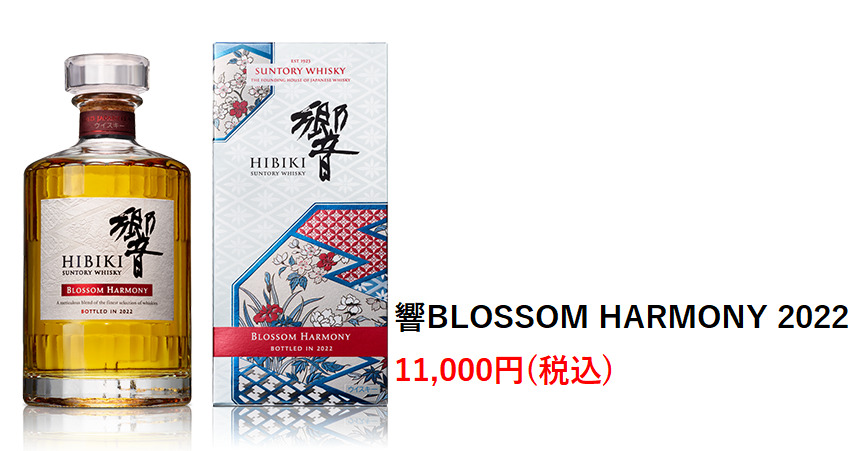 6-1. Manufacturer's suggested retail prices
| | |
| --- | --- |
| Product name | HIBIKI BLOSSOM HARMONY 2022 |
| Capacity | 700ml |
| Suggested retail price | 11,000 yen (tax included) |
6-2. Resale price on Mercari
Resale prices on Mercari range from 39,999 yen to 90,000 yen. (*As of 5/30/2022)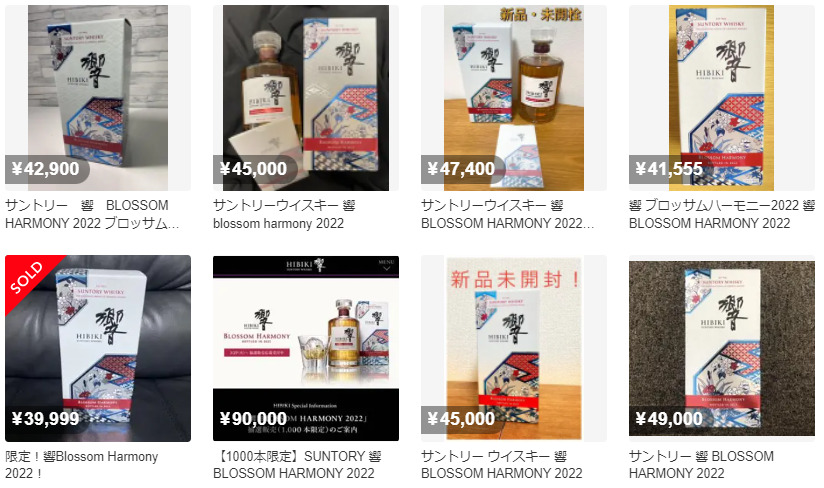 6-3. Sold price on Yahoo! Auctions
The lowestbid price on Yahoo! Auctions was 39,500 yen, the highest 330,000 yen, and the average 78,954 yen , but this includes the sale of several bottles in a set and a set with Yamazaki LIMITED EDITION 2022, which was released at the same time. (*Statistics for the past 180 days from 5/30/2022)
6-4. Rakuten, Yahoo Shopping, Amazon
Although we have not been able to confirm any sales on these sites, the previous year's HIBIKI BLOSSOM HARMONY2021 was sold for around 39,800 yen to 65,000 yen. (*As of 5/30/2022)
6-5.Prices offered at BAR Shinkai
At BAR Shinkai, which is operated by this site, we offer the product in small quantities, such as 1cup,45 ml: 3,960 yen, 30 ml: 2,640 yen, 15 ml: 1,320 yen,etc.
https://en.jpwhisky.net/about-2/barshinkai-4/
7. Summary
Compared to "Hibiki BLOSSOM HARMONY 2021", it is fruity and fresher than 2021, giving the impression of being slightly more subdued. 
Both the aroma and taste have a strong presence of aged grain whisky with a rich sweetness.
As soon as you put it close to your nose, you can smell the sweet aroma of grain whisky, followed by a subtle fresh aroma of cherry blossoms.
In the mouth, it is nuttier and tastier than expected. Overall, it has a strong taste, with the sweetness of grain whisky with a sense of maturity as mentioned above, and a fruity flavor reminiscent of bananas.
If you give it time to open up, the cherry cask character shows its presence even more, revealing spicy and sour tastes.
The end result is a creamy sweetness that lingers in the mouth with just the right amount of sweetness.
If you prefer a woody and dry type, try 2021, and if you prefer a sweet and creamy type, try 2022.
This is a very popular brand with limited quantities, so if you are able to purchase it, or if you come across it at a bar, please take the time to taste it for yourself.
Please take a look at our other articles on Hibiki.
https://en.jpwhisky.net/2021/06/07/hibiki-blossom-harmony-2021-2/
https://en.jpwhisky.net/2021/01/27/suntoryhibiki17year-2/
Lastly: Recommended Books on Japanese Whisky
If you want to learn more about Japanese whisky, which is a global trend, we highly recommend these books.
In the December 2021 issue of Whisky Galore, published by the Whisky Culture Research Institute, we report on 11 Japanese craft distilleries, including some that are open to the public for the first time, under the title of "Japanese Whisky Craft Frontline," the first of three consecutive issues. Why did the popularity of Japanese whisky and the craft boom occur? We will examine with interviews. Chichibu Distillery / Chichibu No.2 Distillery / Mars Shinshu Distillery / Mars Tsunuki Distillery / Kanosuke Distillery / Hioki Distillery / Ontake Distillery / Osuzuyama Distillery / Kaikyo Distillery / Hanyu Distillery / Konosu Distillery
This is a book written by Mamoru Tsuchiya, a world-famous whisky critic and representative of the Whisky Culture Research Institute, titled "Japanese Whisky as a Culture that Works for Business" .
The book covers the basics of whisky, the introduction of whisky to Japan, the birth of Japanese whisky, advertising strategies and the rise of Japanese whisky, and the current rise of craft distilleries. This is a book that summarizes Japanese whisky in a very easy to understand way.
Masataka Taketsuru, the founder of Nikka Whisky, devoted his life to brewing whisky in Japan. This is a revised and reprinted version of the autobiography of a man who simply loved whisky and talked about himself. The book vividly depicts the days when he went to Scotland alone to study as a young man and overcame many hardships to complete Japanese whisky, as well as his companion, Rita.
Launching in 2019. With the world experiencing an unprecedented whisky boom, what were the managers of craft distilleries thinking and what were their thoughts as they took on the challenge of making whisky? This book tells the stories of 13 craft distillery owners, including Ichiro Hido of Venture Whisky, famous for his Ichirose Malt, who inspired the birth of craft distilleries in Japan.
This is the Japanese version of Whisky Risng, published in the US in 2016, with much updated content. Not only does it describe the history of Japanese whisky in detail, but it also includes data on all the distilleries in Japan, including the craft distilleries that have been founded in recent years. The book also includes descriptions of the legendary bottles that have been released, as well as information on bars where Japanese whisky can be found.