Gaiaflow Corporation's first single cask whisky, celebrating its 10th anniversary on January 17, 2022. Gaia Flow's first foray into the whisky industry was as an authorized importer and distributor of Black Adder.
Black Adder Lowe Cask Shizuoka 2018 3 Year Old Cask No. 781 is made from 100% Scottish non-peat barley. It was distilled in a "K" distiller and aged for three years in bourbon barrels. Minimal filtering is used and the "Raw Cask" is bottled directly from the cask, including the lees.
Only 60 bottles The resale price on Mercari is only $3.99.
1. Maker.

Gaia Flow Distilling Co.
| | |
| --- | --- |
| Established | October 8, 2014 |
| Head office location | 555 Ochiai, Aoi-ku, Shizuoka City, Shizuoka Prefecture, 421-2223, Japan |
| Owned distillery | Gaiaflow Shizuoka Distillery |
2. Distillery
Gaiaflow Shizuoka Distillery
| | |
| --- | --- |
| Location | 555 Ochiai, Aoi-ku, Shizuoka City, Shizuoka Prefecture, 421-2223, Japan |
| Start of operation | 2016 |
Established Gaiaflow Distilling Co. on October 8, 2014.
Construction of Gaiaflow Shizuoka Distillery completed on August 9, 2016.
In the same year, whisky production started on October 28.
The distillery is located in the Tamagawa district of the Occidental area of Shizuoka City, Shizuoka Prefecture, on the banks of the Abe Nakakawachi River, a tributary of the Abe River, a first-class river.
Surrounded by beautiful 400-meter-high mountains at an elevation of around 200 meters, the temperature is always 2 to 3 degrees cooler than in the city center, making it a truly desirable location.
The building was designed with the theme of fusion of Japanese beauty and Western culture, and in collaboration with Derek Baston, an American architect living in Shizuoka, the interior and exterior of the whisky distillery are made of many Shizuoka woods, which are beautiful to the eye.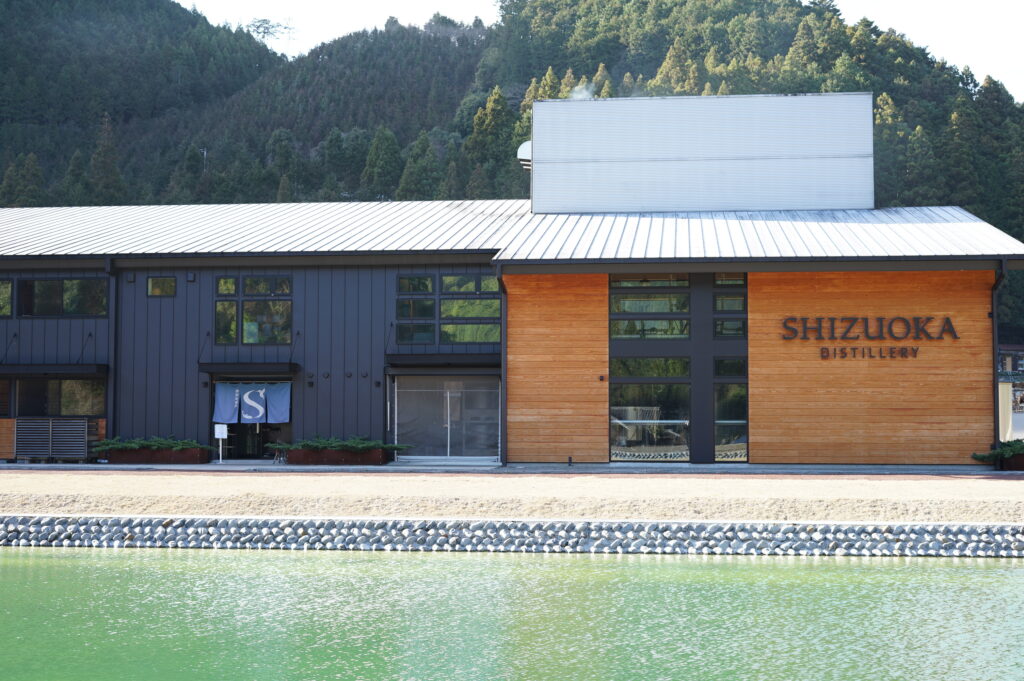 Shizuoka Distillery operates two first distillation machines called "K" and "W" K is the historic Karuizawa distiller, which was manufactured in Japan in the 1950s. In November 2011, the legendary distiller was moved from the Karuizawa distillery, which had regrettably closed, to the Shizuoka distillery, where it was repaired and refurbished, and the legendary distiller was restored. The distiller's graceful silhouette and the indirect heating of steam produce light and floral tasting sake.
The left foreground in the photo below is the W, probably the only "wood-fired direct distillation machine" in the world, made by Forsyth in Scotland.
The very characteristic of direct-fired distillation is temperature. While the temperature for general indirect-heat distillation is around 150°C, the wood-fired distillation at Shizuoka Distillery is 800°C, which allows the distiller to produce a fragrant and powerful type of malt spirit.
The fermentation tanks are wooden vats made of locally grown Shizuoka cedar. Shizuoka City is known for its forestry industry, and they chose to use locally grown cedar in the hope of creating a whisky that is uniquely Shizuoka.
The malt mill used to grind malt (barley malt), which is the raw material for whisky, has been moved from the Karuizawa distillery and is used in the same way as the "K" distillation machine.
Shizuoka has a warmer climate than Scotland, and the design dares to create a difference in temperature by installing windows in the ceiling of the cellar for lighting. Because of this, the original sake being aged in the cellar is expected to evaporate at least 5% per year at Angel's Share.
At the distillery, there is a tasting corner where visitors can sample (for a fee) the Shizuoka Distillery's original sake and the first "Single Malt Prologue K". The Shizuoka distillery also imports and sells whisky, and you can sample the Indian whisky "Amrut" and the Scottish bottlers "Black Adder" and "Astamoris".
For more information about Gaiaflow Shizuoka Distillery, please click here↓
3. Product name and photo
BLACK ADDER RAW CASK SHIZUOKA 2018 3years Cask No.781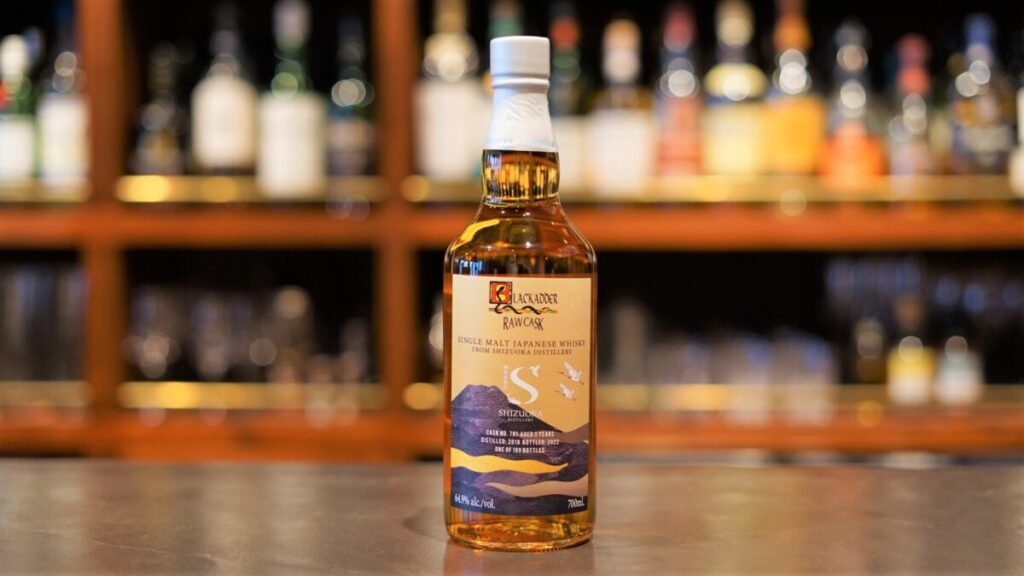 4. Characteristics
Shizuoka Distillery uses two first distillation stills, K (a distillation still transferred from Karuizawa Distillery) and W (a wood-fired distillation still), to produce two types of sake with different characteristics.
Each pot still is characterized by the steam-heated K with its fruity aroma and light flavor, and the wood-fired W with its heavy flavor and long finish.
Blackadder Row Cask Shizuoka 2018 3 Year Cask No. 781 is made from 100% Scottish non-peat barley. It is distilled in a "K" distiller and aged for 3 years in bourbon barrels. It is bottled directly from the cask, including the lees, using the "row cask" method.
It has a smooth, rich sweetness that makes you wonder if it has really been aged for three years.
4-1. Tasting Notes

| | |
| --- | --- |
| Aroma | Slight sourness. Sweetness of vanilla, caramel, etc. Yellow peach and flowery aromas also emerge as it is opened. |
| Taste | Silky smoothness. Rich sweetness of floral honey and vanilla. After some time, it tastes like wine. |
| Aftertaste | Quite little esophageal burning after drinking. Somewhat refreshing sweetness lingers moderately. |

4-2. Product Specifications

Alcohol content
64.9%
By Liquor
Single malt Japanese whisky
Cask type
Bourbon casks
Content volume
700ml
Number of bottles sold
199 bottles (60 bottles sold in Japan)
Suggested retail price
15,555 yen (tax included)
Release date
March 18,

2022
5. Awards
No awards have been received at this time.
6. Price
6-1. Manufacturer's Suggested Retail Price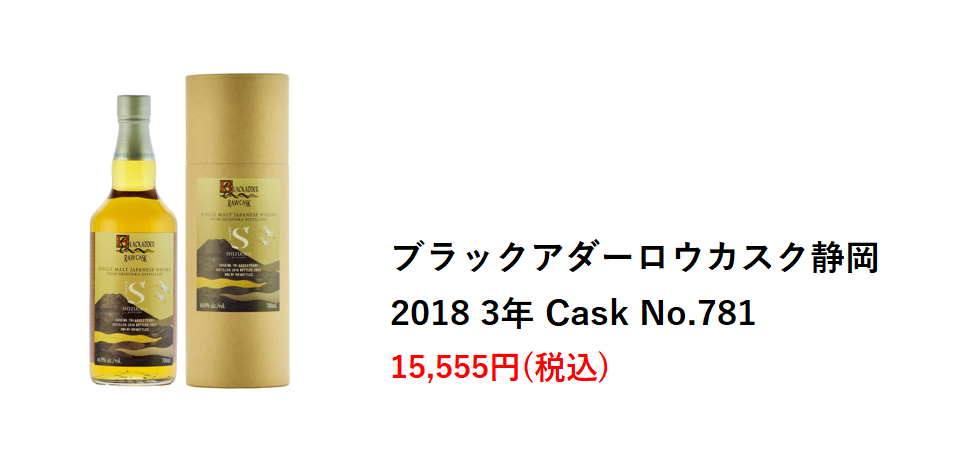 | | |
| --- | --- |
| Product Name | BLACK ADDER RAW CASK SHIZUOKA 2018 3years Cask No.781 |
| Capacity | 700ml |
| Suggested Retail Price | 15,555 yen (including tax) |
6-2. Resale price on Mercari
The resale price on Mercari is 90,000 yen We were able to confirm only one listing at (as of May 20, 2022).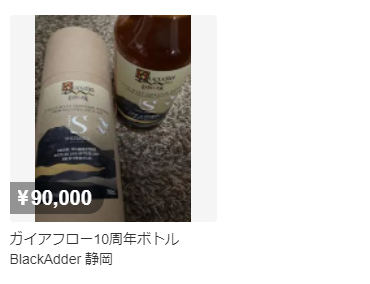 6-3. Sold price on Yahoo! Auction
The successful bid price on Yahoo! Auctions was Lowest bid: 99,999 yen, Highest bid: 155,020 yen, Average bid: 127,509 yen (Statistics for the past 180 days from May 20, 2022)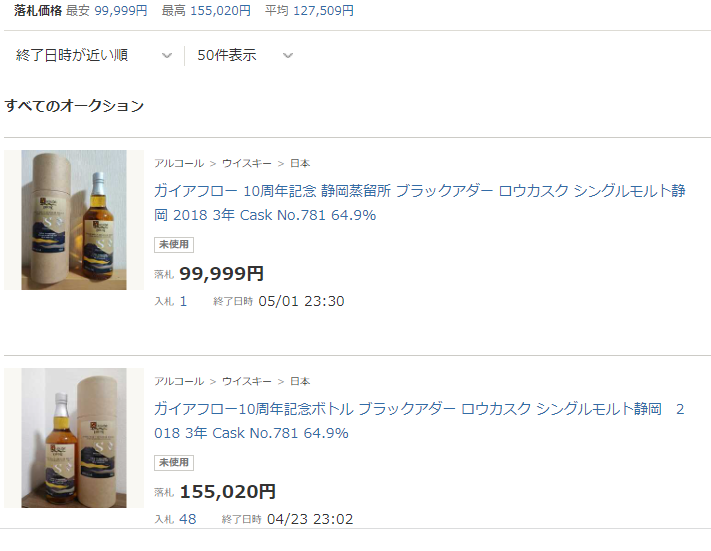 6-4. Rakuten, Yahoo Shopping, Amazon
We have not been able to confirm any listings on mail-order websites. (*As of May 20, 2022)

6-5. Price offered at BAR Shinkai
The "BAR Shinkai" operated by this site 1 glass, 45ml: 5,940 yen 30ml: 3,960 yen, 15ml: 1,980 yen We also offer it in small quantities such as (Only available at the Daimon branch).
7. Summary
Upon tasting, my first impression was "this is wonderful" . The aroma has no alcohol horniness to the extent that it is hard to believe it is a cask strength, and there is a rich sweetness reminiscent of floral honey, vanilla, and caramel. It has a wonderful silky and very smooth mouthfeel, and there is almost no burning sensation in the throat or esophagus after swallowing.
Pour it into a glass and let it sit for a while to open up further, revealing yellow peach and floral aromas and flavors of wine.
I was honestly surprised and impressed that such sweetness could be produced after 3 years of aging in bourbon barrels.
The lees that settle at the bottom of the bottle and dance in the air, characteristic of a wax cask, are also quite tasteful.
This is a very rare whisky with only 60 bottles sold in Japan, and it is a bottle with a very high degree of perfection. This is a bottle that you should definitely try.
Please check out our other articles on Shizuoka Distillery.