The Kanosuke Artist Edition is inspired by the "five elements" philosophy, which is deeply rooted in Japanese people's lives, and was created by an artist active in various fields who designed an original label based on the concept of the five elements: wood, fire, earth, metal, and water.
The motif of the first "Single Malt Kanosuke Artist Edition #001" is "Tree" Non-pit malt aged in American white oak litchi casks, this is the first full bottle of 2022 from the Kanosuke distillery.
1. Manufacturer
Komasa Kanosuke Distillery Co.
| | |
| --- | --- |
| Established | August 2021 |
| Head office location | 845-3 Gannokawa, Hiyoshi-cho, Hioki-shi, Kagoshima 899-2421 |
| Distilleries owned | Kanosuke Distillery |
2. Distillery
Kanosuke Distillery
| | |
| --- | --- |
| Location | 845-3 Gannokawa, Hiyoshi-cho, Hioki-shi, Kagoshima 899-2421 |
| Start of operation | 2017 |
The Kanosuke distillery stands on a site of about 9,000 square meters along Fukiage beach on the west coast of Kagoshima prefecture.
The U-shaped, two-story main building houses not only the distilling facilities, but also a BAR with a great view and a store selling original goods.
The distillery's main features are There are three pot stills (large, medium and small). Things to do. Each has a capacity of 6,000 L, 3,000 L, and 1,600 L.
Worldwide, craft distilleries (small distilleries) generally have two units. Whisky is usually distilled twice, and by using pot stills with different shapes of necks and angles of line arms at the top during the second distillation (redistillation), the aroma and flavor of the original whisky can be changed more richly.
Fukiage beach, where the distillery is located, is one of the "Three Great Sand Dunes of Japan" and has been selected as one of the "100 Best Sand Dunes in Japan" . The beach stretches about 47 km from north to south, and strong winds blow in from the sea, shrouding the area around the distillery in a white mist of fine droplets from the sea. It is hot in the summer and cold in the winter, with temperatures near zero degrees Celsius, and snow flurries are not uncommon.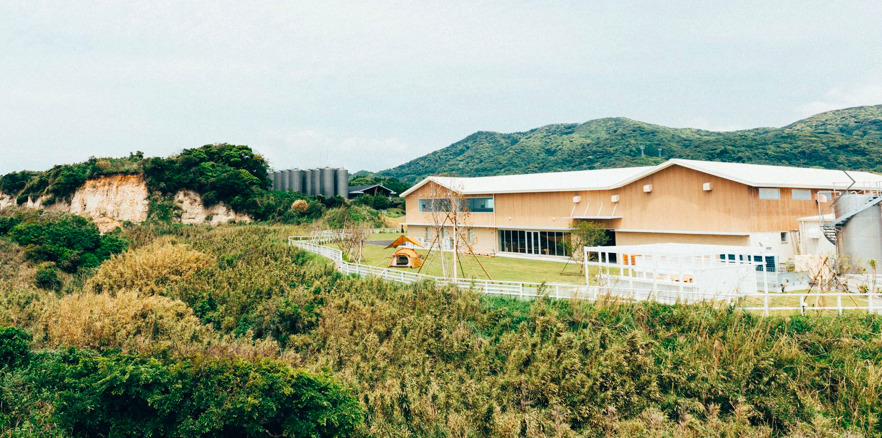 Image Exhibit: Kanosuke Distillery Official Facebook
For more information about Kanosuke Distillery, please also see this article.

https://en.jpwhisky.net/2021/01/01/japanesedistillery-2″]
3. Product name and photo
Single Malt Kanosuke Artist Edition #001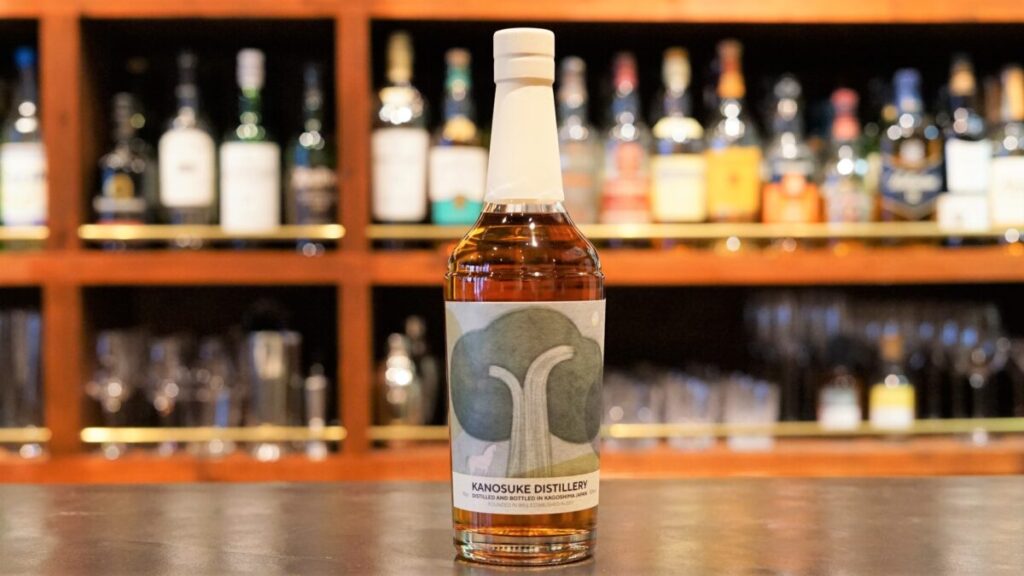 4. Features
The distillery is located on a small hill on the north side of the Kanosuke distillery, where several casks of English non-pit malt from American white oak rich casks are carefully selected to be matured to the lullaby of the sea noise. The label design is by Mariko Hirasawa, an illustrator who draws on the motif of "wood" in the Five Elements philosophy.
Comment from Mariko Hirasawa
I depicted an oak tree growing strongly from the earth of Kagoshima to the sky.
I imagined the whisky born in Europe is now growing healthily here in Kagoshima.
And not only for men, but also for women who live with strength and suppleness like this tree.
The color of the product is gentle, with the hope that you will hold it in your hand.
(It is said that trees in the Yin-Yang Five Elements are represented by the colors green and light blue.)
4-1. Tasting Notes
| | |
| --- | --- |
| Aroma | butterscotch, plum jam, grape, nikki |
| Taste | Soft barley sweetness, vanilla, citrus, bitter chocolate |
| Lingering | Pleasant tannins and gentle sweetness that lasts moderately long |
4-2. Product Specifications
| | |
| --- | --- |
| Alcohol content | 50% |
| By Liquor | Single Malt Japanese Whisky |
| Cask type | American white oak richard cask |
| Content volume | 700ml |
| Number of bottles sold | Limited quantity |
| Suggested Retail Price | 14,850 yen (tax included) |
| Release Date | March 28, 2022 |
5. Awards
No awards have been received at this time.
6. Price
6-1. Manufacturer's Suggested Retail Price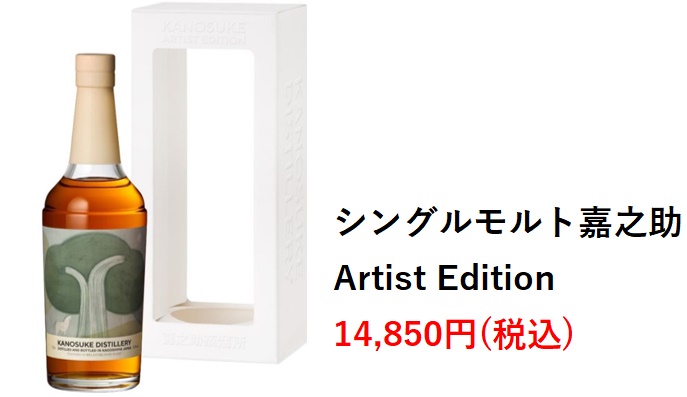 | | |
| --- | --- |
| Product name | Single Malt Kanosuke Artist Edition |
| Capacity | 700ml |
| Suggested retail price | 14,850 yen (including tax) |
6-2. Resale price on Mercari
The resale price on Mercari is Around 26,000 yen to 40,000 yen The number is as follows. (*as of April 6, 2022)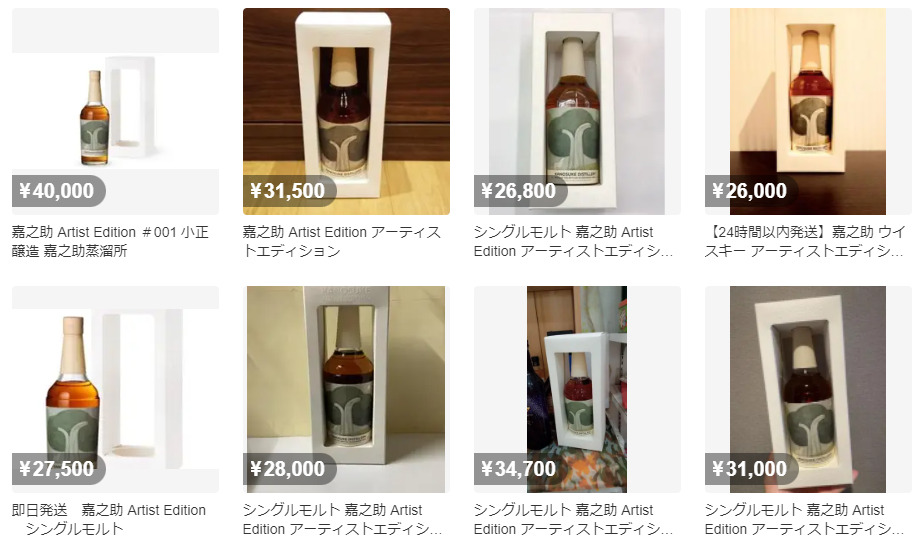 6-3. Sold price on Yahoo! Auction
Sold prices on Yahoo! Auctions are Lowest 23,500 yen, highest 80,000 yen, average 33,534 yen (*Statistics for the past 180 days from April 6, 2022)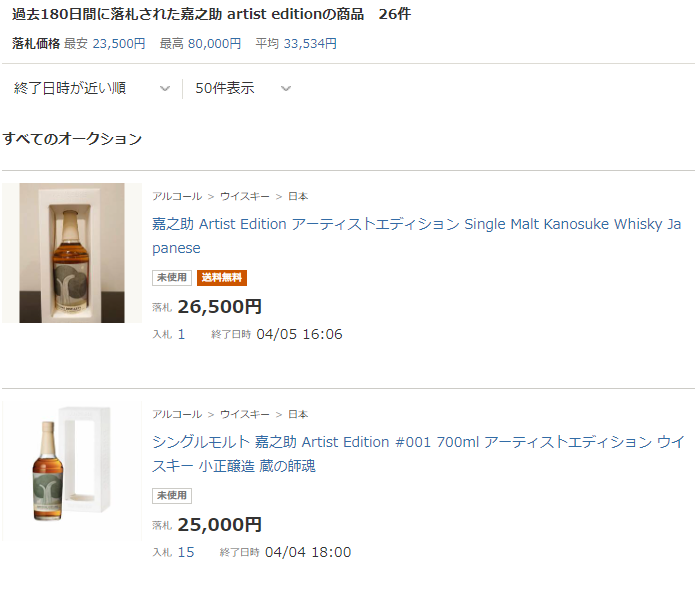 6-4. Rakuten, Yahoo Shopping, Amazon
Sales through mail order sites are not confirmed at this time. (*As of April 6, 2022)
6-5. Price offered at BAR Shinkai
At "BAR Shinkai", which is operated by this site, we have 1 glass, 45ml: 4,620 yen, 30ml: 3,080 yen, 15ml: 1,540 yen The following is offered at.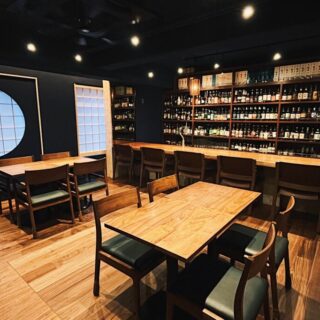 Information about "BAR Shinkai"

Japanese Whisky Dictionary operates three BAR Shingai stores in Minato Ward, Tokyo. In addition to the Japanese whiskeys introduced on this site, they also hand...
7. Summary
The moderate alcohol content and the unique sweetness of American oak, like honey and vanilla, are likely to sting those who are stung. The roasted bitterness, reminiscent of bitter chocolate, is a nice accent and will not bore you. The image of fruitiness like grapes and green apples, and the woodiness with a hint of mint support the aroma and taste.
It is a very gentle and pleasant drink with little loss of character even when watered down.
We recommend drinking it straight first. Then gradually add more water to find your favorite flavor.
The "Artist Edition" will be sold once a year. We are looking forward to next year's Artist Edition, not only for the casks used and the flavor, but also for the motif and label design. I feel that this series should truly be called a work of art.
■ Please take a look at our other articles on Kanosuke.
https://en.jpwhisky.net/2021/06/16/kanosuke2021-2″]
https://en.jpwhisky.net/2020/10/09/kanosukenewborn2020peated-2″]
Lastly: Recommended Books on Japanese Whisky
If you want to learn more about Japanese whisky, which is a global trend, we highly recommend these books.
In the December 2021 issue of Whisky Galore, published by the Whisky Culture Research Institute, we report on 11 Japanese craft distilleries, including some that are open to the public for the first time, under the title of "Japanese Whisky Craft Frontline," the first of three consecutive issues. Why did the popularity of Japanese whisky and the craft boom occur? We will examine with interviews. Chichibu Distillery / Chichibu No.2 Distillery / Mars Shinshu Distillery / Mars Tsunuki Distillery / Kanosuke Distillery / Hioki Distillery / Ontake Distillery / Osuzuyama Distillery / Kaikyo Distillery / Hanyu Distillery / Konosu Distillery
This is a book written by Mamoru Tsuchiya, a world-famous whisky critic and representative of the Whisky Culture Research Institute, titled "Japanese Whisky as a Culture that Works for Business" .
The book covers the basics of whisky, the introduction of whisky to Japan, the birth of Japanese whisky, advertising strategies and the rise of Japanese whisky, and the current rise of craft distilleries. This is a book that summarizes Japanese whisky in a very easy to understand way.
Masataka Taketsuru, the founder of Nikka Whisky, devoted his life to brewing whisky in Japan. This is a revised and reprinted version of the autobiography of a man who simply loved whisky and talked about himself. The book vividly depicts the days when he went to Scotland alone to study as a young man and overcame many hardships to complete Japanese whisky, as well as his companion, Rita.
Launching in 2019. With the world experiencing an unprecedented whisky boom, what were the managers of craft distilleries thinking and what were their thoughts as they took on the challenge of making whisky? This book tells the stories of 13 craft distillery owners, including Ichiro Hido of Venture Whisky, famous for his Ichirose Malt, who inspired the birth of craft distilleries in Japan.
This is the Japanese version of Whisky Risng, published in the US in 2016, with much updated content. Not only does it describe the history of Japanese whisky in detail, but it also includes data on all the distilleries in Japan, including the craft distilleries that have been founded in recent years. The book also includes descriptions of the legendary bottles that have been released, as well as information on bars where Japanese whisky can be found.