Crowdfunding for the Hida Takayama Distillery, currently under construction in Takayama City, Gifu Prefecture, has begun.
The crowdfunding started at 11:00 on March 25, 2022, and has made an impressive rocket start, having already succeeded in raising 26,532,000 yen, or 1326% of the target amount of 2,000,000 yen, as of 15:00 on March 30, 2022.
Hida Takayama Distillery aims to revive a closed elementary school building as a distillery and create a distillery where people can also learn about whisky.
1. Crowdfunding Returns
Hida Takayama Distillery's crowdfunding return items are as follows.
For more information on how to apply and for more details on the return items, please visit the crowdfunding site "Makuake".
Amount
Contents
6,000 yen

Your name on our website

Glass with original logo

12,000 yen

Name on the distillery's nameplate

Glass with original logo

12,000 yen

Whiskey yeast new pot 200ml

Ale + 200ml new pot of whisky yeast

Your name on our website

Glass with original logo

33,000 yen

Hida Takayama Distillery Single Malt (see below) – One Sip Barrel Owner

Name on the distillery's nameplate and website

Glass with original logo

33,000 yen

( no longer accepted)

Saburomaru Single Malt (Hida Takayama Matured) (see below) – Sip Cask Owner

Your name on the distillery's nameplate and website

Glass with original logo

100,000 yen
Your name will be written in large letters on the distillery's nameplate. (For corporations)

300,000 yen

(No longer accepted)

Naming rights to wooden vats

A case of whisky made in the wooden vat (700ml x 6 bottles)

Name on the name board and on the website

Glass with original logo

2,500,000 yen

(no longer accepted)

Hida Takayama Distillery Cask Owner

Pair overnight stay at Honjin Hiranoya Hanachoan ( see below) with half board

Your name will be written on a nameplate and on the website.

Glass with original logo
2. Hida Takayama Distillery Single Malt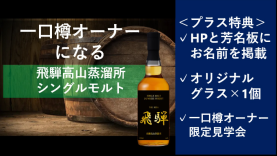 The Hida Takayama Distillery plans to use a new model of the ZOMON pot still, which is made using the technology of a Buddhist bell developed by Saburomaru Distillery and Laiko Seisakusho. In the future, the distillery will produce the world's first "non-pitched Japanese whisky by ZEMON" .
The site where the Hida Takayama Distillery will be built has an environment similar to Speyside. We are very much looking forward to seeing how the sake distilled by the new ZEMON will be matured deep in the mountains of Hida Takayama.
3. Saburomaru Distillery Single Malt Hida Takayama Aged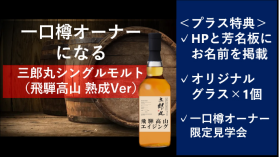 Here is a plan that we found particularly interesting and attractive for this crowdfunding.
The original whisky distilled by Funasaka Shuzo members during their whisky training at Saburomaru Distillery will be transferred to the Hida Takayama Distillery for aging.
For this crowdfunding, this means that there will be both non-peated and peated plans with a lot of personality. This is a plan that will be of considerable interest to fans of Saburomaru.
*Acceptance of applications has been closed due to reaching the maximum number of applicants. (As of March 30, 2022)
4. Honjin Hiranoya Hanachoan
This purely Japanese-style ryokan is located in the center of Hida Takayama. The family is managed by the father of Mr. Hiroki Arisu, president of Funasaka Sake Brewery of Hida Takayama Distillery, as the president and the mother as the proprietress.
There was a support plan on crowdfunding for cask owner + Honjin Hiranoya Hana-choan pair accommodation voucher with meals
, but due to its popularity, it was closed on the first day of application.
The Honjin Hiranoya Hana-choan is located about 40 minutes by car from the Hida Takayama Distillery and offers a variety of attractive rooms, including rooms with a half-open-air bath. When you visit Hida Takayama Distillery, please walk along the "old streets" where Funasaka Sake Brewery is located and stay overnight at Honjin Hiranoya Hana-choan. Please enjoy the charm of Hida Takayama to the fullest.
Please visit our official website
for reservations and details on rooms, baths, and cuisine.
Please check out our other articles on Hida Takayama Distillery. [clink url=https://jpwhisky.net/2022/03/08/hidatakayama_distillery/][clink url=https://jpwhisky.net/japanesedistillery/4chubu_genpon/]
Lastly: Recommended Books on Japanese Whisky
If you want to learn more about Japanese whisky, which is a global trend, we highly recommend these books.
In the December 2021 issue of Whisky Galore, published by the Whisky Culture Research Institute, we report on 11 Japanese craft distilleries, including some that are open to the public for the first time, under the title of "Japanese Whisky Craft Frontline," the first of three consecutive issues. Why did the popularity of Japanese whisky and the craft boom occur? We will examine with interviews. Chichibu Distillery / Chichibu No.2 Distillery / Mars Shinshu Distillery / Mars Tsunuki Distillery / Kanosuke Distillery / Hioki Distillery / Ontake Distillery / Osuzuyama Distillery / Kaikyo Distillery / Hanyu Distillery / Konosu Distillery
This is a book written by Mamoru Tsuchiya, a world-famous whisky critic and representative of the Whisky Culture Research Institute, titled "Japanese Whisky as a Culture that Works for Business" .
The book covers the basics of whisky, the introduction of whisky to Japan, the birth of Japanese whisky, advertising strategies and the rise of Japanese whisky, and the current rise of craft distilleries. This is a book that summarizes Japanese whisky in a very easy to understand way.
Masataka Taketsuru, the founder of Nikka Whisky, devoted his life to brewing whisky in Japan. This is a revised and reprinted version of the autobiography of a man who simply loved whisky and talked about himself. The book vividly depicts the days when he went to Scotland alone to study as a young man and overcame many hardships to complete Japanese whisky, as well as his companion, Rita.
Launching in 2019. With the world experiencing an unprecedented whisky boom, what were the managers of craft distilleries thinking and what were their thoughts as they took on the challenge of making whisky? This book tells the stories of 13 craft distillery owners, including Ichiro Hido of Venture Whisky, famous for his Ichirose Malt, who inspired the birth of craft distilleries in Japan.
This is the Japanese version of Whisky Risng, published in the US in 2016, with much updated content. Not only does it describe the history of Japanese whisky in detail, but it also includes data on all the distilleries in Japan, including the craft distilleries that have been founded in recent years. The book also includes descriptions of the legendary bottles that have been released, as well as information on bars where Japanese whisky can be found.