The second round of the sake exchange at Saburomaru Distillery. this time, it is a collaboration between the historic distilleries of "Saburomaru Distillery x Eiwashima Distillery" . 
The sale of this collaboration is also sold two at the same time. THREE BATCH is limited to 600 pieces. 4 BATCH limited to 5,000 pieces.
On February 22, 2022, it was sold only by visitors to Saburomaru Distillery, and it was sold by lottery.
By the way, the blue one of the label character and the outer frame is THIRD BATCH, and the red one is FOUR BATCH.
1. Maker
1-1. Wakatsuru sake brewery co.
| | |
| --- | --- |
| Founded in | 1862 |
| Head office location | 208, Saburomaru, Tonami, Toyama 939-1308, Japan |
| Owned distillery | Saburomaru Distillery |
1-2. Eigashima Brewery
| | |
| --- | --- |
| Founded in | May 1888 |
| Head office location | 919 Nishijima, Okubo-cho, Akashi, Hyogo 674-0065, Japan |
| Owned distillery | Eigashima Distillery (former White Oak Distillery) |
2. Distilleries
2-1. Saburomaru Distillery
| | |
| --- | --- |
| Location | 208, Saburomaru, Tonami, Toyama 939-1308 |
| Start of operation | 1953 (renovated in 2016) |
The only distillery in Hokuriku, established in 1952.
Amidst the postwar rice shortage, the distillery obtained a license to produce whisky in 1952. Since then, they have been brewing sake in winter and Whisky distilled only during the summer months The company is also a member of the Japan Society for the Promotion of Science (JSPS). 200 bottles are made per year. Plans are underway to make 300 in the future.
Since the beginning, the company has focused on smoky whisky, using Islay peated malt and more recently Peated malt from Toyama Prefecture The company uses a variety of ingredients to make its products. In order to preserve the natural flavor, no cooling filtration or coloring is used.
In 2018, we installed a state-of-the-art mash tun from Miyake Mfg.
In 2019, we collaborated with a local company, Oigo Seisakusho, to produce a cast pod still ZEMON. The company has developed a
In 2020, one wooden fermenter will be installed.
The main difference from other distilleries is the world's first cast pod still ZEMON. The company uses a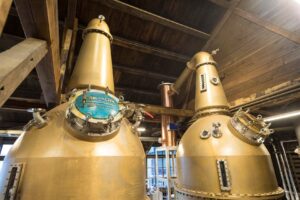 There are three major features.
(1) The casting method enables molding by die and quick delivery. Also, it is possible to add sufficient wall thickness at a low cost, which increases the service life of the main body.
(2) Free molding by the casting method allows for various types of sake quality. Also, by unitizing each part, only worn parts can be replaced and functions can be expanded.
(3) Made of a copper-tin alloy containing approximately 90% copper and 8% tin. Tin is a high-grade metal that is traded at about three times the price of copper.
Tin has been used since ancient times mellow the taste of alcohol It is said to have been used for sake and shochu coolers. ZEMON produces high quality spirits thanks to the dual effects of copper and tin. Contribute to It is also used as a cooler for sake and shochu.
Reference: Wakatsuru Sake Brewery official website
See also ↓ for information on the Saburomaru Distillery.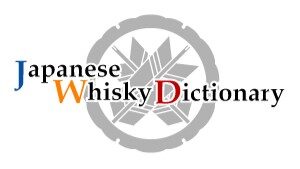 三郎丸蒸留所 | ジャパニーズウイスキーディクショナリー
Japanese Whisky Dictionary
2-2. Eigashima Distillery
| | |
| --- | --- |
| Location | 919 Nishijima, Okubo-cho, Akashi-shi, Hyogo 674-0065, Japan |
| Start of operation | 1919 |
1891 Shochu storage "Niban-gura" completed * Later used as whisky storage.
1919 Whisky license obtained and distillery established.
       The same year, the local whisky "White Oak" is released.
1984 Construction of new distillery completed.
2007 First single malt whisky "Akashi" 8 years old released.
2019 Name changed from White Oak Distillery to Eigashima Distillery.
    Two pot stills are replaced with new ones made by Miyake Seisakusho.
2020 Release of higher-priced "Eigashima" brand.
Akashi is made at the White Oak Distillery in Eigashima, Akashi City, Hyogo Prefecture.
The distillery is now renamed Eigashima Distillery to make it easier to understand for foreign tourists.
A small fishing village, Eigashima has a pleasant climate throughout the year and benefits from a mild maritime climate right next to the Akashi Strait on the inland sea.
The license to produce whisky and wine was obtained in 1919.
The first distillation of whisky in Japan took place at the Yamazaki Distillery in 1923, but it was the Eigashima Distillery (formerly White Oak Distillery) that received the first patent for whisky distillation in Japan in 1919.
The year 1919 was when Masataka Taketsuru, the father of Japanese whisky, went to Scotland to study whisky distilling.
It is surprising that the White Oak distillery existed at an early stage.
However, although a patent was obtained, the correct whisky-making process was not handed down, and it is said that what was being made at the time was imitation whisky that imitated whisky.
Reference: Eigashima Distillery official website
For more information about Eigashima Distillery, please see also ↓ here.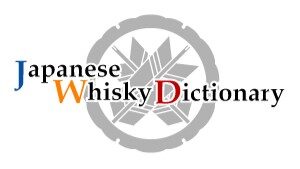 江井ヶ嶋蒸溜所 | ジャパニーズウイスキーディクショナリー
Japanese Whisky Dictionary
3. Product name and photo
3-1. FAR EAST OF PEAT THIRD BATCH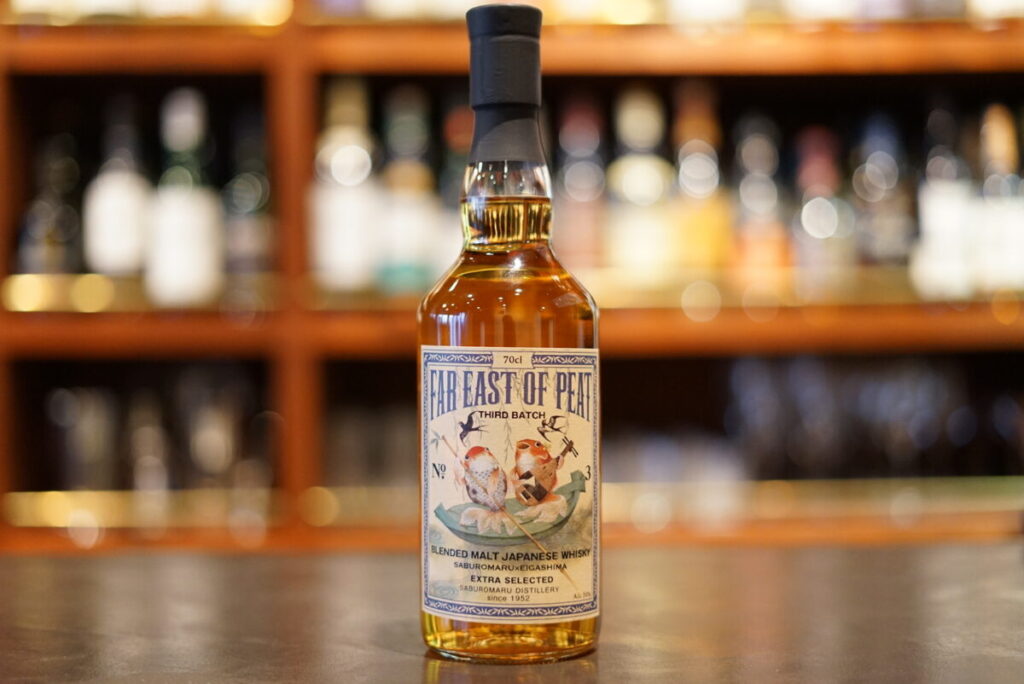 3-2. Far east of peat fourth batches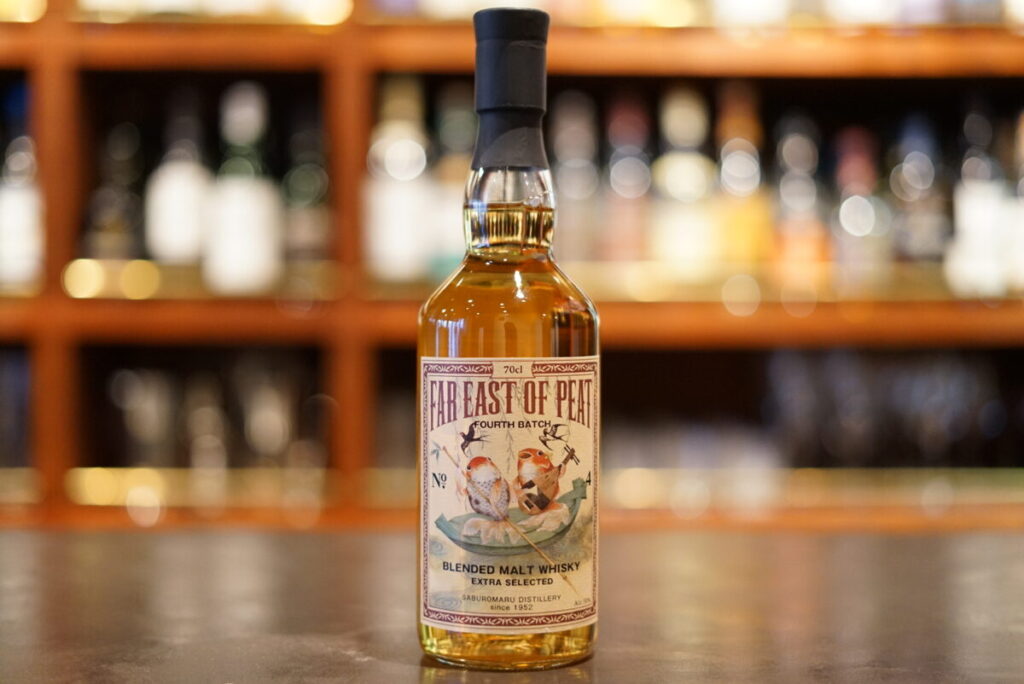 4. Features
Selected and blended with Billy Peated Malt and Eigashima Brewery's Bourbon Cask Aged Lightly Peated Malt from the Saburomaru Distillery, distilled in 2018.
This is a supple and robust collaboration of Japanese craft distilleries, with the fresh, complex fruity character of the Eigashima malt boosted by the robust Saburomaru malt.

Reference: Japanese Whisky|FAR EAST OF PEAT THIRD BATCH
A blend of scotch malts, along with a selection of 2018 distilled hebdomadally peated malts from Saburomaru Distillery and bourbon cask aged lightly peated malts from Eigashima Brewery.
We used only malt base alcohol to create a gorgeous, multi-layered flavor.
4-1. Tasting Notes
| | | |
| --- | --- | --- |
| Product Name | FAR EAST OF PEAT THIRD BATCH | FAR EAST OF PEAT FOURTH BATCH |
| Aroma | Malt aroma, slightly smoky. Aroma of citrus fruits. | Slightly peaty aroma. Unique aroma like de-icer. |
| Taste | Overwhelming vanilla and syrupy sweetness that comes first. Citrus and mint freshness. Oily. | Unique and peculiar taste reminiscent of sake. Slightly oily. Complex flavor, not too sweet. |
| Aftertaste | A sweet aftertaste lingers for a long time. | The bitter aftertaste quickly fades away. |
4-2. Product Specifications
| | | |
| --- | --- | --- |
| Product Name | FAR EAST OF PEAT THIRD BATCH | FAR EAST OF PEAT FOURTH BATCH |
| Alcohol content | 50% | 61% |
| By Liquor | Blended Malt Japanese whisky | Blended Malt Whisky |
| Cask type | Bourbon casks, etc. | Bourbon casks, etc. |
| Content volume | 700ml | 700ml |
| Number of bottles sold | Limited to 600 bottles | Limited to 5,000 bottles |
| Suggested Retail Price | 16,500 yen (including tax) | 6,985 yen (including tax) |
| Release Date | February 22, 2022 | February 22, 2022 |
5. Awards
No awards have been received at this time.
6. Price
6-1. Manufacturer's Suggested Retail Price
| | | |
| --- | --- | --- |
| Product name | FAR EAST OF PEAT THIRD BATCH | FAR EAST OF PEAT FOURTH BATCH |
| Content quantity | 700ml | 700ml |
| Suggested Retail Price | 16,500 yen (including tax) | 6,985 yen (including tax) |
6-2. Resale Price on Mercari
Resale price on MercariTHIRD BATCH is only sold as a set with FOURTH BATCH. 34,444 yen to 44,000 yen The company is now in the process of (*As of February 28, 2022)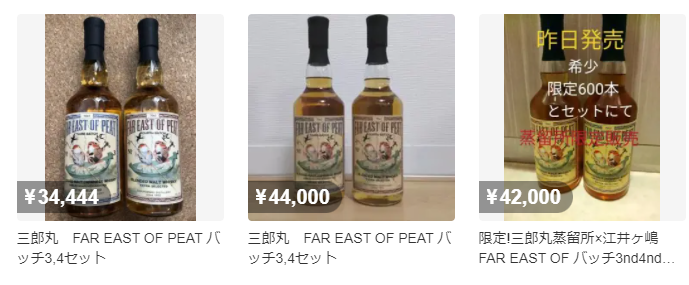 The FOURTH BATCH Resale price on Mercari is the 8,900 yen to 20,000 yen The number of the company's employees is as follows. (*As of February 28, 2022)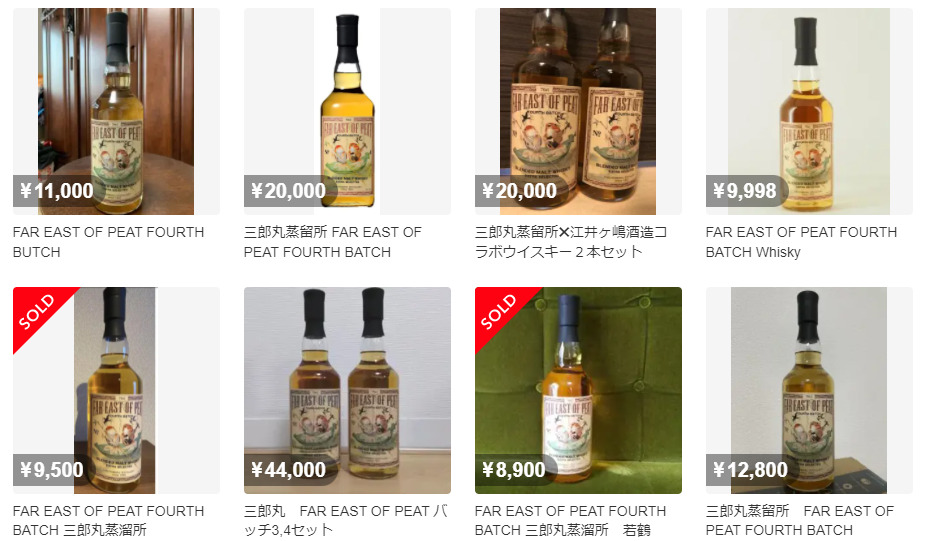 6-3. Yahoo Auction Sold Price
Sold price of THIRD BATCH is a set of FOURTH BATCH and 44,500 yen is. (*As of February 28, 2022)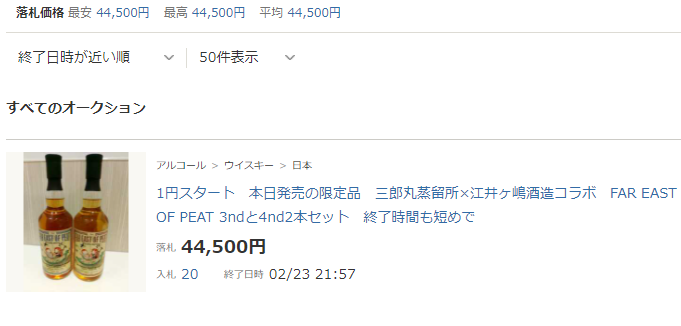 Sold price of FOURTH BATCH is the Lowest 7,800 yen, highest 9,000 yen, average 8,233 yen The number of employees is (*As of February 28, 2022)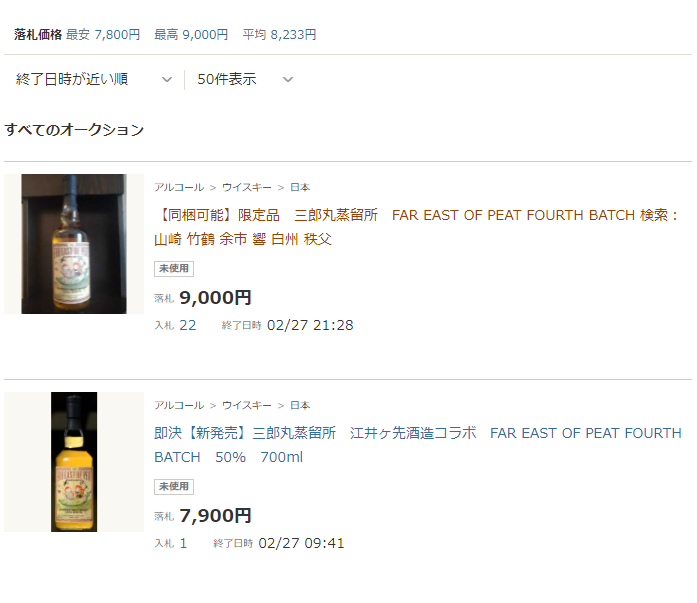 6-4. Rakuten, Yahoo Shopping, Amazon
FOURTH BATCH is also the only mail order site. Around 11,000 yen to 16,800 yen The product is sold at (*as of February 28, 2022)
6-5. Price offered at BAR Shinkai
At "BAR Shinkai" operated by this site, THIRD BATCH is 1 Cup, 45 ml: 4,950 yen, 30 ml: 3,300 yen, 15 ml: 1,650 yen. FOURTH BATCH is 1 cup, 45ml: 2,310 yen, 30ml: 1,540 yen, 15ml: 770 yen The following is a list of the products we offer at.
https://en.jpwhisky.net/about-2/barshinkai-4/
7. Summary
This is the second exchange of original sake from the Saburomaru distillery. We feel that both are quite unique bottles.
First of all, THIRD BATCH is notable for its sweetness. The sweetness that cannot be imagined from the aroma invades the mouth. Combined with the oily taste, you can feel the sweetness quite strongly. There is not much peat, and the sweetness is followed by citrus freshness, coniferous and minty woody notes. The flavor does not change significantly when watered down, and while the oily character is diminished, it does play a role in the drinkability of the beer. This is a bottle to be enjoyed slowly.
FOURTH BATCH has a more distinctive flavor. It is peculiar from the aroma to the taste, and features complex flavors of Saburomaru, Eigashima, and Scotch malts. This one has a light mouthfeel that makes the 61% alcohol content seem less noticeable, and when watered down, it shows a different side to THIRD BATCH.
When we actually experience the transformation of the original sake we encounter into a completely new flavor with its own individuality, we are excited by the hidden potential of the sake exchange. I am very much looking forward to the next sake exchange to see which distillery's sake will show us its potential.
■ Please be sure to check out our other articles on Saburomaru Distillery and Eigashima Distillery. [clink url=https://jpwhisky.net/2021/12/01/saburomaru_first-0/][clink url=https://jpwhisky.net/2021/04/30/singlemaltakashi4yearsakecask/]
Lastly: Recommended Books on Japanese Whisky
If you want to learn more about Japanese whisky, which is a global trend, we highly recommend these books.
In the December 2021 issue of Whisky Galore, published by the Whisky Culture Research Institute, we report on 11 Japanese craft distilleries, including some that are open to the public for the first time, under the title of "Japanese Whisky Craft Frontline," the first of three consecutive issues. Why did the popularity of Japanese whisky and the craft boom occur? We will examine with interviews. Chichibu Distillery / Chichibu No.2 Distillery / Mars Shinshu Distillery / Mars Tsunuki Distillery / Kanosuke Distillery / Hioki Distillery / Ontake Distillery / Osuzuyama Distillery / Kaikyo Distillery / Hanyu Distillery / Konosu Distillery
This is a book written by Mamoru Tsuchiya, a world-famous whisky critic and representative of the Whisky Culture Research Institute, titled "Japanese Whisky as a Culture that Works for Business" .
The book covers the basics of whisky, the introduction of whisky to Japan, the birth of Japanese whisky, advertising strategies and the rise of Japanese whisky, and the current rise of craft distilleries. This is a book that summarizes Japanese whisky in a very easy to understand way.
Masataka Taketsuru, the founder of Nikka Whisky, devoted his life to brewing whisky in Japan. This is a revised and reprinted version of the autobiography of a man who simply loved whisky and talked about himself. The book vividly depicts the days when he went to Scotland alone to study as a young man and overcame many hardships to complete Japanese whisky, as well as his companion, Rita.
Launching in 2019. With the world experiencing an unprecedented whisky boom, what were the managers of craft distilleries thinking and what were their thoughts as they took on the challenge of making whisky? This book tells the stories of 13 craft distillery owners, including Ichiro Hido of Venture Whisky, famous for his Ichirose Malt, who inspired the birth of craft distilleries in Japan.
This is the Japanese version of Whisky Risng, published in the US in 2016, with much updated content. Not only does it describe the history of Japanese whisky in detail, but it also includes data on all the distilleries in Japan, including the craft distilleries that have been founded in recent years. The book also includes descriptions of the legendary bottles that have been released, as well as information on bars where Japanese whisky can be found.
.