"Single Malt Kanosuke Distillery Limited Bottle #002" , which was released only at shop in Kanosuke Distillery, has started to apply for lottery sales for 2 days from 3/1 to 3/2.
It is a rare whisky aged for one and a half years in a bourbon barrel and two years in barrels of Calvados (distilled liquor made from apples). The taste is just fruity and the presence of apples is amazing!
If you couldn't go to Kanosuke Distillery because it was too far away, we were selling by lottery in February, but unfortunately if you were defeated, it may be the last chance, so don't forget to apply.
Application period:From 10:00 on March 1 to 15:00 on March 2
Announcement of winnings:Within 5 days of the end of application. Only winners will receive a notification at the e-mail address provided at the time of application.
How to apply:Click here for web lottery application form.
Multiple applications from the same name and the same address will be invalid.
1. Single Malt Kanosuke Distillery Limited Bottle #002
The base of #002 is 2018 non-pete original sake, which was made with our original three pot stills.

It is a single malt that is aged in a bourbon barrel for about a year and a half, then aged for 2 years in a barrel of "Calvados" , a distilled liquor made from apples made in Normandy, France. You can enjoy a taste that combines freshness and depth in a well-balanced manner.
quotation:Kanosuke Distillery Official Website
| | |
| --- | --- |
| Product name | Single Malt Kanosuke Distillery Limited Bottle #002 |
| alcohol category | Single Malt Whisky |
| raw materials | Malt |
| Barrel species | Bourbon Barrel, Calvadoskask |
| Number of bottles sold | Limited to 1,099 pieces |
| Alcohol content | 55% |
| Volume | 200ml |
| Suggested retail price | 3,960 yen (tax included) |
| manufacturer | Kosho Kanosuke Distillery Co., Ltd. Kanosuke Distillery |
¥9,800
(as of 02/06 14:25)
Amazon product information

2. Lineup of Single Malt Kanosuke
2-1.Single Malt Yoshinosuke 2021 SECOND EDITION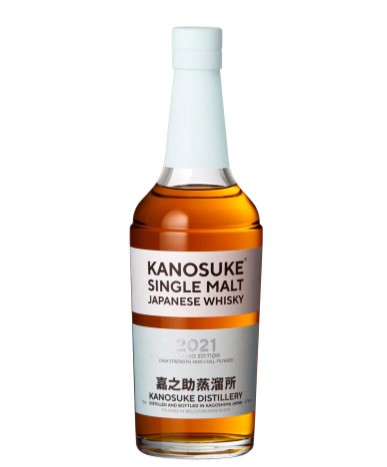 "Single Malt nosuKanosuke 2021 SECOND EDITION" is a single malt Japanese whiskey manufactured at Kanosuke Distillery in 2018. Using non-pete malt, we vatted multiple barrels and bottled them with Caskstrengths, using unoridated sake aged in bourbon barrels.
The sea breeze blowing at The Kanosuke Distillery also increases colder day by day, and the time of gentle aging is spent.
Soft sea breeze.
Please enjoy the elegant sweetness and bittersweetness, aged wrapped in gentleness. (From manufacturer HP)
2-2.Single Malt Kanosuke 2021 FIRST EDITION
"Single Malt Kanosuke 2021 FIRST EDITION" is our first single malt Japanese whisky manufactured at Kanosuke Distillery from 2017 to 2018.
Using non-pete malt, we vatted multiple barrels and bottled them with Caskstrengths using the original sake aged with American white oak richard cask used in our barrel-aged rice shochu "Melokozuru" .
Finally, our journey of Japanese whiskey begins. (From manufacturer HP)
Lastly: Recommended Books on Japanese Whisky
If you want to learn more about Japanese whisky, which is a global trend, we highly recommend these books.
In the December 2021 issue of Whisky Galore, published by the Whisky Culture Research Institute, we report on 11 Japanese craft distilleries, including some that are open to the public for the first time, under the title of "Japanese Whisky Craft Frontline," the first of three consecutive issues. Why did the popularity of Japanese whiskey and the craft boom occur? We will examine with interviews. Chichibu Distillery / Chichibu No.2 Distillery / Mars Shinshu Distillery / Mars Tsunuki Distillery / Kanosuke Distillery / Hioki Distillery / Ontake Distillery / Osuzuyama Distillery / Kaikyo Distillery / Hanyu Distillery / Konosu Distillery
¥1,320
(2023/02/06 17:20:18時点 Amazon調べ-
詳細)
This is a book written by Mamoru Tsuchiya, a world-famous whisky critic and representative of the Whisky Culture Research Institute, titled "Japanese Whisky as a Culture that Works for Business" .
The book covers the basics of whisky, the introduction of whisky to Japan, the birth of Japanese whisky, advertising strategies and the rise of Japanese whisky, and the current rise of craft distilleries. This is a book that summarizes Japanese whisky in a very easy to understand way.
Masataka Taketsuru, the founder of Nikka Whisky, devoted his life to brewing whisky in Japan. This is a revised and reprinted version of the autobiography of a man who simply loved whiskey and talked about himself. The book vividly depicts the days when he went to Scotland alone to study as a young man and overcame many hardships to complete Japanese whisky, as well as his companion, Rita.
Launching in 2019. With the world experiencing an unprecedented whisky boom, what were the managers of craft distilleries thinking and what were their thoughts as they took on the challenge of making whiskey? This book tells the stories of 13 craft distillery owners, including Ichiro Hido of Venture Whisky, famous for his Ichirose Malt, who inspired the birth of craft distilleries in Japan.
This is the Japanese version of Whisky Risng, published in the US in 2016, with much updated content. Not only does it describe the history of Japanese whiskey in detail, but it also includes data on all the distilleries in Japan, including the craft distilleries that have been founded in recent years. The book also includes descriptions of the legendary bottles that have been released, as well as information on bars where Japanese whisky can be found.