Saburoumaru distillery was revived by crowdfunding in 2017.
The "Saburoumaru 0 THE FOOL" was brewed using a mash tun made more than half a century ago and a 30-year-old distiller that was modified before the introduction of the current Miyake Mash Tun and ZEMON cast pod still.
The label design is based on the Tarot cards (22 Major Arcana and 56 Minor Arcana), and the number 0 of the 22 Major Arcana, "The Fool" was used for the label to signify that the company was starting from scratch.
1. Manufacturer
Wakatsuru Sake Brewery Co.
| | |
| --- | --- |
| Establishment | 1862 |
| Head office | 208 Saburomaru, Tonami-shi, Toyama 939-1308, Japan |
| Owned distillery | Saburomaru Distillery |
2. Distillery
Saburomaru Distillery
| | |
| --- | --- |
| Location | 208 Sabromaru, Tonami City, Toyama Prefecture 939-1308, Japan |
| Start of operation | 1953 (renovated in 2016) |
The only distillery in Hokuriku, established in 1952.
With the shortage of rice after the war, they obtained a license to produce whisky in 1952. Since then, the distillery has been making sake in the winter and distilling whiskey only in the summer. The annual production is 200 bottles. They are planning to make 300 in the future.
Since the beginning of its operation, the company has been dedicated to producing smoky whiskey, using Islay peated malt and more recently peated malt from Toyama Prefecture.
In order to keep the natural flavors alive, no cooling filtration or coloring is used.
In 2018, we installed a state-of-the-art mash tun from Miyake Manufacturing.
In 2019, we collaborated with a local company, Oigo Manufacturing, to develop a cast pod still called ZEMON.
In 2020, one wooden vat fermenter will be installed.
The main difference from other distilleries is the world's first cast pod still. ZEMON , the world's first cast pod still.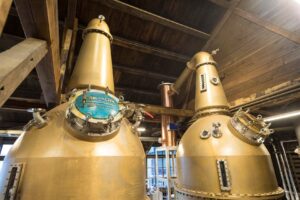 There are three major features.
 (1) The casting method enables molding using a mold, making it possible to manufacture the product in a short period of time. Also, it is possible to make the product thick enough at a low cost, which is expected to increase the service life of the main body.
(2) Various liquor quality is realized by free molding by casting. In addition, it is possible to replace only worn-out parts or expand functions by unitizing each part.
(3) Made from a copper-tin alloy that contains about 90% copper and 8% tin. Tin is a high-grade metal that is traded at about three times the price of copper.
Tin has been used since ancient times to mellowing the taste of alcohol. It is said that tin is a high-grade metal that sells for about three times the price of copper, and has been used for liquor containers and shochu coolers. ZEMON contributes to the production of high quality spirits through the dual effects of copper and tin. to the production of high quality spirits. It has been used for sake vessels and shochu coolers.
Reference: Wakatsuru Sake Brewery official website
See also this ↓ for more information on the Saburomaru Distillery.
3. Product name and photo
Single Malt Saburomaru Zero THE FOOL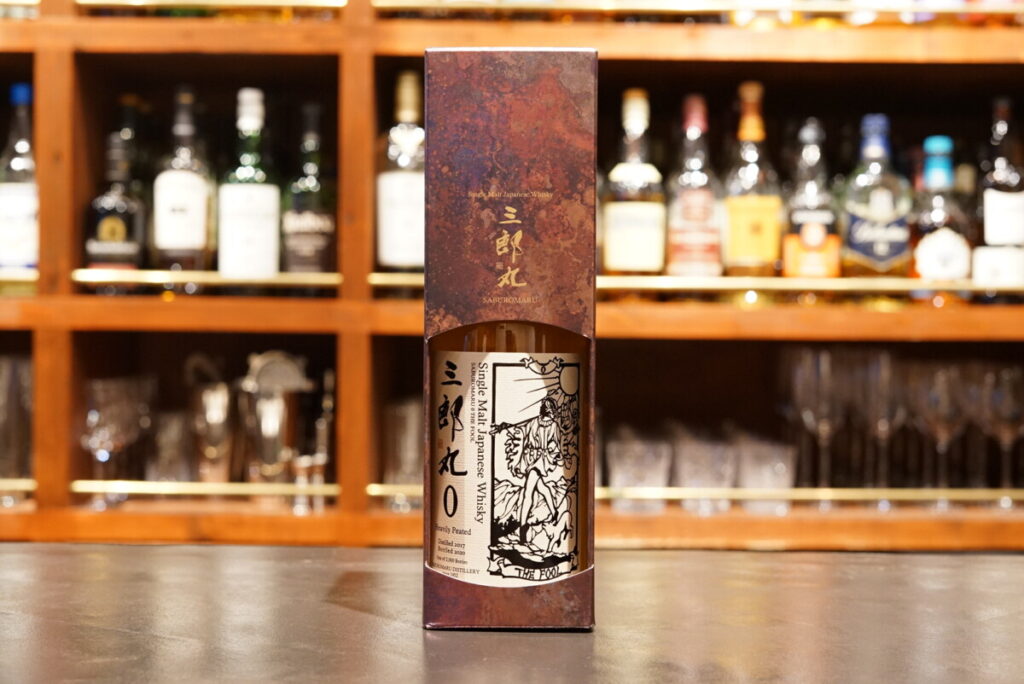 4. Features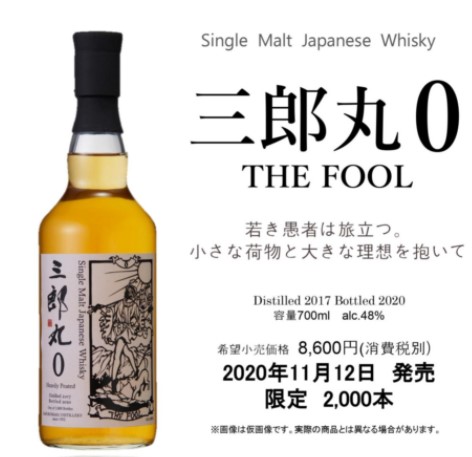 50PPM, heavy peated
The peat is assertive from the aroma to the taste. You can feel the peat from the moment you put it in your mouth until the aftertaste. At first, it is a little alcoholic and violent, but after a while, it becomes a little milder and the woodiness of the bourbon barrel and vanilla appear. At the end, a good amount of peatiness remains and goes through the nose.
Limited edition of 2,000 bottles.
4-1. Tasting Notes

| | |
| --- | --- |
| Nose | Earthy, peaty, bourbon-derived woody and vanilla notes, butter cookies. |
| Taste | Medium bodied, earthy peat, vanilla, mint. |
| Aftertaste | Woody and peaty with a gentle finish. |

4-2. Product Specifications
| | |
| --- | --- |
| Alcohol content | 48% |
| alcohol category | Single malt Japanese whiskey |
| Barrel type | Bourbon barrels |
| Contents | 700ml |
| Number of bottles sold | Limited to 2,000 bottles |
| Suggested retail price | 9,460 yen (tax included) |
| Release date | November 12, 2020 |
5. Awards
No awards have been received at this time.
6. Price
6-1. Manufacturer's suggested retail price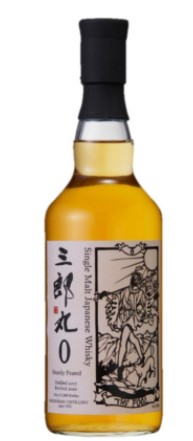 | | |
| --- | --- |
| Product name | Single Malt Saburomaru 0 THE FOOL |
| Capacity | 700ml |
| Suggested retail price | 9,460 yen (tax included) |
6-2. Resale price on Mercari
The resale price on Mercari is around 35,000 yen to 40,000 yen
(*As of December 28, 2021)

6-3. Yahoo Auction Sold Price
The lowest bid price on Yahoo Auctionis 30,800 yen, the highest is 60,000 yen, and the average is 39,572 yen
(*Statistics for the past 180 days since December 28, 2021)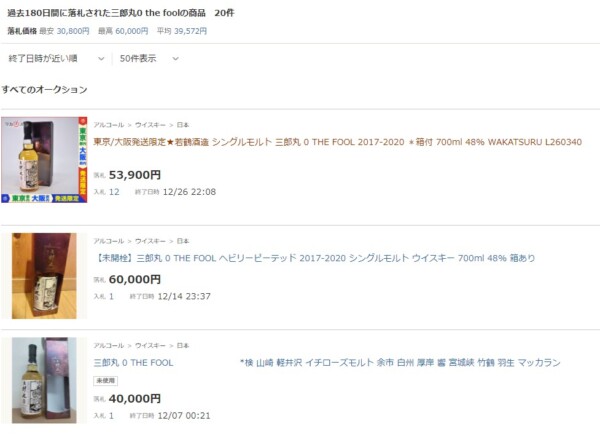 6-4. Rakuten, Yahoo Shopping, Amazon
There seems to be no sales on mail order sites at present. (*as of December 28, 2021)
6-5. Price offered at BAR SHINKAI
At "BAR SHINKAI", which is operated by our website, we offer even small amounts such as 1 glass, 45ml: 2,970 yen, 30ml: 1,980 yen, 15ml: 990 yen
7. Summary
Comparing 50ppm of Saburoumaru 0 and 53ppm of Saburoumaru 1, Saburoumaru 0 is the one where you can feel the peat strongly (clearly), while Saburoumaru 1 is the one where the sweetness of the fruit and the richness of the lactic acid system come forward as if it is clear and refined, so you feel "sweet" the moment you put it in your mouth. In the aftertaste, the peat overtakes the sweetness and asserts itself, and I feel that the sweetness and peat are well finished.
In comparison, Saburomaru 0 is less sweet, so the peat and maltiness are the main flavor. It also has a slight minty freshness to it. This is a flavor that I think some people might be addicted to.
The Saburoumaru distillery is said to be getting better and better every year.
The single malt Saburoumaru that will be released next year is finally distilled in the cast pod still "ZEMON". We can't wait to see what kind of flavor it will have.
In addition, Mr. Inagaki, the blender and manager of Sabromaru Distillery, started a bottlers business called "T&T TOYAMA" together with Mr. Shimono of single malt mail order malt yama. It is attracting a lot of attention as the world's first Japanese whisky bottlers business.
When I visited the distillery, I talked to him, and he was a very active person with a strong passion for monozukuri. I'm looking forward to seeing what he has in store for us next.
Please check out the other articles about Saburoumaru Distillery.