In October 2019, Kokubu Hokkaido Co., Ltd. and Hombo Shuzo Co., Ltd. jointly developed the "Dakekanba" brand, which is sold only in Hokkaido. It is a 100% malt whiskey made by carefully selecting multiple malts to suit the tastes of Hokkai Hokkaido residents.
The contents of the original whisky have not been disclosed, but it is a blend of various ages and types of barrels, including overseas original whisky.
The brand name "Dakekanba" is a tree that symbolizes the majestic land of Hokkaido, growing wild in the uppermost parts of northern regions and high mountains, twisted and bent by the wind and snow in the harsh natural environment of Hokkaido.
The Mars Whisky Dakekanba premium whisky commemorates the 80th anniversary of Kokubu Hokkaido. Only1,400 bottles will be sold in Hokkaido.
1. Manufacturer
Hombo Shuzo Co.
| | |
| --- | --- |
| Establishment | 1872 |
| Head office location | 3-27, Minamisakae, Kagoshima City, Kagoshima Prefecture, 891-0122, Japan |
| Owned distilleries | Mars Shinshu distillery, Mars Tsunuki distillery |
2. Distillery
Mars Shinshu distillery
| | |
| --- | --- |
| Location | 4752-31, Miyata-mura, Kamiina-gun, Nagano 399-4301, Japan |
| Start of operation | 1985 |
It was in 1949 that Hombo Shuzo, which had been striving to make shochu, a Japanese distilled liquor, in Kagoshima, obtained a license to produce whiskey. Since then, the company has been holding onto the dream of one day producing a genuine whiskey that takes advantage of the Japanese climate.
In 1960, after several years of whisky production in Kagoshima, he established the Mars Yamanashi Winery in Yamanashi, a factory for wine and whisky production. Then, in order to engage in whisky production in earnest, they searched for an even more ideal location.
The natural conditions for whisky production are very severe, including a cold climate with clean air, as well as moderate humidity and good quality water.
After searching for a site that met these conditions, we opened the Mars Shinshu Distillery in 1985 at an altitude of 798 meters at the foot of Mount Komagatake in the Central Alps of Nagano Prefecture, in search of the best environment for whisky production.
In 1992, the distillery stopped distilling due to sluggish demand for whiskey. Later, as Japanese whisky began to be appreciated worldwide, the demand for whisky began to recover in 2009.
In September 2020, the distillery will be completely renovated for the first time in 35 years. The investment will be approximately 1.2 billion yen.
From May 2019, the whisky distillation building (including barrel storage) will be newly constructed for the purpose of renovating aging facilities, building barrel storage facilities with an eye to increasing whisky production, and observing whisky production, and the visitor building will be newly constructed for the purpose of selling original whisky and goods, and existing facilities and equipment will be renovated.
The new whisky distillery building has a total floor area of 1,996 square meters (including a barrel storage room that will hold approximately 2,500 barrels), and the visitor building has a floor area of 746 square meters.
Reference: Hombo Shuzo official website
■Production capacity: 1.1 tons of raw malt/day
■Brewing capacity: approx. 700 liters/day, approx. 185 kl/year (planned for FY2020)
■Major equipment: 1 malt grinding machine, 1 mash tun (saccharification tank) 6KL x 1, stainless steel fermentation tanks 6KL x 3, Douglas fir wooden fermentation tanks (relocated) 6KL x 3, first distillation kettle (relocated)
For more information about Mars Shinshu Distillery, please see here↓.

Mars Tsunuki Distillery
| | |
| --- | --- |
| Address | 6594 Tsunuki, Kaseda, Minamisatsuma city, Kagoshima prefecture, 899-3611 Japan |
| Start of operation | Started operations in 2016 |
Tsunuki, Kaseda, Minami-Satsuma City. The southernmost whisky distillery on the mainland, Mars Tsunuki Distillery, stands in the mountains full of greenery in the southwest of the Satsuma Peninsula.
Located in the southwestern part of the Satsuma Peninsula, Tsunuki is in a long basin along the Kaseda River, a tributary of the Manose River. Surrounded by the mountains of Mt. Kurata (475m) to the east and Mt. Nagaya (513m) to the west, the topography of the area is basin-like, so the summers are hot and the winters are cold, which is extremely harsh in southern Satsuma.
The area has a natural environment that is a "blessing" with good water resources (Mt. Kurata spring water), and the cultivation of oranges, known as "Tsunuki oranges," is flourishing by making effective use of the mountain slopes.
Tsunuki, blessed with a mild climate and good water resources, is the birthplace of the Hombo Sake Brewery. It has been more than a hundred years since the brewery began making shochu using Satsuma sweet potatoes, one of Satsuma's most famous specialties.
Reference: Mars Tsunuki Distillery official website
For more information on the Mars Tsunuki Distillery, please click here.

3. Product name and photo
Mars Whisky DakeKanba Brandy Cask Finish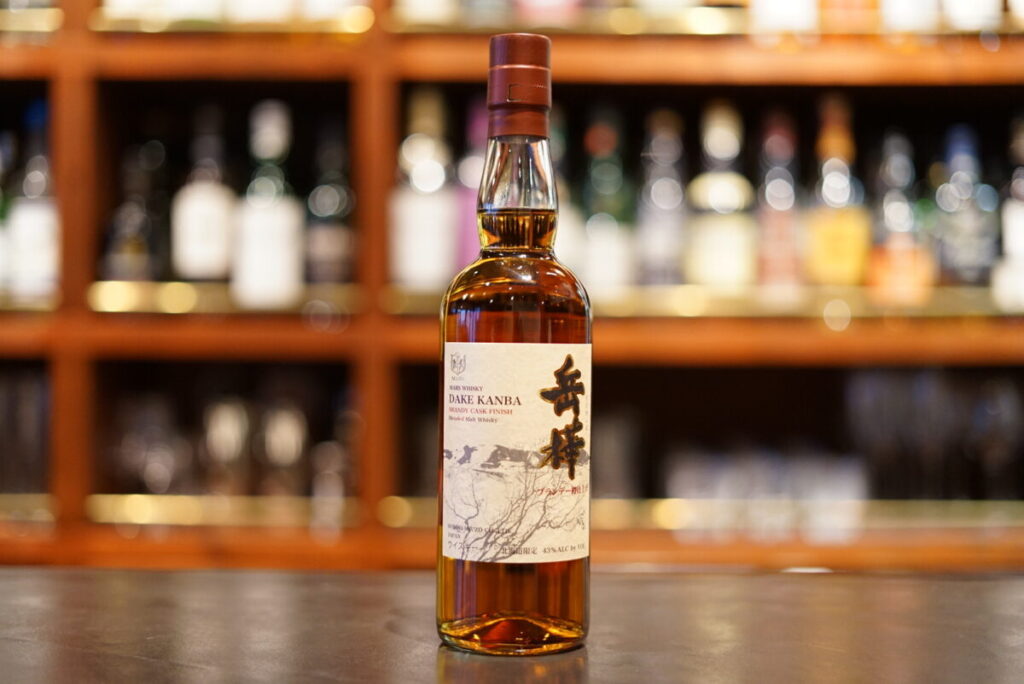 4. Characteristics
Mars Whiskey Dakekanba Brandy Barrel Finish is made by maturing Mars Whiskey Dakekanba in the same barrels used to mature Tokachi brandy for another year and a half.
It is a malt whiskey with a rich yet delicate flavor that combines the characteristics of "Dakekanba" with the sweet aroma and honey flavor derived from brandy, a pleasant peaty aroma, and a smooth, long-lasting aftertaste.

Reference: Kokubu Hokkaido Limited Release of "Mars Whiskey Dakekanba Brandy Barrel Finish
4-1. Tasting Notes
| | |
| --- | --- |
| Aroma | Gentle sweetness of chocolate and banana |
| Taste | Full-bodied sweetness of vanilla and high cocoa chocolate, with a hint of grape astringency |
| Aftertaste | Sweet, mellow and complex aftertaste of brandy. |
4-2. Product Specifications
| | |
| --- | --- |
| Alcohol content | 43% |
| Alcohol category | Blended malt |
| Cask type | Aged in Tokachi brandy barrels |
| Contents | 700ml |
| Number of bottles sold | Limited to 1,400 bottles |
| Suggested retail price | 7,700 yen (tax included) |
| Release date | October 8, 2021 |
5. Awards
No awards have been received at this time.
6. Price
6-1. Manufacturer's suggested retail price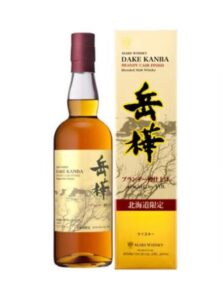 | | |
| --- | --- |
| Product name | Mars Whisky Dakekanba Brandy Barrel Finish |
| Capacity | 700ml |
| Suggested retail price | 7,700 yen (tax included) |
6-2. Resale price on Mercari
The resale price on Mercari is around 12,000 yen to 15,000 yen
(*As of October 21, 2021)

6-3. Yahoo Auction Sold Price
There does not appear to be any items for sale on Yahoo Auction at this time. (*Statistics for the past 180 days as of October 21, 2021)
6-4. Rakuten, Yahoo Shopping, Amazon
There seems to be no sales on mail order sites at this time. (*As of October 21, 2021)
6-5. Price offered at BAR SHINKAI
At BAR SHINKAI, which is operated by this website, onecup is offered for 45ml: 2,310 yen, 30ml: 1,540 yen, 15ml: 770 yen
7. Summary
In order to match the image of the label design and the cuisine of Hokkaido, the beer has been designed with just the right amount of peat to give it a masculine yet supple long finish, and to go well with a wide range of foods.
Indeed, when drunk with soda, the sweetness and slight astringency from the brandy barrels and the slight peat that it has to begin with are a perfect match, making it a whiskey that goes well with food.
Straight up, it has a mellow mouthfeel and a mellow sweetness that fills the mouth. There is a slight hint of peat, but the sweetness from the post-aging brandy barrels overwhelms the sweet, rich and mellow taste.
It is a well-balanced whisky that is easy to drink.
■Please check out the other articles about Hombo Shuzo.