A collaboration whiskey between Kazuya Yoshii, one of Japan's leading rock musicians, and Nagahama Distillery.
Kazuya Yoshii's first encounter with authentic Scottish single malt whisky was at a bar in Scotland that he visited for a photo shoot. He was shocked by the taste of Scotch whisky recommended by a local gentleman, and as he fell in love with the charm of Scotch whisky, I had a strong desire to make a whisky that reflected my own life someday. Kazuya Yoshii himself was involved in setting the taste theme, blending, tasting, and selecting the barrels for this premium whisky.
The product name "BEAUTIFUL" is the title of Kazuya Yoshii's first single song. This is a gem of a song that THE YELLOW MONKEY wrote while he was going through various struggles as a musician during his solo activities after he stopped his activities in 2001. It is a whiskey that delicately expresses the peaty bitterness and sweetness that comes from a mature man who has overcome suffering and sorrow. It was released on August 19, the 50th anniversary of my father's death.
1. Manufacturer
Nagahama Roman Beer Co.
| | |
| --- | --- |
| Establishment | 1995 (Heisei 7) |
| Head office | 14-1 Asahi-cho, Nagahama City, Shiga Prefecture, 526-0056, Japan |
| Owned distillery | Nagahama distillery |

2. Distillery
Nagahama Distillery
| | |
| --- | --- |
| Address | 14-1 Asahi-cho, Nagahama City, Shiga Prefecture, 526-0056 Japan |
| Start of operation | November 1, 2016 (Heisei 28) |
Located in the northern part of Lake Biwa in Shiga Prefecture, Japan's smallest class distillery, Nagahama Distillery is a craft beer brewery and restaurant. Few distilleries, including major whiskey makers, have a restaurant, and it is very rare when it comes to craft whiskey distilleries.
The unique shape of the pot stills installed here reminds us of the very origins of whiskey making.
The Nagahama Distillery was originally a rice warehouse from the Edo period, but was renovated and started making beer in 1996. Later, in 2016, equipment for whiskey production was introduced. The building has an atrium, with saccharification tanks and distillers on the first floor, and crushers and fermentation tanks on the second floor.
There are two pot stills for first distillation and one for second distillation, and the heating system is an alambic type pot still shaped like a gourd with indirect steam, a type of pot still often used for distilling brandy. Among Japanese craft distilleries, only the Nagahama Distillery currently uses this alambic type pot still. It has the advantage of producing a clearer, softer, and less muddy liquor.
From the time of its founding until now, there has been a lot of trial and error. Major changes include changing the malt grinding ratio, changing the fermentation time from 60 hours to 72 hours, and changing the distiller from two to three. Also, the number of distillers was increased from two to three. When the distillery was founded, the first distillation kettle was 1000 liters and the second was 500 liters, but the second kettle was replaced and all three kettles are now 1000 liters. Also, following the example of Scottish distilleries, the distillation equipment is rarely cleaned. We have made many changes in the four years since our establishment.
Reference: Whiskey|Nagahama Roman Beer
For more information on the Nagahama Distillery, see also this article.

3. Product name and photo
YAZUKA World Malt BEAUTIFUL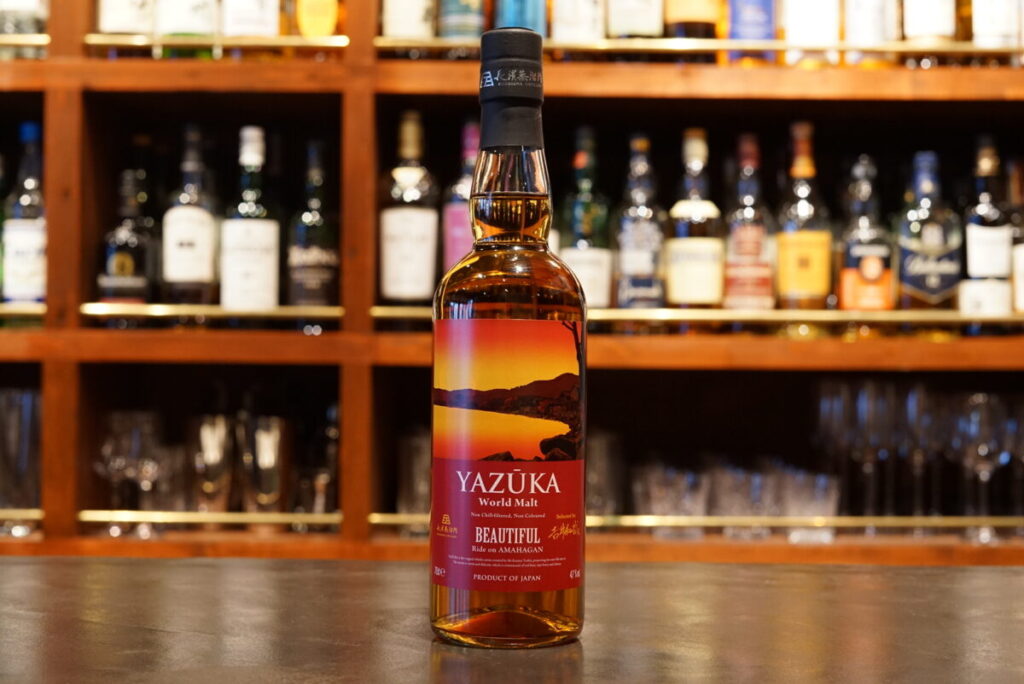 ¥23,400
(2023/03/20 21:32:04時点 楽天市場調べ-
詳細)
4. Characteristics
Mellow aroma of sherry barrels and smoky aftertaste.
A lustrous amber color. The top notes are berries and raisins from the sherry casks. Gorgeous, sweet and gentle aromas reminiscent of passion fruit and dried fruit. The mouthfeel is very smooth, and the smoky accent from the peaty raw material mixes with the richness of the sherry cask to create a more profound taste. The pleasant smokiness lingers on into the finish, disappearing down the back of the throat with a velvety, delicate flavor.
Image display: YAZŪKA World Whisky|Nagahama Roman Beer [/caption

4-1. Tasting Notes
| | |
| --- | --- |
| Aroma | Passion fruit, pineapple and fresh fruit aroma |
| Taste | Sourness of berries and raisins, sweetness of fruit, peaty bitterness |
| Aftertaste | A lingering sweetness with some peat. |
4-2. Product Specifications
| | |
| --- | --- |
| Alcohol content | 47% alcohol by volume |
| Classification | Blended malt |
| Cask Type | Additional maturation in sherry casks |
| Contents | 700ml |
| Number of bottles sold | Limited to 6,000 bottles |
| Suggested retail price | 8,800 yen (8,000 yen without tax) |
| Release date | August 19, 2021 |
5. Awards
No awards have been received at this time.
6. Price
6-1. Manufacturer's suggested retail price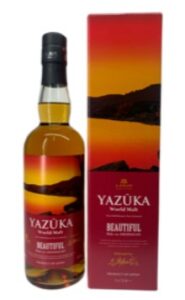 | | |
| --- | --- |
| Product Name | YAZŪKA World Malt " BEAUTIFUL " Ride on AMAHAGAN Selected by Kazuya Yoshii |
| Volume | 700ml |
| Suggested retail price | 8,800 yen (excluding tax: 8,000 yen) |
6-2. Resale price on Mercari
The resale price on Mercari is Around 12,000 yen to 15,000 yen The resale price on Mercari is as follows. (*as of Aug. 23, 2021)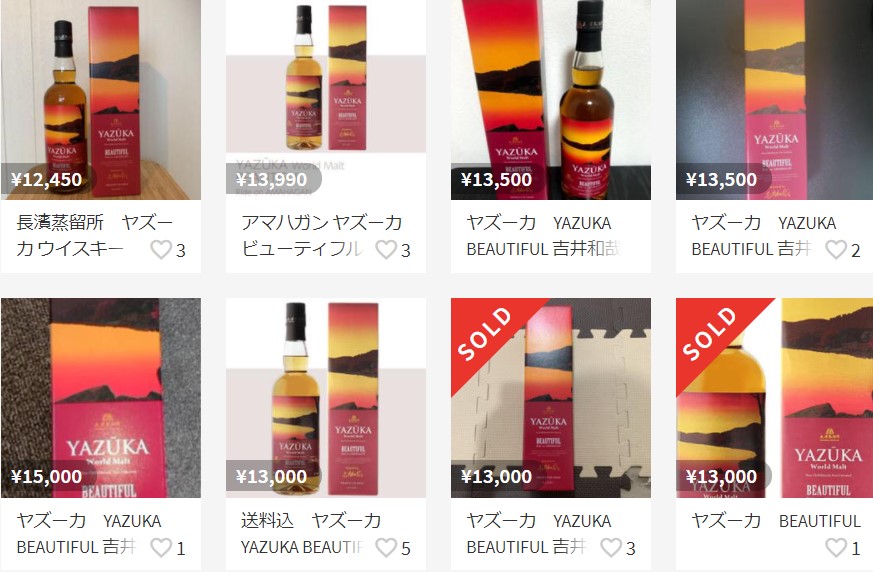 6-3. Yahoo auction bidding price
The winning bid price on Yahoo Auction is as follows for a set of two bottles: "World Blended Father" and "World Malt Beautiful". Lowest bidder: 23,500 yen, highest bidder: 27,980 yen, average bidder: 25,400 yen (*Statistics for the past 120 days as of Aug. 23, 2021)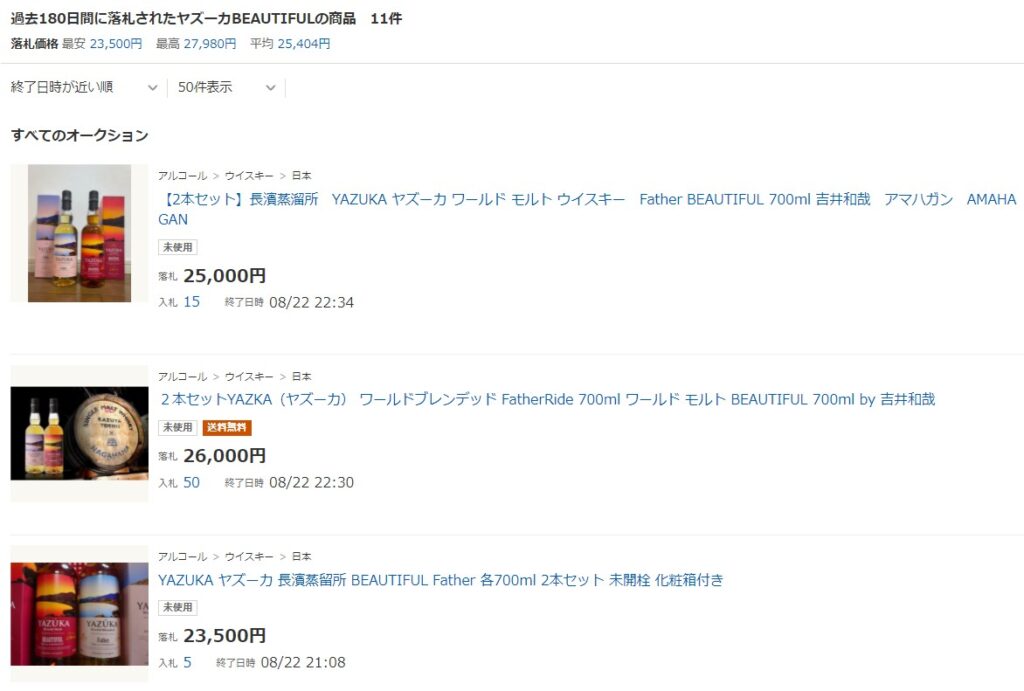 6-4. Rakuten, Yahoo Shopping, Amazon
A set of two bottles of "World Blended Father" and "World Malt Beautiful" is also available at mail order sites for around 42,000 yen. (*As of Aug. 23, 2021)

¥23,400
(2023/03/20 21:32:04時点 楽天市場調べ-
詳細)
6-5. Price offered at BAR Shinkai
At "BAR SHINKAI", which is operated by this website, it is 1 glass, 45ml: 2,640 yen, 30ml: 1,760 yen, 15ml: 880 yen. 
7. Summary
Kazuya Yoshii's attention to detail is not limited to blending and tasting, but also extends to aging. Bourbon barrels for "Father" and sherry barrels for "Beautiful" were used for additional aging to match the taste of each song. By carefully maturing the whiskey in the Nagahama Distillery's maturation room while listening to each original sound source in the barrels with pure audio without any mixture, we succeeded in imbuing the world view of each song even more strongly into the taste of the whiskey.
I'm sure there are some people who bought this whisky because they are fans of whisky but don't know much about it. If the whiskey is aged in barrels with the music, the fans will be very happy. Please enjoy this whiskey while playing the music and thinking about it.
■Please check out the other articles about Nagahama Distillery.
Japanese Whisky Dictionary
Japanese Whisky Dictionary
Lastly: Recommended Books on Japanese Whisky
If you want to learn more about Japanese whisky, which is a worldwide trend, and want to learn more about it, we highly recommend these books.
This is a book written by Mamoru Tsuchiya, a world-famous whisky critic and representative of the Whisky Culture Research Institute, titled " Japanese Whisky as a Culture that Works for Business "
The book covers the basics of whisky, the introduction of whisky to Japan, the birth of Japanese whisky, advertising strategies and the rise of Japanese whisky, and the current rise of craft distilleries. This is a book that summarizes Japanese whisky in a very easy to understand way.
祥伝社
¥1,760
(2023/03/21 09:13:29時点 Amazon調べ-
詳細)
The April 2021 issue of Whisky Galore, published by the Whisky Culture Research Institute.
This issue of Whisky Galore, published by the Whisky Culture Research Institute, features the definition of Japanese whisky and a list of 24 distilleries as the latest in Japanese whisky. It also includes an interview with Suntory Chief Blender Shinji Fukuyo, making it a must-have for Japanese whisky fans.
¥1,608
(2023/03/20 18:18:59時点 Amazon調べ-
詳細)
This is the Japanese version of Whisky Risng, published in the US in 2016, with much updated content. Not only does it describe the history of Japanese whiskey in detail, but it also includes data on all the distilleries in Japan, including the craft distilleries that have been founded in recent years. The book also includes descriptions of the legendary bottles that have been released, as well as information on bars where Japanese whiskey can be found.
小学館
¥4,620
(2023/03/20 19:55:18時点 Amazon調べ-
詳細)
埼玉県出身。
本業は俳優、グラフィックデザイナー。
お酒を嗜むのが好きで新海BARに入社。
「Japanese Whisky Dictionary」では、記事の英語などへの翻訳を担当している。