The Sasanogawa Brewery, known as "Cherry in the North, Toa in the East, Mars in the West," played a role in the local whisky boom around 1975 to 1960.
This is a port wine cask finish from the Yamazakura series, produced exclusively for Isetan Mitsukoshi by the only and oldest local whisky maker in Tohoku.
1. Manufacturer
Sasanogawa Shuzo Co.
| | |
| --- | --- |
| Establishment | 1765 (Meiwa 2) |
| Headquarters location | 1-178 Sasanogawa, Koriyama-shi, Fukushima 963-0108, Japan |
| Owned distillery | Azumi distillery |
2. distillery
Azumi distillery
| | |
| --- | --- |
| Location | 1-178 Sasagawa, Koriyama city, Fukushima pref. |
| Start of operation | 1946 (old facilities) April 2016 (new facilities) |
1710: Record of sake tag in Yamaguchi family in Funatsu, south of Lake Inawashiro
1742 (Kampo 2) Moved to Koriyama Village
1765: Started making and selling sake.
1920 Established Yamaguchi Sake Brewery Co.
1932 Yamazakura Shuzo Limited Partnership was established.
1940: Licensed to produce synthetic sake
Licensed to make whisky in 1946
1948: Licensed to manufacture shochu and alcohol.
1957 Moved from Nakamachi, Koriyama City to the present location.
1960 Licensed to manufacture Western liquors (gin, vodka and liqueur).
1966 Sasanogawa Shuzo Co.
1983 Completion of whisky malt storage facility
1983: Cherry whisky shows tremendous growth.
1987 Sasanogawa Daiginjo won the highest gold medal at the Monde Selection.
1998 (1998) Yamazakura Shuzo and Sasanogawa Shuzo merged, with Sasanogawa Shuzo Co., Ltd. as the surviving company
2004 (2004) Toa Shuzo entrusted us with their stored whisky.
2005 (Heisei 17) The whisky planned by Venture whisky was released as "Ichirose Malt".
2008 (2008) Two Ichirose Malt products won awards at the WWA Japanese whisky Awards.
2014 (2016) The Azumi distillery started full-scale operations.
Yamazakura Shuzo, founded in 1710 south of Lake Inawashiro, moved to Koriyama in 1765.
This Yamazakura Shuzo was the first to obtain a license to brew whisky in 1946, as the demand for whisky increased as a national policy during the American occupation after the war.
Brewing sake was extremely difficult due to the rice shortage during and after the war, and the influx of Western culture after the war was also a factor in the company's commitment to whisky production.
In the 1950's and 1960's, during the period of rapid economic growth, Sasanogawa Brewery's Cherry whisky, along with Toa Shuzo and Honbo Shuzo, was called "Cherry in the North, Toa in the East, and Mars in the West.
However, after a period of low growth and changing tastes, Toa was forced to withdraw from the business in 2003, and the barrels of undiluted whisky from the distillery in Hanyu were taken care of by Sasanogawa.
In 2003, Toa was forced to withdraw from the business, and Sasanogawa took custody of the barrels of undiluted sake from the distillery in Hanyu. This was a big help in the release of "Ichirose Malt," which later became popular worldwide.
Since the end of the war, the distillery has continued to produce whisky in small quantities, and currently uses two types: Scotch and malt imported from Kentucky.
It is located in Sasanogawa Shuzo, a sake brewery that has been producing sake since the Edo period, and started full-scale operations at the end of October 2016 with production facilities in place.
The pot still looks great against the old-fashioned plaster white walls.
Reference: Azumi Distillery official website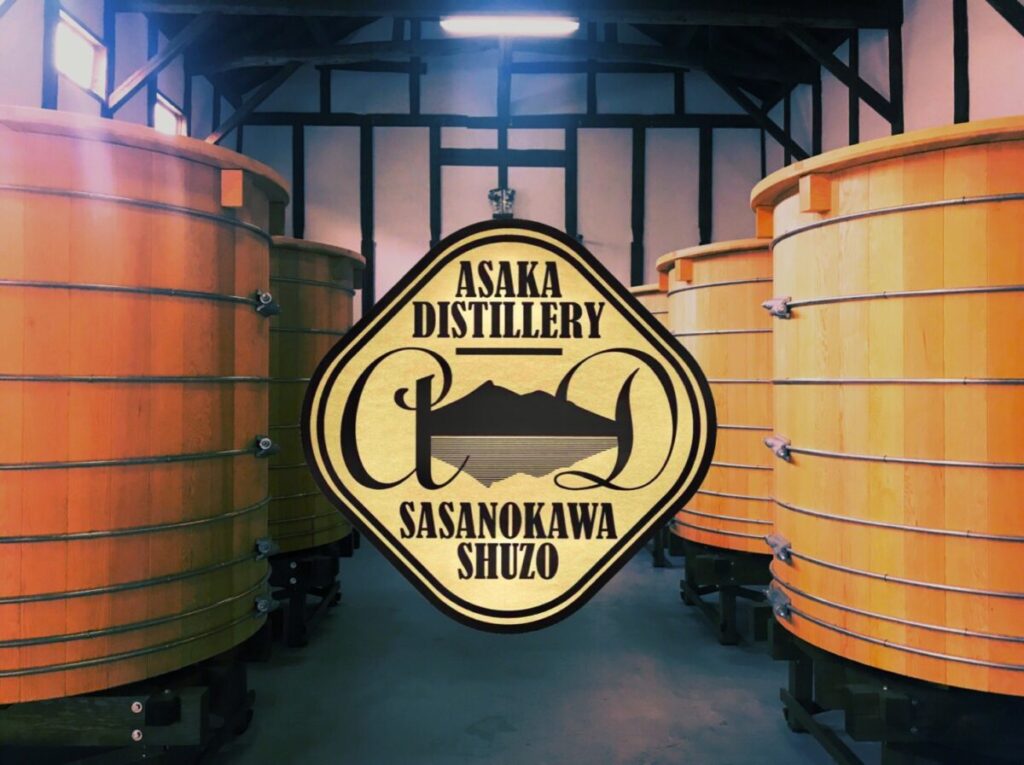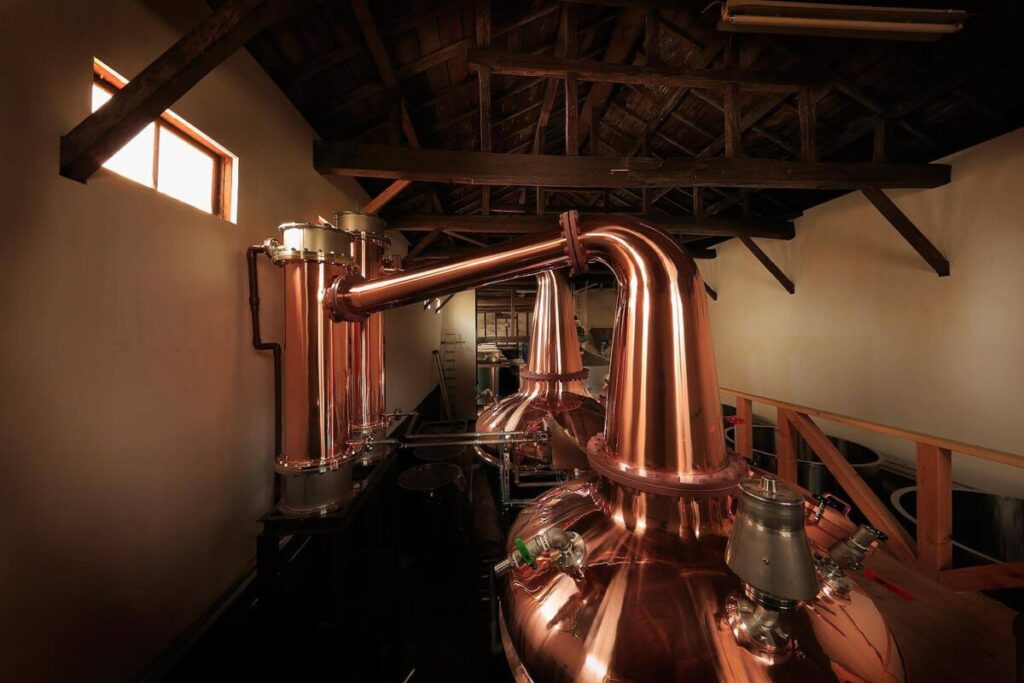 For more information about Azumi Distillery, please see here.
https://en.jpwhisky.net/2021/01/01/japanesedistillery-2/#2-3_Asaka_Distillery_Sasanokawa_Sake_Brewery"]
3. Product name and photo
Pure malt whisky Yamazakura Port Wine Cask Finish
puremaltwhisky YAMAZAKURA PortWineCaskFinish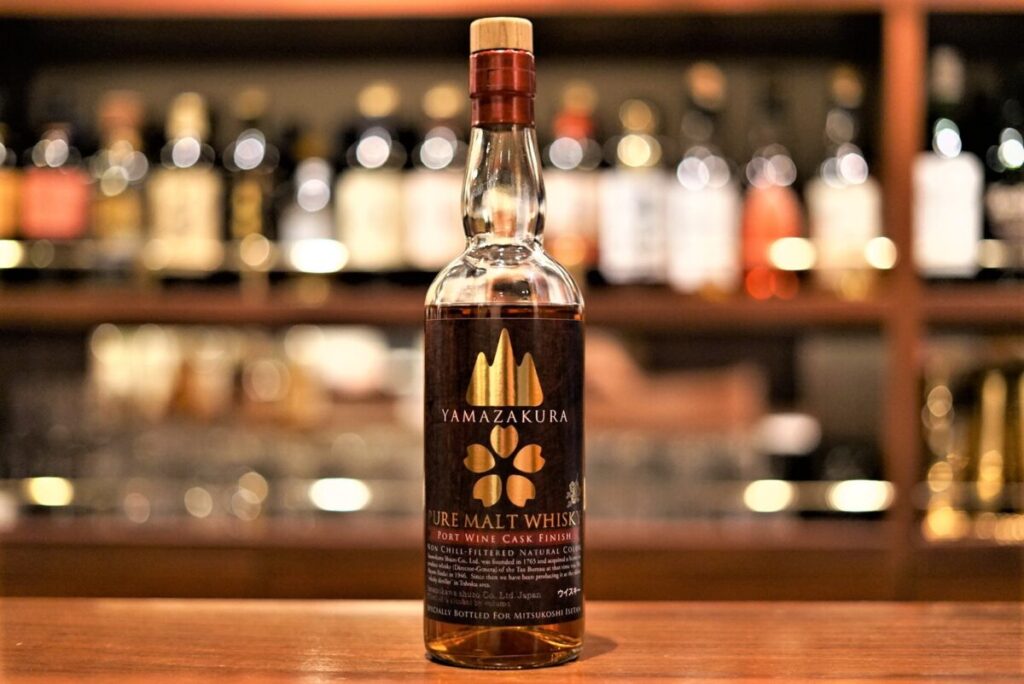 4. Characteristics
The cold wind from the Bandai grater nurtures Azumi's whisky.
A pure malt whisky made from carefully selected malt matured in bourbon barrels and finished again in port wine barrels.
Non-chill filtered (no cooling filtration) and non-colored (no coloring) bottling.

It has a sweet aroma and strong tannins unique to port wine.
Limited edition for Isetan Mitsukoshi.
The port wine is from Portugal, which is characterized by its mild tannins.
4-1. Tasting Notes
| | |
| --- | --- |
| Aroma | Barrel-derived syrup, medicinal herbaceousness |
| Taste | Wine acidity, spicy and bitter |
| Aftertaste | Tannin aroma from the nose |
4-2. Product Specifications
| | |
| --- | --- |
| Alcohol content | 46% alcohol by volume |
| Classification | Single Malt |
| Barrel type | Bourbon barrels |
| Contents | 700ml |
| Number of bottles sold | Number of bottles sold |
| Suggested retail price | 9,350 yen (tax included) |
| Release date | 2019 |
5. Awards
There is no award history at this time.
6. Price
6-1. Manufacturer's suggested retail price

Pure Malt Whisky Yamazakura Port Wine Cask Finish
| | |
| --- | --- |
| Product name | Pure Malt Whisky Yamazakura Port Wine Cask Finish |
| Volume | 500ml |
| Suggested retail price | 8,500 yen (tax included: 9,350 yen) |
6-2. Resale price on Mercari
The resale price on Mercari is 11,000 yen The resale price on Mercari is as follows. (*As of 6/2/2021)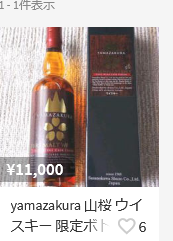 6-3. Sold price on Yahoo Auction
The price on Yahoo Auction is 16,200 yen (*as of 6/2/2021)
The price on Yahoo Auctions (as of 6/2/2021) is almost impossible to find now.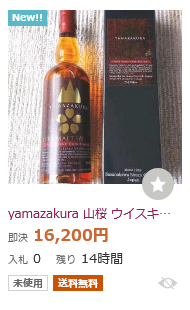 6-4. Rakuten, Yahoo Shopping, Amazon
There are no mail order sites. (*As of 6/2/2021)
Pure malt whisky Yamazakura Port Wine Cask Finish seems to be difficult to obtain at present, partly because of its limited quantity.
(The above link is for the standard type made by the same Azumi distillery.)
6-5. Price offered at BAR Shinkai
At "BAR SHINKAI", which is operated by this site, we offer even small quantities such as 1 glass, 45ml: 2,310 yen, 30ml: 1,540 yen, 15ml: 770 yen We also offer them in small quantities such as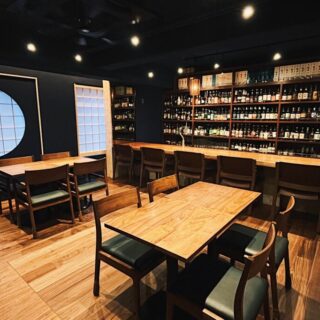 Information about "BAR Shinkai"
Japanese Whisky Dictionary operates three BAR Shingai stores in Minato Ward, Tokyo. In addition to the Japanese whiskeys introduced on this site, they also hand...
7. Summary
This is a famous product that was quietly marketed because it is a limited product of Isetan Mitsukoshi.
Firm aroma. Tannins that can be fully felt.
The Sasanogawa Brewery, one of the leading whisky producers in the Tohoku region, has created a series of cask finishes with many variations.
I hope you will enjoy it like a wine, slowly warming the glass in your palm and feeling the aroma open up.