Akashi is a brand of whiskey produced by the Eigashima Sake Brewery, which produces a variety of alcoholic beverages including sake, wine, and brandy.
The name "Akashi" is derived from the city of Akashi, Hyogo Prefecture, where the brand was born.
The company is also known as the brewer of "Kamitaka" sake, and also produces Western-style liquors such as "White Oak Whisky" blended whisky, "Charman Brandy" and "Charman Wine" .
Since around 2011, the company has also been focusing on overseas exports, and is particularly popular in France, with 90,000 bottles exported.
This cask series is a great value lineup that is cosmetically pleasing, accessible yet special.
1. Manufacturer
Eigashima Sake Brewery
| | |
| --- | --- |
| Established | May, 1888 |
| Head office location | 919 Nishijima, Okubo-cho, Akashi, Hyogo 674-0065, Japan |
| Owned distillery | Eigashima distillery (former White Oak distillery) |

2. Distillery
Eigashima distillery
| | |
| --- | --- |
| Address | 919 Nishijima, Okubo-cho, Akashi, Hyogo 674-0065, Japan |
| Start of operation | in 1919 |
1891: Completed the shochu storage "Nibankura" *It became a whisky storage later.
1919: Obtained a whisky license and established a distillery.
        In the same year, the local whiskey "White Oak" was released.
1984: New distillery completed.
2007: First single malt whisky "Akashi" 8 years old released.
Akashi is made at the White Oak Distillery in Eigashima, Akashi City, Hyogo Prefecture.
The name of the distillery is now changed to Eigashima Distillery in order to make it easier to understand for foreign tourists.
The distillery is famous for being the closest distillery to the sea in Japan, and it is also the westernmost single malt whiskey distillery in Japan.
As a small fishing village, Eigashima enjoys a pleasant climate all year round and benefits from a warm oceanic climate right next to the Akashi Strait, an inland sea.
A license to produce whiskey and wine was obtained in 1919.
The first whiskey distillation in Japan took place at the Yamazaki Distillery in 1923, but it was the Eigashima Distillery (formerly the White Oak Distillery) that received the first patent for whiskey distillation in Japan in 1919.
In 1919, Masataka Taketsuru, the father of Japanese whiskey, went to Scotland to learn about whiskey distilling.
It is amazing that the White Oak Distillery existed at such an early stage.
However, although the patent was obtained, the correct method of making whiskey was not handed down, so it is said that what was being made at that time was imitation whiskey.
Reference: White Oak Distillery official website
See also this ↓ for more information on White Oak Distillery.
3. Product name and photo
Single Malt Akashi 3 years Japanese Sake Cask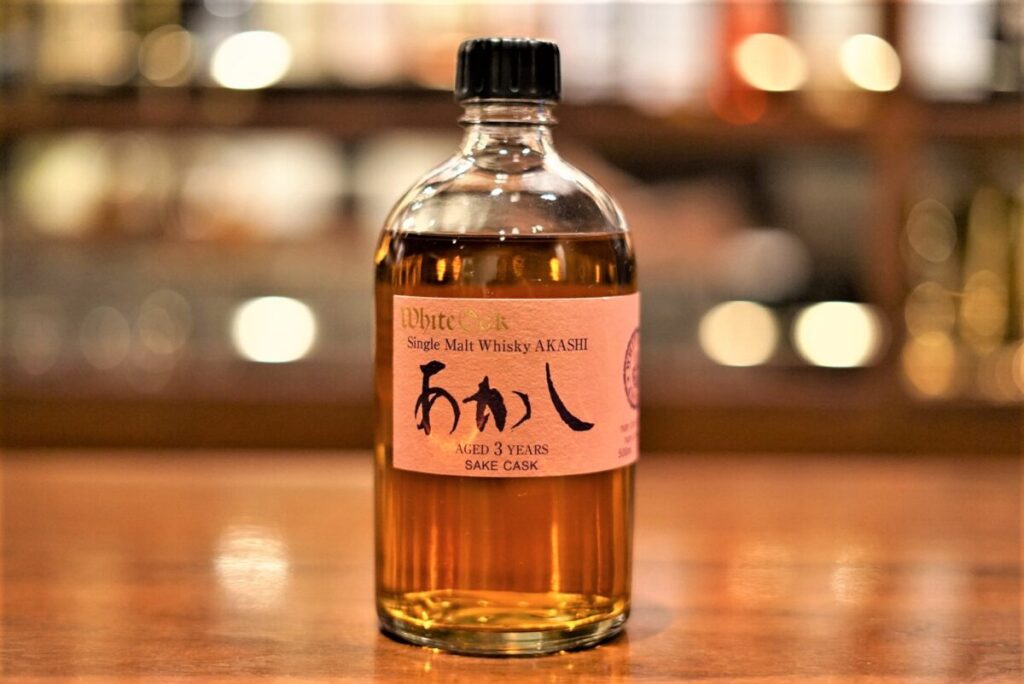 ¥6,250
(2023/06/01 09:32:28時点 楽天市場調べ-
詳細)
4. Characteristics
A single malt whiskey made at a small distillery in Akashi, Hyogo Prefecture, overlooking the Seto Inland Sea.
It is stored for three years in oak barrels used for storing sake.
Bottled in non-chill-filtered and non-colored bottles in order to enjoy the original malt flavor.

This sake cask is made by filling a sake cask with whiskey and maturing it.
During the sake making process, lactic acid is added to protect the yeast and encourage its activity.
The lactic acid flavor is transferred to the whiskey in the aroma as the most important element of sake cask, making it an unusual flavor.
4-1. Tasting Notes
| | |
| --- | --- |
| Aroma | Peaty, lactic acidic |
| Taste | Bittersweet, smooth and wild. |
| Aftertaste | Sweet aftertaste |
4-2. Product Specifications
| | |
| --- | --- |
| Alcohol Content | 50%  |
| alcohol category | Single malt |
| Barrel type | Japanese sake barrels |
| Contents | 500ml |
| Number of bottles sold | Number of bottles sold |
| Suggested retail price | 6,380 yen (tax included) |
| Release date | 2018  |
5. Awards
No awards have been received at this time.
6. Price
6-1. Manufacturer's suggested retail price
[Limited Edition] Single Malt Akashi 3 Year Old Japanese Sake Cask
| | |
| --- | --- |
| Product name | Single Malt Akashi 3 years old Sake Cask |
| Volume | 500ml |
| Suggested retail price | 5,800 yen (tax included: 6,380 yen) |
6-2. Resale price on Mercari
The resale price on Mercari is 5,500 yen ~ 6,600 Around 6,600 yen The resale price on Mercari is as follows. (*as of April 26, 2021) *currently sold out.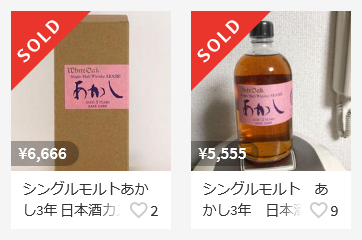 6-3. Yahoo auction bidding price
The price on Yahoo Auction is Lowest bidder: 4,000 yen, Highest bidder: 13,000 yen, Average bidder: 7,440 yen (*as of 4/26/2021)
The price on Yahoo Auctions is (*as of April 26, 2021)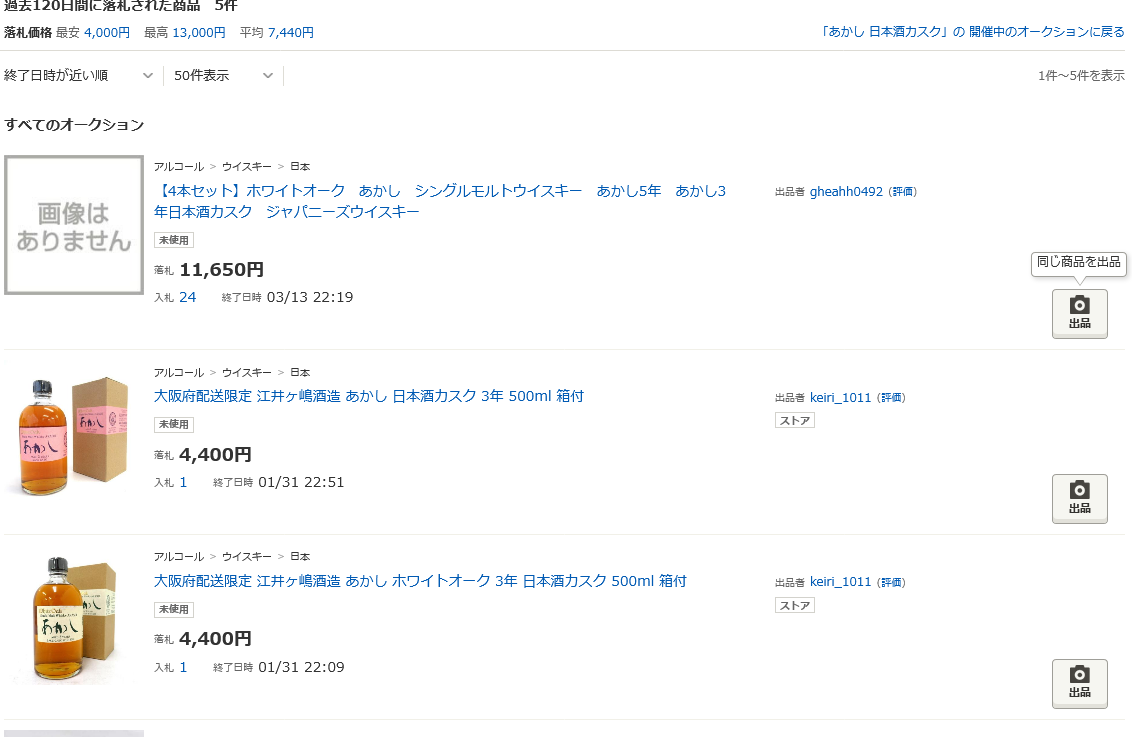 6-4. Rakuten, Yahoo Shopping, Amazon
It is also sold at Around 6,250 yen It is also sold at (*as of April 26, 2021)

¥6,250
(2023/06/01 09:32:28時点 楽天市場調べ-
詳細)
6-5. Price offered at BAR Shinkai
At "BAR SHINKAI", which is operated by this site, we offer it in small quantities. 1 glass, 45ml: 2,640 yen, 30ml: 1,760 yen, 15ml: 880 yen (*As of April 26, 2021) Bar Shinkai, which is operated by this site, offers even small quantities such as
7. Summary
This sake cask has a unique flavor that cannot be brewed in wine or bourbon barrels.
The lactic acid aroma tickles the nostrils, and then there is the aroma of rice malt and the unique aroma of the brewery.
The taste is not as strong as the aroma, with vanilla and sweet sake, mild, smooth, and elegantly sweet, giving us a new possibility for whiskey.

Please check out our other articles on Akashi.
Lastly: Recommended Books on Japanese Whisky
If you want to learn more about Japanese whisky, which is a global trend, we highly recommend these books.
In the December 2021 issue of Whisky Galore, published by the Whisky Culture Research Institute, we report on 11 Japanese craft distilleries, including some that are open to the public for the first time, under the title of "Japanese Whisky Craft Frontline," the first of three consecutive issues. Why did the popularity of Japanese whiskey and the craft boom occur? We will examine with interviews. Chichibu Distillery / Chichibu No.2 Distillery / Mars Shinshu Distillery / Mars Tsunuki Distillery / Kanosuke Distillery / Hioki Distillery / Ontake Distillery / Osuzuyama Distillery / Kaikyo Distillery / Hanyu Distillery / Konosu Distillery
This is a book written by Mamoru Tsuchiya, a world-famous whisky critic and representative of the Whisky Culture Research Institute, titled "Japanese Whisky as a Culture that Works for Business" .
The book covers the basics of whisky, the introduction of whisky to Japan, the birth of Japanese whisky, advertising strategies and the rise of Japanese whisky, and the current rise of craft distilleries. This is a book that summarizes Japanese whisky in a very easy to understand way.
Masataka Taketsuru, the founder of Nikka Whisky, devoted his life to brewing whisky in Japan. This is a revised and reprinted version of the autobiography of a man who simply loved whiskey and talked about himself. The book vividly depicts the days when he went to Scotland alone to study as a young man and overcame many hardships to complete Japanese whisky, as well as his companion, Rita.
Launching in 2019. With the world experiencing an unprecedented whisky boom, what were the managers of craft distilleries thinking and what were their thoughts as they took on the challenge of making whiskey? This book tells the stories of 13 craft distillery owners, including Ichiro Hido of Venture Whisky, famous for his Ichirose Malt, who inspired the birth of craft distilleries in Japan.
This is the Japanese version of Whisky Risng, published in the US in 2016, with much updated content. Not only does it describe the history of Japanese whiskey in detail, but it also includes data on all the distilleries in Japan, including the craft distilleries that have been founded in recent years. The book also includes descriptions of the legendary bottles that have been released, as well as information on bars where Japanese whisky can be found.