Fuji Sanroku 18 Year Old Blended Small Batch 2018 is a new version of Kirin Whisky Fuji Sanroku Blended 18 Year Old 2016, which in 2017 won its first gold medal at the International Spirits Challenge (ISC) 2017, the world's leading liquor competition.
It is a deep, mature and aromatic whisky blended from a small batch of casks selected from those distilled and matured over 18 years at the Fuji Gotemba Distillery in Gotemba City, Shizuoka Prefecture, in a beautiful setting overlooking Mount Fuji.
1.Manufacture
Kirin Distillery Co.
| | |
| --- | --- |
| Establishment | August 1972 |
| Head office | 970 Shibanta, Gotemba, Shizuoka 412-0003, Japan |
| Distilleries owned | Fuji Gotenba Distillery |
2.Distillery
Venture whisky Chichibu distillery
| | |
| --- | --- |
| Location | 970 Shibanta, Gotemba, Shizuoka 412-0003, Japan |
| Start of Operations |  November 1973 |
Aug 1972 Kirin Seagram Company Limited was established as a joint venture between Kirin Brewery Company Limited (Japan), JE Seagram Company Limited (U.S.A., at that time) and Seavers Brothers Limited (U.K.).
Nov 1973   Fuji Gotemba distillery completed and production commences.
February 1974    Domestic whisky "Robert Brown" launched.
July 2002    Company name changed to Kirin Distillery Company Limited (became a wholly owned subsidiary of Kirin Brewery Company Limited)
September 2005    Domestic whisky Kirin whisky Fuji-Sanroku Barrel-Ripened 50° and Kirin whisky Fuji-Sanroku Single Malt 18 Years were launched.
March 2016    Launch of Kirin whisky Fuji-Sanroku Blended 18 Year Old and Kirin whisky Fuji-Sanroku Barrel-Ripened 50°.
August 2018    Launch of "Fuji-Sanroku Signature Blend".
April 2020    Launch of Kirin Single Grain whisky Fuji

Located at the foot of Mt Fuji, Kirin Distillery's Fuji Gotemba Distillery is one of the few whisky distilleries in the world to carry out the entire process from preparation to bottling of malt and grain whisky.
The distillery produces a wide range of Kirin Group products, including whisky, mineral water and canned chuhai, in an environment blessed with abundant underground water from Fuji, a cool climate and frequent fog throughout the year.
In February 2019, we expanded our production facilities in preparation for a further increase in whisky sales volumes in the future, investing approximately 8 billion yen.  
In order to produce a wide variety of malt whisky, it has doubled our capacity to produce malt whisky by installing four new small fermentation tanks and four new distillers in two series, and increased our barrel storage capacity by 20% by renovating and enlarging the barrel maturation room. The aim is to create a production system that will ensure a stable supply of high quality whisky for years to come. The plant is scheduled to start operations in June 2021.
Reference: Kirin Distillery Company Limited official website
For more information about Fuji Gotemba Distillery, please click here↓.
https://en.jpwhisky.net/manufacturer/fujigotenba_en/
3. Product Name and Photo
Kirin FUJI-SANROKU Aged 18 Years Small Batch Blended Whisky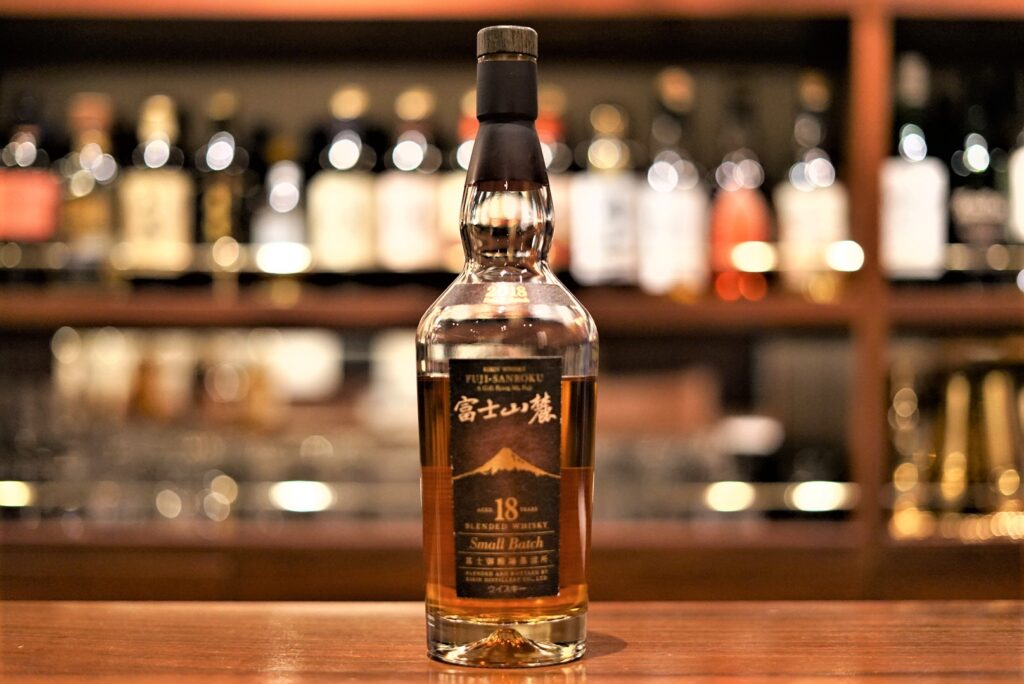 4.Features
Sweet, oaky notes on a clear palate
A blend of malts and grains that have been matured for more than 18 years and are infused with natural gentleness.
The nose is sweet and fragrant, reminiscent of pear tart.
The palate is round and robust with pleasant peat flavours.
The finish is woody with a hint of sweetness and lingers on the palate.
The design of the bottle is based on the image of Mt Fuji, with its mellow, smooth taste and long, lingering, relaxing finish. Fuji is also engraved on the bottom of the bottle, allowing you to enjoy this whisky while admiring the changing expression of Mt Fuji depending on the whisky liquid.
4-1. Tasting notes
| | |
| --- | --- |
| fragrance | Luscious fruity aromas of pear and prickly pear jams, with hints of tart and galette. |
| Taste | The mouthfeel is mellow and full-bodied. The palate is mellow and rich, with a hint of peat. |
| Aftertaste | The complex finish is long and lingering, with a woody aftertaste with a hint of sweetness. |
Reference: Kirin Single Grain whisky Fuji Official Website
4-2. Product specification
| | |
| --- | --- |
| Alcohol content | 43% |
| Classification | Blended Whisky |
| Cask type | ー |
| Volume | 700ml |
| Number of bottles sold | ー |
| Suggested retail price | ー |
| Release date | ー |
5. Awards
There are no awards at present.
6. Price
6-1. Manufacturer's suggested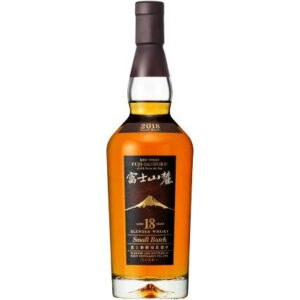 | | |
| --- | --- |
| Product Name | FUJI SANROKU 18 Year Blended Small Batch 2018 |
| Volume | 700ml |
| Suggested retail price | ー |
6-2. Resale prices at Mercari
Resale prices at Mercari are around 29,000 yen to 33,000 yen. (*As of April,12, 2021)
6-3. Yahoo Auction Winning Bid Price
The winning bid price at Yahoo Auction is 25,000 yen, up to 32,500 yen, average 27,900 yen (*Statistical information for the past 120 days from April 12, 2021)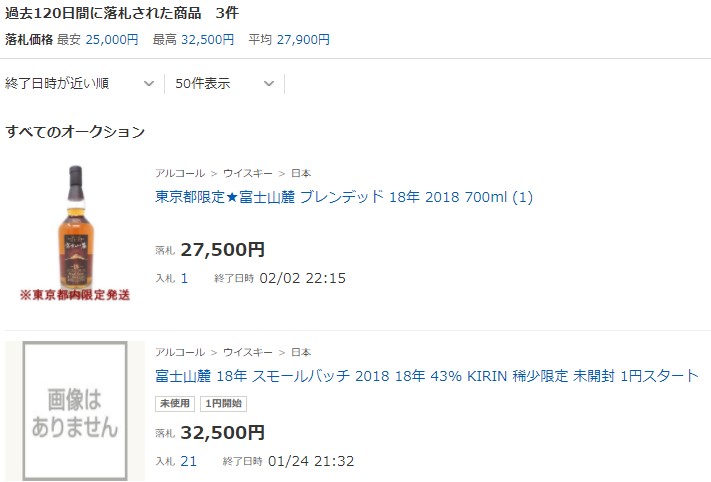 6-4. Rakuten, Yahoo Shopping, Amazon
It is also sold on mail order sites for around 53,000yen. (*As of April 12, 2021)
6-5. Offered prices at BAR Shinkai
At "BAR SHINKAI", which is operated by our website, we offer a single glass, 45ml: 9,460 yen, 30ml: 6,380 yen, 15ml: 3,190 yen.
https://en.jpwhisky.net/about-2/barshinkai-4/
7. Summary
This whisky is watery and smooth, probably because the alcohol and water have mingled over a long period of maturation.
The taste is much more powerful than that of the standard brand, Fuji Sanroku 50°.
It is currently very hard to find and the price is rising.
We hope you will take this opportunity to try it at Bar SHINKAI.
For more information on Kirin, please check out our other articles.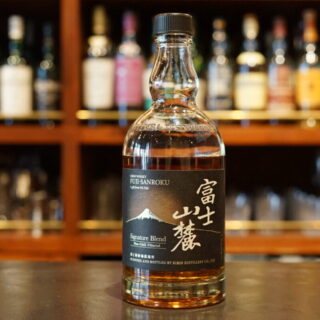 【レビュー】富士山麓 シグニチャーブレンド

熟成のピークを迎えた原酒を厳選しブレンドした「富士山麓」の自信作このウイスキーの特徴として、熟成年数にこだわらず使用する原酒(モルト、樽材など)によって異なる熟成の進み具合に着目し、それぞれが最高の熟成度となる時期となる原酒をブレンドしているところにあります。
https://jpwhisky.net/2021/03/26/kirin-fuji-sanroku-non-chill-filtered%e3%80%80blended/
https://jpwhisky.net/2021/03/04/kirin-single-grain-whisky-fuji/