"Iwai Tradition" is a blended whisky made with respect and gratitude to Kiichiro Iwai, the creator of Mars.
It is characterized by a complex and pleasant aroma, gentle and soft on the palate, but with a firm body and a sense of maturity.
Iwai Tradition Sherry Cask Finish is a blended whisky made by additionally maturing the elegant and profoundly flavorful Iwai Tradition in casks that were used to mature Pedro Ximenez, an ultra-sweet sherry.
1. Manufacturer
Hombo Shuzo Co.
| | |
| --- | --- |
| Establishment | 1872 |
| Head office location | 3-27, Minamisakae, Kagoshima City, Kagoshima Prefecture, 891-0122, Japan |
| Owned distilleries | Mars Shinshu distillery, Mars Tsunuki distillery |
2. Distillery
Mars Shinshu distillery
| | |
| --- | --- |
| Location | 4752-31, Miyata-mura, Kamiina-gun, Nagano 399-4301, Japan |
| Start of operation | 1985 |
It was in 1949 that Hombo Shuzo, which had been striving to make shochu, a Japanese distilled liquor, in Kagoshima, obtained a license to produce whiskey. Since then, the company has been holding onto the dream of one day producing a genuine whiskey that takes advantage of the Japanese climate.
In 1960, after several years of whisky production in Kagoshima, he established the Mars Yamanashi Winery in Yamanashi, a factory for wine and whisky production. Then, in order to engage in whisky production in earnest, they searched for an even more ideal location.
The natural conditions for whisky production are very severe, including a cold climate with clean air, as well as moderate humidity and good quality water.
After searching for a site that met these conditions, we opened the Mars Shinshu Distillery in 1985 at an altitude of 798 meters at the foot of Mount Komagatake in the Central Alps of Nagano Prefecture, in search of the best environment for whisky production.
In 1992, the distillery stopped distilling due to sluggish demand for whiskey. Later, as Japanese whisky began to be appreciated worldwide, the demand for whisky began to recover in 2009.
In September 2020, the distillery will be completely renovated for the first time in 35 years. The investment will be approximately 1.2 billion yen.
From May 2019, the whisky distillation building (including barrel storage) will be newly constructed for the purpose of renovating aging facilities, building barrel storage facilities with an eye to increasing whisky production, and observing whisky production, and the visitor building will be newly constructed for the purpose of selling original whisky and goods, and existing facilities and equipment will be renovated.
The new whisky distillery building has a total floor area of 1,996 square meters (including a barrel storage room that will hold approximately 2,500 barrels), and the visitor building has a floor area of 746 square meters.
Reference: Hombo Shuzo official website
■Production capacity: 1.1 tons of raw malt/day
■Brewing capacity: approx. 700 liters/day, approx. 185 kl/year (planned for FY2020)
■Major equipment: 1 malt grinding machine, 1 mash tun reuter (saccharification tank) 6KL x 1, stainless steel fermentation tanks 6KL x 3, Douglas fir wooden fermentation tanks (relocated) 6KL x 3, first distillation kettle (relocated)
For more information about Mars Shinshu Distillery, please see here↓.

3. Product name and photo
Iwai Tradition Sherry Cask Finish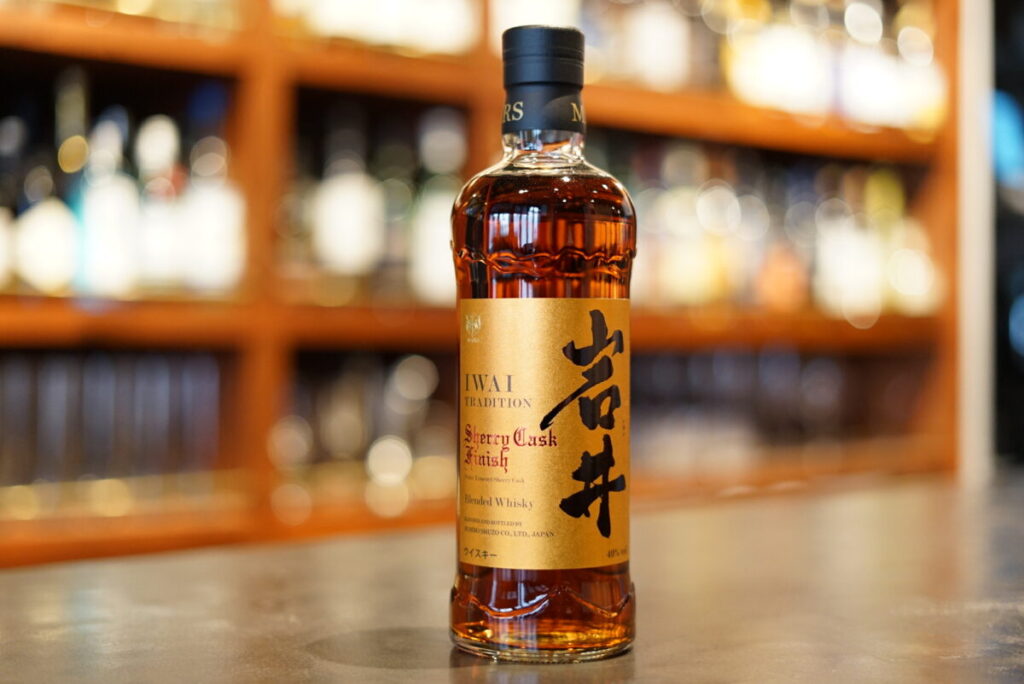 4. Characteristics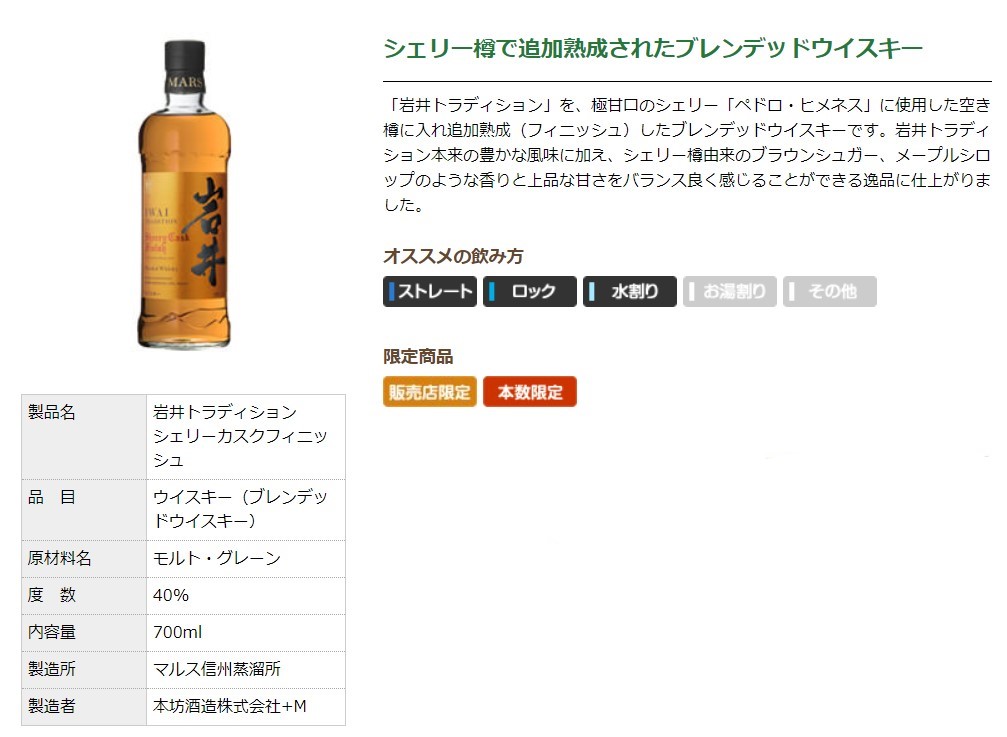 Blended whisky additionally matured in sherry casks

Iwai Tradition is a blended whisky that has been additionally aged (finished) in empty sherry casks used for Pedro Ximenez, an ultra-sweet sherry. In addition to the rich flavor of Iwai Tradition, you can feel the well-balanced aroma of brown sugar and maple syrup derived from sherry casks and the elegant sweetness.
4-1. Tasting Notes
| | |
| --- | --- |
| Aroma | Sweet, syrupy aroma, mellow oak aroma from sherry casks. |
| Taste | Thick texture, honey-sweetness, and the ultra-sweet taste of Pedro Ximenez. |
| Aftertaste | The sweet oak aroma changes to a soft and elegant sweetness. |
4-2. Product Specifications
| | |
| --- | --- |
| Alcohol content | 40% |
| by alcohol | Blended |
| Cask type | Sherry (Pedro Ximenez) cask finish |
| Contents | 700ml |
| Number of bottles sold | Limited quantity |
| Suggested retail price | 2,970 yen (tax included) |
| Release date | March 26, 2021 |
5. Awards
There is no award history at this time.
6. Price
6-1. Manufacturer's suggested retail price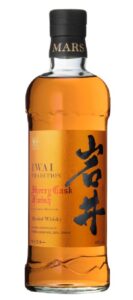 | | |
| --- | --- |
| Product name | Iwai Tradition Sherry Cask Finish |
| Capacity | 700ml |
| Suggested retail price | 2,970 yen (tax included) |
6-2. Resale price on Mercari
The resale price on Mercari is around 6,000 yen to 7,000 yen. (*As of March 31, 2021)

6-3. Yahoo Auction Sold Price
The lowest price currently listed on Yahoo Auction is 3,100 yen, the highest is 6,000 yen, and the average is 4,674 yen
(*as of March 31, 2021)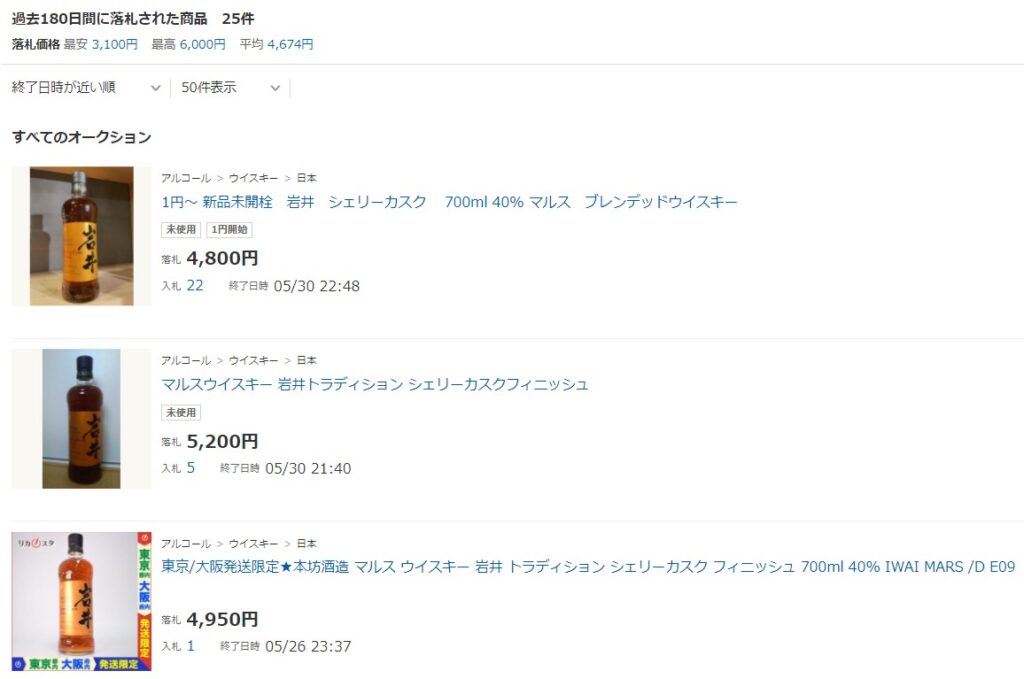 6-4. Rakuten, Yahoo Shopping, Amazon
Mail order sites also sell them for around 10 ,000 yen. (*as of March 31, 2021)
6-5. Price offered at BAR SHINKAI
At "BAR Shinkai", which is operated by this website, one cup, 45ml: 1,320 yen is offered.
7. Summary
The sweetness in the mouth had a greater impact than the aroma. The mellow sweetness derived from Pedro Ximenez comes rushing in. It is a whisky that ends with sweetness from start to finish, with almost no alcohol (tingling or tingling on the tongue). There is not much complexity, and it is a bit monotonous, but it is easy to drink and recommended for those who have never been good at whisky or those who prefer sweet whisky.
The best way to drink it is straight. You can simply feel the "sweetness" that is the characteristic of this whisky. If you add water, the sweetness becomes weaker (thinner), so if you are not comfortable drinking it straight, you can drink it on the rocks to enjoy the change in sweetness. If you want to drink it as a highball, I think a 1:1 highball with soda would be delicious.
If you prefer the maltiness and peatiness of scotch, you may find it lacking.
Speaking of Hombo Shuzo, the Mars Shinshu Distillery is famous for its blended whisky "Iwai Tradition" and single malt "Komagatake" , but recently, the company has been releasing whisky from the Tsunuki Distillery one after another, including "Tsunuki The First" and "Tsunuki Peated" . The distillery has been producing high quality Japanese whiskeys.
In addition, there is an aging cellar in Yakushima, where whiskeys distilled at the Shinshu Distillery and the Tsunuki Distillery are aged on Yakushima for commercialization. Since the average temperature is high in Yakushima, the aging process seems to go faster. Even if the whiskey is distilled at the same time, there is a difference in the taste of the whiskey even if it is aged for the same period of time, depending on whether it is aged in Shinshu or Yakushima.
Both Mars Shinshu Distillery and Mars Tsunuki Distillery offer distillery tours with some restrictions, so if you are interested, why not visit them?
To apply for a Mars Shinshu distillery tour, click here↓↓↓
Factory tour / MARS Shinshu Distillery

Click here to apply for the Mars Tsunuki Distillery tour↓↓
Plant tour/MARS Tsunuki Distillery
Please check out the other articles about Honbo Shuzo and Iwai Tradition.