"Nikka Coffey Malt" is a whisky made using Nikka Whisky's traditional café-style continuous distillation system (café still). While grain whisky made in café stills is generally made from corn, Nikka has been challenging to make a new flavored whisky by distilling barley malt in café stills.
1. Manufacturer
Nikka Whisky Co.
| | |
| --- | --- |
| Establishment | 1934 |
| Head office location | 4-31, Minami-Aoyama 5-chome, Minato-ku, Tokyo 107-8616, Japan |
| Owned distilleries | Yoichi Distillery, Miyagikyo Distillery, Ben Nevis Distillery |
2. Distilleries
Yoichi Distillery
| | |
| --- | --- |
| Location | 7-6 Kurokawa-cho, Yoichi-cho, Yoichi-gun, Hokkaido 046-0003, Japan |
| Start of operation | 1936 |
The Yoichi Distillery in Hokkaido is known as the Scotland of Japan. It was established in 1934 by Masataka Taketsuru, also known as Masan, whose predecessor was Dainippon Fruit Juice Co. Masataka Taketsuru believed that a place similar to Scotland Cool and humid climate, rich water source and clean air Masataka Taketsuru believed that a place with all of the characteristics of Scotland was essential for making ideal whisky, and he chose Yoichi, located at the base of the Shakotan Peninsula, west of Otaru, from among various candidate sites.
Masataka Taketsuru's goal for his first distillery was to create a heavy and powerful malt whisky. He was determined to replicate the whisky-making methods he had learned at the distilleries of Scotland, without compromise. The symbol of this commitment is "direct coal distillation". This distillation method is based on the method of the Longmorn distillery, where he learned it himself. If it is necessary to make genuine whisky, we will protect it even if it is inefficient. Such passion, which can be said to be the origin of Nikka Whisky, and Masataka Taketsuru's dream have been handed down to this day.

Click here for the official website of Yoichi Distillery
For more information about Yoichi Distillery, please see this article.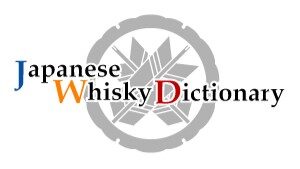 余市蒸溜所 | ジャパニーズウイスキーディクショナリー

Japanese Whisky Dictionary
Miyagi Gorge Distillery
| | |
| --- | --- |
| Location | 1 Nikka, Aoba-ku, Sendai City, Miyagi Prefecture, 989-3433, Japan |
| Start of operation | 1969 |
It has been about 30 years since the first distillery was started in Yoichi, Hokkaido. Masataka Taketsuru, who believed that "whisky becomes richer and more flavorful by blending multiple raw materials from different distilleries" desperately needed a second distillery.
Taketsuru chose Miyagikyo in Sendai, Miyagi Prefecture. It is a lush green gorge blessed with two clear streams, the Hirose River and the Shin River. When Taketsuru visited this place for the first time, he drank some of his Black Nikka in the clear water of the Shin River and confirmed the taste. It is said that he decided to build the distillery on the spot. The pride of the Miyagikyo distillery is its "café-style continuous distillation machine".
At the time of its introduction, this distiller was already considered obsolete. Because it was an old-fashioned distillation machine, it was prone to leaving behind miscellaneous flavors, but Taketsuru chose to use this old-fashioned distillation machine because the technology could transform them into the original aroma and sweetness of the ingredients. At the Miyagikyo Distillery, people who have inherited Taketsuru's passion are still continuing to make various attempts to make whisky taste better.
Image credit: Miyagikyo Distillery|NIKKA WHISKY
For more information on the Miyagikyo Distillery, please see this article.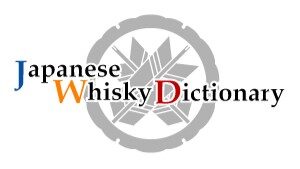 余市蒸溜所 | ジャパニーズウイスキーディクショナリー

Japanese Whisky Dictionary
The characteristics of Nikka's blended products consist of the raw liquor produced by three distillers (machines).
One is the straight pot still at the Yoichi distillery. The first is the straight pot still at the Yoichi distillery, which is currently the only one in the world that uses direct coal-fired distillation to produce a heavy and powerful malt. It is a full-bodied malt with plenty of peat and smoke. The other is the bulge-type pot still at the Miyagikyo distillery. The gorgeous and fragrant malt produced by steam indirect distillation is a completely different type of malt from Yoichi. Comparing Yoichi to the Highlands and Miyagikyo to the Lowlands, each distillery produces whisky with its own unique characteristics.

The founder of the company, Masataka Taketsuru, said, "If we don't start using grain whisky, Japanese whisky won't be able to be called a full-fledged whisky" . It is indispensable in balancing the unique malts of Yoichi and Miyagikyo. This is then brought together by the blending techniques that have been handed down from Mr. Taketsuru.

The Nikka Whisky "Miyagikyo Distillery" possesses a traditional "café-style continuous distillation machine" . The current mainstream continuous distillation machine can increase the degree of alcohol purification, but it also removes the flavor components. On the other hand, the "café-type continuous distillation machine" owned by Nikka is an older type that is less efficient in distilling, but has the characteristic of retaining the aroma and ingredients derived from the raw materials in the distillate. This distillation machine was invented around 1830, and is called a "café still" after its developer, Enias Café. Masataka Taketsuru, the founder of Nikka Whisky, had a dream to introduce the café-type continuous distillation machine to his factory and make authentic blended whisky. His wish came true, and the café still, which was installed in 1963 and began full-scale operations the following year, was an "extremely old-fashioned" type even for its time. This was Masataka's persistence in seeking "real taste".
3. Product name and photograph
Nikka Coffey Malt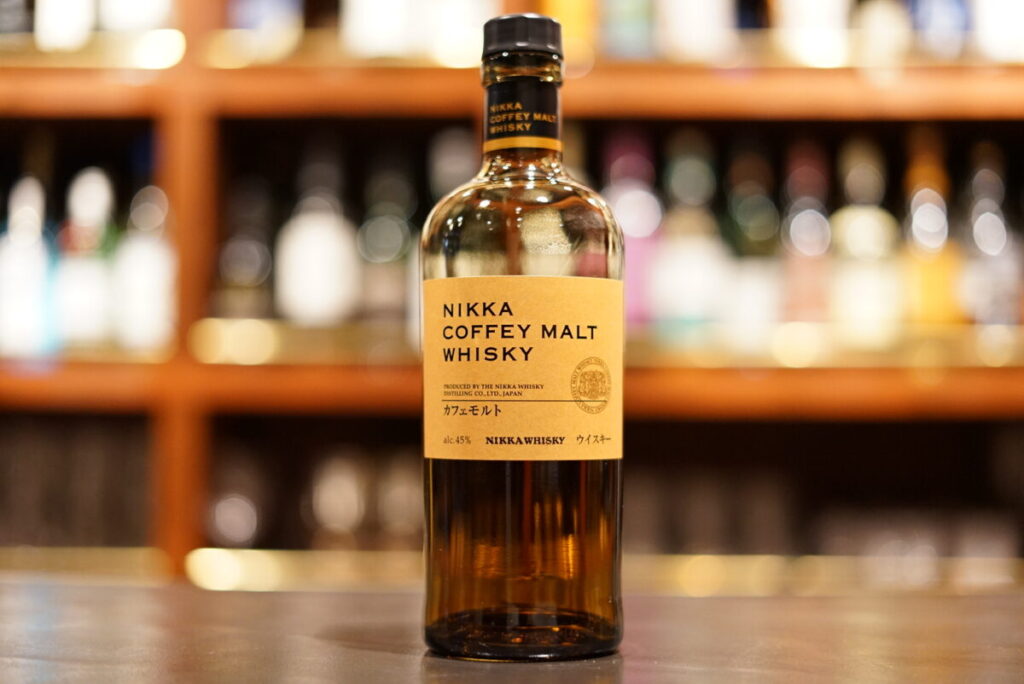 4. Characteristics
The sweetness and aroma of malt that can only be felt in a cafe style.

The sweetness and aroma of malt, a hint of vanilla, and a light malt flavor are in harmony. It is characterized by a light and smooth mouthfeel, a creamy sweetness that spreads softly, and a clean and refreshing aftertaste.
The aroma is very powerful and well-balanced, with each parameter being overwhelmingly strong, even surpassing that of Cafe Grain.
4-1. Tasting Notes
| | |
| --- | --- |
| Aroma | The aroma of this malt is particularly pronounced, with a bitterness like cocoa or coffee, and a sweet aroma of strong fruit, vanilla, and fat like cream. |
| Taste | More clove-like spice, bitterness, and a deeper sweetness than the Cafe Grain. The taste is smooth and pitter-patter. |
| Aftertaste | The aftertaste is short, light, and sweet like caramel and tropical fruits. |
4-2. Product Specifications
Alcohol content
45%
alcohol category
Malt Whisky
Barrel type
oak
Contents
700ml
Number of bottles sold
–
Suggested retail price
6,600 yen (tax included)
Release date

Launched in January 2014 as a Europe-only product
June 10, 2014 Sales launch in Japan
Awards received
International Spirits Challenge 2017
Won the highest award in the grain whisky category, "Trophy" .
6. Price
6-1. Manufacturer's suggested retail price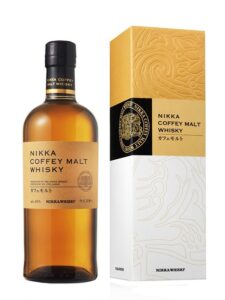 | | |
| --- | --- |
| Product name | Nikka Coffey Malt |
| Volume | 700ml |
| Suggested retail price | 6,600 yen (tax included) |
6-2. Resale price on Mercari
The resale price on Mercari is Around 8,000 yen to 9,000 yen The resale price on Mercari is as follows
(*as of March 29, 2020)


6-3. Sold price on Yahoo Auction
The current price on Yahoo Auction is Lowest bidder: 6,750 yen, highest bidder: 11,000 yen, average bidder: 8,416 yen (*as of March 29, 2020)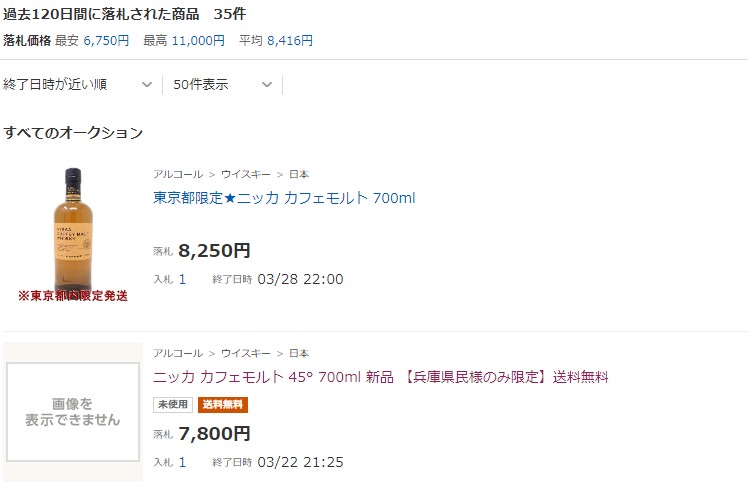 6-4. Rakuten, Yahoo Shopping, Amazon
It is also sold at Around 9,000 yen to 12,000 yen It is also sold at (*as of March 29, 2020)
6-5. Price offered at BAR Shinkai
At "BAR SHINKAI", which is operated by this site, it is available at 1 cup, 45 ml: 1,760 yen (tax included) (*As of March 29, 2020)