The "non-chill filtered" process further evolves the delicious taste of the special "50° alcohol content" .
It will be released on March 22, 2016.
The non-chill-filtered method is a method of bottling whiskey without cooling and filtration to keep the flavorful ingredients in the whiskey. This method is mainly used for premium and limited edition products.
1. Manufacturer
Kirin Distillery Company, Limited
| | |
| --- | --- |
| Establishment | August 1972 |
| Head office location | 970 Shibayuda, Gotemba City, Shizuoka Prefecture 412-0003, Japan |
| Owned distillery | Fuji Gotemba Distillery |
2. Distillery
Fuji Gotemba Distillery
| | |
| --- | --- |
| Address | 970 Shibayuda, Gotemba City, Shizuoka Prefecture 412-0003, Japan |
| Start of operation | November 1973 |
August 1972: Kirin Seagram Company Limited was established as a joint venture between Kirin Brewery Company Limited (Japan), JE Seagram Company Limited (U.S., at the time) , and Seavers Brothers Limited (U.K.).
November 1973: Fuji Gotemba distillery completed and production started.
February 1974: Domestic whisky "Robert Brown" launched.
July 2002: Changed the company name to Kirin Distillery Company Limited (became a wholly owned subsidiary of Kirin Brewery Company Limited).
September 2005: Domestic whiskey Kirin Whiskey Fuji Sanroku Barrel-Ripened 50° and Kirin Whiskey Fuji Sanroku Single Malt 18 Years were launched.
March 2016: Release of Kirin Whiskey Fuji-Sanroku Blended 18 Year Old and Kirin Whiskey Fuji-Sanroku Barrel-Ripened 50°.
August 2018: Launch of "Fuji Sanroku Signature Blend" .
April 2020: Launch of Kirin Single Grain Whiskey Fuji
Located at the foot of Mt. Fuji, Kirin Distillery Company Limited's Fuji Gotemba Distillery is one of the world's rare whisky distilleries that handles the entire process from preparation to bottling of malt and grain whisky.
The distillery produces a wide variety of Kirin Group products, including whiskey, mineral water, and canned chuhai, in a blessed natural environment with abundant underground water from Fuji, a cool climate, and fog that occurs frequently throughout the year.
February 2019, further future In preparation for the increase in whiskey sales volume, the production facilities were expanded, with an investment of approximately 8 billion yen.
In order to produce a variety of malt whisky raw materials, we have doubled our raw material production capacity by installing four new small fermentation tanks and two series of four distillers, and increased our barrel storage capacity by approximately 20% by renovating and enlarging the barrel maturation room. The aim is to create a production system that can provide a stable supply of high-quality whiskey in the future. The plant is scheduled to start operation in June 2021.
Reference: Kirin Distillery Company Limited official website
See also this ↓ for information on Fuji Gotemba Distillery.
3. Product name and photo
Kirin FUJISANROKU Nonchill Filtered BLENDED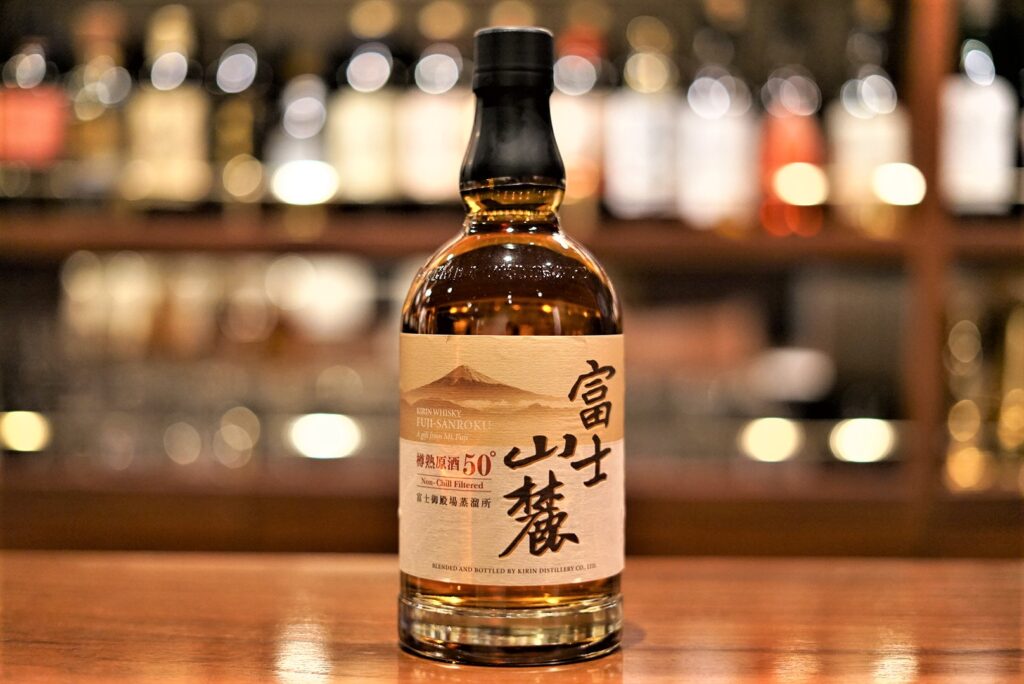 ¥5,000
(2023/06/05 19:02:09時点 楽天市場調べ-
詳細)
4. Characteristics
50° alcohol by volume
In general, whiskey is bottled at an alcohol content of 60 degrees or higher, matured, blended, and then watered to the product alcohol content during bottling. At this time, the alcohol content drops rapidly, and the flavor components that had been dissolved in the water are unable to dissolve completely and precipitate out.
Fuji Gotemba Distillery, the malt whiskey is matured in barrels (small 180-liter barrels) at 50° alcohol by volume and one of the grain whiskeys, which is the key to the flavor, is matured at 55° alcohol by volume.
We are particular about bottling* the whiskey as close as possible to the state it was in when it was first released from the barrel, to contain the original flavor of the original whiskey.
This means that there is little change in the degree of barrel aging and bottling, and little precipitation of flavor components.
4-1. Tasting Notes
| | |
| --- | --- |
| Aroma | The initial aroma is a harmonious combination of fruity barrel-aged scents and malt savory notes. |
| Taste | In the mouth, the complex intertwined aromas are slowly released. When rolled on the tongue, the flavors are mellow and sweet. |
| Aftertaste | The deep aftertaste goes through the nose comfortably. |
4-2. Product Specifications
| | |
| --- | --- |
| Alcohol content | 50% |
| Classification | Blended Whisky |
| Barrel type | Barrel type |
| Contents | 700ml |
| Number of bottles sold | Number of bottles sold |
| Suggested retail price | 1,620 yen (tax included) |
| Release date | February 17, 2016 |
Awards received
No awards have been received at this time.
6. Price
6-1. Manufacturer's suggested retail price
Kirin Whiskey Fuji Sanroku Barrel Aged Original Wine 50°C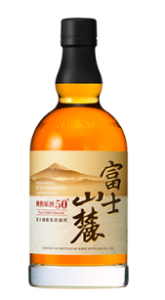 Product name
Kirin

Fuji Sanroku

Barrel-Ripened Original Wine 50°C
Volume
700ml
Suggested retail price
1,620 yen (tax included)
6-2. Resale price on Mercari
The resale price on Mercari is Around 3,000 yen to 3,900 yen The resale price on Mercari is as follows. (*As of March 23, 2021)


6-3. Sold price on Yahoo Auction
The current price on Yahoo Auction is Lowest price: 2,400 yen, highest price: 3,980 yen, average price: 2,929 yen (*as of March 23, 2021)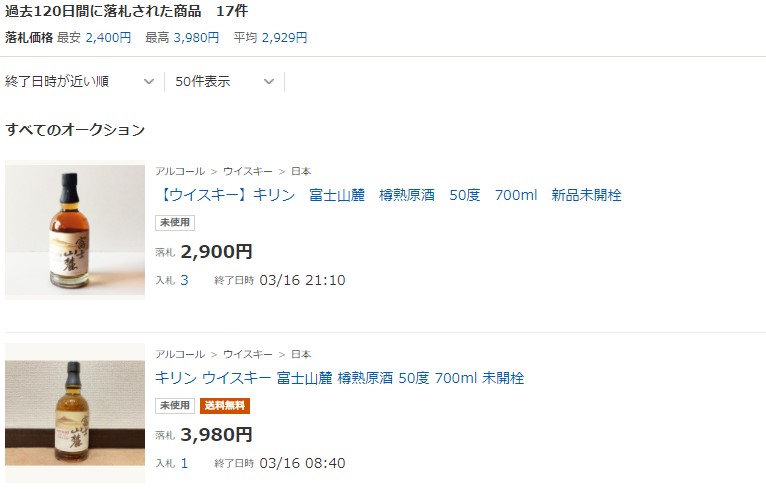 6-4. Rakuten, Yahoo Shopping, Amazon
It is also sold at Around 4,000 yen to 4,500 yen (*As of March 23, 2021) 

¥5,000
(2023/06/05 19:02:09時点 楽天市場調べ-
詳細)
6-5. Price offered at BAR Shinkai
At "BAR SHINKAI", which is operated by this site, it is offered at 1 cup, 45 ml: 880 yen (tax included) (*as of March 23, 2021) Bar Shinkai, which is operated by this site, offers it at
7. Summary
"Fuji Sanroku Barrel-Aged Original Wine 50°" is suitable for drinking on the rocks or with water, but it is best to drink it with soda to show its true value. The high strength of the whiskey, which comes from the high alcohol content and the density of the original whiskey, is enhanced by the soda, and you can enjoy a bold highball that is hard to experience with other domestic whiskeys.
Please check out our other articles on Kirin.
Lastly: Recommended Books on Japanese Whisky
If you want to learn more about Japanese whisky, which is a global trend, we highly recommend these books.
In the December 2021 issue of Whisky Galore, published by the Whisky Culture Research Institute, we report on 11 Japanese craft distilleries, including some that are open to the public for the first time, under the title of "Japanese Whisky Craft Frontline," the first of three consecutive issues. Why did the popularity of Japanese whiskey and the craft boom occur? We will examine with interviews. Chichibu Distillery / Chichibu No.2 Distillery / Mars Shinshu Distillery / Mars Tsunuki Distillery / Kanosuke Distillery / Hioki Distillery / Ontake Distillery / Osuzuyama Distillery / Kaikyo Distillery / Hanyu Distillery / Konosu Distillery
¥1,320
(2023/06/05 19:36:31時点 Amazon調べ-
詳細)
This is a book written by Mamoru Tsuchiya, a world-famous whisky critic and representative of the Whisky Culture Research Institute, titled "Japanese Whisky as a Culture that Works for Business" .
The book covers the basics of whisky, the introduction of whisky to Japan, the birth of Japanese whisky, advertising strategies and the rise of Japanese whisky, and the current rise of craft distilleries. This is a book that summarizes Japanese whisky in a very easy to understand way.
Masataka Taketsuru, the founder of Nikka Whisky, devoted his life to brewing whisky in Japan. This is a revised and reprinted version of the autobiography of a man who simply loved whiskey and talked about himself. The book vividly depicts the days when he went to Scotland alone to study as a young man and overcame many hardships to complete Japanese whisky, as well as his companion, Rita.
Launching in 2019. With the world experiencing an unprecedented whisky boom, what were the managers of craft distilleries thinking and what were their thoughts as they took on the challenge of making whiskey? This book tells the stories of 13 craft distillery owners, including Ichiro Hido of Venture Whisky, famous for his Ichirose Malt, who inspired the birth of craft distilleries in Japan.
This is the Japanese version of Whisky Risng, published in the US in 2016, with much updated content. Not only does it describe the history of Japanese whiskey in detail, but it also includes data on all the distilleries in Japan, including the craft distilleries that have been founded in recent years. The book also includes descriptions of the legendary bottles that have been released, as well as information on bars where Japanese whisky can be found.