The "Black Nikka" brand consists mainly of three items,  characterized by a "refreshing and mellow taste"[Clear] , "gorgeous aroma and mellow  richness"[Rich Blend] , and "rich and firm drinking" [Deep Blend].
With the launch of Black Nikka Deep Blend Night Cruise, we will further strengthen our proposal for a drinking scene where whisky is enjoyed at rock during your relaxing time at home, further revitalizing the expanding domestic whisky market. Also, We propose to our customers a living culture that they enjoy with whisky by appealing to them how to enjoy a variety of whiskys on the theme that whisky is fun. The package design drew an illustration of a blue moon and ship shadow in the center of the black label. In addition, the name "Night Cruise" emotionally expresses the brand concept of "Black Nikka Deep Blend" such as "enjoying an adult night" and "going on a journey to the depths of the night", and the taste features of this product called "long-lasting aftertaste".
Quote: ASAHI | News Release
1. Manufacturers
Nikka Whisky Co., Ltd.
| | |
| --- | --- |
| Established. | 1934 |
| Headquarters address: | 5-4-31 Minami-Aoyama, Minato-ku, Tokyo 〒107-8616 |
| Owned Distillery | Yoichi Distillery, Miyagikyo Distillery, Ben Nevis Distillery |

2. Distillery
Yoichi Distillery
| | |
| --- | --- |
| Location | 7-6 Kurokawacho, Yoichi-cho, Yoichi-gun, Hokkaido 046-0003 |
| Start of operation | 1936 |
Yoichi Distillery in Hokkaido is known as Scotland in Japan. Dai Nippon Fruit Juice Co., Ltd. was established in 1934 by Masataka Taketsuru, called Massan.
Masataka Taketsuru believed that a cool and humid climate similar to Scotland, rich water sources and dignified and clear air were indispensable for the creation of ideal whisky, so he chose Yoichi, which is located west of Otaru and at the base of the Shakotan Peninsula, from various candidate sites. His goal at his first distillery was to make a heavy and powerful malt whisky. He focused on reproducing the whisky-making methods that he learned at  Scottish distillery without any compromise. The symbol of this commitment is "coal open flame distillation". This distillation method was adopted according to the method of the Long morn distillery that he learned. "If it is necessary to make real whisky, even if it is inefficient, I will protect it." The passion that can be said to be the origin of Nikka Whisky and the dream of Masataka Taketsuru are still inherited.
For more information about Yoichi Distillery, please see this article.

Miyagikyo Distillery
| | |
| --- | --- |
| Location | 1 Nikka, Aoba-ku, Sendai City, Miyagi 〒989-3433 |
| Start of operation | 1969 |
It has been about 30 years since Masataka Taketsuru started his first distillery in Yoichi, Hokkaido. A second distillery was absolutely necessary for him, who believes that blending multiple raw liquor from different distilleries makes whisky more tasteful and rich. He chose Miyagikyo in Sendai, which has lush gorge blessed with two clear streams, the Hirose River and the Shin River. When he visited this place for the first time, he drank the black Nikka with water of the Shin River and checked the taste. It is said that he decided to build a distillery on the spot. Miyagikyo Distillery is proud of " café-style continuous distillation machine". It is a distillation machine that was already old-fashioned at the time of introduction. Because it is old-fashioned, it is easy to leave ingredients that become miscellaneous taste, but because technology can turn it into the original aroma and sweetness of the raw material, he dared to choose this old distillation machine. At Miyagikyo Distillery, people who still inherit the passion of Taketsuru are still trying various things to find the deliciousness of whisky.
Image exhibition: NIKKA WHISKY | Miyagikyo Distillery
Read more about Miyagikyo Distillery in this article.

3. Product name and photo
BLACK Nikka Rich Blend Comfort Aroma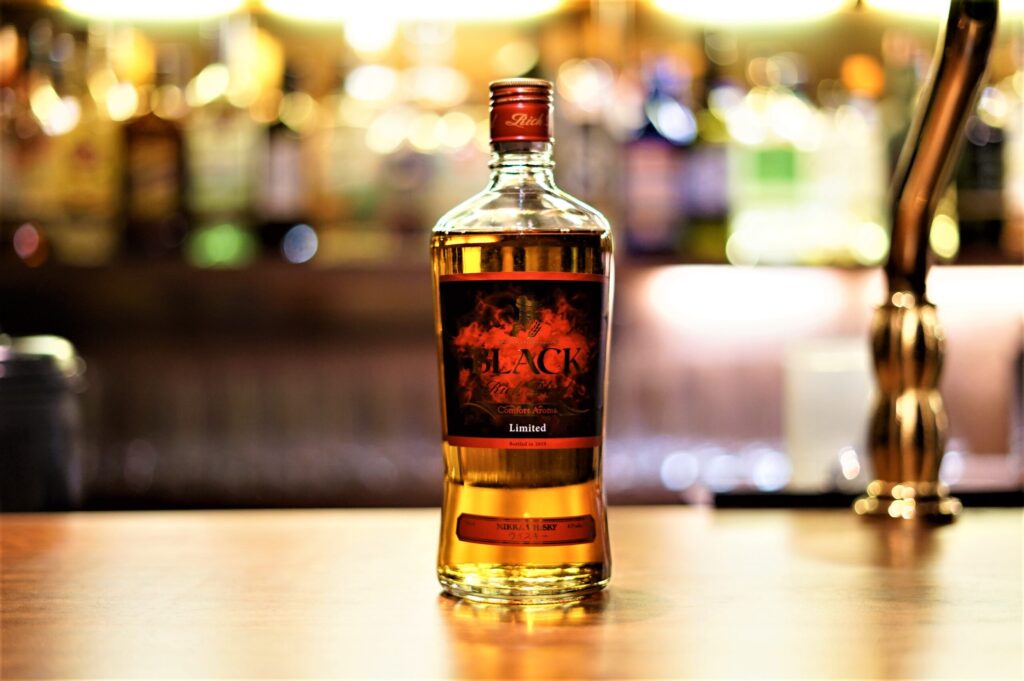 ¥4,500
(2023/03/23 08:54:55時点 楽天市場調べ-
詳細)
4. Features
"Rich beyond rich" Blended with sherry barrel malt original liquor aged for more than 10 years
Based on the rich blend taste characterized by "fruity and gorgeous aroma", "smooth taste" and "mellow richness", it is a whisky that highlights the sweet aroma of "sherry barrel malt original liquor aged for more than 10 years", which is a feature of Black Nikka rich blend, and the richness of the malt from the Re-made barrels. This whisky has a sweet and floral aroma like ripe fruit, with a soft oaky scent, and when you drink it, you can feel the fullness of the plump malt, the smooth and extended taste, and the pleasantly fragrant and slightly bitter aftertaste.

※ The Re-made barrel is characterized by the fact that the mirror plate of the barrel is aged in a barrel replaced with a new barrel (oak), and the original liquor that stands out the complex taste of the new barrel (sweetness of the oak) and the old barrel (mellowness) is made respectively.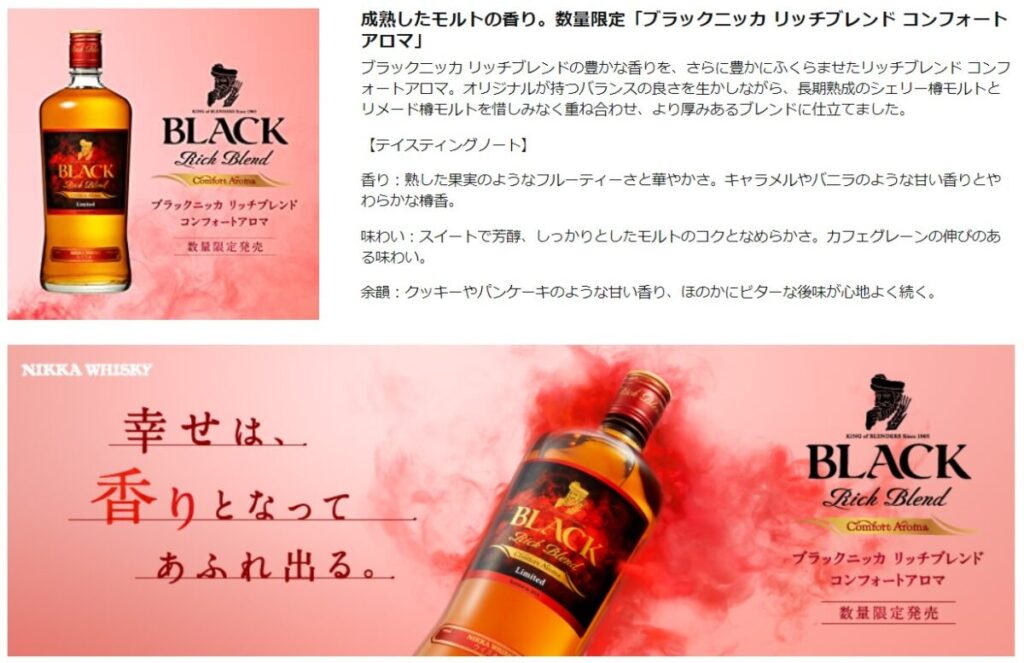 4-1. Tasting Notes
| | |
| --- | --- |
| Scent | Fruity and flamboyant like ripe fruit. Sweet aromas like caramel and vanilla and soft barrel incense |
| Taste | The sweet, mellow, firm malt richness and smoothness. Café Grain's growing taste |
| Lingering | Sweet aromas like cookies and pancakes, with a subtle bitter aftertaste |
4-2. Product Specifications
| | |
| --- | --- |
| Alcohol level | 43% |
| By Liquor | Blended |
| Barrel type | Wow |
| Contents | 700ml |
| Number of sales | Limited to 10,000 cases (120,000 bottles) |
| Suggested retail price | 2,200 yen (2,000 yen excluding tax) |
| Release date | October 16 at 12:30 AM |
5. Awards
There are no awards at this time.
6. Price
6-1. Manufacturer's suggested retail price


| | |
| --- | --- |
| Product name | Black Nikka Rich Blend Comfort Aroma |
| Capacity | 700ml |
| Suggested retail price | 2,000 yen (tax included: 2,200 yen) |
6-2. Resale prices at Mercari
Resale prices at Mercari are around 3,000 yen to 4,000 yen. (*As of March 10, 2021)
6-3. Yahoo Auction Winning Bid Price
The winning bid price at yahoo auction is 1,350 yen, up to 5,222 yen, average 3,217 yen (*Statistical information for the past 120 days from March 10, 2021)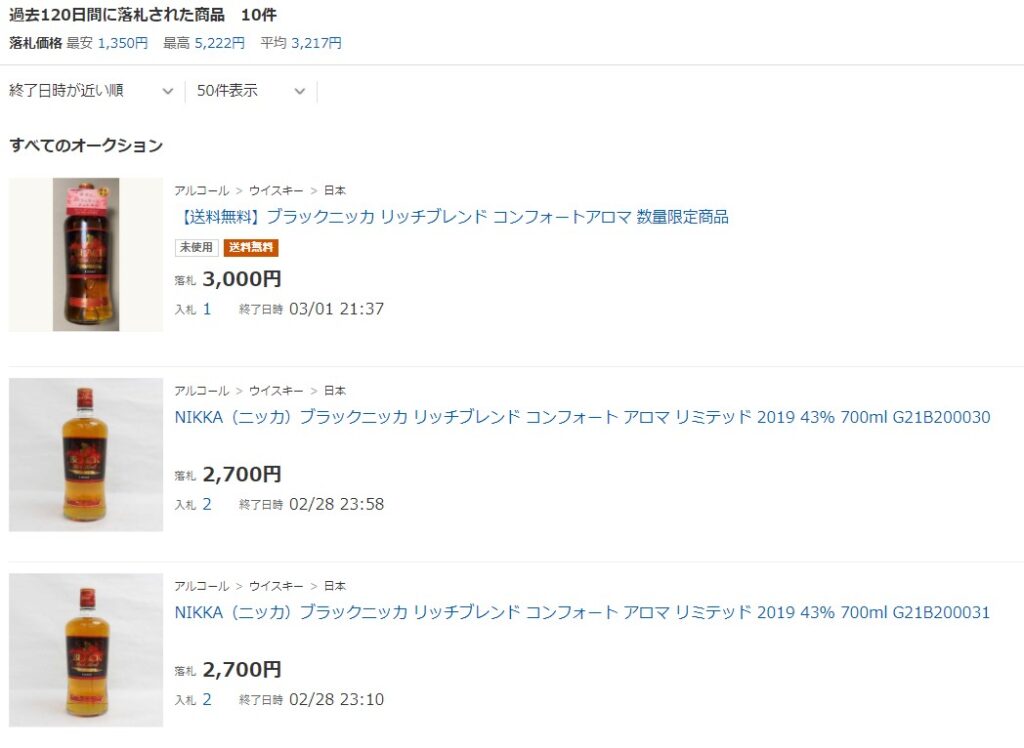 6-4. Rakuten, Yahoo Shopping, Amazon
It is also sold on mail order sites for around 3,000 yen to 5,000 yen. (*As of March 10, 2021)

¥4,500
(2023/03/23 08:54:55時点 楽天市場調べ-
詳細)
6-5. Offered prices at BAR Shinkai
"BAR Shinkai" operated by this site offers one cup, 45 ml: 900 yen.
7. Summary
The recommended way to drink is highball. The elegant aroma of sherry barrels blended into carbonic acid comes after bitter sweetness. The manufacturer is also pushing for highball (whisky 1: water 3) is a convincing taste. Also, drinking on the rocks is also recommended. Even if the ice melts, the aroma and taste are kept without losing the taste and you can enjoy it for a long time. Anyway, it is gorgeous. Because it is a limited whisky, it is a pity that it is difficult to get it at a list price now.
The Black Nikka series is a good whisky with good cost performance, and "Clear", "Rich Blend" and "Deep Blend" are each based on the concept, and they are sold for 180 ml each, so you can easily compare them. Even if you look at other manufacturers, there is no whisky that has a product lineup based on the concept of "relaxation time at home" so far.
■See also other articles about Nikka Whisky.
Japanese Whisky Dictionary
Japanese Whisky Dictionary
北海道札幌市出身。
2005年、大手スポーツ用品販売チェーンに就職→2019年1月、BAR新海に就職しウイスキーの魅力に引き込まれ虜となる。
初めて飲んだウイスキーはアードベッグ10年。
ほぼ毎日ウイスキーを飲む中で更なる知識習得を目指し、ウイスキー検定2級とJC級(ジャパニーズクラフトウイスキー)を取得。
造り手の想いをしっかりと表現し、飲み手の方々に正しい情報を伝えたい。ウイスキーの魅力をたくさんの方に伝えたいという思いでウェブメディア「Japanese Whisky Dictionary」の編集を担当。