It is the second long-awaited Akegishi whisky "24 Setsuki series". This is the first release in about four months since the last Akkeshi Single Malt Whisky Cold Dew was released on October 28, 2020. This 24th season series is scheduled to release single malt and blended alternately, and since it was a single malt last time, it will be blended whisky this time. "24 seasons" is a name that represents the season by 24 equally for one year, and this includes "立春(Risshun)" and "夏至(Geshi)" that we often hear. Rainwater is the second of the 24 seasons, and it is said that it is "the time when the atmosphere becomes warm and the snow changes to water".
The 24 solar terms are not fixed, so the date changes from year to year, but in 2021, "雨水(Usui)" will be February 18. It refers to the 15 days or so leading up to the third day of the year, "啓蟄(Keichitsu)", on March 5.
1. Manufacturers
Kenten Jitsugyo Co., Ltd.
| | |
| --- | --- |
| Established. | 1982 |
| Headquarters address: | Imperial Hotel Tokyo, 1-1-1 Uchisaiwaicho, Chiyoda-ku, Tokyo 〒100-0011 |
| Owned Distillery | Akkeshi Distillery |
2. Distillery
Akkeshi Distillery
| | |
| --- | --- |
| Location | 4-109-2 Miyazono, Akkeshi-cho, Akkeshi-gun, Hokkaido 〒088-1124 |
| Start of operation | October 2016 |
2015 Distillery construction begins
2016 Distillation begins in October
2017 Completed the second maturation warehouse
2018 First product release as Akkeshi Distillery in February. Completion of the 3rd maturation warehouse
2020 Released the first single malt whisky .The first release of the 24th season series. Completed the 4th Maturation Warehouse.
In Hokkaido, Akkeshi, there is a deep fog with tidal air, clean air, and abundant peat. We started distilling in 2016, believing that this climate would create the unknown flavors of Japanese whisky that we were looking for.
Similar to the whisky making process on the island of Islay, the Akkeshi brand whisky is made using water that passes through a layer of peat, and is matured on a daily basis in Akkeshi, a place that is cool, wet, and exposed to the sea breeze.
The area around Akkeshi is rich in peat, which is essential for flavoring whisky, and due to the varied topography of the sea, mountains, and marshlands, the flavors vary depending on where the peat is collected. In other words, we can create different flavors by varying where we collect the peat.

With a strong desire to make whisky like Islay malt using traditional Scottish methods, we installed equipment made by Forsythe in Scotland. Forsythe's craftsmen came to Japan to install all of them.
The shape of the pot still is a straight-headed onion shape, similar to that of some distilleries on Islay.
Heating is by radiator, the attached condenser is a shell-and-tube type, and the mash tun is a semi-loiter type.
The fermentation tank (washback) is stainless steel and we dare to use a type that is not temperature controlled. The craftsman determines the timing of fermentation while letting nature take its course.
In addition to the two dunnage-type aging rooms, an innovative rack-type aging room was completed in February 2018. The aging room is located right next to the Akkeshi Bay. The aroma of the sea wafting through the air is expected to have a positive impact on the characteristics of the whisky.
In addition to bourbon and sherry, hard-to-find "mizunara(Mongolian)" oak is used for maturing barrels. We are further challenging all possibilities, including matching with wine and rum barrels.
Lake Akkeshi and Bekanbeushi Marsh are registered wetlands under the Ramsar Convention. The Ramsar Convention is a treaty on wetlands adopted in Ramsar, Iran on February 2, 1971, which aims to preserve and wisely use wetlands as habitats for waterfowl and other wildlife through international cooperation.
Our company aims to be a distillery that protects this rich nature and coexists with it.
The intake for drinking water used for whisky is at the Homakai River upstream of the Oboro River, which runs near the distillery. The area around the distillery is a marshland and a habitat for the Ranunculus nipponicus, which is said to live only in clear streams. The small white flowers that bloom in the summer season are a symbol of the rich water. This water nurtures Akkeshi's whisky.
Source: Akkeshi Distillery Official WEBSITE
Click here for information on Akkeshi Distillery.
3. Product name and photo
Akkeshi Blended Whisky Usui
厚岸ブレンデッドウイスキー雨水(うすい)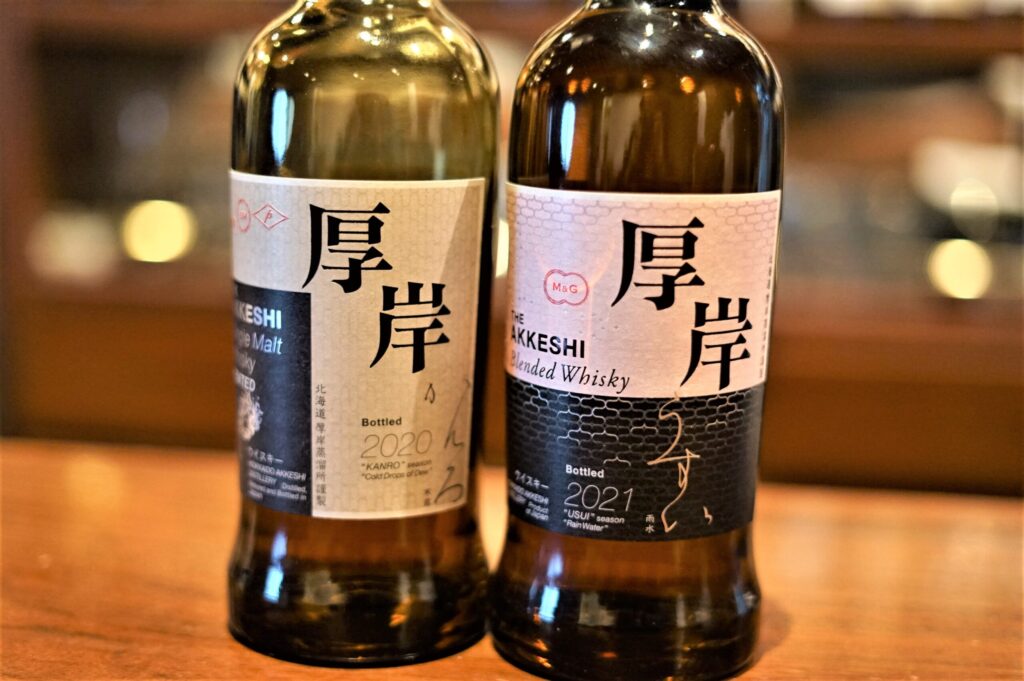 Tenso Japan
".[/speech_balloon_left1]
4. Features
More than 50% of Akkeshi malt whisky, the peat feeling peculiar to Akkeshi and the harmony of Scottish grain
The 2017 grain base is aged in bourbon barrels and mixed with at least 50% of Akkeshi malt base.
The Scottish grain, imported unaged, was casked at the Akkeshi distillery and matured next to the Akkeshi malt for more than three years, resulting in a grain whisky that goes very well with the Akkeshi malt. The sweet, fragrant peat feeling of Akkeshi malt and the lightness of grain combine to create a gorgeous harmony.
The blend is from 2016 and 2017, the aging barrels are bourbon, sherry, and wine barrels, and the key malt is mizunara (Mongolian oak) barrels.
4-1. Tasting Notes
| | |
| --- | --- |
| Scent | Dark cacao, custard pudding, raisins and citrus-like aromas |
| Taste | Refreshing taste of lemon, lime and orange curacao |
| Lingering | White pepper-like spicy, milk chocolate-like sweetness continues |
4-2. Product Specifications
| | |
| --- | --- |
| Alcohol level | 48% |
| By Liquor | Blended |
| Barrel type | Bourbon barrels, sherry barrels, wine barrels, mizunara (Mongolian oak) barrels |
| Contents | 700ml |
| Number of sales | 15,000 bottles |
| Suggested retail price | 10,000 yen (excluding tax) |
| Release date | February 28, 2021 |
5. Awards
There are no awards at this time.
6. Price
6-1. Manufacturer's suggested retail price


| | |
| --- | --- |
| Product name | Akkeshi Blended Whisky Usui |
| Capacity | 700ml |
| Suggested retail price | 10,000 yen (tax included: 11,000 yen) |
6-2. Resale prices at Mercari
The resale price at Mercari is around 30,000 yen. (*As of February 26, 2021)


6-3. Yahoo Auction Winning Bid Price
The current price at Yahoo Auction is 18,500 yen, up to 30,000 yen, average 25,500 yen (*as of 12:00 p.m. on February 26, 2021) Because it is the price under exhibition, I think that the price will go up a little more. In the first place, the original release date is 2/28, but those who have already purchased it have already been exhibited at auction like this. It is sad to think that it was obviously a purchase for resale purposes.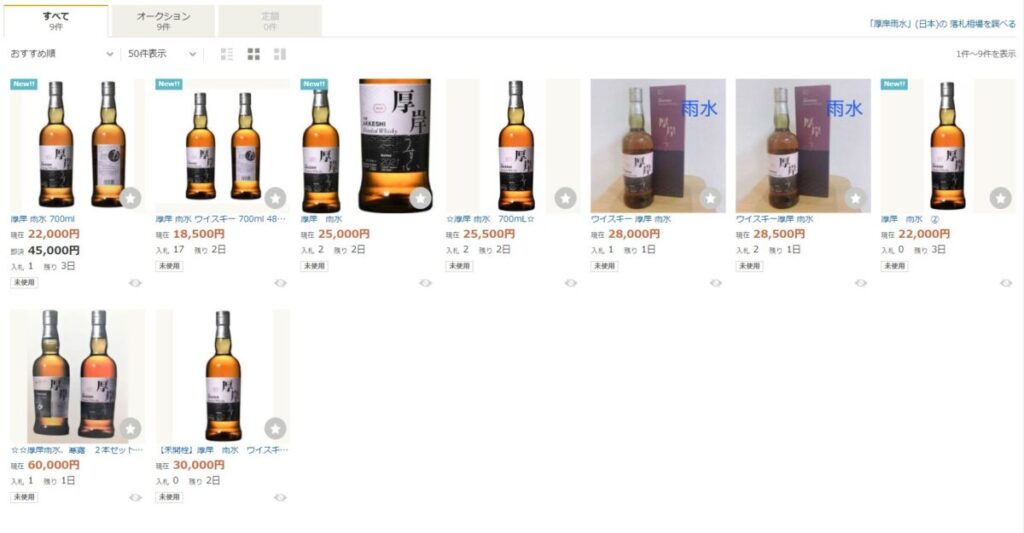 6-4. Rakuten, Yahoo Shopping, Amazon
It is also sold on mail order sites for around 40,000 yen. (*As of February 26, 2021)
Tenso Japan
".[/speech_balloon_left1]
6-5. Offered prices at BAR Shinkai
"BAR Shinkai" operated by this site offers small amounts such as 1 cup, 45 ml: 3,300 yen, 30 ml: 2,200 yen, 15 ml: 1,100 yen.
7. Summary
This 24th season series seems to release single malt and blended alternately. It will be "24 seasons = 24 types of whisky", and it is said that 3 to 4 pieces will be released annually. If it were three times a year, it would take eight years to complete the series. I'd love to complete it by all means.
In the future, they will also challenge the cultivation of barley, which is the raw material for whisky, in Akkeshi, and in the future we aim to make whisky of "Akkeshi All Star", including peat and wooden barrels for aging. In addition, they efforts to use Hokkaido barley (Furano, Nakashibetsu) as raw materials are also strengthened, and the cost of Hokkaido barley used as a test in 2018 is more than twice that of Scottish, and the alcohol yield is about 80 to 90%, but the flavor is Japanese taste (warm tangerines, roasted chestnuts, roasted sweet potatoes), but the flavor is suitable for Japanese whisky. Since 2019, about 10% of the whisky produced from Hokkaido barley has been produced. I can't wait to see when the next release of the 24th Season series will be.
Check out other articles about Akkeshi Distillery and Akkeshi Whisky.
Japanese Whisky Dictionary
Japanese Whisky Dictionary
Japanese Whisky Dictionary
Japanese Whisky Dictionary
Japanese Whisky Dictionary
Japanese Whisky Dictionary
Japanese Whisky Dictionary
Japanese Whisky Dictionary
北海道札幌市出身。
2005年、大手スポーツ用品販売チェーンに就職→2019年1月、BAR新海に就職しウイスキーの魅力に引き込まれ虜となる。
初めて飲んだウイスキーはアードベッグ10年。
ほぼ毎日ウイスキーを飲む中で更なる知識習得を目指し、ウイスキー検定2級とJC級(ジャパニーズクラフトウイスキー)を取得。
造り手の想いをしっかりと表現し、飲み手の方々に正しい情報を伝えたい。ウイスキーの魅力をたくさんの方に伝えたいという思いでウェブメディア「Japanese Whisky Dictionary」の編集を担当。