In contrast to the powerful and masculine "Single Malt Yoichi" the "Single Malt Miyagikyo" has a gorgeous and light taste, and its delicate feminine flavor is finished in a dry sherry cask.
1. Manufacturer
Nikka whiskey corporation
| | |
| --- | --- |
| Establishment | 1934 |
| Head office location | 4-31, Minami-Aoyama 5-chome, Minato-ku, Tokyo 107-8616, Japan |
| Owned distilleries | Yoichi Distillery, Miyagikyo Distillery, Ben Nevis Distillery |
2. Distillery
Miyagikyo Distillery
| | |
| --- | --- |
| Address | 1, Nikka, Aoba-ku, Sendai City, Miyagi Prefecture 989-3433, Japan |
| Start of operation | 1969 |
It has been about 30 years since the first distillery was started in Yoichi, Hokkaido. Masataka Taketsuru, who believed that "whisky becomes richer and more flavorful when it is blended with raw materials from different distilleries" desperately needed a second distillery. Taketsuru chose Miyagikyo in Sendai, Miyagi Prefecture. It is a lush green gorge blessed with two clear streams, the Hirose River and the Shin River. When Taketsuru visited this place for the first time, he drank some of his Black Nikka in the clear water of the Shin River and confirmed the taste. It is said that he decided to build the distillery on the spot. The pride of the Miyagi Gorge Distillery is its "café-style continuous distiller. At the time of its introduction, this distiller was already considered obsolete. Because it was an old-fashioned distillation machine, it was prone to leaving behind miscellaneous flavors, but Taketsuru chose to use this old-fashioned distillation machine because the technology could transform them into the original aroma and sweetness of the ingredients. At the Miyagikyo Distillery, people who have inherited Taketsuru's passion are still continuing to make various attempts to make whisky taste better.
Image credit: Miyagikyo Distillery|NIKKA WHISKY

For more information on Miyagikyo Distillery, please see also this article.

3. Product name and photo
Single Malt Miyagikyo Manzanilla Wood Finish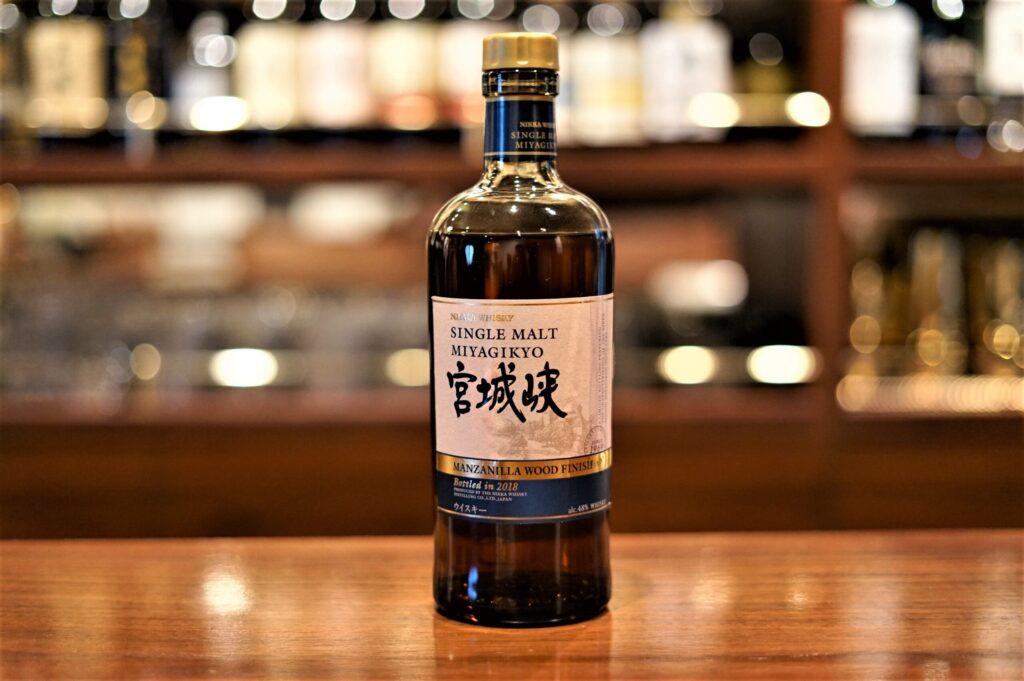 4. Characteristics
"Single Malt Miyagikyo" , which has a gorgeous and light taste, is further matured in Manzanilla barrels, and features a harmonious taste of mild sweetness and soft bitterness. It has a sweet aroma reminiscent of dried fruits, coconut, and milk chocolate, and a slightly bitter aftertaste derived from the cask.
This is a wine with the floral and fruity characteristics of Speyside, plus the black berries and plums from the sherry casks.
This is a well-balanced bottle of Miyagikyo, which is said to be feminine, with the added aroma of dry sherry barrels.
Manzanilla is a dry sherry that is aged in the Sanlúcar de Barrameda region of southern Spain. The Sanlúcar de Barrameda area is located by the sea, and the sherry casks, which are fully influenced by the sea, have been matured for more than 50 years using the solera system (wine splicing), and also using the precious barrel material "American white oak", which can be said to be a very special whiskey.
4-1. Tasting Notes
| | |
| --- | --- |
| Aroma | Sweet and sour aroma of dried fruits and shortcake. |
| Taste | Soft taste with sweetness. |
| Aftertaste | Bittersweet aftertaste of peat |
(Source: Asahi Breweries, Ltd. )
4-2. Product Specifications
Alcohol content
48%
Alcohol category
Single malt whiskey
Cask Type
Manzanilla cask
Contents
700ml
Number of bottles sold
4,000 bottles
Suggested retail price

16,500

yen (tax included)
Release date
September 26, 2018 (Wednesday)
5. Awards
There is no award history at this time.
6. Price
6-1 Manufacturer's suggested retail price
| | |
| --- | --- |
| Product name | Single Malt Miyagi Gorge Manzanilla Wood Finish |
| Volume | 700ml |
| Suggested Retail Price | Tax included: 16,500 yen |
6-2. Resale price on Mercari

It has a pre-price of about 25,000 yen (*as of February 17, 2021) on Mercari, but there are zero items on Mercari because it is not available in the first place.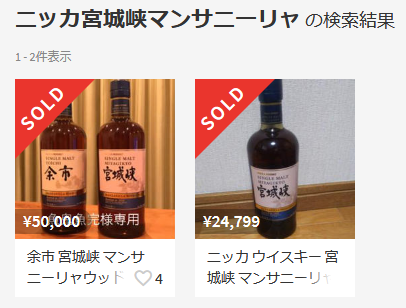 6-3. Yahoo Auction Sold Price

The winning bid price on Yahoo Auction is Lowest bidder: 22,002 yen, highest bidder: 71,000 yen, average bidder: 36,866 yen (*Statistics for the past 120 days as of February 17, 2021)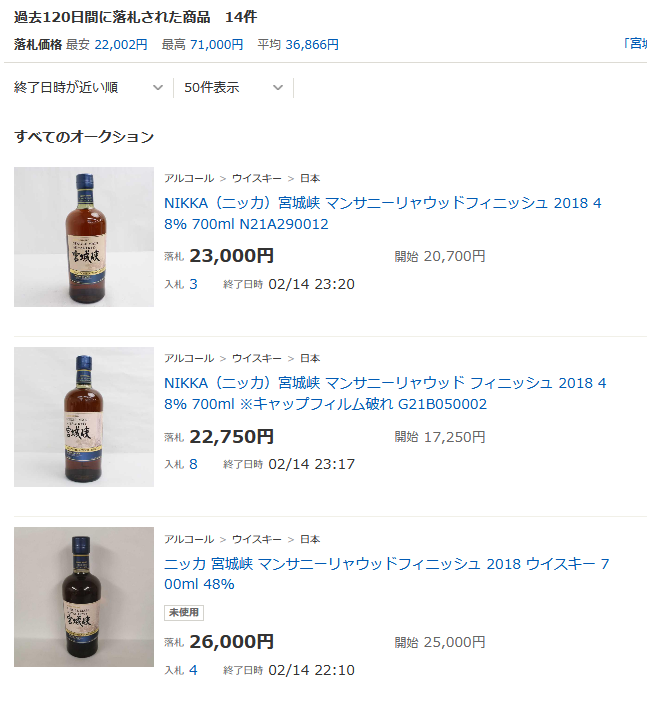 6-4. Rakuten, Yahoo Shopping, Amazon

It is also available at the mail order site at About 35,000 yen You can get it at

6-5. Price offered at BAR Shinkai
At "BAR SHINKAI", which is operated by this site, it is available at 1 glass, 45ml: 5,500 yen, 30ml: 3,740 yen, 15ml: 1,870 yen It is available at.

7. Summary
It has a unique sulfuric aroma, so it is not so much for beginners or easy drinkers, but for those who want to feel the new charm of Miyagikyo.
Although the aroma is unique, the gentle mild sweetness of Miyagikyo appears on the palate.
If Yoichi is masculine and Miyagikyo is feminine, Manzanilla Wood is neutral.
The fact that it is so tricky makes it even more premium.
If you're used to drinking Miyagikyo, you should definitely give it a try.
Please check out the other articles about single malt Miyagikyo.