Wakatsuru Shuzo uses only malt distilled in 1960 and other carefully selected raw spirits.  "Moon Glow" is the ultimate blended whisky that Wakatsuru Shuzo is aiming for at the moment.
Moon Glow Limited Edition will be commercialized in 2018. The release of Moon Glow, which has been aged for more than 10 years, is scheduled to end in 2020. From the next release onwards, it will be switched to non-aged due to a shortage of aged raw alcohol.
1. Maker
Wakatsuru Sake Brewery Co.
| | |
| --- | --- |
| Establishment | 1862 |
| Head office | 208 Saburomaru, Tonami-shi, Toyama 939-1308, Japan |
| Owned distillery | Sabromaru Distillery |
2. Distillery
Saburomaru Distillery
| | |
| --- | --- |
| Location | 208 Saburomaru, Tonami City, Toyama Prefecture 939-1308, Japan |
| Start of operation | 1953 (renovated in 2016) |
The only distillery in Hokuriku, established in 1952.
With the shortage of rice after the war, they obtained a license to produce whisky in 1952. Since then, the distillery has been making sake in the winter and distilling whiskey only in the summer. The distillery is dedicated to producing smoky whiskey and uses only peated malt from England, which is rare in Japan. In order to preserve the natural flavor of the whiskey, no cooling filtration or coloring is used.
The main difference from other distilleries is the world's first cast pod still. ZEMON, the world's first cast pod still.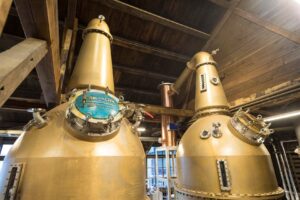 There are three major features.


(1) The casting method enables molding using a mold, making it possible to manufacture the product in a short period of time. Also, it is possible to make the product thick enough at a low cost, which is expected to increase the service life of the main body.
(2) Various liquor quality is realized by free molding by casting. In addition, it is possible to replace only worn-out parts or expand functions by unitizing each part.
(3) Made from a copper-tin alloy that contains about 90% copper and 8% tin. Tin is a high-grade metal that is traded at about three times the price of copper.
Since ancient times, tin has been used to make sake and shochu coolers, as it is said to mellow the taste of sake. ZEMON uses the dual benefits of copper and tin to produce high quality spirits. to the production of high quality spirits. It has been used for sake vessels and shochu coolers since ancient times.
Reference: Wakatsuru Sake Brewery official website
Image credit: Saburomaru Distillery Official Facebook
For more information about Saburomaru Distillery, please visit here ↓
3. Product name and photo
MOON GLOW Limited Edition 2020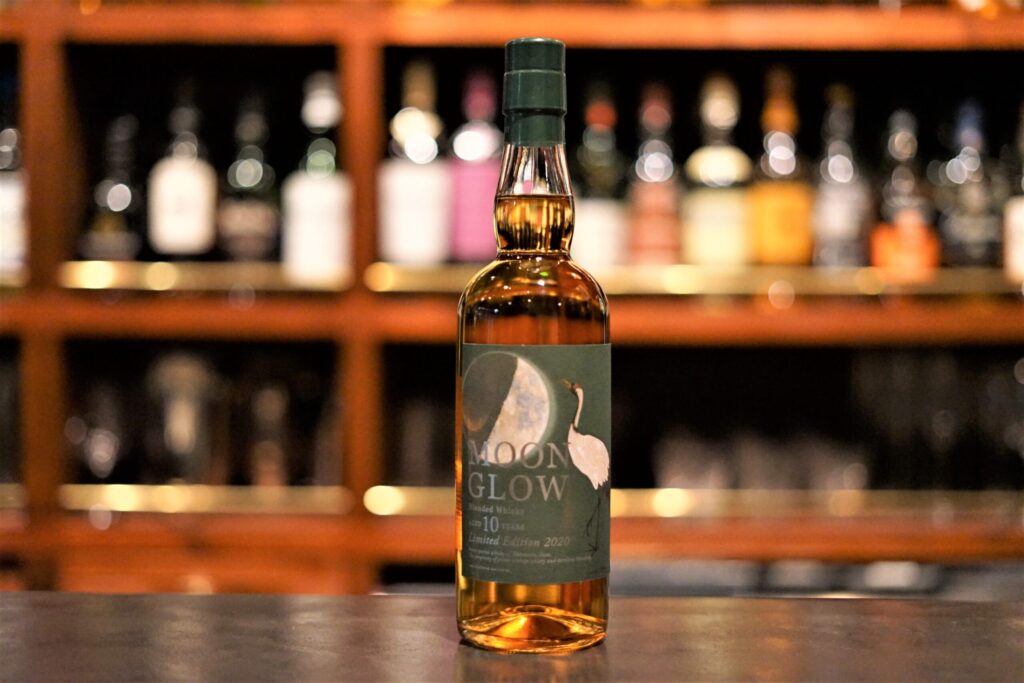 4. Characteristics
Multi-layered taste and complex aftertaste created by long years.
The key malt is Saburoumaru Distillery malt distilled in 1990, and only raw materials with more than 10 years of maturation are used. The mellow grain finished in red wine barrels and the sherry barrel malt that brings out the sweetness blend perfectly to create a gentle and smooth taste.
The multi-layered taste and complex aftertaste created by the long years of aging continues for a long time while playing in harmony.
4-1. Tasting Notes

| | |
| --- | --- |
| Aroma | Soft woody and herbaceous with a hint of peat. Fruity acidity with hints of apple and orange peel. |
| Taste | Mild sweetness like candy or honey, dry peat, orange peel, a hint of spice and good tannins. |
| Aftertaste | Spicy and smoky aftertaste. |

4-2. Product Specifications
| | |
| --- | --- |
| Alcohol content | 43% |
| alcohol category | Blended Whisky |
| Barrel type | Red wine barrels |
| Contents | 700ml |
| Number of bottles sold | ー |
| Suggested retail price | 10,120 yen (tax included) |
| Release date | March 14, 2020 |
5. Awards
No awards have been received at this time.
6. Price
6-1. Manufacturer's suggested retail price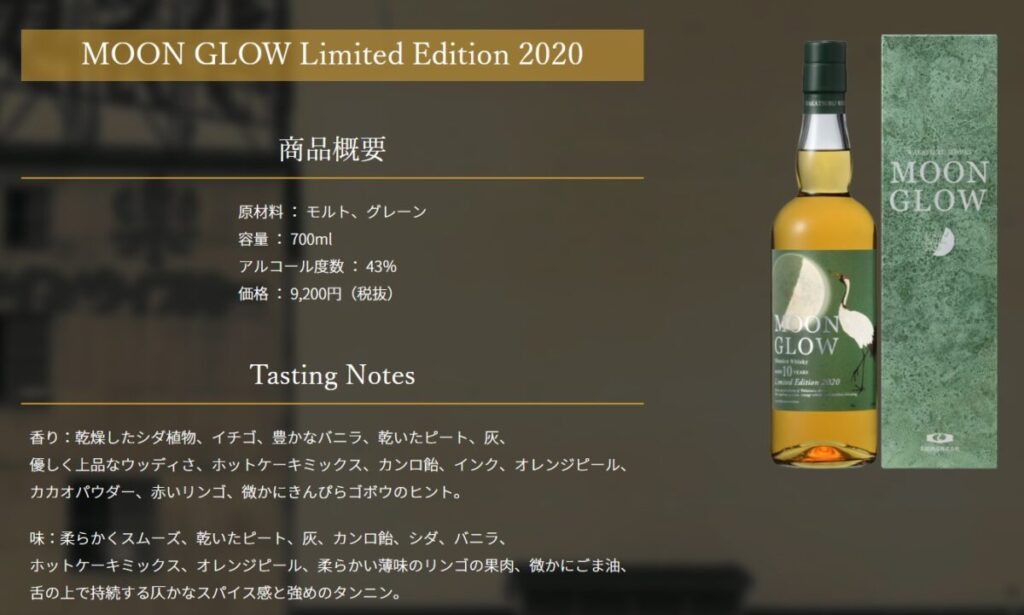 | | |
| --- | --- |
| Product name | MOON GLOW Limited Edition 2020 |
| Capacity | 700ml |
| Suggested retail price | 9,200 yen (tax included: 10,120 yen) |
6-2. Resale price on Mercari
The resale price on Mercari is around 7,000 yen to 8,500 yen (*As of February 14 , 2021)


6-3. Yahoo Auction Sold Price
The winning bid price on Yahoo Auction is Lowest bidder: 5,450 yen, highest bidder: 7,800 yen, average bidder: 6,380 yen.
(*Statistics for the past 120 days since February 14 , 2021)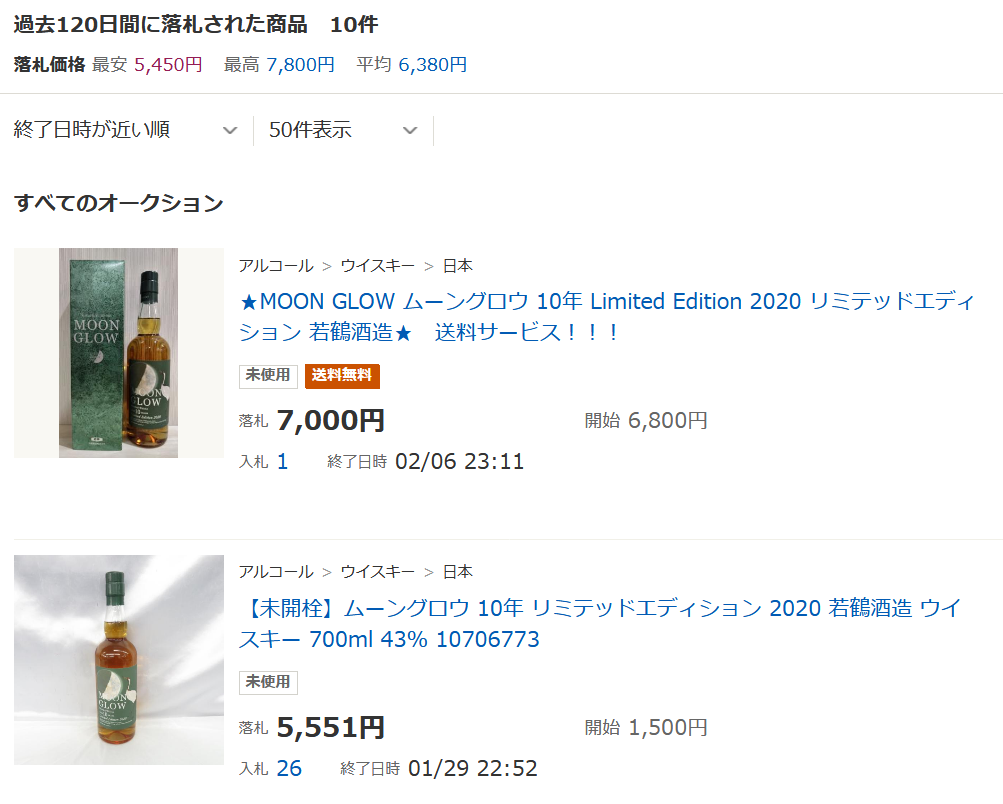 6-4. Rakuten, Yahoo Shopping, Amazon
Mail order sites sell the product at the same price as the regular price, around 10,000 yen. (*As of February 14 , 2021)
6-5. Price offered at BAR SHINKAI
At "BAR SHINKAI" , which is operated by our website, we offer even small amounts such as 1 glass, 45ml: 2,970 yen, 30ml: 1,980 yen, 15ml: 990 yen  
7. Summary
I think this is a very well-balanced whisky that can be drunk in any way you like.
The more time passes after opening the bottle, the more it changes into a rich sweetness. I think it's a good quality whiskey, but it's not getting much attention among Japanese whiskeys these days, and I often see it lined up in department stores.
In 2020, the distillery will start distilling with peated malt from Islay, and it will be interesting to see if it will play a role in creating a more complex flavor with a different raw material. It is one of the distilleries that I am looking forward to seeing in the future.
Please check out the other articles about Saburomaru Distillery and Moonglow.