After three years of maturation, the raw malt liquor, which was prepared and distilled in 2017 at Helios Brewery in Nago City, Okinawa, will be bottled in December 2020 and released as Okinawa's first single malt whisky.
The label design is inspired by the pre-dawn atmosphere in the mountains close to the distillery, with the name of the place, "Kyoda" , expressed in strong brush strokes.
It is already sold out in the official online store.
1. Manufacturer
Helios Sake Brewery Co.
| | |
| --- | --- |
| Established | 1961 |
| Headquarters location | 405, Kyoda, Nago City, Okinawa Prefecture 905-0024, Japan |
| Owned distillery | Helios Brewery Distillery |
2. Distillery
Helios Shuzo Distillery
| | |
| --- | --- |
| Location | 405, Kyoda, Nago City, Okinawa Prefecture 905-0024, Japan |
| Start of operation | 2016 (Whisky production resumed) |
Helios Distillery, which currently has six different liquor licenses, is developing a wide variety of products under the motto "Liquor entertainer rooted in the local community" as it pursues sake production that will lead to the next hundred years.
The first thing we want to focus on in sake brewing is water. In search of rich nature and pure water, we arrived at Kyoda, Nago City, Okinawa Prefecture. Surrounded by the Yambaru forest, which has been around since ancient times, Kyoda has been called the "City of Water. The Yambaru region, which is humid all year round, receives a lot of rainfall, and the rain that falls on the forest soaks deep into the ground, storing minerals in the soil, and is slowly released into the rivers. Helios Sake Brewery's sake is brewed using pure natural water from the upper reaches of the river that runs behind the brewery.
Its representative product is "Kura" an old Awamori sake that has been on the market for 30 years since 1991 and is still a long seller.
The company also sells whiskey under the same name.
■ Main History
1961 Taiyo Brewing Company was established in Naha City. Produced rum made from sugar cane grown in Okinawa.
1963 The company was renamed Helios Brewery. Start of whiskey production.
1969 Changed the company name to Helios Brewery Co.
1972 Moved the head office and factory to the current location in Kyoda, Nago City
1991 Utilizing the barrel-aging technology cultivated in the Western-style alcohol business, the company released "Kura" an old-style Awamori aged in oak barrels.
We are a sake brewer with a long history. Click here for detailed history.
Image credit: Helios Brewery official website
For more information on the Helios Brewery Distillery, please see also.
3. Product name and photo
Single Malt Whisky KYODA Cask Strength 2020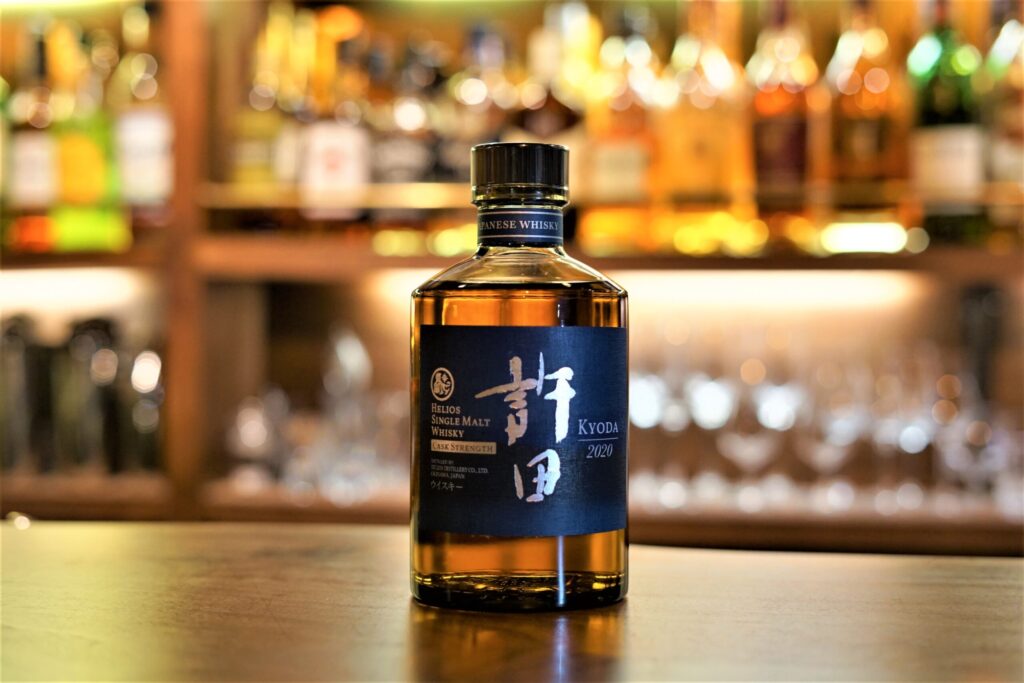 ¥4,400
(2022/09/30 15:00:20時点 楽天市場調べ-
詳細)
Features
Okinawa's first single malt whisky with a smoky flavor.
Peat malt from the UK This is Okinawa's first single malt whisky made from British peat malt, prepared and distilled in-house in 2017, and aged in white oak barrels for three years.
Single Malt Whisky KYODA Cask Strength 2020 is a whisky with a smoky aroma and depth of flavor derived from peat malt, and is 60.9% cask strength with no water added.
It is a non-chill-filtered, non-colored Japanese whisky that reflects Helios Brewery's commitment to whisky making.
4-1. Tasting Notes

| | |
| --- | --- |
| Aroma | Raisins, smoked bacon, and a good amount of peat are well perceived. |
| Taste | On the palate, you can feel the alcohol for a moment, but it soon dissipates and the taste changes to a mellow and rich taste like bitter chocolate. |
| Aftertaste | Smoky and spicy oak aroma lingers. |

4-2. Product Specifications
| | |
| --- | --- |
| Alcohol content | 60.9% |
| Classification | Single malt whisky |
| Barrel type | White oak barrels |
| Contents | 700ml |
| Number of bottles sold | 1,423 bottles |
| Suggested retail price | 11,000 yen (tax included) |
| Release date | December 31, 2020 |
5. Awards received
No awards have been received at this time.
6. Price
6-1. Manufacturer's suggested retail price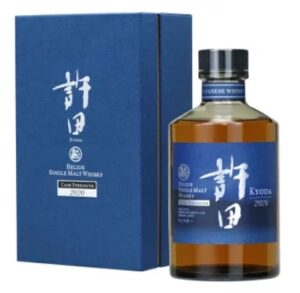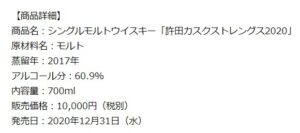 | | |
| --- | --- |
| Product name | Single Malt Whisky KYODA Cask Strength 2020 |
| Capacity | 700ml |
| Suggested retail price | 10,000 yen (tax included: 11,000 yen) |
6-2. Resale price on Mercari
The resale price on Mercari is Around 16,500 yen to 20,000 yen The resale price on Mercari is as follows. (*as of February 14 , 2021)


6-3. Yahoo auction bidding price
The winning bid price on Yahoo Auction is Lowest bidder: 15,000 yen, highest bidder: 20,005 yen, average bidder: 17,900 yen. (*Statistics for the past 120 days as of February 14 , 2021)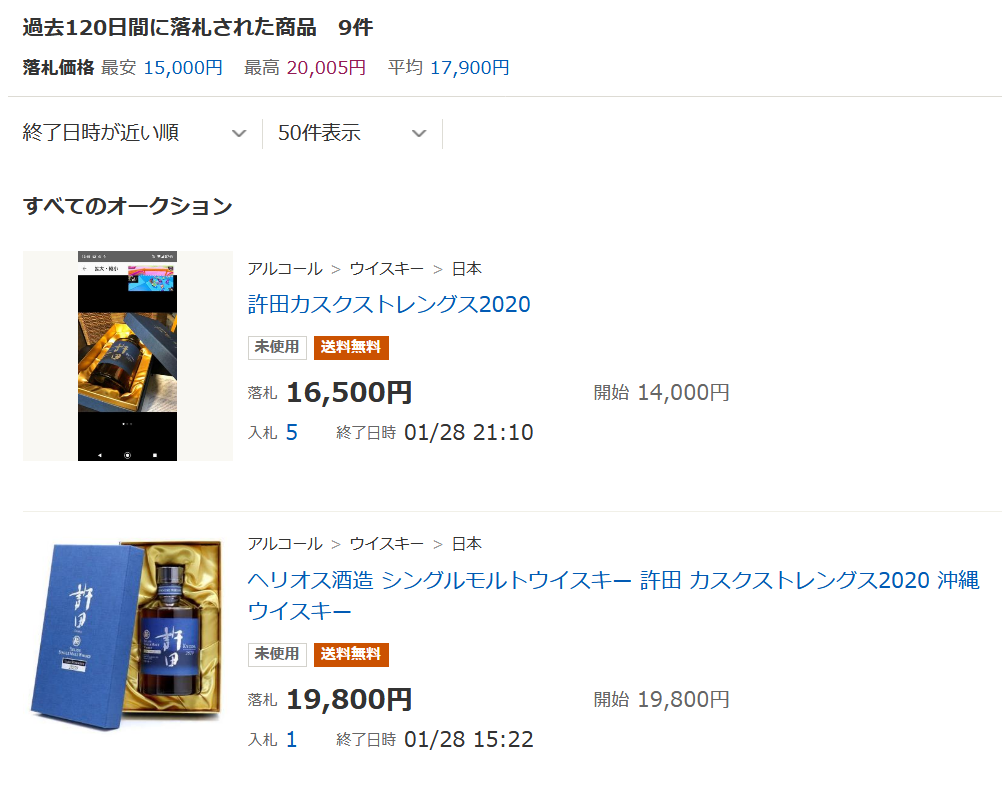 6-4. Rakuten, Yahoo Shopping, Amazon
Not sold at mail order sites. (*As of February 14 , 2021)
6-5. Price offered at BAR SHINKAI
At "Bar Shinkai" which is operated by this website, we offer even small quantities of 1 glass, 45ml: 3,300 yen 30ml: 2,200 yen, 15ml: 1,100 yen We also offer small quantities such as.
7. Summary
The product went on sale in the online store on December 31 without any advance notice of its release. Although the initial response was slow, the additional 90 units were sold out in an instant as people became aware of it through Twitter and other media.
The whisky is aged for three years and is cask strength, so it may have a strong alcoholic taste! I thought it might be too alcoholic, but there was no need to worry about that.
My honest impression was, why is it so delicious after 3 years of aging? My honest impression was, "How can it be so good after 3 years of aging? The peat is very strong and it tastes like an Islay whisky.
In recent years, new Japanese whiskey distilleries have been releasing limited-quantity whiskeys aged for three years, and all of them are surprisingly delicious. I can't help but feel Japan's passion for manufacturing.
It seems that Helios Shuzo will continue to make whiskeys without stopping with this "Kyoda Cask Strength" so the next release is expected to be even more exciting. High expectations. I will keep an eye on the future developments.
Please be sure to check out the other articles about "Kyoda" .
Lastly: Recommended Books on Japanese Whisky
If you want to learn more about Japanese whisky, which is a global trend, we highly recommend these books.
In the December 2021 issue of Whisky Galore, published by the Whisky Culture Research Institute, we report on 11 Japanese craft distilleries, including some that are open to the public for the first time, under the title of "Japanese Whisky Craft Frontline," the first of three consecutive issues. Why did the popularity of Japanese whiskey and the craft boom occur? We will examine with interviews. Chichibu Distillery / Chichibu No.2 Distillery / Mars Shinshu Distillery / Mars Tsunuki Distillery / Kanosuke Distillery / Hioki Distillery / Ontake Distillery / Osuzuyama Distillery / Kaikyo Distillery / Hanyu Distillery / Konosu Distillery
¥1,320
(2022/09/30 15:57:23時点 Amazon調べ-
詳細)
This is a book written by Mamoru Tsuchiya, a world-famous whisky critic and representative of the Whisky Culture Research Institute, titled "Japanese Whisky as a Culture that Works for Business" .
The book covers the basics of whisky, the introduction of whisky to Japan, the birth of Japanese whisky, advertising strategies and the rise of Japanese whisky, and the current rise of craft distilleries. This is a book that summarizes Japanese whisky in a very easy to understand way.
Masataka Taketsuru, the founder of Nikka Whisky, devoted his life to brewing whisky in Japan. This is a revised and reprinted version of the autobiography of a man who simply loved whiskey and talked about himself. The book vividly depicts the days when he went to Scotland alone to study as a young man and overcame many hardships to complete Japanese whisky, as well as his companion, Rita.
Launching in 2019. With the world experiencing an unprecedented whisky boom, what were the managers of craft distilleries thinking and what were their thoughts as they took on the challenge of making whiskey? This book tells the stories of 13 craft distillery owners, including Ichiro Hido of Venture Whisky, famous for his Ichirose Malt, who inspired the birth of craft distilleries in Japan.
This is the Japanese version of Whisky Risng, published in the US in 2016, with much updated content. Not only does it describe the history of Japanese whiskey in detail, but it also includes data on all the distilleries in Japan, including the craft distilleries that have been founded in recent years. The book also includes descriptions of the legendary bottles that have been released, as well as information on bars where Japanese whisky can be found.
]