Suntory and Nikka are two of the most well-known whiskey makers in Japan. However, the whisky that is as popular among whisky fans as these two major brands is "Ichiro's Malt" , a whisky that is so popular and difficult to obtain that it sells out the same day it appears in stores. The Leaf series (Mizunara Wood Reserve, Wine wood Reserve, and Double Distilleries) are immensely popular and captivate whisky fans.
1. Manufacturer
Venture Whiskey Co.
| | |
| --- | --- |
| Establishment | Established in 2004 |
| Head office location | 49 Midorigaoka, Chichibu-shi, Saitama 368-0067 Japan |
| Distilleries owned | Chichibu Distillery, Chichibu No.2 Distillery |
2. Distillery
Venture Whiskey Chichibu Distillery
| | |
| --- | --- |
| Location | 49 Midorigaoka, Chichibu City, Saitama Prefecture, 368-0067 Japan |
| Start of operations | 2007 |
Single malt whiskey production rooted in the climate of Chichibu is carried out.
Mr. Ichiro Akuto, the founder of the distillery, takes pride in producing Japanese whiskey, and is committed to handcrafting malt whiskey using small mills, mash tuns, Quercus fermenters, and pot stills made by Forsyth in Scotland.
The area around the Chichibu distillery is rich in nature, with clean air, good quality water, high temperatures and humidity in the summer, and cold temperatures that reach below freezing in the morning and evening. The difference in temperature between the two regions has a profound effect on the maturation of the whiskey, resulting in a fruity and well-balanced whiskey despite the short maturation period.
Founded in September 2004.
Chichibu distillery was completed in 2007.
In February 2008, a license to make whiskey was issued and we began making whiskey at the Chichibu distillery.
In October 2019, the second distillery will begin operations.

This distillery was established after Suntory Hakushu Distillery and Kirin Fuji Gotemba Distillery, which were established in 1973. The distillery was established in 1973 after Suntory Hakushu Distillery and Kirin Fuji Gotemba Distillery. The first distillery established in Japan in 35 years. This was the end of the whiskey slump.
The annual whisky production is only two days' worth of the Glenlivet distillery in Scotland.
The production volume of the second distillery, which has been in operation since the fall of 2019, is five times that of the first distillery. The malt to be prepared at once is 2t. Pot stills are the same straight shape, but have a fairly large pot still so that they can distill five times as much. Forsyth uses a gas open flame distiller.
For more information on Chichibu Distillery, please see also.
3. Product name and photo
Ichiro's Malt Wine Wood Reserve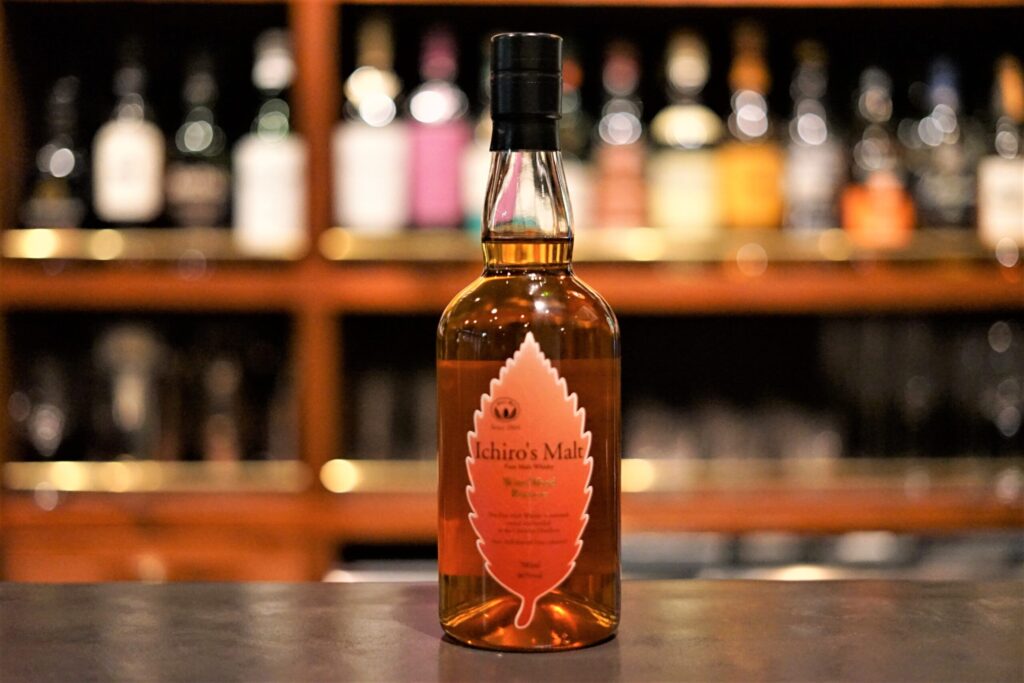 4. Characteristics
100% malt whisky using Hanyu Distillery's malt as the key malt.
Vatting malt from the now closed Hanyu distillery and several other types of malt. It is a gorgeous and mellow whisky because it is made up of 100% malt without grain. The whisky is then post-ripened in red wine barrels made of French oak. Two types of wine barrels were used to mature Muscat Berry A and Merlot. The whiskey is not artificially colored or cooled by filtration (non-chill filtered method *1) to allow the original flavor and taste of the whiskey to be felt more.
1 Non-chill filtered process: When the temperature of raw whiskey matured in barrels becomes low, the dissolved flavor components precipitate out*2 and become cloudy. In order to prevent this from happening, ordinary whisky is filtered by cooling the raw whisky or product to about 0-5 degrees Celsius. The ingredients that precipitate when cooled are either malt-derived or barrel-derived, both of which are considered to be flavor components of whiskey. The fact that the whiskey is not cooled and filtered means that it is bottled with the flavor components of the malt and barrels intact, resulting in a whiskey with a more complex and richer taste.
*2 Precipitation: The separation of crystals or individual components from a liquid substance.
4-1. Tasting Notes
| | |
| --- | --- |
| Aroma | Fruity, with a bitter chocolate sweetness. A hint of vanilla from the back. Woody aroma with a hint of maple syrup. |
| Taste | Grape acidity and jammy sweetness. A fruity taste reminiscent of apples and cinnamon. Some tannins and spiciness are also present. |
| Aftertaste | Long-lasting nuances characteristic of red wine barrels. |
4-2. Product Specifications
| | |
| --- | --- |
| Alcohol content | 46% |
| alcohol category | Blended malt whisky |
| Barrel type | Red wine barrels |
| Contents | 700ml |
| Number of bottles sold | ー |
| Suggested retail price | 6,600 yen (tax included) |
| Release date | ー |
5. Awards
2011 WWA (World Whisky Awards) "Best Japanese Blended Malt" 
6. Price
6-1. Manufacturer's suggested retail price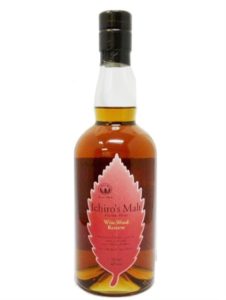 | | |
| --- | --- |
| Product name | Ichiro's Malt Wine Wood Reserve |
| Volume | 700ml |
| Suggested retail price | 6,000 yen (tax included: 6,600 yen) |
6-2. Resale price on Mercari
The resale price on Mercari is Around 10,000 yen to 12,000 yen The resale price on Mercari is as follows. (*as of
February 14 , 2021)


6-3. Yahoo auction bidding price
The winning bid price on Yahoo Auction is Lowest bidder: 9,000 yen, highest bidder: 13,000 yen, average bidder: 10,482 yen (*Statistics for the past 120 days as of February 14 , 2021)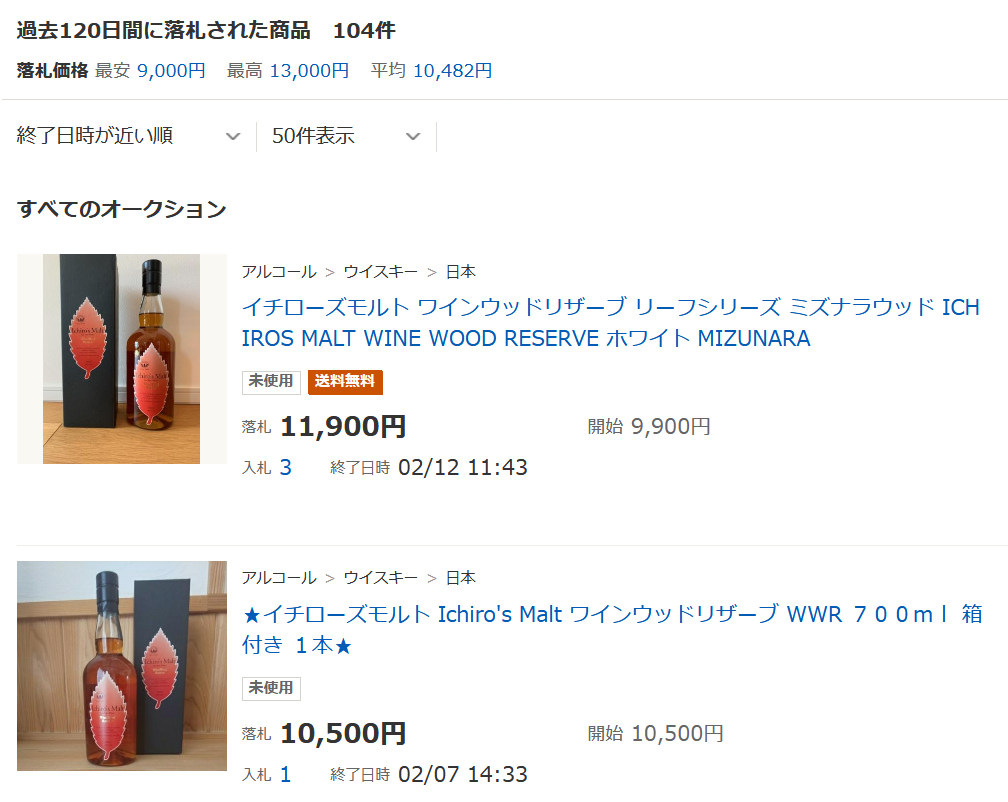 6-4. Rakuten, Yahoo Shopping, Amazon
It is also sold on mail order sites at Around 17,000 yen to 23,000 yen It is also sold at (*As of February 14 , 2021)
If you line up in a store at a fixed price, it sells out almost immediately. The price is about double the regular price.
6-5. Price offered at BAR Shinkai
At "BAR SHINKAI" which is operated by this website, we offer even small quantities such as 1 glass, 45ml: 2,310 yen 30ml: 1,540 yen, 15ml: 770 yen We also offer it in small quantities such as.
7. Summary
This whiskey has the charm of being aged in wine barrels, but it is easy to drink with no alcohol. The recommended way to drink it is straight. You can feel the fruity sweetness and the barrel aroma. If you don't like tannins, we recommend drinking it straight or on the rocks.
The Chichibu distillery is currently aiming to make a whiskey that is unique to Chichibu, such as using barley grown locally in Chichibu as a raw material and considering the production of barrels using materials from Chichibu.
Mr. Ichiro Akuto's wish is to bring out whiskey that has been matured for 30 or 50 years. His dreamy words only make me more excited for the future.
Please check out the other articles about Ichiro's Malt.