THE ESSENCE of SUNTORY WHISKY is a series of whiskies created from Suntory's desire to pursue "Essence" in whisky making. 2019.This is the third release in the series.
1. Maker
Suntory Spirits Co.
Established

1899

Headquarters location
2-3-3 Daiba, Minato-ku, Tokyo 135-8631, Japan
Owned distillery
●Japan
Yamazaki Distillery, Hakushu Distillery, Chita Distillery
●Scotland
Ardmore distillery, Glengilly distillery, Auchentoshan distillery, Bowmore distillery, Laphroig distillery
●Ireland
Cooley distillery, Kilbeggan distillery
●United States
Jim Beam distillery, Maker's Mark distillery
●Canada
Hiram Walker distillery, Alberta distillery
2. Distillery
"We use malt liquor aged for more than 12 years in white oak barrels at the Yamazaki Distillery, then refilled in cedar barrels and aged for more than 6 years, and malt liquor aged for more than 18 years in sherry and quercus barrels. "It is blended with grain aged for more than 18 years at the Chita Distillery.
Suntory Yamazaki Distillery
| | |
| --- | --- |
| Location | 5-2-1 Yamazaki, Shimamoto-cho, Mishima-gun, Osaka 618-0001, Japan |
| Start of operation | 1923 |
The Yamazaki Distillery was established in 1923 as the first malt whisky distillery in Japan. At a time when whisky was still a rare drink for the general public, Shinjiro Torii set out to create a Japanese whisky that would suit the delicate taste of the Japanese people. With this passion in his heart, Shinjiro Torii set out to make whisky.
Shinjiro was particular about the Japanese climate. Water and the environment were especially important to him. Yamazaki is the home of the famous water called Minase no, which was written about in the Manyo poem.
The tea master Sen no Rikyu loved this place and the water was perfect for making whisky. The natural environment was also perfect.
Yamazaki is located in the southwest of Kyoto, at the foot of Tennozan (Mt. Tenno), where bamboo groves grow thickly, and is rich in nature where you can feel the seasonal changes. Located at the confluence of the Katsura, Uji, and Kizu Rivers, and surrounded by mountains, Yamazaki is prone to thick fog and has a warm and humid climate, which is ideal for maturing whisky.
"Nobujiro decided to make Yamazaki the home of whisky, saying, "Yamazaki is the only place with this water and climate to make good whisky.
Reference: YAMAZAKI MOMENTS
Suntory Yamazaki Distillery
1923 Yamazaki distillery was built. The first whisky distillery in Japan.
1929 Released "Shirofuda", the first domestically produced whisky.
1937 Released "Kakubin".
1984 Released single malt whisky " Yamazaki ".
1992 – Single malt whisky "Yamazaki 18 years" was launched.
1998 – Single malt whisky "Yamazaki 25 years" was launched.
Image courtesy of Yamazaki Club
For more information on the Yamazaki Distillery, please see this article.
https://en.jpwhisky.net/manufacturer/yamazaki_en/
Suntory Chita Distillery
| | |
| --- | --- |
| Location | 16 Kitahamacho, Chita City, Aichi Prefecture, 478-0046, Japan |
| Start of operation | 1973 |
The Chita Distillery, located on the Chita Peninsula overlooking Ise Bay, is a grain whisky distillery established by the Suntory Group in collaboration with the Zen-Noh Group, and is one of the three domestic whisky distilleries of the Suntory Group, along with the Yamazaki and Hakushu distilleries for malt whisky. Here, corn-based grain whisky has been supported. The Chita Distillery uses continuous distillation to produce three types of grain whisky: clean, medium and heavy, which is unique in the world.
3. Product name and photo
The Essence of Suntory whisky Rich Type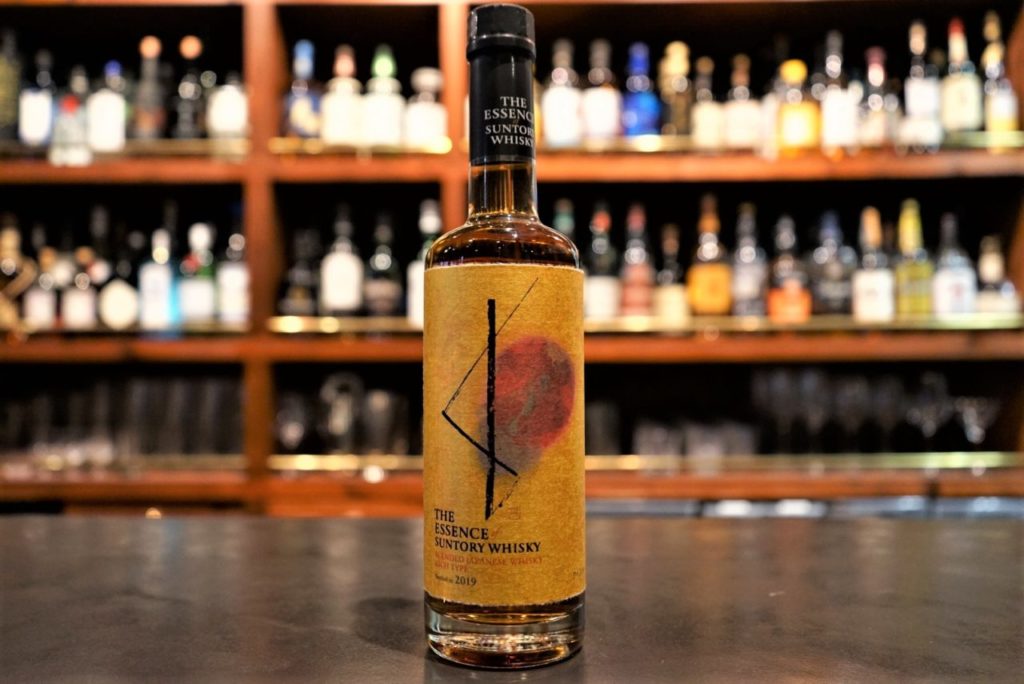 4. Characteristics
The aroma of cedar is added to the malt and grain raw materials that have been aged for more than 18 years.
Blended Japanese whisky is Suntory's new blended whisky challenge, where the strong character of Japan's unique "cedar malt barrels" shines through in a delicate and graceful harmony. For the Rich Type, the blender carefully selects and blends malt from the Yamazaki Distillery, which is matured in white oak barrels for more than 12 years and then refilled into cedar barrels for another 6 years, malt from the Yamazaki Distillery, which is matured in sherry and quercus barrels for more than 18 years, and grain from the Chita Distillery, which is also matured for more than 18 years. The blender carefully selects and blends them. You can enjoy the sweet and rich taste with a sense of maturity, followed by a lingering aroma of cedar.
4-1. Tasting Notes
| | |
| --- | --- |
| Aroma | A heavy, rich blend. A glimpse of cedar at the edge of the aroma. |
| Taste | A sweet and smooth mouthfeel, with the cedar flavor lingering and the taste of well-ripened fruit. |
| Aftertaste | The sweet and sour aftertaste is intertwined with the crispness of cedar. |
4-2. Product Specifications
| | |
| --- | --- |
| Alcohol content | 48% alcohol by volume |
| by alcohol | Blended Whisky |
| Barrel type | White oak barrels, cedar barrels, sherry barrels, quercus barrels |
| Contents | 500ml |
| Number of bottles sold | Limited quantity |
| Suggested retail price | 11,000 yen (tax included) |
| Release date | October 29, 2019 |
5. Award history
No awards have been received at this time.
6. Price
6-1. Manufacturer's suggested retail price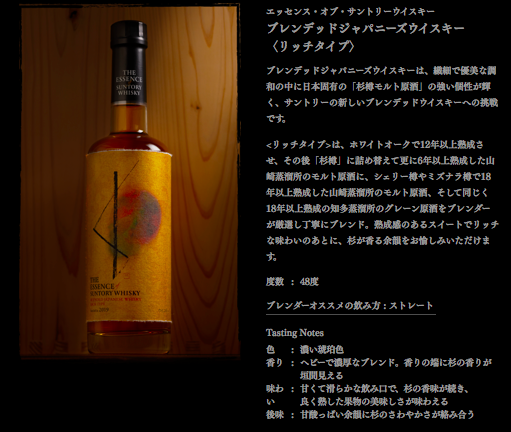 | | |
| --- | --- |
| Product name | Essence of Suntory whisky (Rich Type) |
| Capacity | 500ml |
| Suggested retail price | Tax included: 11,000 yen |
6-2. Resale price on Mercari
The resale price on Mercari is around 25,000 yen to 40,000 yen. (*As of April 8, 2021)
The price is for a set with Essence of Suntory whisky <Clean Type>, which was released at the same time.


6-3. Yahoo Auction Sold Price
The lowest bid price on Yahoo Auction was 21,000 yen, the highest was 22,011 yen, and the average was 21,418 yen(based on statistics for the past 120 days from 4/8/2021).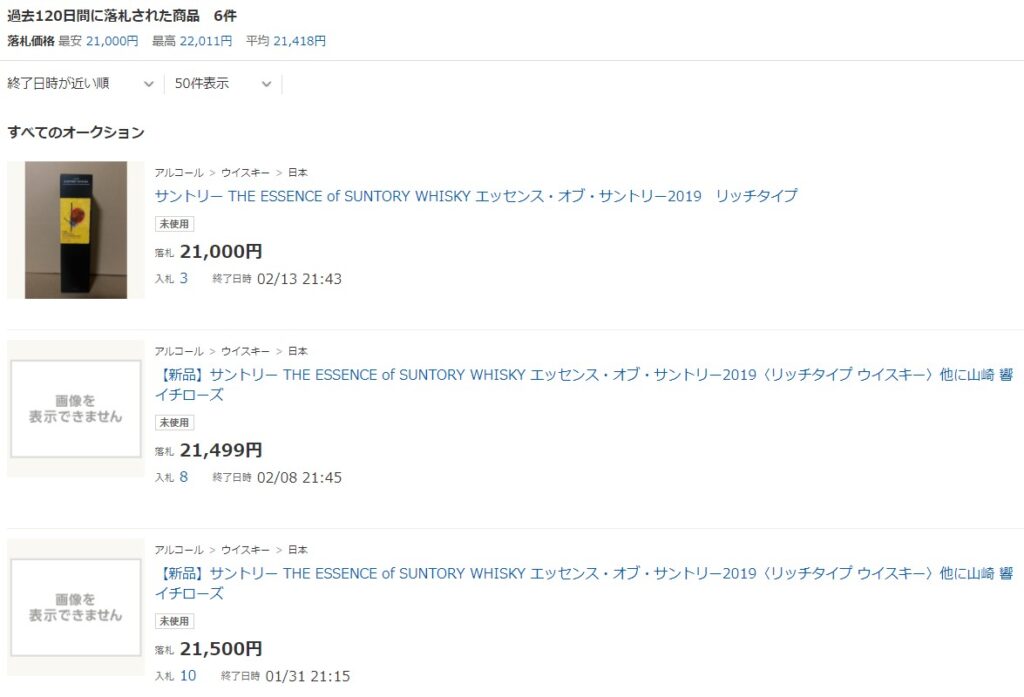 6-4. Rakuten, Yahoo Shopping, Amazon
Mail order sites sell them for around 25,000 yen to 30,000 yen. (*As of 4/8/2021)
6-5. Price offered at BAR SHINKAI
At BAR SHINKAI, which is operated by this website, one cup is offered at 45ml: 4,620 yen, 30ml: 3,080 yen, 15ml: 1,540 yen.
https://en.jpwhisky.net/about-2/barshinkai-4/
7. Summary
The "Rich Type" is based on the single malt Yamazaki, and the flavors of the sherry and Quercus barrels can be felt clearly. It has a strong sense of maturity and woodiness, and the character of the cedar wood is well harmonized.
It is a blend of Yamazaki Distillery malt, which was aged for 12 years in white oak barrels and then transferred to cedar barrels and aged for over 6 years, and Chita Distillery grain, which was aged for over 18 years. It is a luxurious blended whisky with all the raw materials aged for more than 18 years.
The best way to drink it is straight or on the rocks. This whisky is sold in limited quantities and is highly sought after.
Please check out the other articles about Essence of Suntory.
https://en.jpwhisky.net/2020/06/13/essenceofsuntory_chitasakuracask-2/
https://en.jpwhisky.net/2020/06/11/essenceofsuntory_ricewhisy-2/
Lastly: Recommended Books on Japanese Whisky
If you want to learn more about Japanese whisky, which is a global trend, we highly recommend these books.
In the December 2021 issue of Whisky Galore, published by the Whisky Culture Research Institute, we report on 11 Japanese craft distilleries, including some that are open to the public for the first time, under the title of "Japanese Whisky Craft Frontline," the first of three consecutive issues. Why did the popularity of Japanese whisky and the craft boom occur? We will examine with interviews. Chichibu Distillery / Chichibu No.2 Distillery / Mars Shinshu Distillery / Mars Tsunuki Distillery / Kanosuke Distillery / Hioki Distillery / Ontake Distillery / Osuzuyama Distillery / Kaikyo Distillery / Hanyu Distillery / Konosu Distillery
This is a book written by Mamoru Tsuchiya, a world-famous whisky critic and representative of the Whisky Culture Research Institute, titled "Japanese Whisky as a Culture that Works for Business" .
The book covers the basics of whisky, the introduction of whisky to Japan, the birth of Japanese whisky, advertising strategies and the rise of Japanese whisky, and the current rise of craft distilleries. This is a book that summarizes Japanese whisky in a very easy to understand way.
Masataka Taketsuru, the founder of Nikka Whisky, devoted his life to brewing whisky in Japan. This is a revised and reprinted version of the autobiography of a man who simply loved whisky and talked about himself. The book vividly depicts the days when he went to Scotland alone to study as a young man and overcame many hardships to complete Japanese whisky, as well as his companion, Rita.
Launching in 2019. With the world experiencing an unprecedented whisky boom, what were the managers of craft distilleries thinking and what were their thoughts as they took on the challenge of making whisky? This book tells the stories of 13 craft distillery owners, including Ichiro Hido of Venture Whisky, famous for his Ichirose Malt, who inspired the birth of craft distilleries in Japan.
This is the Japanese version of Whisky Risng, published in the US in 2016, with much updated content. Not only does it describe the history of Japanese whisky in detail, but it also includes data on all the distilleries in Japan, including the craft distilleries that have been founded in recent years. The book also includes descriptions of the legendary bottles that have been released, as well as information on bars where Japanese whisky can be found.