We are pleased to announce that exclusive pre-orders are now available for the Whiskypedia original bottle from "Whiskypedia," a whisky specialty program airing on BS Fuji to critical acclaim, prior to delivery around mid-March 2023.
The bottle is a special collaboration with "BB&R (Berry Brothers & Rudd)," one of the oldest wine and spirits merchants in the UK with over 300 years of history and two royal warrants.
The name of the distillery is not disclosed, but it is a blend of malts that have been aged for more than 20 years, and it will be fun to imagine which distillery's malts are used.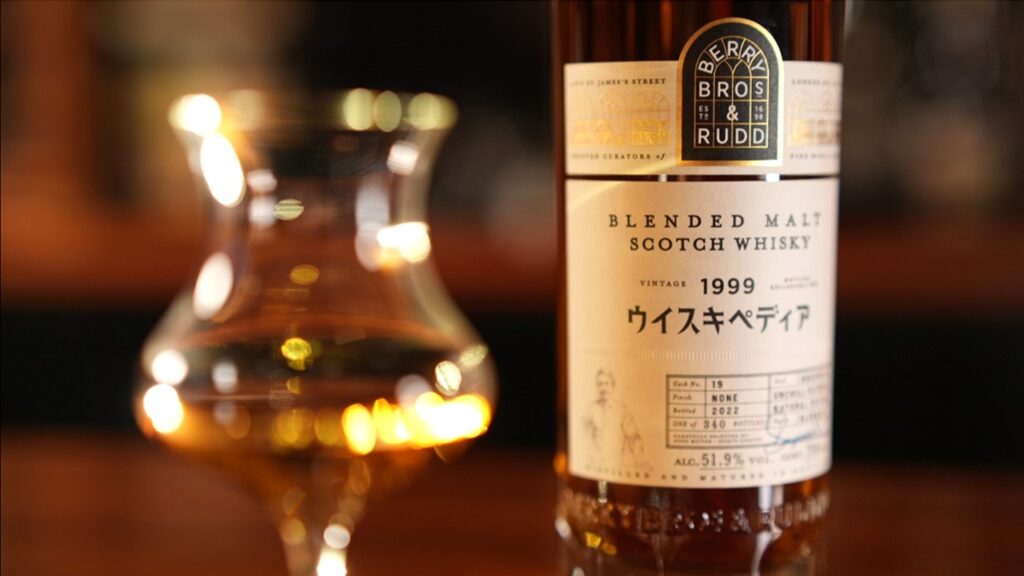 1. Special collaboration with "BB&R (Berry Brothers & Rudd)"
"Whiskipedia" content for whisky lovers. This time, a special collaboration with "BB&R (Berry Bros. & Rudd)", a British royal warrant whisky that has been in use for over 300 years! This special edition bottle with the program's name will be available for pre-order exclusively on BS Fuji (scheduled for delivery around March 2023).
Tasting comment by John McMillan, Reserve Manager: "Lively fruit and citrus on the nose, followed by vanilla confections and a gorgeous fruit salad-like flavor on the finish."
*Limited to one bottle per person. Duplicate orders will be automatically cancelled by our company. Please understand this in advance.  *Reserved items cannot be purchased at the same time as other items.
*Sales will end as soon as they run out. Please be forewarned in advance.
*Expected delivery around mid-March 2023
Application deadline: March 5, 2023 (Sun.)
↓Click here to purchase↓ 

2. Product details
BB&R Blended Malt 1999 Exclusively for Whiskipedia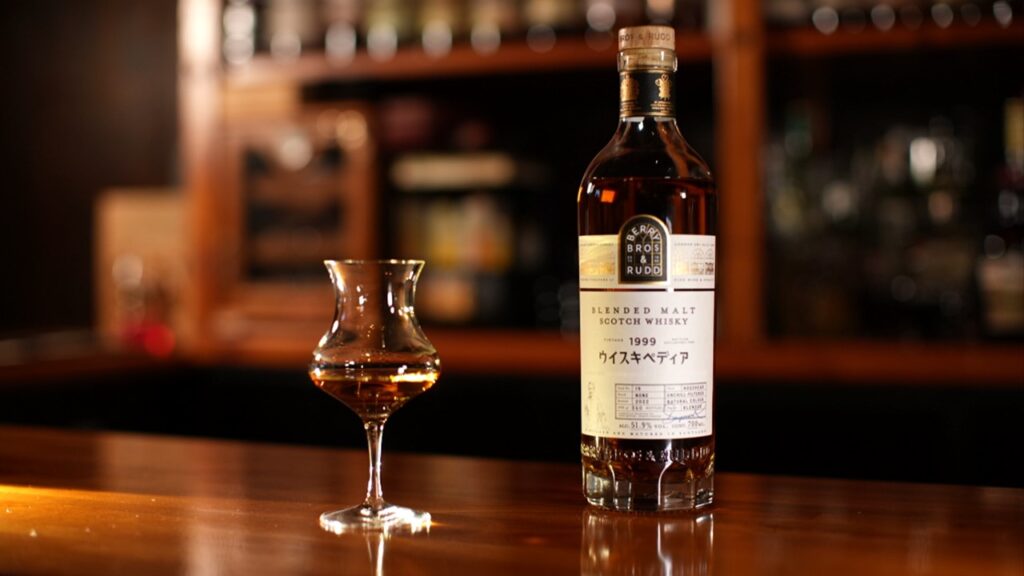 | | |
| --- | --- |
| Product Name | BB&R Blended Malt 1999 Exclusively for Whiskipedia |
| Age | 22 years |
| Number of bottles sold | 340 bottles |
| Cask Type | Hogshead |
| Content Volume | 700ml |
| Alcohol Content | 51.9% |
| Retail Price | 27,273 yen (excluding tax)/30,000 yen (including tax) |
↓Click here to purchase↓
3. Tasting comment
Despite its more than 20 years of aging, the nose still retains a strong lively essence, filled with fruity aromas reminiscent of pear, fresh plums and bananas. At the same time, it is accompanied by calm and gentle aromas of tobacco leaf, antique furniture, and almonds, all of which are derived from the aging process, and the overflowing aroma that one would expect from an aged whiskey can be enjoyed.
The palate is mainly fruity and sweet, with a variety of sweetnesses such as dried apricots, fruit candies, vanilla ice cream, and caramelized bananas. As time goes by, nutty and minty chocolate flavors peek out, adding to the complexity. The mouthfeel is soft, smooth, and angular, which is the very characteristic of an aged whisky.
The finish is a long and lingering echo of oak, leaving a bitter aftertaste on the tongue.
The fruity aroma and the sweetness that spreads on the palate develops into a slightly bitter taste at the end, and the scene changes from moment to moment, even within a single glass. Please fully enjoy the elegant and mellow taste that is the true pleasure of long-aged malt whisky, and the complex transition and development of the flavor.
| | |
| --- | --- |
| Aroma | Pear, plum, plum, banana, vanilla, caramel, tobacco leaf, antique furniture, tea leaf, nut, fallen leaf, autumn boardwalk. |
| Taste | Apricot, vanilla, banana, chocolate, nuts, candy, fruit salad, Earl Grey, bitter liqueur. |
4. Purchase details
[Delivery date] Scheduled for March 2023 *Delivery may be delayed due to ocean transportation or availability.
[Payment Method] Credit Card
[Returns] We do not accept returns or exchanges for customer's convenience or after use.
[Personal Information] We will keep your personal information strictly and appropriately, and use it to send products and provide services, as well as to introduce and inform you of new products and services.
[Caution]
*Drinking alcohol is prohibited by law for those under 20 years of age.
*Drinking and driving is prohibited by law. *Alcohol in moderation.
*Drinking alcohol during pregnancy or lactation may adversely affect the development of the fetus or infant.

5. About Whiskipedia
"Whiskipedia" is a whisky specialty program broadcast on BS Fuji to rave reviews.
It is a program that provides information on whisky distilleries throughout Japan and various information about whisky in a fun and educational way.
The information on distilleries is covered in great detail, and it is a very worthwhile whisky program with a lot of information that cannot be seen or known even during a regular tour.
After reaching the peak of its popularity in 1983, whisky went through a long slump.
However, highballs have been in vogue for the last decade or so, and the boom has come back.
In recent years, interest in domestically produced whisky has grown, and its scarcity has made it so popular that its price has skyrocketed. This program is a fun way to learn about whisky, which has developed its own culture over its long history and with the passage of time, and to discover the best whisky.
Lastly: Recommended Books on Japanese Whisky
If you want to learn more about Japanese whisky, which is a global trend, we highly recommend these books.
In the December 2021 issue of Whisky Galore, published by the Whisky Culture Research Institute, we report on 11 Japanese craft distilleries, including some that are open to the public for the first time, under the title of "Japanese Whisky Craft Frontline," the first of three consecutive issues. Why did the popularity of Japanese whiskey and the craft boom occur? We will examine with interviews. Chichibu Distillery / Chichibu No.2 Distillery / Mars Shinshu Distillery / Mars Tsunuki Distillery / Kanosuke Distillery / Hioki Distillery / Ontake Distillery / Osuzuyama Distillery / Kaikyo Distillery / Hanyu Distillery / Konosu Distillery
¥1,320
(2023/03/21 01:01:51時点 Amazon調べ-
詳細)
This is a book written by Mamoru Tsuchiya, a world-famous whisky critic and representative of the Whisky Culture Research Institute, titled "Japanese Whisky as a Culture that Works for Business" .
The book covers the basics of whisky, the introduction of whisky to Japan, the birth of Japanese whisky, advertising strategies and the rise of Japanese whisky, and the current rise of craft distilleries. This is a book that summarizes Japanese whisky in a very easy to understand way.
Masataka Taketsuru, the founder of Nikka Whisky, devoted his life to brewing whisky in Japan. This is a revised and reprinted version of the autobiography of a man who simply loved whiskey and talked about himself. The book vividly depicts the days when he went to Scotland alone to study as a young man and overcame many hardships to complete Japanese whisky, as well as his companion, Rita.
Launching in 2019. With the world experiencing an unprecedented whisky boom, what were the managers of craft distilleries thinking and what were their thoughts as they took on the challenge of making whiskey? This book tells the stories of 13 craft distillery owners, including Ichiro Hido of Venture Whisky, famous for his Ichirose Malt, who inspired the birth of craft distilleries in Japan.
This is the Japanese version of Whisky Risng, published in the US in 2016, with much updated content. Not only does it describe the history of Japanese whiskey in detail, but it also includes data on all the distilleries in Japan, including the craft distilleries that have been founded in recent years. The book also includes descriptions of the legendary bottles that have been released, as well as information on bars where Japanese whisky can be found.