Yamaga Distillery Co. started whisky production on November 11, 2021.
In December 2022, the distillery's first new born "YAMAGA NEW BORN 2022" will be released to commemorate the first anniversary.
The distillery is focusing on producing malt whisky with the concept of "a gentle, clean taste with the strength of time."
We would like to drink this New Born first and feel the future growth of Yamaga Whisky.
1. Manufacturer
Yamaga Distillery Co.
| | |
| --- | --- |
| Establishment | November 6, 2021 |
| Head office | 980-1, Aizato, Kao, Yamaga, Kumamoto 861-0565, Japan |
| Owned distillery | Yamaga Distillery |

2. Distillery
Yamaga Distillery
| | |
| --- | --- |
| Location | 980-1, Aizato, Kao, Yamaga, Kumamoto 861-0565, Japan |
| Start of operation | November 6, 2021 |
Construction will be completed on November 6, 2021. This is the first whisky distillery in Kumamoto Prefecture.
The business originally started operation in 2013. The parent company is MCA Holdings (Tokyo), which was established through the spin-off of the liquor business and other operations of Minamikyushu Coca-Cola Bottling (now Coca-Cola Bottlers Japan Co., Ltd.). At the time of operation, shochu was being produced, but this was an opportunity to switch to whisky. The company aims to commercialize the product in 2024 or later with technical cooperation from Hombo Shuzo (Kagoshima City). The company expects to sell 150kl, 40,000-50,000 bottles per year.
The distillery was built on the site of the original shochu factory. It is a two-story steel-frame structure (total floor space: 1,257 m2) with a 4.6-meter-high bulge-shaped pot still. All equipment was supplied by Miyake Seisakusho except for the malt mill. The aging room (1,043 m2) can store up to 3,300 rack-type casks with a capacity of approximately 200 liters. A passageway for observing the production process and a lounge for tasting are also provided.
The total construction cost is approximately 1.1 billion yen.
The facility uses high-quality deep groundwater from the Kunimi mountain range and the Kikuchi River system.
The temperature difference between -5 degrees Celsius in winter and 40 degrees Celsius in summer is utilized for maturation.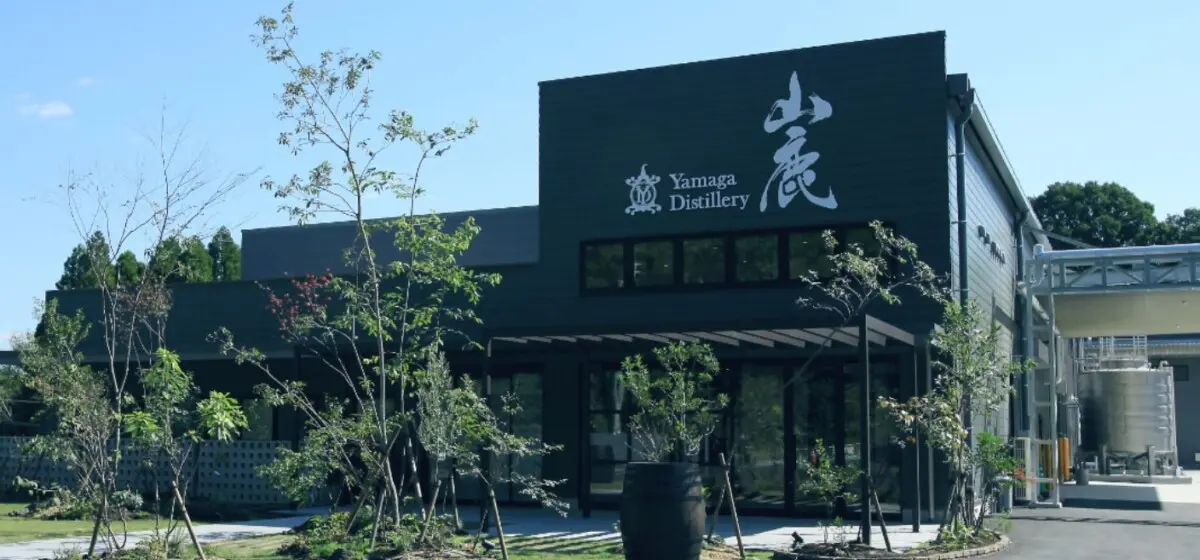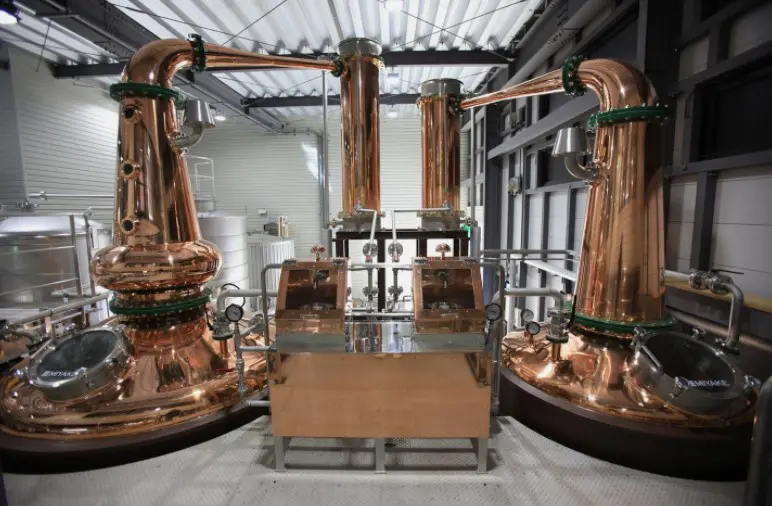 For more information about Yamaga Distillery, please see also ↓ here.
3. Product name and photo
Yamaga Newborn 2022
Yamaga New Born 2022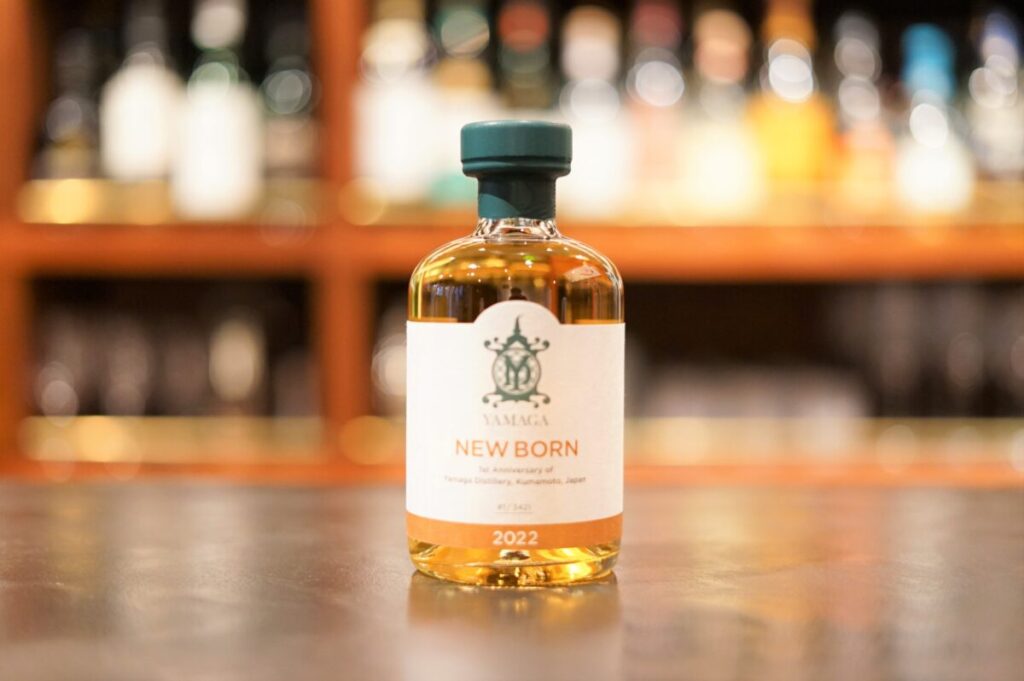 4. Characteristics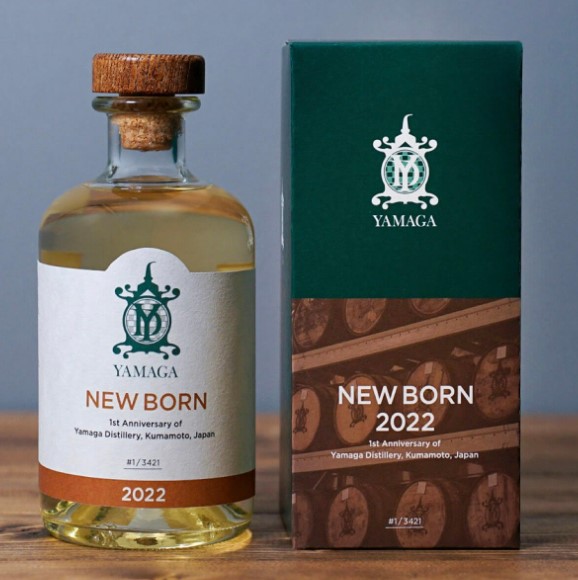 "YAMAGA NEW BORN 2022" is a blend of seven carefully selected casks aged in bourbon barrels for approximately seven months. It has a silky texture with the freshness of herbal tea, the fruity taste of honey lemon, and the richness of fresh cream and butterscotch, resulting in a clean, gentle on the palate bottle that evokes the elegance of the women at the Yamaga Lantern Festival. We hope you will enjoy this newborn created by the climate of Yamaga.

*3,421 bottles limited sale

Reference: December 1 (Thursday) Release of the first New Born "YAMAGA NEW BORN 2022″|What's New|Yamaga Distillery
4-1. Tasting notes

| | |
| --- | --- |
| Aroma | Banana, mango, vanilla, fresh and sweet aroma |
| Taste | Baked pastries and toast, sweetness with a hint of barley, vanilla ice cream |
| Aftertaste | Malty, soft oaky aroma lingers for a long time. |

4-2. Product Specifications
| | |
| --- | --- |
| Alcohol Content | 58% alcohol by volume |
| Distillate | Malt |
| Cask type | Bourbon casks |
| Volume | 375ml |
| Number of bottles sold | Limited to 3,421 bottles |
| Suggested retail price | 4,400 yen (tax included) |
| Release date | December 1, 2022 |

5. Awards
No awards received at this time.
6. Price
6-1. Manufacturer's Suggested Retail Price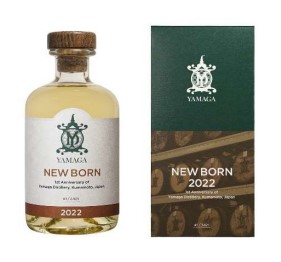 | | |
| --- | --- |
| Product Name | Yamaga Newborn 2022 |
| Capacity | 375ml |
| Suggested retail price | 4,400 yen (tax included) |
6-2. Resale price on Mercari
Resale price on Mercari is around6,000 yen. (*As of 1/16/2023)

6-3. Sold price on Yahoo! Auctions
Sold price on Yahoo! Auctions: Lowest 3,610 yen Highest 6,500 yen Average 4,689 yen
(*Statistics for the past 180 days from 1/16/2023)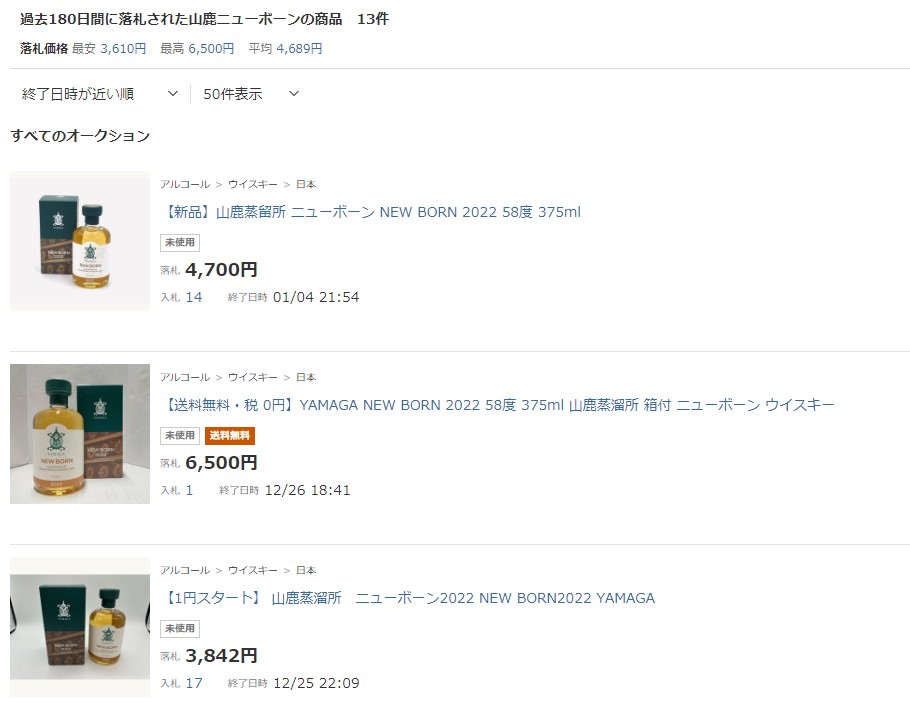 6-4. Rakuten, Yahoo Shopping, Amazon
It is also available on mail order sites for 9,680 yen as a set with Kusumi Distillery's Newborn. (*As of 1/16/2023)
【久住蒸留所&山鹿蒸留所】九州新興蒸留所ニューボーン飲み比べセット 久住蒸留所 山鹿蒸留所 ニューボーン 熟成1年未満 1stリリース 小瓶 ジャパニーズウイスキー 新興蒸留所 
イチローズモルト
 本坊酒造 
津貫蒸留所
6-5.Price offered at BAR Shinkai
At "BAR Shinkai" operated by this site, we offer small quantities such as 1 cup, 45ml: 2,310 yen 30ml: 1,540 yen, 15ml: 770 yen.
7. Summary
Yamaga Distillery is going to produce only malt whisky with technical cooperation from Honbo Shuzo (Mars Whisky). The Newborn is so round, spice-free, fruity, malty, and elegant that it is hard to believe that it has been aged for 7 months.
We are looking forward to the release of this distillery's products after 3 years of aging.
Lastly: Recommended Books on Japanese Whisky
If you want to learn more about Japanese whisky, which is a global trend, we highly recommend these books.
In the December 2021 issue of Whisky Galore, published by the Whisky Culture Research Institute, we report on 11 Japanese craft distilleries, including some that are open to the public for the first time, under the title of "Japanese Whisky Craft Frontline," the first of three consecutive issues. Why did the popularity of Japanese whiskey and the craft boom occur? We will examine with interviews. Chichibu Distillery / Chichibu No.2 Distillery / Mars Shinshu Distillery / Mars Tsunuki Distillery / Kanosuke Distillery / Hioki Distillery / Ontake Distillery / Osuzuyama Distillery / Kaikyo Distillery / Hanyu Distillery / Konosu Distillery
¥1,320
(2023/03/21 01:01:51時点 Amazon調べ-
詳細)
This is a book written by Mamoru Tsuchiya, a world-famous whisky critic and representative of the Whisky Culture Research Institute, titled "Japanese Whisky as a Culture that Works for Business" .
The book covers the basics of whisky, the introduction of whisky to Japan, the birth of Japanese whisky, advertising strategies and the rise of Japanese whisky, and the current rise of craft distilleries. This is a book that summarizes Japanese whisky in a very easy to understand way.
Masataka Taketsuru, the founder of Nikka Whisky, devoted his life to brewing whisky in Japan. This is a revised and reprinted version of the autobiography of a man who simply loved whiskey and talked about himself. The book vividly depicts the days when he went to Scotland alone to study as a young man and overcame many hardships to complete Japanese whisky, as well as his companion, Rita.
Launching in 2019. With the world experiencing an unprecedented whisky boom, what were the managers of craft distilleries thinking and what were their thoughts as they took on the challenge of making whiskey? This book tells the stories of 13 craft distillery owners, including Ichiro Hido of Venture Whisky, famous for his Ichirose Malt, who inspired the birth of craft distilleries in Japan.
This is the Japanese version of Whisky Risng, published in the US in 2016, with much updated content. Not only does it describe the history of Japanese whiskey in detail, but it also includes data on all the distilleries in Japan, including the craft distilleries that have been founded in recent years. The book also includes descriptions of the legendary bottles that have been released, as well as information on bars where Japanese whisky can be found.