"YUZA Second edition 2022" was released in early October from the Yuza Distillery of Kinryu Co. in Yamagata Prefecture.
The first edition, released in February 2022, was made exclusively from bourbon barrels and was a true royalty.
This second edition was carefully selected from those casked from February to July 2019 during the distillery's first season of operation, and expresses a rich aroma and complex, multi-layered flavor under the theme of the "fragrance of fertility" of the fruit tree kingdom of Yamagata, making it a different finish from the first edition.
1. Manufacturer
Kinryu Co.
| | |
| --- | --- |
| Established | April 1950 |
| Head office location | 180-1, Kusakariyachi, Kuromori, Sakata, Yamagata 998-0111 |
| Owned distillery | Yuza Distillery |

2. Distillery
Yuza Distillery
Kinryu Co., Ltd. opened its third whisky distillery in the Tohoku region in Yuza-machi, Yamagata Prefecture in 2018.
Yuza-machi is blessed with fresh and clean air and subsoil water from the famous Mt. Chokai, which has been selected as one of the "100 best water villages", and is suitable for producing the highest quality whisky.
The distillery uses Forsyth pot stills , five fermenters, and Canadian bay pine. The process and aging methods are also based on Scottish methods, with young whisky not being casked and only whisky that has been fully matured to its satisfaction being casked. Focusing only on single malt whisky The distillery is a small distillery where mass production is not possible. Because we are a small distillery that cannot mass-produce whisky, we go to great lengths in every detail to produce the highest quality whisky with the utmost care and attention.
Yuza Distillery Whisky
The "TLAS" concept

The whisky produced at the Yuza Distillery is
Tiny
Lovely
Authentic
Supreme
The concept of the Yuza Distillery is "TLAS", which stands for the initials of the above.

Yuza Distillery is a very small distillery for a whisky distillery, with a site area of approximately 4,550 square meters and a distillery area of approximately 620 square meters. The exterior of the distillery may look small and cute, but the whisky produced here is authentic and of the highest quality. While using traditional production methods, the distillery also has a Japanese style of "monozukuri" (craftsmanship), which makes it a one-of-a-kind Japanese whisky.

Quote from Yuza's official website
For more information on the Yuza Distillery, see also this article.

3. Product name and photo
YUZA Second edition 2022
YUZA Second edition 2022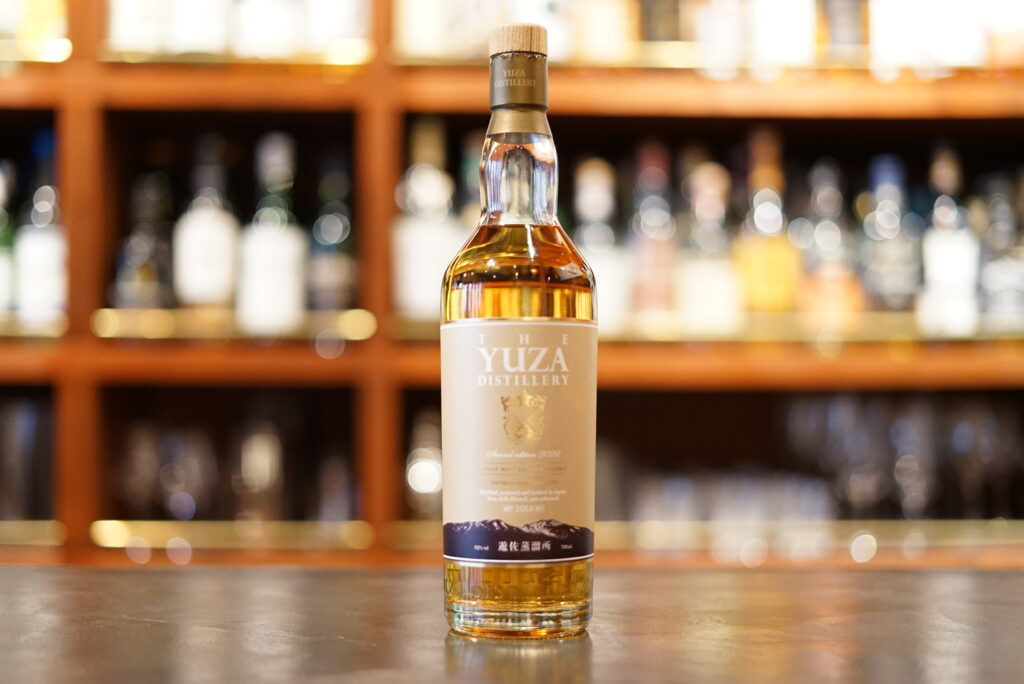 4. Characteristics
Second edition of the Cask Strength series, the original bottles were carefully selected from those casked during the first season of the Yuza distillery, from February to July 2019. The aroma is mellow, like dried fruit with an austerity, and fruity with hints of apples and pears. The palate is smooth and creamy with vanilla-like sweetness. The palate is smooth and creamy, with a vanilla-like sweetness, yet with a firm body and presence. The sweetness and fruity notes are layered with a complex, yet soothing taste.

Reference: Products|Yuza Distillery

4-1. Tasting Notes
| | |
| --- | --- |
| Aroma | Peach, apple, yogurt |
| Taste | Sweet and sour taste of figs and apricots with a touch of oak, medium body. |
| Aftertaste | Fruity sweetness characteristic of bourbon barrels, with sherry-like tannins and woody overtones. |
4-2. Product Specifications
| | |
| --- | --- |
| Alcohol Content | 62% alcohol by volume |
| By Sake | Single Malt Japanese Whisky |
| Cask type | Bourbon casks, sherry casks, etc. |
| Volume | 700ml |
| Number of bottles sold | Limited quantity |
| Suggested retail price | 16,500 yen (tax included) |
| Release date | Early October 2022 |
5. Awards
No awards received at this time.
6. Price
6-1. Manufacturer's Suggested Retail Price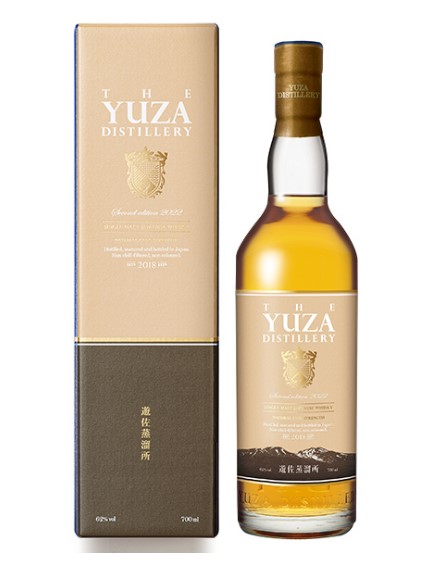 | | |
| --- | --- |
| Product name | YUZA Second edition |
| Capacity | 700ml |
| Suggested Retail Price | Tax included: 16,500 yen |
6-2. Resale price on Mercari
The resale price on Mercari is 22,000~28,999 yen. (*as of October 17, 2022)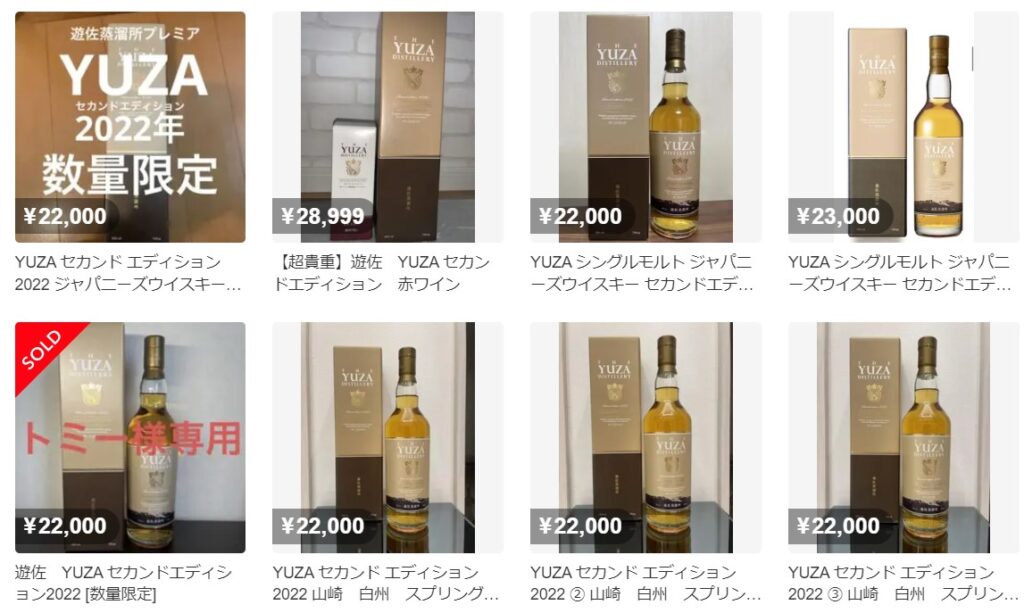 6-3. Sold price on Yahoo! Auction
The selling price on Yahoo! Auctions is Lowest 21,500 yen, Highest 25,000 yen, Average, 22,657 yen. (*Statistics for the past 180 days from 10/17/2022)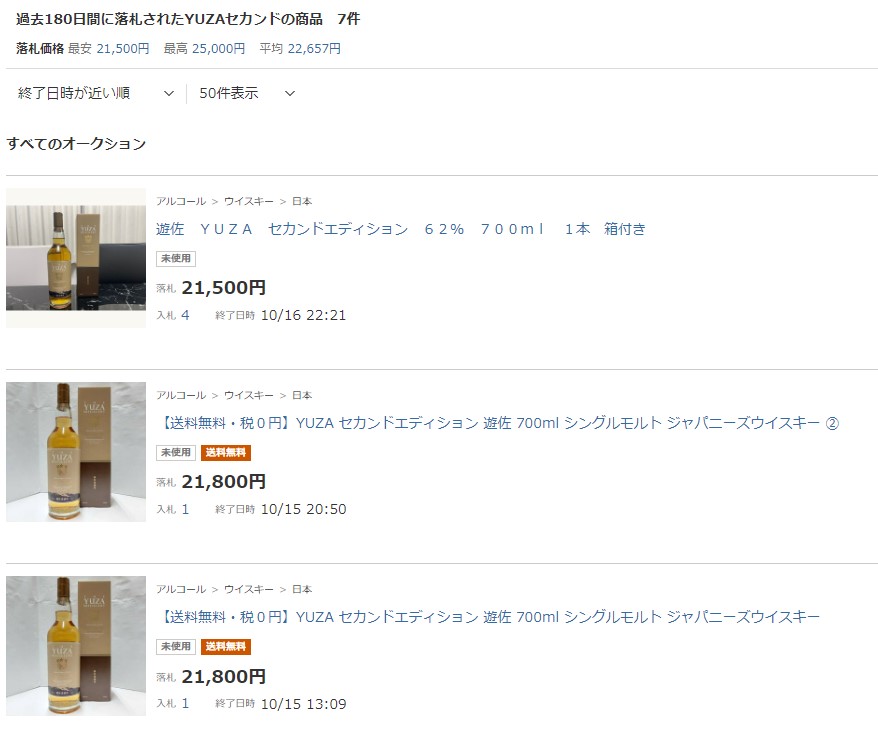 6-4. Rakuten, Yahoo Shopping, Amazon
It is also available at mail order sites for around 32,000 yen. (*as of October 17, 2022)
6-5. Price offered at BAR Shinkai
At "BAR Shinkai" operated by this site, one glass is offered at 45ml: 5,610 yen, 30ml: 3,740 yen, and 15ml: 1,870 yen.

7. Summary
YUZA First Edition was a gorgeous and fruity whisky made exclusively from bourbon barrels, and was highly acclaimed. This YUZA Second Edition is based on the flavor of the previous one, with bourbon casks as the main ingredient, but the fruity flavor is a little less pronounced, but the body is thicker and the oakiness can be felt, and changes in flavor such as sweetness, acidity, and astringency can be sensed.
When watered down, the fruity taste becomes more noticeable and different. It becomes creamier, richer, and easier to drink.
As I felt at the time of YUZA First Edition, this whisky has a very high quality and "orthodox" impression. You can strongly feel Yuza Distillery's commitment to the "production" of this whisky.
■Please check out other articles about "Yuza Distillery".
Lastly: Recommended Books on Japanese Whisky
If you want to learn more about Japanese whisky, which is a global trend, we highly recommend these books.
In the December 2021 issue of Whisky Galore, published by the Whisky Culture Research Institute, we report on 11 Japanese craft distilleries, including some that are open to the public for the first time, under the title of "Japanese Whisky Craft Frontline," the first of three consecutive issues. Why did the popularity of Japanese whiskey and the craft boom occur? We will examine with interviews. Chichibu Distillery / Chichibu No.2 Distillery / Mars Shinshu Distillery / Mars Tsunuki Distillery / Kanosuke Distillery / Hioki Distillery / Ontake Distillery / Osuzuyama Distillery / Kaikyo Distillery / Hanyu Distillery / Konosu Distillery
¥1,320
(2023/03/21 01:01:51時点 Amazon調べ-
詳細)
This is a book written by Mamoru Tsuchiya, a world-famous whisky critic and representative of the Whisky Culture Research Institute, titled "Japanese Whisky as a Culture that Works for Business" .
The book covers the basics of whisky, the introduction of whisky to Japan, the birth of Japanese whisky, advertising strategies and the rise of Japanese whisky, and the current rise of craft distilleries. This is a book that summarizes Japanese whisky in a very easy to understand way.
Masataka Taketsuru, the founder of Nikka Whisky, devoted his life to brewing whisky in Japan. This is a revised and reprinted version of the autobiography of a man who simply loved whiskey and talked about himself. The book vividly depicts the days when he went to Scotland alone to study as a young man and overcame many hardships to complete Japanese whisky, as well as his companion, Rita.
Launching in 2019. With the world experiencing an unprecedented whisky boom, what were the managers of craft distilleries thinking and what were their thoughts as they took on the challenge of making whiskey? This book tells the stories of 13 craft distillery owners, including Ichiro Hido of Venture Whisky, famous for his Ichirose Malt, who inspired the birth of craft distilleries in Japan.
This is the Japanese version of Whisky Risng, published in the US in 2016, with much updated content. Not only does it describe the history of Japanese whiskey in detail, but it also includes data on all the distilleries in Japan, including the craft distilleries that have been founded in recent years. The book also includes descriptions of the legendary bottles that have been released, as well as information on bars where Japanese whisky can be found.