Prologue is over, and this chapter has finally begun! Following in the footsteps of Shizuoka Distillery's first release, "Prologue K", the "K" series consists of the original sake from distiller K.
In mid-June 2022, "Shizuoka Pot Still K Pure Japanese Barley First Release" was released. This is a special whisky made from 100% Japanese barley malt and aged for 3 to 5 years in the rich nature of the Shizuoka region.
This release is limited to 2,500 bottles sold in Japan. The suggested retail price is 18,150 yen (including tax), which is half the volume and more than double the price of Prologue K and Prologue W.
1. Manufacturer

Gaiaflow Distilling Co.
| | |
| --- | --- |
| Established | October 8, 2014 |
| Head office location | 555 Ochiai, Aoi-ku, Shizuoka City, Shizuoka Prefecture, 421-2223, Japan |
| Owned distillery | Gaiaflow Shizuoka Distillery |

2. Distillery
Gaiaflow Shizuoka Distillery
| | |
| --- | --- |
| Location | 555 Ochiai, Aoi-ku, Shizuoka City, Shizuoka Prefecture, 421-2223, Japan |
| Start of operation | 2016 |
Established Gaiaflow Distilling Co. on October 8, 2014.
Construction of Gaiaflow Shizuoka Distillery completed on August 9, 2016.
In the same year, whisky production started on October 28.
The distillery is located in the Tamagawa district of the Okushizu area of Shizuoka City, Shizuoka Prefecture, on the banks of the Abenakagochi River, a tributary of the Abe River, a first-class river.
Surrounded by beautiful 400-meter-high mountains at an elevation of around 200 meters, the temperature is always 2 to 3 degrees cooler than in the city center, making it a truly desirable location.
The building was designed with the theme of fusion of Japanese beauty and Western culture, and in collaboration with Derek Baston, an American architect living in Shizuoka, the interior and exterior of the whisky distillery are made of many Shizuoka woods, which are beautiful to the eye.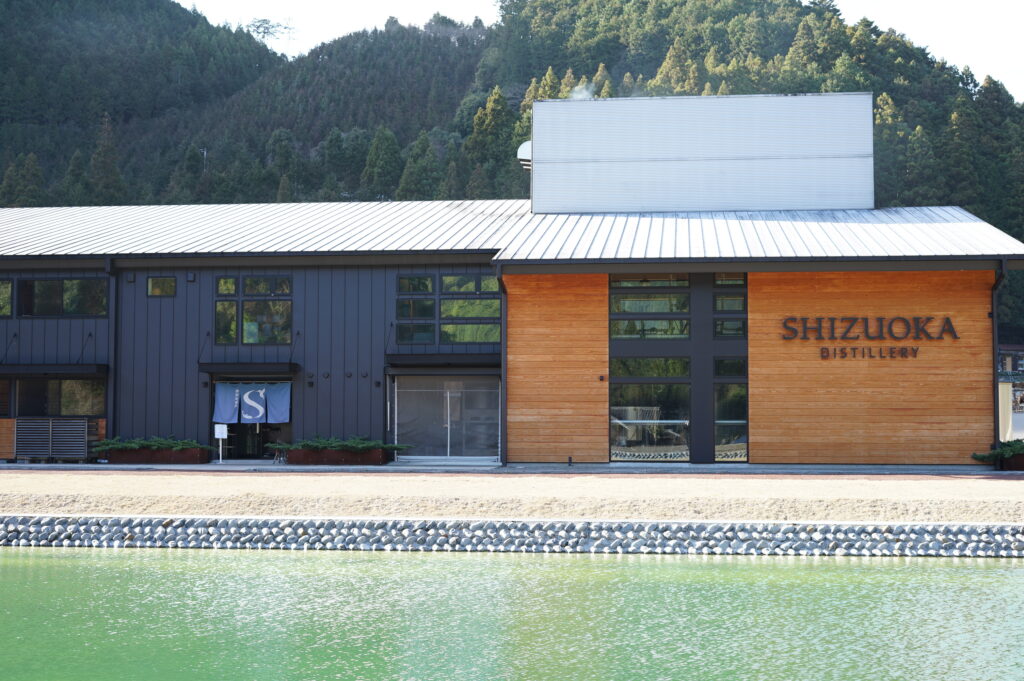 Shizuoka Distillery operates two first distillation machines called "K" and "W." K is the historic Karuizawa distiller, which was manufactured in Japan in the 1950s. In November 2011, the legendary distillation machine was moved from the Karuizawa distillery, which had regrettably closed, to the Shizuoka distillery, where it was repaired and refurbished. The distiller's graceful silhouette and the indirect heating of steam produce a light and floral tasting sake.
In the left foreground of the photo below is the W, probably the only "wood-fired direct distiller" in the world, made by Forsyth in Scotland.
This time, Prologue W is made from the original spirit distilled by this distiller. The very characteristic of direct-fired distillation is temperature. While the temperature for general indirect-heat distillation is around 150°C, the wood-fired direct distillation at Shizuoka Distillery is 800°C, which allows the distiller to produce a strong and aromatic type of malt base spirit.
The fermentation tanks are wooden vats made of local Shizuoka cedar. Shizuoka City is known for its forestry industry, and they chose to use locally grown cedar in the hope of creating a whisky that is uniquely Shizuoka.
The malt mill used to grind malt (barley malt), which is the raw material for whisky, has been moved from the Karuizawa distillery and is used in the same way as the "K" distillation machine.
Shizuoka has a warmer climate than Scotland, and the design dares to create a difference in temperature by installing windows in the ceiling of the cellar for lighting. Because of this, the original sake being aged in the cellar is expected to evaporate at least 5% per year in the Angel's Share.
At the distillery, there is a tasting corner where visitors can sample (for a fee) the Shizuoka Distillery's own sake and the first "Single Malt Prologue K." The Shizuoka distillery also imports and sells whisky, and you can sample the Indian whisky "Amrut " and the Scottish bottlers "Black Adder" and "Astamorris".
For more information about Gaiaflow Shizuoka Distillery, please click here↓.
3. Product names and photos
Single Malt Japanese Whisky Shizuoka Pot Still K Pure Japanese Barley First Edition
Single Malt Japanese Whisky Shizuoka Pot Still K 100% Japanese Barley First Edition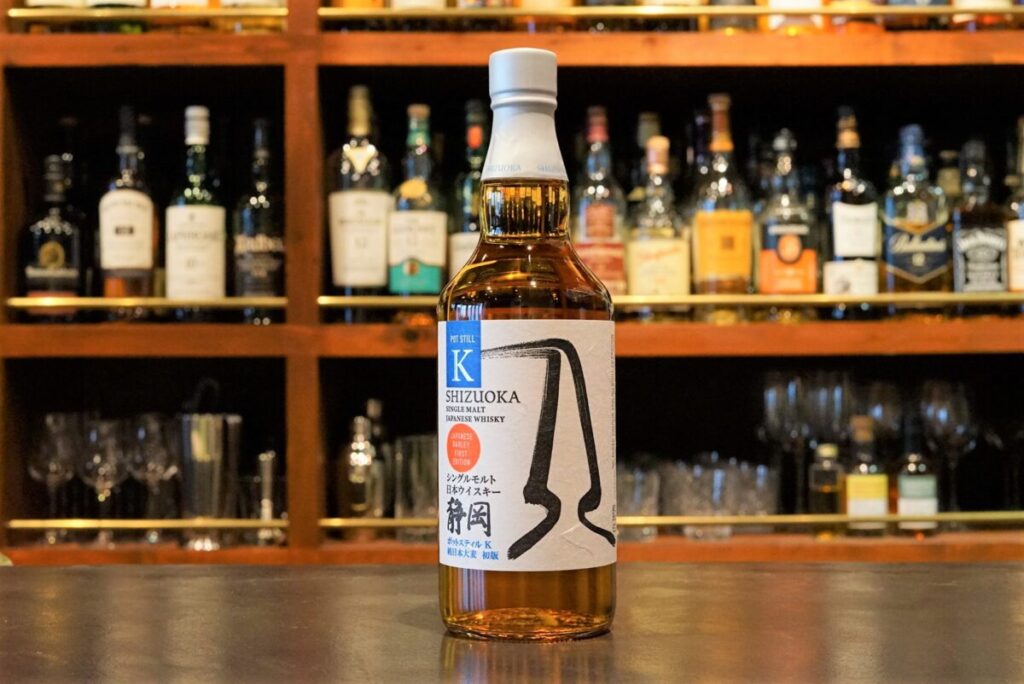 4. Characteristics
Only distiller K is used. 100% Japanese barley malt is used.
Not only is it a single malt whisky (only the original spirit from a single distillery), it is composed of only the original spirit from a single first distiller. The delicate and luscious flavor of the Japanese barley is further refined and elegant by distiller "K". This flavor is unique and only Shizuoka Distillery can produce it.
Shizuoka Distillery always separates the original whisky for each first distiller used and matures it for a minimum of 3 to a maximum of 5 years in the rich nature of Oku-Shizuoka to produce a beautiful pale amber whisky. This product is the result of blending various casks that meet the same requirements (Japanese barley malt, distiller "K" used).
Ingredients: 100% Japanese barley malt is used for the malt. Bourbon and wine barrels were used for the casks. This Japanese whisky is made using only Japanese domestic products from raw materials.
Reference: Single Malt Japanese Whisky Shizuoka Pot Still K Pure Japanese Barley First Edition|Shizuoka Distillery | Shizuoka Whisky
4-1. Tasting Notes

| | |
| --- | --- |
| Aroma | Floral, fruity, citrus, vanilla, cemedine aroma |
| Taste | Malt richness, lemon and lactic acidity, honey, ripe melon |
| Aftertaste | Smooth sweetness and oaky, malty sweetness lingers for a long time |

4-2. Product Specifications
| | |
| --- | --- |
| Alcohol content | 55.5% (5% alcohol by volume) |
| Alcohol category | Single malt Japanese whisky |
| Cask type | Bourbon barrels, wine barrels, etc. |
| Volume | 700ml |
| Number of bottles sold | Limited to 2,500 bottles |
| Suggested retail price | 18,150 yen (tax included) |
| Release date | Mid-June, 2022 |

5. Awards
No awards received at this time.
6. Price
6-1. Manufacturer's Suggested Retail Price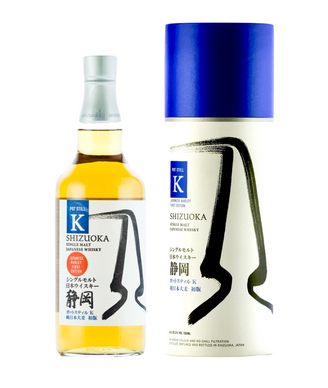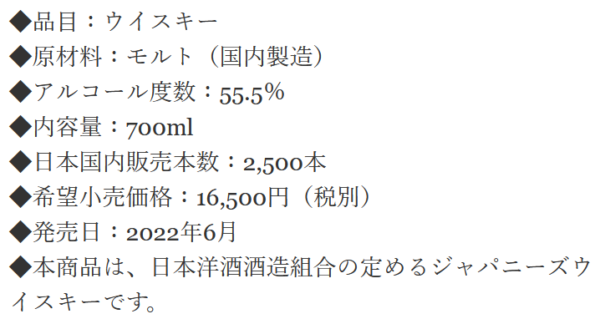 | | |
| --- | --- |
| Product name | Single Malt Japanese Whisky Shizuoka Pot Still K Pure Japanese Barley First Edition |
| Capacity | 700ml |
| Suggested Retail Price | 18,150 yen (including tax) |
6-2. Resale price on Mercari
The resale price on Mercari is Around 36,000-45,000 yen is as follows. (*as of 6/23/2022)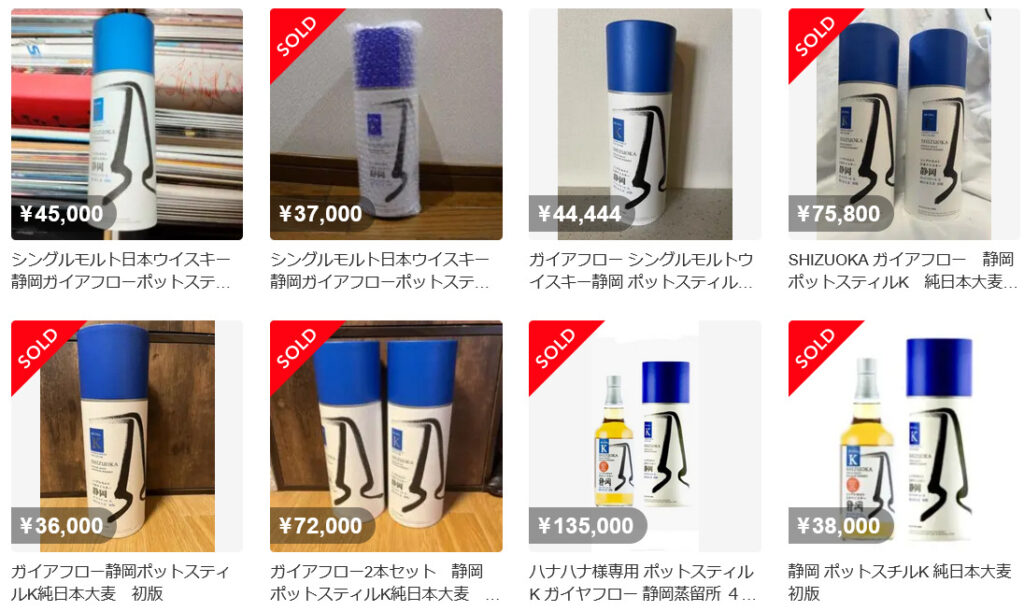 6-3. Sold price on Yahoo! Auction
It does not appear to be currently available for sale on Yahoo! Auction. (*As of 6/23/2022)
6-4. Rakuten, Yahoo Shopping, Amazon
The mail order site sells for 83,800 yen. (*as of 6/23/2022)

6-5. Price offered at BAR Shinkai
At "BAR Shinkai" operated by this site, we offer it in small quantities such as 1 glass, 45ml: 4,950 yen 30ml: 3,300 yen, 15ml: 1,650 yen.
7. Summary
The most distinctive feature of Pot Still K is that it uses 100% Japanese barley malt as its raw malt. Shizuoka Distillery has been brewing with Japanese barley malt since the beginning of its operation in 2016 and continues to do so every year.
Currently, many Japanese whiskies are made with barley malt from overseas, and Japanese barley malt is still scarce. This is due to the fact that Japanese barley is grown in limited areas in Japan, and the harvest is low, making Japanese barley malt more expensive than its foreign counterparts.
Even under these circumstances, Shizuoka Distillery is committed to making whisky with high-cost Japanese barley malt because of the flavor potential of Japanese barley and the importance of terroir (local character) as a Japanese alcoholic beverage. The whisky produced from Japanese barley has a delicate, soft, smooth, and sweet taste that is uniquely Japanese, and it is a whisky with a rich terroir that is different from barley produced overseas.
Please check out our other articles on Shizuoka Distillery.
Lastly: Recommended Books on Japanese Whisky
If you want to learn more about Japanese whisky, which is a global trend, we highly recommend these books.
In the December 2021 issue of Whisky Galore, published by the Whisky Culture Research Institute, we report on 11 Japanese craft distilleries, including some that are open to the public for the first time, under the title of "Japanese Whisky Craft Frontline," the first of three consecutive issues. Why did the popularity of Japanese whiskey and the craft boom occur? We will examine with interviews. Chichibu Distillery / Chichibu No.2 Distillery / Mars Shinshu Distillery / Mars Tsunuki Distillery / Kanosuke Distillery / Hioki Distillery / Ontake Distillery / Osuzuyama Distillery / Kaikyo Distillery / Hanyu Distillery / Konosu Distillery
¥1,320
(2023/03/23 03:10:42時点 Amazon調べ-
詳細)
This is a book written by Mamoru Tsuchiya, a world-famous whisky critic and representative of the Whisky Culture Research Institute, titled "Japanese Whisky as a Culture that Works for Business" .
The book covers the basics of whisky, the introduction of whisky to Japan, the birth of Japanese whisky, advertising strategies and the rise of Japanese whisky, and the current rise of craft distilleries. This is a book that summarizes Japanese whisky in a very easy to understand way.
Masataka Taketsuru, the founder of Nikka Whisky, devoted his life to brewing whisky in Japan. This is a revised and reprinted version of the autobiography of a man who simply loved whiskey and talked about himself. The book vividly depicts the days when he went to Scotland alone to study as a young man and overcame many hardships to complete Japanese whisky, as well as his companion, Rita.
Launching in 2019. With the world experiencing an unprecedented whisky boom, what were the managers of craft distilleries thinking and what were their thoughts as they took on the challenge of making whiskey? This book tells the stories of 13 craft distillery owners, including Ichiro Hido of Venture Whisky, famous for his Ichirose Malt, who inspired the birth of craft distilleries in Japan.