"Nikka Date" is a blended whisky made from malt and grain distilled at the Miyagikyo distillery, with a portion of the grain distilled at the Ben Nevis distillery in Scotland. It is a blended whisky "for Miyagi Prefecture only" that makes the most of the characteristics of Nikka's special Cafe Malt and Cafe Grain.
Nikka Date was released in 2008 and 2009 in limited quantities of 500ml (limited to 36,000 bottles in 2009) to promote the "Sendai-Miyagi [Date Trip] Campaign" as part of sales activities in harmony with the local community. The label at that time had the word "Date" written in white letters on a black basewith a large golden crescent moon underneath, and the design of the crescent moon was based on the helmet of Date Masamune.
Later, the one released in 2012 was changed to 700ml and released as a year-round product. The taste has also been improved. The bottle in the middle of the photo is the bottle from this period, but the bottle in the store now is the one on the right in the photo. It's not clear when the label was changed, but some believe it was around the end of 2019.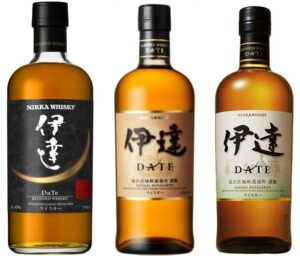 1. Manufacturer
nikka whisky corporation
| | |
| --- | --- |
| Establishment | 1934 (Showa 9) |
| Head office | 4-31, Minami-Aoyama 5-chome, Minato-ku, Tokyo 107-8616, Japan |
| Owned distilleries | Yoichi distillery, Miyagikyo distillery, Ben Nevis distillery |
2. Distillery
Miyagikyo Distillery
| | |
| --- | --- |
| Address | 1, Nikka, Aoba-ku, Sendai City, Miyagi Prefecture 989-3433, Japan |
| Start of operation | 1969 |
It had been about 30 years since he started his first distillery in Yoichi, Hokkaido. "Masataka Taketsuru, who believed that whisky becomes richer and more flavorful when it is blended from different distilleries, desperately needed a second distillery. Taketsuru chose Miyagi Gorge in Sendai, Miyagi Prefecture. It is a lush green gorge blessed with two clear streams, the Hirose River and the Shinkawa River. When Taketsuru visited this place for the first time, he drank some of his Black Nikka in the clear water of the Shinkawa River and confirmed the taste. It is said that he decided to build the distillery on the spot. The pride of the Miyagi Gorge Distillery is its "café-style continuous distiller. At the time of its introduction, this distiller was already considered obsolete. Because it was an old-fashioned distillation machine, it was prone to leaving behind miscellaneous flavors, but Taketsuru chose to use this old-fashioned distillation machine because the technology could transform them into the original aroma and sweetness of the ingredients. At the Miyagikyo Distillery, people who have inherited Taketsuru's passion are still continuing to make various attempts to make whisky taste better.
Image credit: Miyagikyo Distillery|NIKKA WHISKY

For more information on the Miyagikyo Distillery, please also see this article.
https://jpwhisky.net/manufacturer/miyagikyo/
3. Product name and photo
Nikka DATE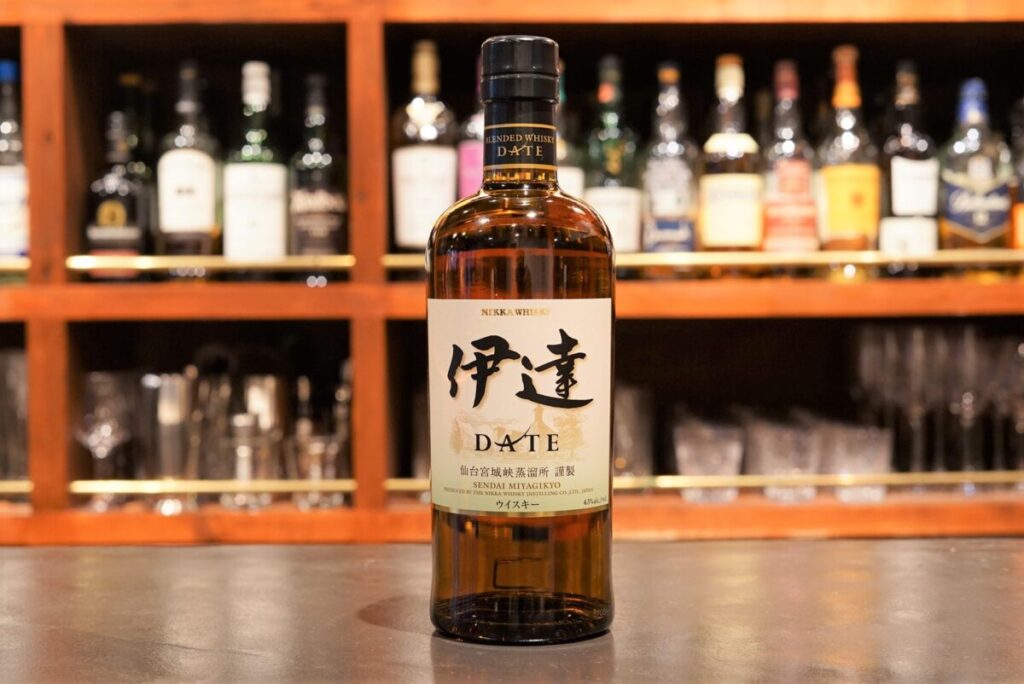 4. Features
Strong and rich taste. Gentle and soft aftertaste.
It has a pleasant barrel-aged aroma, a soft floral scent, a gentle malty aroma, a rich vanilla-like sweetness, a milk chocolate sweetness, a smooth and creamy taste, and a complex taste with a moderate bitterness of peat that appears after the sweetness.
4-1. Tasting Notes
| | |
| --- | --- |
| Aroma | Woody aroma and a sense of barrel aging, with a malty sweetness. Chocolate-like bitterness, floral and fruity esters are in harmony. |
| Taste | Smooth and creamy, with a honey-like sweetness and a vanilla sweetness. The bitterness of peat tightens the whole. |
| Aftertaste | Smooth with clean esters and a sweet, bitter aftertaste. |
4-2. Product Specifications
Alcohol content
43% alcohol by volume
alcohol category
Blended Whisky
Barrel type
Cask type
Contents
700ml
Number of bottles sold
Number of bottles sold
Suggested Retail Price
3,850 yen (tax included)
Release date
September 2008 and September 15, 2009 (old Date, released in limited quantities)
July 2, 2012- (Current Date, released as a regular product)
5. Awards
No awards have been received at this time.
6. Price
6-1. Manufacturer's suggested retail price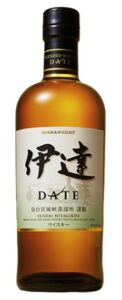 | | |
| --- | --- |
| Product name | Nikka Date |
| Capacity | 700ml |
| Suggested retail price | Tax included: 3,850 yen |
6-2. Resale price on Mercari
The resale price on Mercari is around 4,000 yen to 5,400 yen.(*As of July 23, 2021)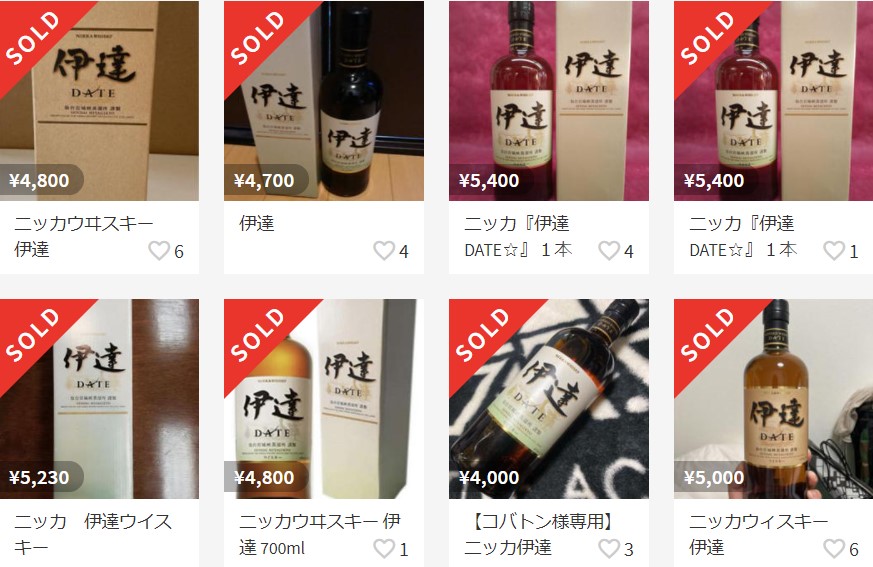 6-3. Yahoo Auction Sold Price
The lowestbid price on Yahoo Auction is 3,500 yen, the highest is 6,400 yen, and the average is 5,079 yen. (*Statistics for the past 120 days since July 23, 2021)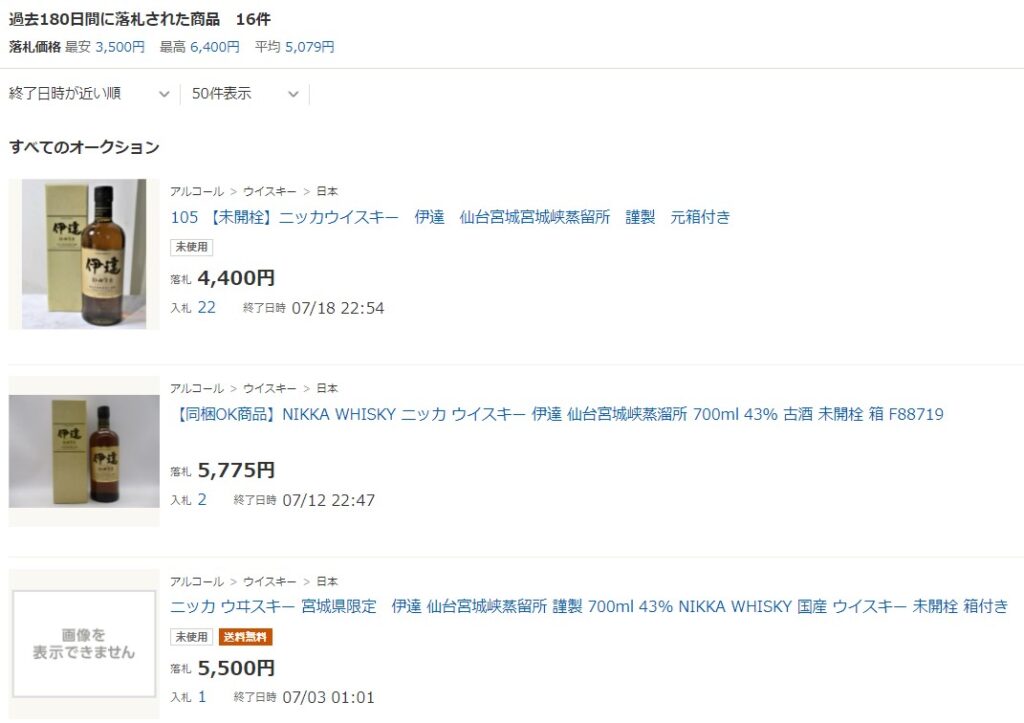 6-4. Rakuten, Yahoo Shopping, Amazon
Mail order sites also sell them for around 5,000 yen to 7,000 yen. (*As of July 23, 2021)

6-5. Price offered at BAR SHINKAI
At BAR SHINKAI, which is operated by this website, we offer even small amounts of our products, such as 1cup, 45ml: 1,650 yen30ml: 1,100 yen, 15ml: 550 yen, etc.
https://en.jpwhisky.net/about-2/barshinkai-4/
7. Summary
When Date was released in 2008, only "malt" was listed in the ingredients section on the back label. However, the label on the front said "BLENDED WHISKY". It is said that this was probably because it was a blend of malt whisky from the Miyagikyo distillery and café malt distilled in a café-style continuous distiller.
As for the current Date, which has been on the market since 2012, the ingredients section says "malt, grain" and it seems to consist of Miyagikyo malt, café malt, café grain, and Ben Nevis distillery grain.
Nowadays, it is relatively easy to find this whisky on mail-order sites (although it is a bit pre-priced, but…), so if you want to taste it while feeling the history of the Miyagikyo distillery, this is the bottle for you. If you go to a Miyagi Prefecture product exhibition in Tokyo, you can find it at a fixed price.

■Please check out the other articles about Miyagikyo.
https://jpwhisky.net/2021/03/30/nikka-coffey-grain/
https://jpwhisky.net/2021/01/01/singlecoffeygrain-woody-mellow/
Lastly: Recommended Books on Japanese Whisky
If you want to learn more about Japanese whisky, which is a worldwide trend, and want to learn more about it, we highly recommend these books.
This is a book written by Mamoru Tsuchiya, a world-famous whisky critic and representative of the Whisky Culture Research Institute, titled " Japanese Whisky as a Culture that Works for Business."
The book covers the basics of whisky, the introduction of whisky to Japan, the birth of Japanese whisky, advertising strategies and the rise of Japanese whisky, and the current rise of craft distilleries. This is a book that summarizes Japanese whisky in a very easy to understand way.
The April 2021 issue of Whisky Galore, published by the Whisky Culture Research Institute.
This issue of Whisky Galore, published by the Whisky Culture Research Institute, features the definition of Japanese whisky and a list of 24 distilleries as the latest in Japanese whisky. It also includes an interview with Suntory Chief Blender Shinji Fukuyo, making it a must-have for Japanese whisky fans.
This is the Japanese version of Whisky Risng, published in the US in 2016, with much updated content. Not only does it describe the history of Japanese whisky in detail, but it also includes data on all the distilleries in Japan, including the craft distilleries that have been founded in recent years. The book also includes descriptions of the legendary bottles that have been released, as well as information on bars where Japanese whisky can be found.