Komagatake IPA Cask Finish was released last year as well, and it is a very popular whiskey that is currently being sold at a pre-price of more than double the list price. This one is sure to be popular as well. The number of bottles is limited to 3,000.
"The Single Malt Komagatake IPA Cask Finish was also released in 2020 under the same name, and the product description and alcohol content on the official website are almost identical.
It would be interesting to compare it with the previous one. The flavors that assert themselves in both aroma and taste were slightly different.
This product is in compliance with the voluntary standards for Japanese whiskey established by the Japan Western Liquor Brewers Association, which came into effect on April 1.
1. Manufacturer
Honbo Shuzo Co.
| | |
| --- | --- |
| Establishment | 1872 |
| Head office location | 3-27, Minamisakae, Kagoshima City, Kagoshima Prefecture, 891-0122, Japan |
| Owned distilleries | Mars Shinshu distillery, Mars Tsunuki distillery |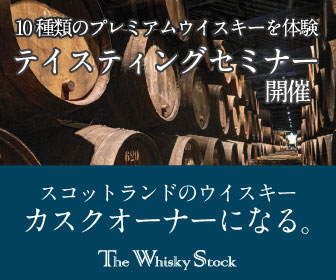 2. Distillery
Mars Shinshu distillery
| | |
| --- | --- |
| Location | 4752-31, Miyata-mura, Kamiina-gun, Nagano 399-4301, Japan |
| Start of operation | 1985 |
It was in 1949 that Honbo Shuzo, which had been striving to make shochu, a Japanese distilled liquor, in Kagoshima, obtained a license to produce whiskey. Since then, the company has been holding onto the dream of one day producing a genuine whiskey that takes advantage of the Japanese climate.
In 1960, after several years of whisky production in Kagoshima, he established the Mars Yamanashi Winery in Yamanashi, a factory for wine and whisky production. Then, in order to engage in whisky production in earnest, they searched for an even more ideal location.
The natural conditions for whisky production are very severe, including a cold climate with clean air, as well as moderate humidity and good quality water.
After searching for a site that met these conditions, we opened the Mars Shinshu Distillery in 1985 at an altitude of 798 meters at the foot of Mount Komagatake in the Central Alps of Nagano Prefecture, in search of the best environment for whisky production.
In 1992, the distillery stopped distilling due to sluggish demand for whiskey. Later, as Japanese whisky began to be appreciated worldwide, the demand for whisky began to recover in 2009 .
In September 2020, the distillery will be completely renovated for the first time in 35 years. The investment will be approximately 1.2 billion yen.
From May 2019, the whisky distillation building (including barrel storage) will be newly constructed for the purpose of renovating aging facilities, building barrel storage facilities with an eye to increasing whisky production, and observing whisky production, and the visitor building will be newly constructed for the purpose of selling original whisky and goods, and existing facilities and equipment will be renovated.
The new whisky distillery building has a total floor area of 1,996 square meters (including a barrel storage room that will hold approximately 2,500 barrels), and the visitor building has a floor area of 746 square meters.
Reference: Honbo Shuzo official website
■Production capacity: 1.1 tons of raw malt per day
■Brewing capacity: approx. 700 liters/day, approx. 185 kl/year (planned for FY2020)
■Major equipment: 1 malt grinding machine, 1 mash tun reuter (saccharification tank) 6KL x 1, stainless steel fermentation tanks 6KL x 3, Douglas fir wooden fermentation tanks (relocated) 6KL x 3, first distillation kettle (relocated)
For more information about Mars Shinshu Distillery, please see here.↓

3. Product name and photo
Single Malt Komagatake IPA Cask Finish Bottled in 2021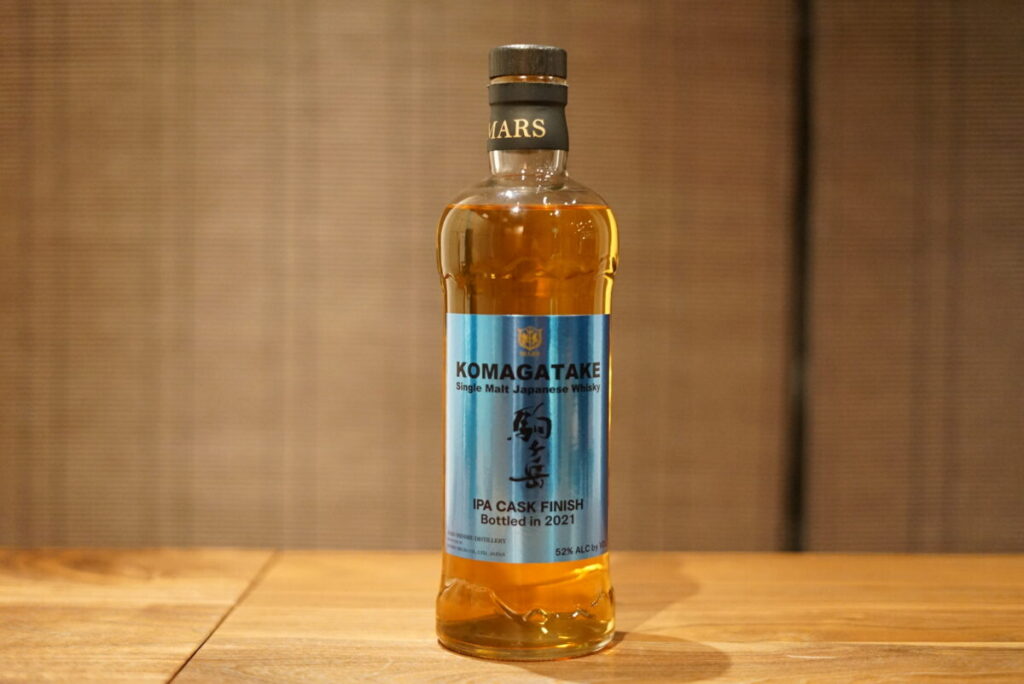 ¥23,800
(2023/03/23 04:25:27時点 楽天市場調べ-
詳細)
4. Characteristics
Single Malt Komagatake IPA Cask Finish is a single malt whiskey finished in an empty cask where India Pale Ale (IPA), a medium-dark beer brewed with plenty of hops at Minami Shinshu Beer Komagatake Brewery, was laid down. It has a refreshing citrus and herbal aroma derived from hops, a clear sweetness reminiscent of grapefruit and oranges, and a crisp bitter aftertaste, making it a perfect match for a highball.
Reference: Japanese Whiskey|Single Malt Komagatake IPA Cask FinishBottled in 2021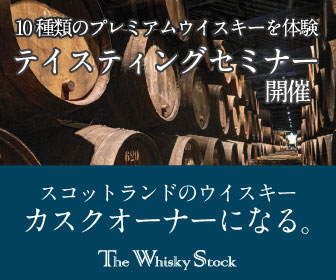 4-1. Tasting Notes
| | |
| --- | --- |
| Nose | Fresh citrus, mint, and estery. |
| Taste | Acidity and a good bitterness reminiscent of hops, woody and oily. |
| Aftertaste | Aroma of oak and a hint of IPA-derived hoppiness lingers. |
4-2. Product Specifications
| | |
| --- | --- |
| Alcohol content | 52% alcohol by volume |
| alcohol category | Single malt whiskey |
| Barrel type | Bourbon barrel (Minami Shinshu Beer IPA) |
| Contents | 700ml |
| Number of bottles sold | Limited to 3,000 bottles |
| Suggested retail price | 9,460 yen (tax included) |
| Release date | Mid-July, 2021 |
5. Awards
No awards have been received at this time.
6. Price
6-1. Manufacturer's suggested retail price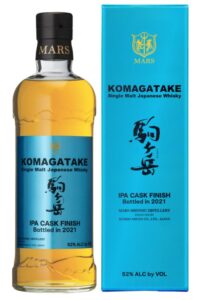 | | |
| --- | --- |
| Product name | Single Malt Komagatake IPA Cask Finish Bottled in 2021 |
| Volume | 700ml |
| Suggested retail price | 9,460 yen (tax included) |
6-2. Resale price on Mercari
The resale price on Mercari is around 15,000 yen to 16,000 yen. (*As of July 29, 2021)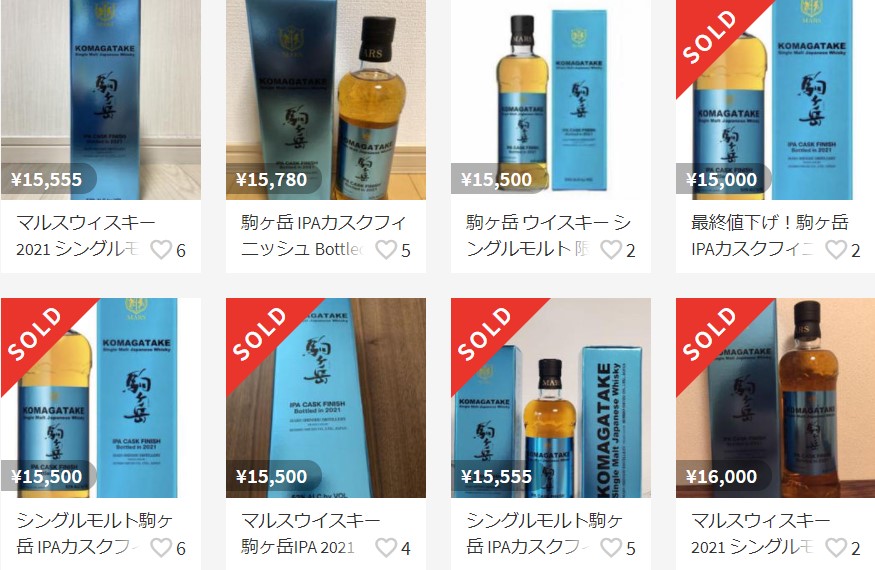 6-3. Yahoo Auction Sold Price
The lowest bid price on Yahoo Auctionis 11,250 yen, the highest is 18,500 yen, and the average is 14,753 yen (*Statistics for the past 180 days since July 29, 2021)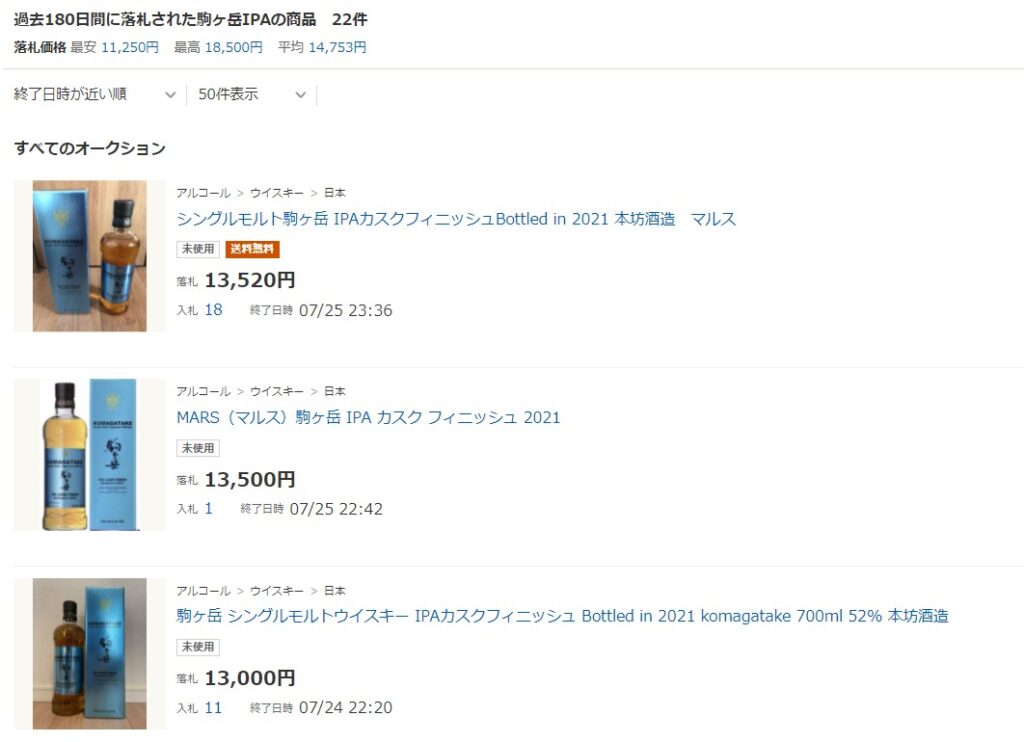 6-4. Rakuten, Yahoo Shopping, Amazon
Mail order sites also sell them for around 24,000 yen. (*As of July 29, 2021)
This is the price of the previous Komagatake IPA Cask Finish 2020.

¥23,800
(2023/03/23 04:25:27時点 楽天市場調べ-
詳細)
6-5. Price offered at BAR Shinkai
At BAR Shinkai, which is operated by this website, a singleglass is offered for 45ml: 2,970 yen, 30ml: 1,980 yen, and 15ml: 990 yen.
7. Summary
Komagatake IPA Cask Finish was released last year as well. Of course, it was post-ripened in barrels where IPA was laid down, and I wondered if the taste was similar. I thought it would be similar to the IPA, but surprisingly, the hoppy taste was stronger than the previous one. I had the impression that the citrus, mint, and herbs were stronger in this one, and the herbal refreshment was more to the fore than the refreshment of the beer. It is delicious because you can taste the oaky aroma and oily feeling, but if you drink it with a strong image of "IPA" after drinking the previous one, you may feel a little uncomfortable. It's hard to say which one is tastier, but it's interesting to be able to sense the differences in their personalities even just by smelling them.
It's hard to find this kind of unusual whiskey from other companies, so it's definitely a whiskey you should try.
■Please check out the other articles about "Honbo Shuzo".
Lastly: Recommended Books on Japanese Whisky
If you want to learn more about Japanese whisky, which is a worldwide trend, or if you want to learn more about it, we highly recommend these books.
This is a book written by Mamoru Tsuchiya, a world-famous whisky critic and representative of the Whisky Culture Research Institute, titled " Japanese Whisky as a Culture that Works for Business "
The book covers the basics of whisky, the introduction of whisky to Japan, the birth of Japanese whisky, advertising strategies and the rise of Japanese whisky, and the current rise of craft distilleries. This is a book that summarizes Japanese whisky in a very easy to understand way.
The April 2021 issue of Whisky Galore, published by the Whisky Culture Research Institute.
This issue of Whisky Galore, published by the Whisky Culture Research Institute, features the definition of Japanese whisky and a list of 24 distilleries as the latest in Japanese whisky. It also includes an interview with Suntory Chief Blender Shinji Fukuyo, making it a must-have for Japanese whisky fans.
This is the Japanese version of Whisky Risng, published in the US in 2016, with much updated content. Not only does it describe the history of Japanese whiskey in detail, but it also includes data on all the distilleries in Japan, including the craft distilleries that have been founded in recent years. The book also includes descriptions of the legendary bottles that have been released, as well as information on bars where Japanese whiskey can be found.
埼玉県出身。
本業は俳優、グラフィックデザイナー。
お酒を嗜むのが好きで新海BARに入社。
「Japanese Whisky Dictionary」では、記事の英語などへの翻訳を担当している。