Yamazaki Distillery's Variety of Original Brews at Their Best
The Yamazaki Distillery produces an unparalleled variety of undiluted spiritsin the fermentation, distillation, and aging processes. Particularly in the maturing process, barrels of various types, materials and sizes play an important role in the characterization of the original sake.
In order to fully enjoy the characteristics of these different types of raw materials, we use the following methods The five types of single malt whisky "Yamazaki" 2020 EDITION. The climate and craftsmanship of Yamazaki have nurtured We hope you will enjoy the unique flavors of each. (From the manufacturer's website)
1. Manufacturer
Suntory Spirits Co.
Establishment

Established in 1899

Head office location
2-3-3 Daiba, Minato-ku, Tokyo 135-8631, Japan
Owned distillery
●Japan
Yamazaki Distillery, Hakushu Distillery, Chita Distillery
●Scotland
Ardmore distillery, Glengilly distillery, Auchentoshan distillery, Bowmore distillery, Laphroig distillery
●Ireland
Cooley distillery, Kilbeggan distillery
●United States
Jim Beam distillery, Maker's Mark distillery
●Canada
Hiram Walker Distillery, Alberta Distillery
2. Distilleries
Suntory Yamazaki Distillery
| | |
| --- | --- |
| Location | 5-2-1 Yamazaki, Shimamoto-cho, Mishima-gun, Osaka 618-0001, Japan |
| Start of operation | 1923 |
The Yamazaki Distillery was established in 1923 as the first malt whisky distillery in Japan. It was a time when whisky was still a rare drink for the general public. " I want to make a Japanese whisky that suits the delicate taste of the Japanese people. " With this passion in his heart, Shinjiro Torii set out to make whisky.
Shinjiro was particular about the Japanese climate. Water and the environment were especially important to him. Yamazaki is the home of the famous water called Minase no, which was written about in the Manyo poem.
The tea master Sen no Rikyu loved this place and the water was perfect for making whisky. The natural environment was also perfect.
Yamazaki is located in the southwest of Kyoto, at the foot of Tennozan (Mt. Tenno), where bamboo groves grow thickly, and is rich in nature where you can feel the seasonal changes. Located at the confluence of the Katsura, Uji, and Kizu Rivers, and surrounded by mountains, Yamazaki is prone to thick fog and has a warm and humid climate, which is ideal for maturing whisky.
Shinjiro decided that Yamazaki was the only place where he could make good whisky with this water and climate.
Reference: YAMAZAKI MOMENTS
・Suntory Yamazaki Distillery
1923 Yamazaki distillery was built. The first whisky distillery in Japan.
1929 Released the first domestically produced whisky, Shirofuda.
1937 Released "Kakubin".
1984 Released single malt whisky "Yamazaki".
1992 – Single malt whisky " Yamazaki 18 years " was launched.
1998 – Single malt whisky "Yamazaki 25 years" was launched.
Image credit: Yamazaki Club
For more information on the Yamazaki Distillery, please also see this article.
https://en.jpwhisky.net/manufacturer/yamazaki_en/
3. Product name and photo
Single Malt Whisky "YAMAZAKI" PUNCHEON 2020 EDITION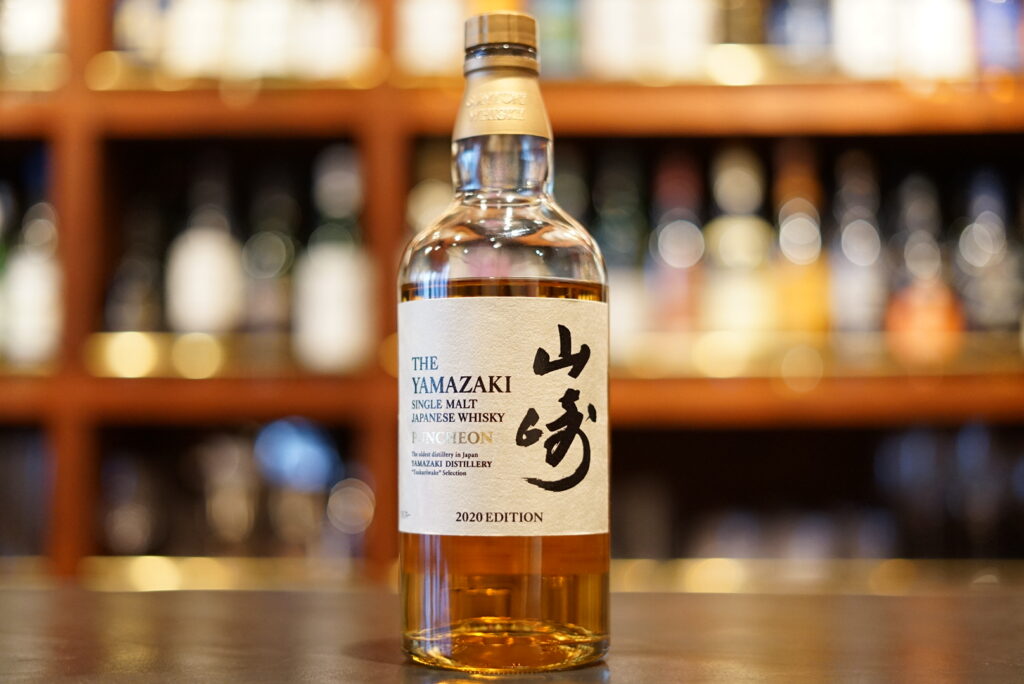 4. Characteristics
Woody and soft taste unique to pancheon barrel aging

Suntory selects American oak and makes its own puncheon barrels, which are stocky barrels with a capacity of about 480 liters. The contact area between the whisky and the barrel material (per volume) is small, and the maturation process proceeds slowly, allowing the original flavor of the spirit to be enjoyed. These barrels are indispensable for the well-balanced, pleasant sweetness and deep maturing aroma of the world-renowned single malt whisky Yamazaki. (From the manufacturer's website)
4-1. Tasting Notes
| | |
| --- | --- |
| Aroma | Green apple, vanilla, acacia honey |
| Taste | Soft, mild, butterscotch. |
| Aftertaste | Bitterness and a hint of sweetness from the oak |
https://www.suntory.co.jp/whisky/yamazaki/2020edition/
(Quoted from: Suntory Holdings Limited)
4-2. Product Specifications
Alcohol content
48% alcohol by volume
alcohol category
Single malt whisky
Cask Type

North American white oak puncheon casks

Contents
700ml
Number of bottles sold

Limited quantity (quantity not disclosed)
This product is sold in limited quantities, mainly to restaurants.


Suggested retail price
12,100 yen (tax included)
Release date
November 4, 2020
5. Awards
No awards have been received at this time.
6. Price
6-1. Manufacturer's suggested retail price
| | |
| --- | --- |
| Product name | Single Malt Whisky "Yamazaki" Puncheon 2020 EDITION |
| Volume | 700ml |
| Suggested retail price | 12,100 yen (tax included) |
6-2. Resale price on Mercari
The resale price on Mercari is around 55,000 yen to 65,000 yen.(*As of April 30, 2021)


6-3. Sold price on Yahoo Auction
The lowest bid price on Yahoo Auction was 50,000 yen, the highest was 93,800 yen, and the average was 68,852 yen. (*Statistics for the past 120 days from April 30, 2021)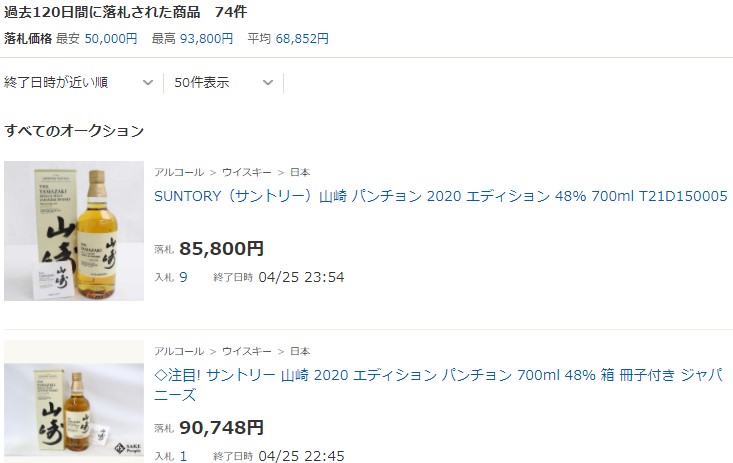 6-4. Rakuten, Yahoo Shopping, Amazon
They are also available at mail order sites for around 128,000 yen to 155,000 yen.(*As of April 30, 2021)

6-5. Price offered at BAR Shinkai
At BAR SHINKAI, which is operated by this website, we offer one drink, 45 ml: 4,290 yen, 30 ml: 2,860 yen, 15 ml: 1,430 yen.
https://en.jpwhisky.net/about-2/barshinkai-4/
7. Summary
This whisky, aged in American oak puncheon barrels, directly conveys the backbone of Yamazaki to the customer. Please enjoy the pleasant sweetness of the malt and the woodiness of the American oak slowly.
Chief Blender Shinji Fukuyo (from the manufacturer's website )
When I drank it, I felt a gentle and pleasant woody aroma.
The aftertaste is refreshing and fruity like a green apple.
We also have Bordeaux wine cask, Spanish oak, and peated malt available at our store, so we encourage you to compare them.
How about relaxing and relieving your stress while feeling the difference of each personality and the depth of whisky?
We hope you will enjoy it at BAR SHINKAI.
■Please also read other articles about Single Malt Whisky "Yamazaki" 2020 EDITION.
https://jpwhisky.net/2021/05/10/yamazaki-bordeaux-wine-cask-2020-edition-2/
https://jpwhisky.net/2021/05/17 /yamazaki-spanish-oak-2020-edition/
https://en.jpwhisky.net/2021/05/24/yamazaki-peated-malt-2020-edition-2/
Lastly: Recommended Books on Japanese Whisky
If you want to learn more about Japanese whisky, which is a global trend, and want to learn more about it, we highly recommend these books.
This is a book written by Mamoru Tsuchiya, a world-famous whisky critic and representative of the Whisky Culture Research Institute, titled " Japanese Whisky as a Culture that Works for Business.
The book covers the basics of whisky, the introduction of whisky to Japan, the birth of Japanese whisky, advertising strategies and the rise of Japanese whisky, and the current rise of craft distilleries. This is a book that summarizes Japanese whisky in a very easy to understand way.
The April 2021 issue of Whisky Galore, published by the Whisky Culture Research Institute.
This issue of Whisky Galore, published by the Whisky Culture Research Institute, features the definition of Japanese whisky and a list of 24 distilleries as the latest in Japanese whisky. It also includes an interview with Suntory Chief Blender Shinji Fukuyo, making it a must-have for Japanese whisky fans.
This is the Japanese version of Whisky Risng, published in the US in 2016, with much updated content. Not only does it describe the history of Japanese whisky in detail, but it also includes data on all the distilleries in Japan, including the craft distilleries that have been founded in recent years. The book also includes descriptions of the legendary bottles that have been released, as well as information on bars where Japanese whisky can be found.